In 2015, I had a few handy Ikea containers for my dry goods. As a connoisseur of cookbooks and food blogs, my dry food staples were growing exponentially. To keep a uniform look on my shelves I would have to regularly head to the big blue store, which is a 90 minute round trip on public transport. I finally abandoned this hassle fully when Toni posted the picture below of her pantry on her organizing blog, A Bowl Of Lemons. I knew immediately I wanted to replicate that look, at least to some extent, in my cupboards. 10 minutes after seeing the post I was walking to the Target down the street, to purchase some mason jars. When I had all of my 25 flours and sugar in identical containers, (I now keep them in the fridge), I felt like I had instantly become an adult. Swooning I was. There was no thought process going into that purchase, it was totally spontaneous. The upside to mason jars are that they are easy to get and inexpensive, they run around a $1/jar.
Sometimes we lose our cognitive bearings when we see pretty items; we are drawn to them like a moth to a flame. I still have those jars 6 years later, but I have down-sized my flour collection. Containers are an investment for your peace of mind, your time and your pocket book and it's helpful to find ones that work for your personality and life style.
LID TYPE
So many to choose from in this area. Here are some considerations when deciding what type of lid. In my opinion the lid is key to where you happiness quotient ends up with containers. After all, you might be removing that lid several times a day. Is an air -tight seal important to what you are storing?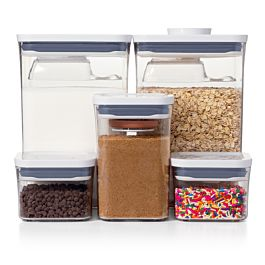 Air-Tight
Moisture can be an enemy to most foods/food stuffs, causing it to lose its flavor, become the victim of mold, dry out or attract bugs. An air-tight container will solve all those issues. What constitutes air-tight? Does it need a gasket? I was having this conversation with my mom and her advice was fill the vessel with water, put the lid on securely and tip it upside, if no water escapes, success. She also said you should hear a bit of a pop when opening it. This is sound advice. The Oxo POP are super cool and replicate the science of a refrigerator door, having the luxe reputation of being the ultimate pantry organizers , a mason jar works fine.
What doesn't work is the candy jar above. I was contemplating getting some to hold crackers and other bulk snack items but was concerned that air would make my crackers stale, so I opted instead for the Anchor Hocking Cracker Jar. I figured with cracker in the name I couldn't go wrong. If you have pre-packaged items, like granola bars and such, the candy jar above could work. It is all about having a clear idea of what you will be storing and where.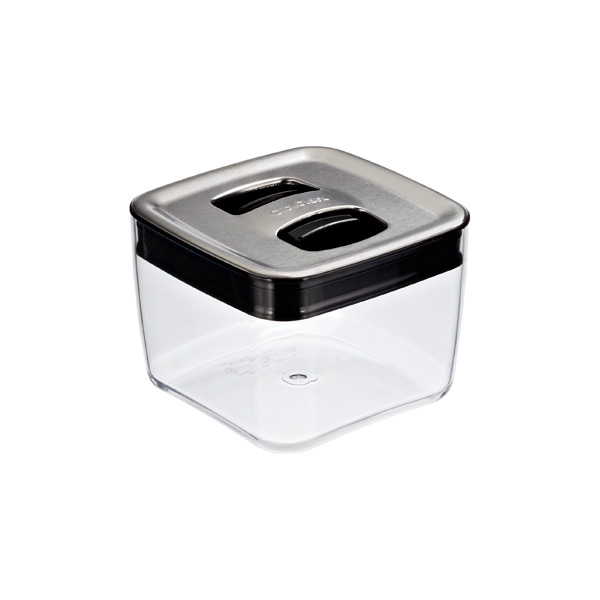 Closing Preferences
Will you and the people you share your space with twist that screw lid all the way to ensure that your food stays fresh? If there is some doubt, maybe a push and pull lid is more your style. Opening and closing your containers shouldn't require too much thought, so choosing the right closure method will ensure that you don't have to be concerned about protecting your stores.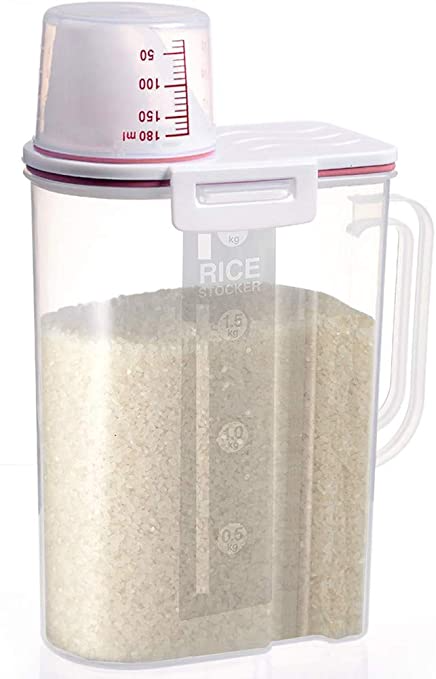 A Spout
Is a spout important? Some spouted containers come with a built-in measuring cup so you are not searching for one and that measuring cup is only used with that ingredient.
A Connected Lid
Do you have limited counter space? Do you have multiple vessels out at one time and get your lids confused? You might want to consider a lid that is attached. I am talking from experience here and would love not having to put a lid down on my counter when baking or adding seeds and powders to my smoothies. For one thing take up valuable counter space and two, if the lid is not labeled it is hard to distinguish which one belongs to what.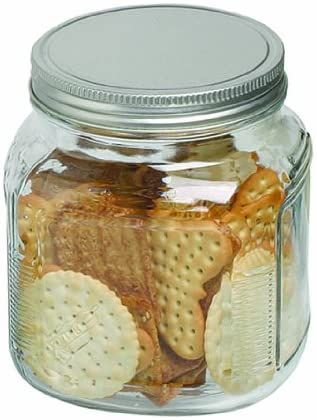 MOUTH SIZE
Curious how the opening of a jar got called a mouth. I could not find anything on the internet. If you do know or found an interesting historical article please let me know.
Back to that cracker jar I wanted before. It is important that my hand can reach to the bottom and get the last cracker standing out with ease and not getting my hand stuck. Or maybe you would like to scoop out the contents with a measuring cup or wooden spoon even when there is a 1/4 of the jar full. Width of the mouth size is an important consideration in these cases.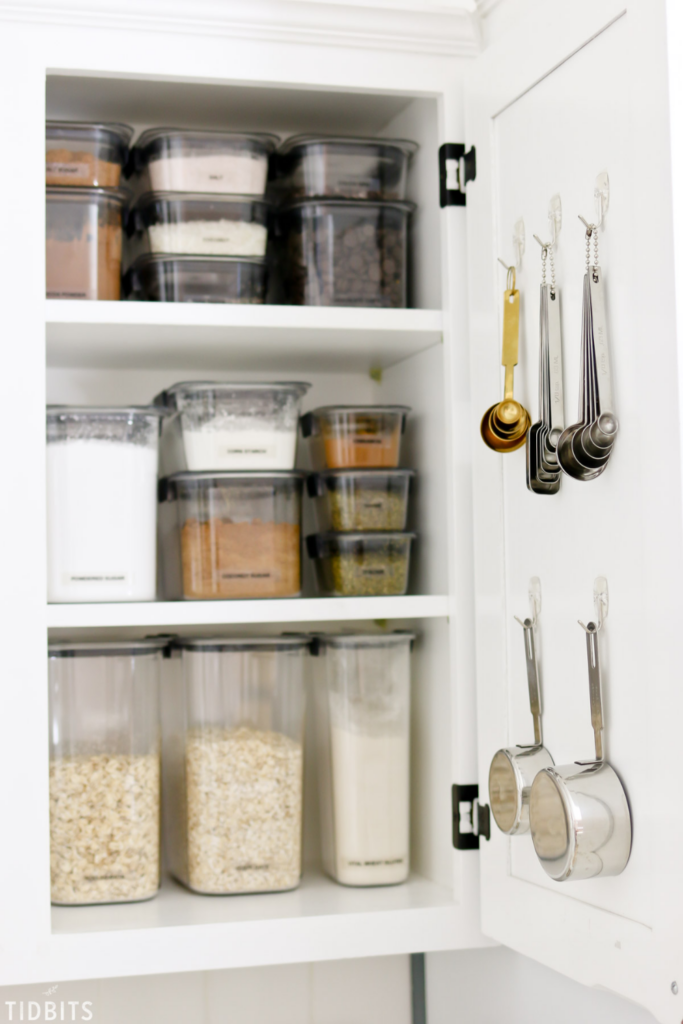 SQUARE OR ROUND
As one of my favorite organizers, Alejandra Costello, says, round items go on round bases like a lazy susans/turntables and trays and square/ rectangle containers on square bases like drawers, where you can get more in that space. If you want to stack them, square and rectangle is more stable for doing so.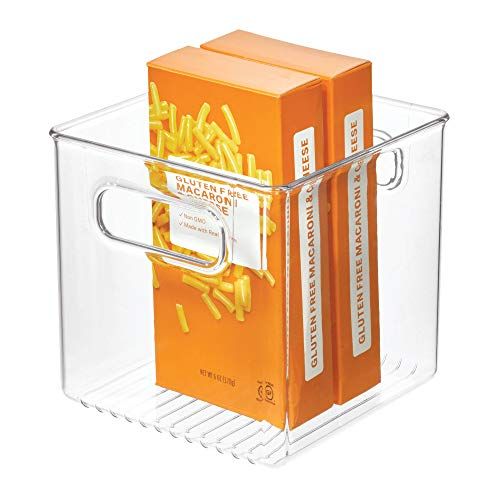 CLEAR OR OPAQUE
Many folks who watched Organizing With The Hone Edit gravitated toward the clear square bin , as The Container Stores sales could attest. Is it important to see how much flour you have or would you prefer a ceramic jar on your counter and have it as functional art? Depending on what you are storing baskets and opaque container are a good route to keep the visual clutter down.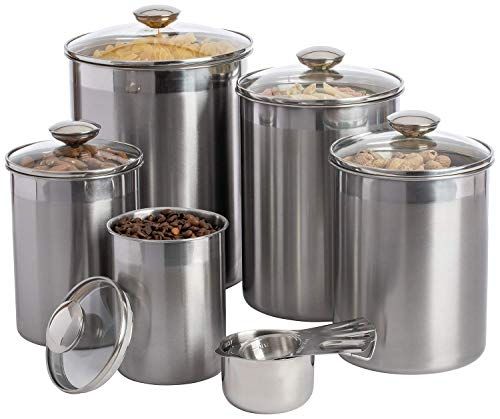 When ever I start writing a post I assume that their is an easy answer to the topic, and instead of finding quick answers, I end up having more questions. Somehow with out fancy air sucking containers in my cupboard, my food has not gone stale or clumped or molded and I have not gotten sick. If you make sure you seal those plastic bags up with the built-in Ziplock like many companies features with some of their products, you should be fine.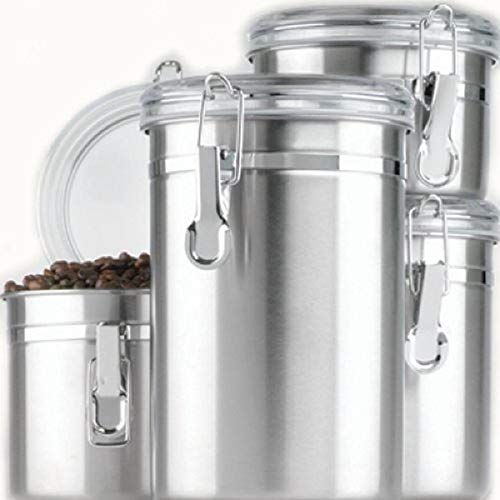 And who knew there was so many options to consider when storing your dry goods? Lids galore, shape, clear or not, and mouth size. A bit overwhelming, huh? I remember the good ole days when one bought containers from your Tupperware lady while eating snacks and gabbing with girlfriends. Back then the only question was, do I want olive green, beige, or orange ones. This is a big investment and I want to make sure your happy for decades to come with your purchase and beware of all of your options, unlike me when I first started. I like my mason jars but the jars with connected lids and spouted ones are containers that I would probably purchase if I started from scratch.
I often look to the French for inspiration, and as Susan Herrmann Loomis states in her book, In a French Kitchen: Tales and Traditions Of Everday Home Cooking, the French have very little in their pantry and fridge. It is about freshness and shopping more frequently, which is something we are told not to do with this pandemic. This is a good segue for our next topic and the one variable we didn't discuss today is the size of the container. How do we know if that 5 pound bag of flour will fit?
Talk to you in a few days, in the meantime keep sorting and make sure you have your categories in the best work flow location for you.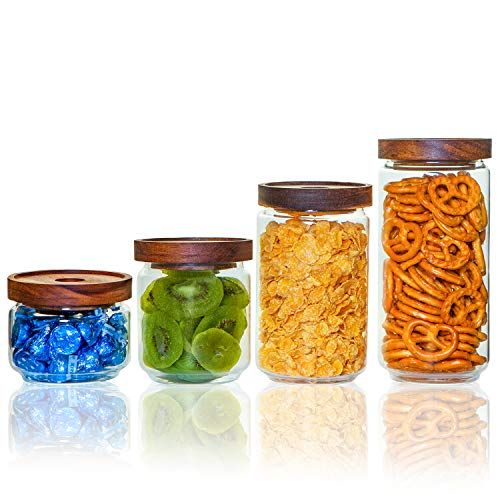 MORE INFO ON THE TOPIC