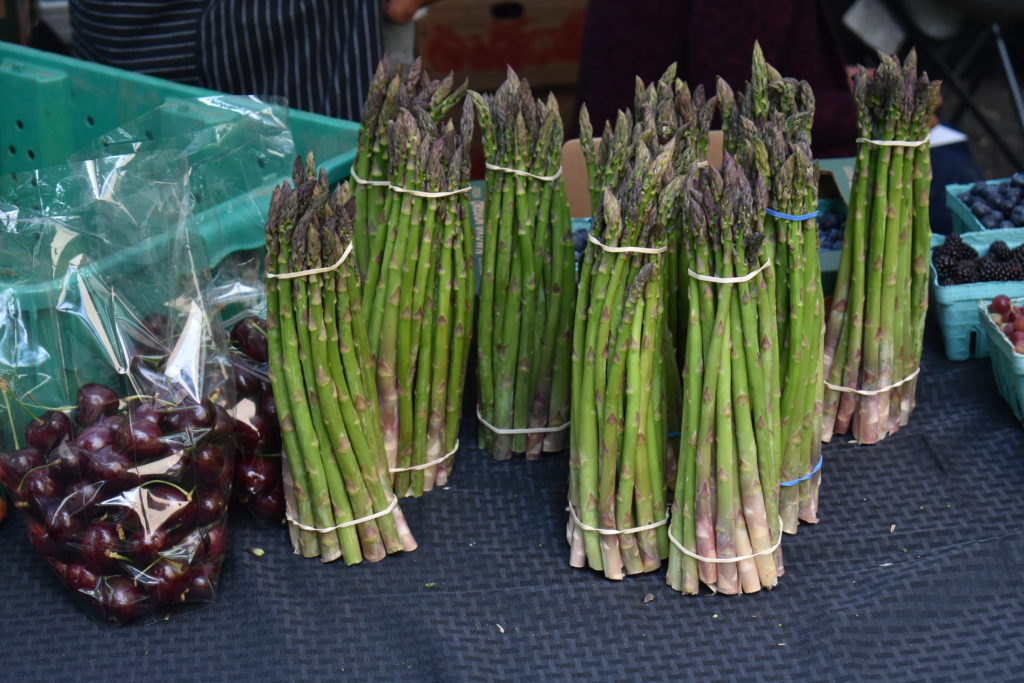 Mother nature constantly reminds me that seasons change and time fades and folds itself into the past quickly.  Late April does not seem that long ago, when I went to the Farmers Market in anticipation and hope that this would be the weekend that my favorite asparagus farmer would make an appearance. The weekend after the fourth is usually his last day.  Two months feels like such a tease and such a short window of time to get all my asparagus recipes used – and of course I am always collecting new ones. Yes, I am rushing to get this salad in.
On another note, I think I might have missed apricot season.  A farmer told me they have a 2-3 week appearance window, oh my! I definitely do not take my spring and summer produce for granted. Every weekend is a new display of ripe goodness and it can be overwhelming.  I always feel as if I'm behind the curve and I can't get enough of these great flavors.  I am very grateful that there is a Farmer's Market everyday of the week in Portland, Oregon.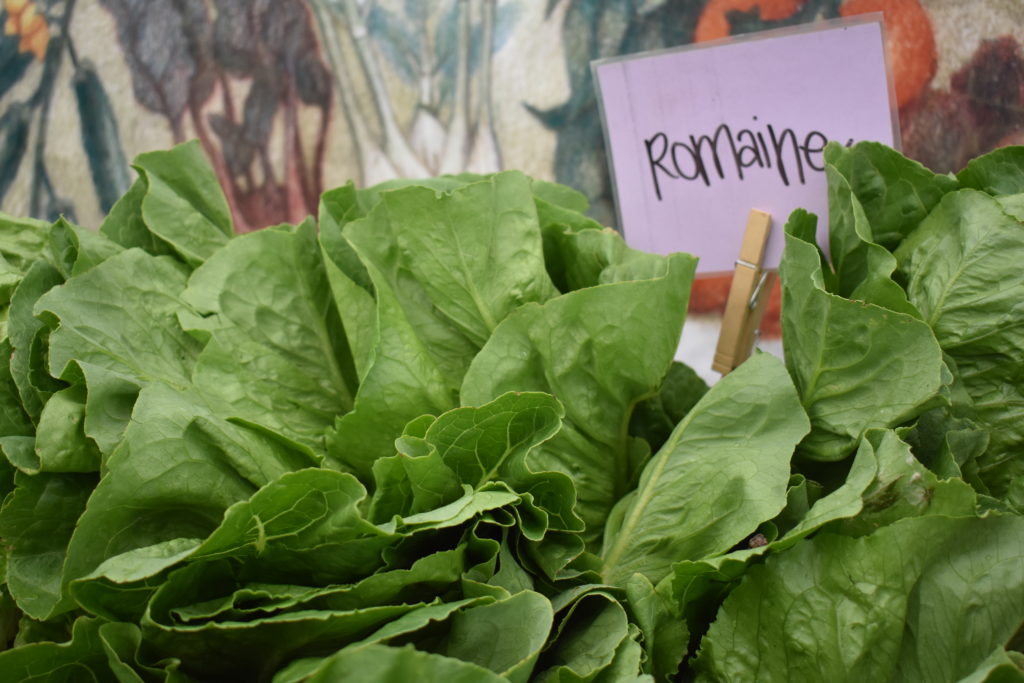 I hope many taste buds were salivating over the salad making montages in the last post. As promised there is recipe below but first there are several ingredients that we need to get to know on a more intimate basis. What I am learning is that the more information that I have regarding the food items I use, the more respect I have for them. It makes kitchen time a more reverend time.  What I am also learning with salad creating is that combining different lettuces gives them depth and texture.  With today 's salad I combined romaine lettuce with frisee.
ROMAINE
Before researching about romaine lettuce, I assumed that it did not offer much in nutrition content and didn't give it much thought.  After reading Dr. Axe's article on the benefits of Romaine lettuce, I am now a fan and blown away with what vitamins it has to offer. Per his article one cup of Romaine contains 82% RDA  of Vitamin A, 60% Vitamin K,  and 19% Vitamin C.  Holy Moly!  Who knew? That is not all, it packs in some maganese, folate, iron and potassium to boot. Eat up.
Not everyone calls this lettuce in the above picture Romaine. The folks of Britain refer to it as Cos since this type of lettuce has originated from the Greek Island of Kos.  You are probably asking yourself how do the Romans connect with this lettuce. The Romans ate the lettuce hot  and were believers of its healing and healthful properties. So the lettuce was named after them.  Get the full details in this article at Foodreference.com.  If you want fun foodie facts to share at a social gathering, this is the site to visit regularly. I learned that Mr . Sylvester Graham was born July 5, 1794.  He invented graham crackers. I know I am on a tangent. Back to lettuce.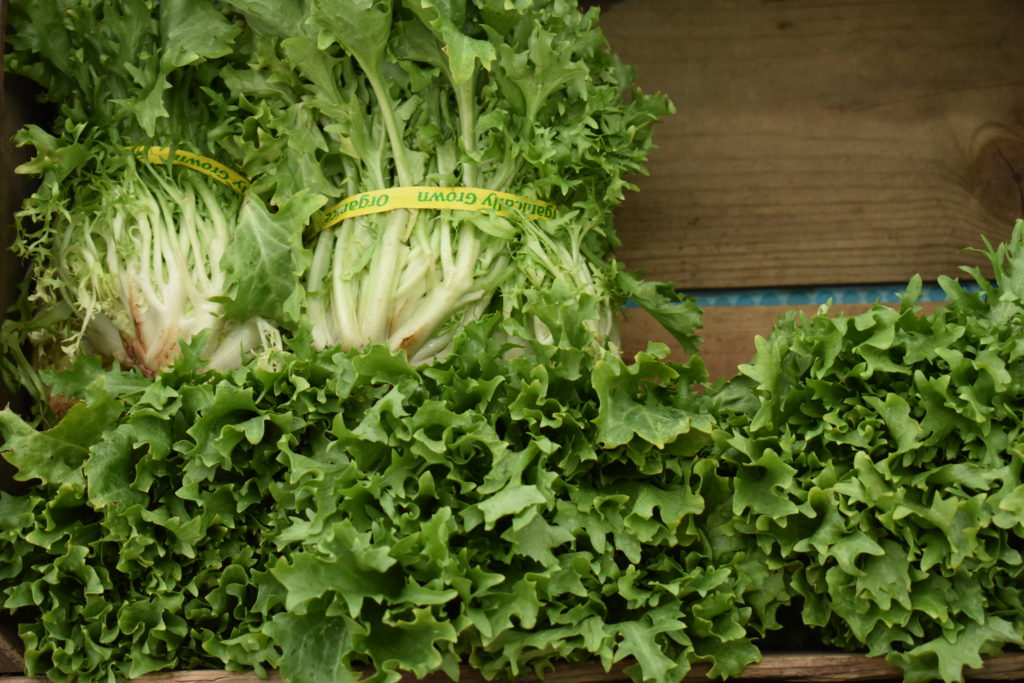 FRISEE
Frisee , a lettuce with wild hair.  Well, that statement is not quite accurate.  Wild curly leaves, yes but a lettuce frisee is not.  It belongs to the chicory family, the same family with endive, dandelion, Escarcole, and radicchio.  Frisee is also known as curly endive.  What is the chicory family known for, you may be trying to recall? Bitterness, color, sturdiness, good crunch and great texture. Bon Appetit last year claimed in an article that the chicory family has replaced gem salads and the kale.  Warm vinaigrettes seem to pair will with frisee.  I just like the crunch and variety of texture and look that it gives a salad.   Vitamin K and A are packed in this curly endive. Now let's talk about today's protein.
PROSCIUTTO
I have found prosciutto and seem to be adding it to everything.  The best thing about this thinly sliced cured ham -from the leg of a pig that cured by salt – is that there is no prep, just pull it out of the refrigerator and cut it into pieces. Prosciutto adds saltiness and fattiness to anything it pairs with.  At the store I found prosciutto wrapped around mozzarella sticks.  I thought, two items in one why not!  I did add a couple more slices of stand alone prosciutto to this salad.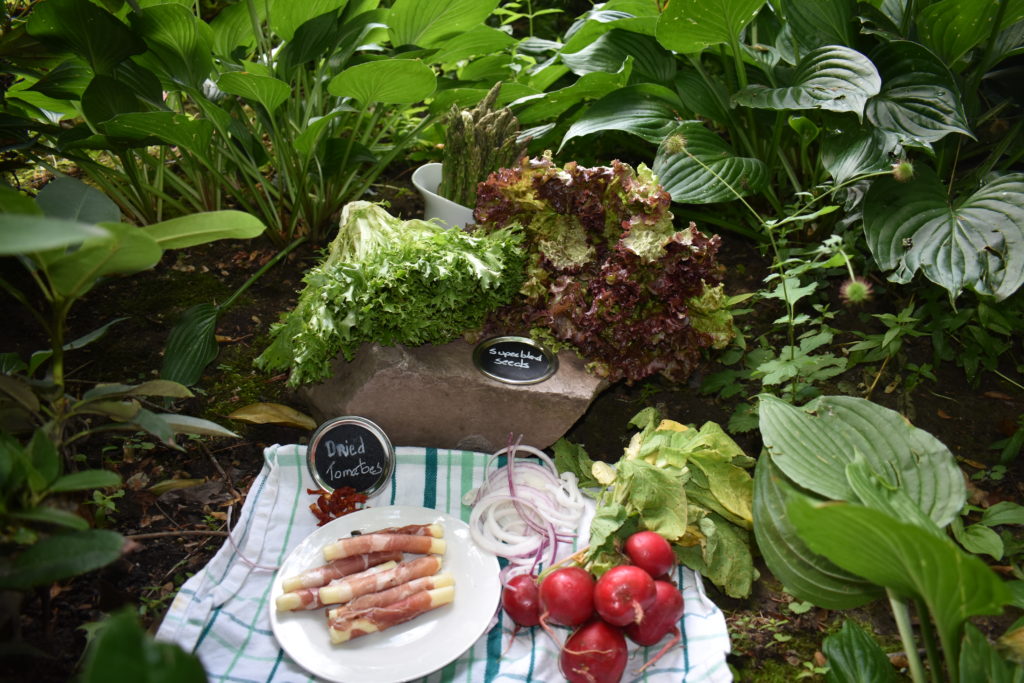 NUTS AND SEEDS
The nuts and dried fruit aisle at Trader Joe's is mind blowing to any salad aficionado. The different flavorful and fun crunch additives will take any salad to a new level.  And so many choices.  I have to limit myself to one new item a visit.  This time around I chose the Super Seed and Ancient Grain Blend.  You could probably make your own if you feel moved.  This bag contains sprouted buckwheat and millet, chia, flax, hemp, red quinoa and amaranth. This crunch and texture does add nicely to this salad.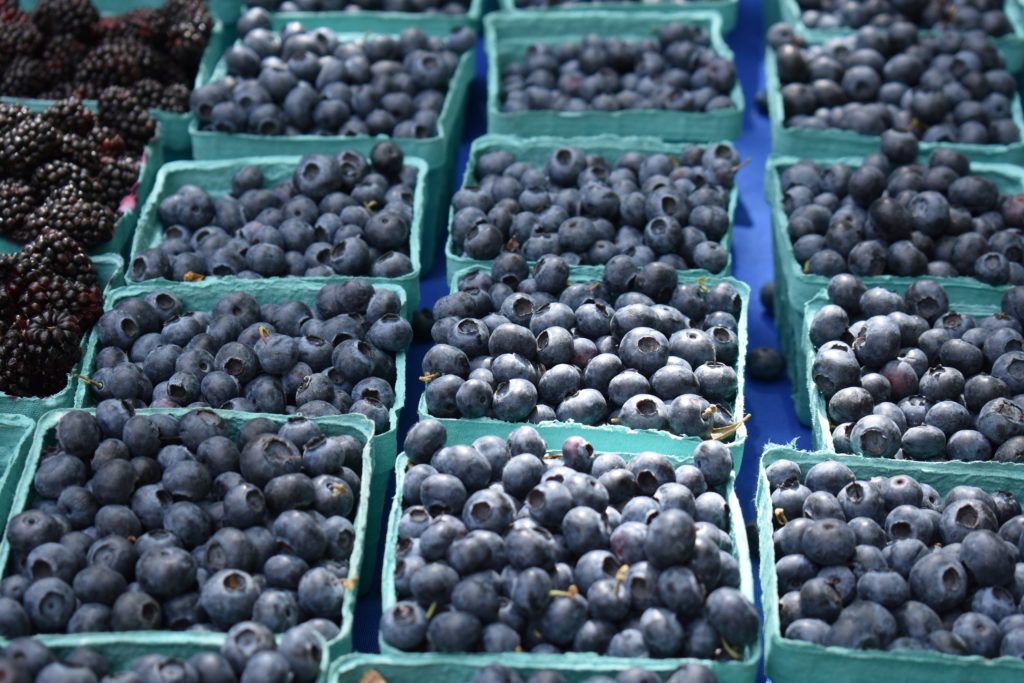 I do realize that the above pictures of the ingredients that the blueberries are omitted.  I had a box of blueberries staring at me every time I opened the fridge and decided to give them a shot in this salad, and I am glad I did.  The blueberries add color and a juicy soft texture to this mix – and some sweetness.  The folks at Clean Eating did not add fruit to the matrix without a reason.
That is why I love salads so, they are forgiving and versatile and a great way to experiment with little risk. May your taste buds enjoy this salad. Let me know what you thought of this combination in the comments below.
Aimee
Print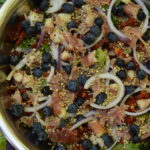 Asparagus and Blueberry Salad
---
Description
A delicious and beautiful textural salad.
---
Ingredients
Romaine Lettuce
Frisee
Dried Tomatoes
Asparagus
Radishes
Red Onion
Prosciutto
Cheese-Mozzarella in cubes or perhaps swiss
Nuts and Seeds of your choosing or Trader Joes's Super Seed and  Ancient Grain Blend
Mustard Vinaigrette
---
Instructions
Wash and dry well, the lettuces. Chop the bottom core off. Cut or tear lettuces into small bite size pieces. Then put in your favorite size salad bowl.  I usually put romaine in first since it is more sturdy than the frisee.
Snap the woody ends of the asparagus. Cut the asparagus into approximately 2 inch pieces with a knife. Heat a pan on medium-high. Pan fry the asparagus with olive oil and/or butter. Set aside when finished. Sometimes I prep asparagus this way the day I buy it and have it on the ready for salads or scrambled eggs or quiche.
Wash and slice the radishes and add to the romaine and frisse.
Slice a red onion and make a layer in your existing salad bowl..
Add a layer of dried tomatoes to the mix.
Drain a can of garbonzo beans if using and rinse and put into the already beautiful bowl.
Cut the mozzarella cheese.
Roll the prosciutto and cut into pieces using your kitchen shears.
Add the above ingredients to the salad.
Drop the washed blueberries to the mix.
Sprinkle a layer of seed mix on top.
Before serving add the mustard vinaigrette of your choosing.
Notes
I have added garbonzo beans to this salad with the meat.  If you do not consume meat these beans are a great substitute to the proscuitto or more fiber and density to the salad. I have made the salad with and without the beans. Great either way.
To see an almost step by step making of this salad and understanding why there are no measurements go to my post Salad Making Guidelines.
This is not an affiliated post.  Trader Joe's does not know that I exist.  I just like the product mentioned in this post.