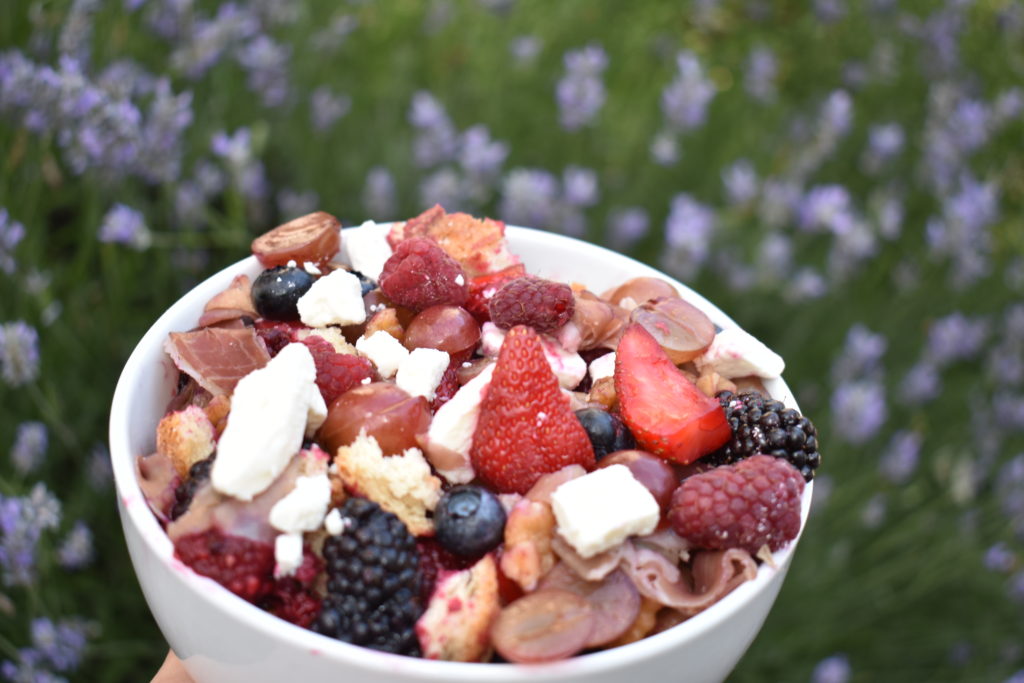 One never knows where a muse will reveal itself or tickle you.  After a party I hosted with hor's d'ouevres of the usual variety that go with wine (bread, cheese, prociutto, grapes and fruit), I decided to create a salad from the leftovers. Everything in this lovely mish-mash was exactly what I was craving at the time; and of course breakfast is so much more fun in the summer with the plethora of fresh fruit and berries to choose from.  So here is how this salad came to be. Blueberries, strawberries, blackberries and grapes were tossed into a bowl.  Then a thought struck; let's add some of that baguette that is sitting on the counter.  So I tore some pieces and tossed it in with the fruit and berries.  At wine parties there is often a cheese and fruit board, so why not add some brie that has been hanging out in the fridge.  Oh yeah, I have an abundance of walnuts, let's add those.  And to make it cohesive one needs a dressing.  The reliable and complimentary stand-by of balsamic vinaigrette was added to the mix; then I sprinkled in some salt.  This is one of the moments I live for, when I am in a creative flow, and the result the first time around is perfect. Creative bliss – just plain bliss.  This has been my go-to breakfast all week.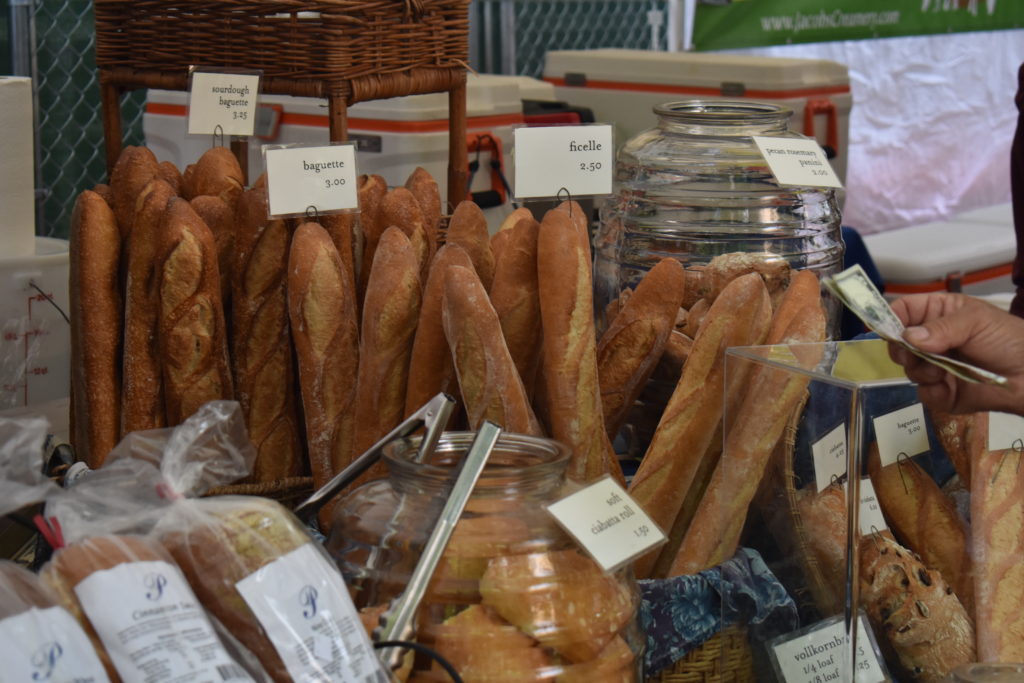 At one point I did have a clever name for this salad; a title that hints at its origin of being a leftover wine party bowl and over time the name was lost to the mists of memory. Let me know if you have any clever ideas in the comment section below. This one is so simple to put together and these flavors meld perfectly together, all summer berries in one bowl. Positively taste-bud tingling! If you have to leave one type of berry out, due to the fact that they are not all ripe at one time in your region, no worries. It might be a tasty experiment to add a stone fruit or thrown in cherries as a substitute for the raspberries. It would be hard to go wrong in this case. Don't have brie on hand, use some feta in its place or blue cheese crumbles. Remember that recipes are just templates and a way to ignite your creativity.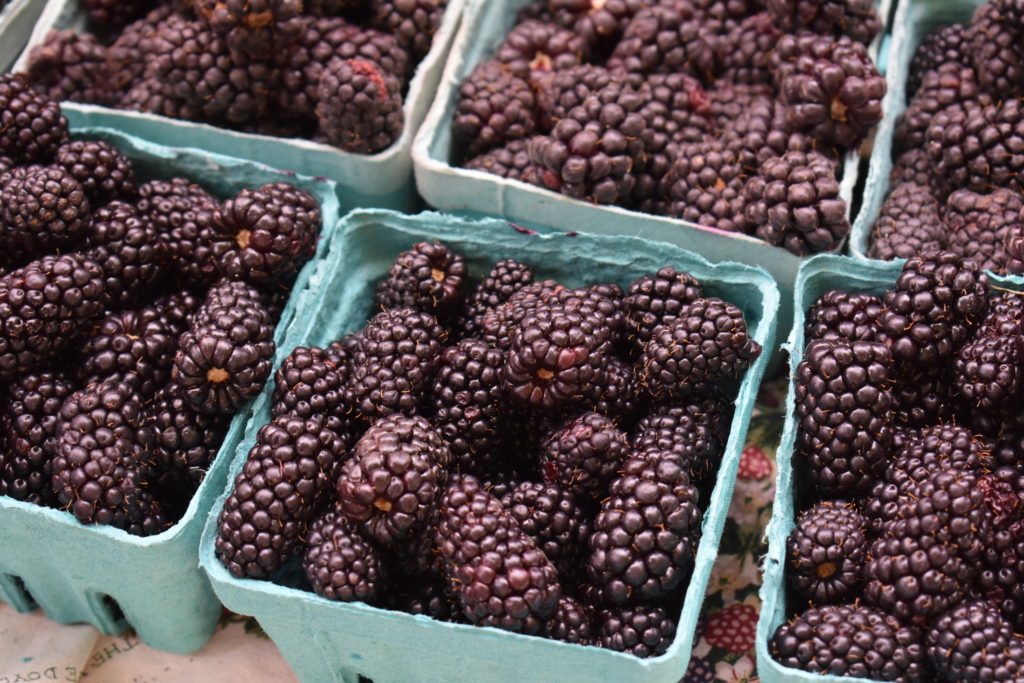 A simple easy breakfast that is perfect for those days that are super hot and you do not want to turn on the stove or oven; and another excuse to have balsamic vinaigrette at the ready or to use your last leftover batch.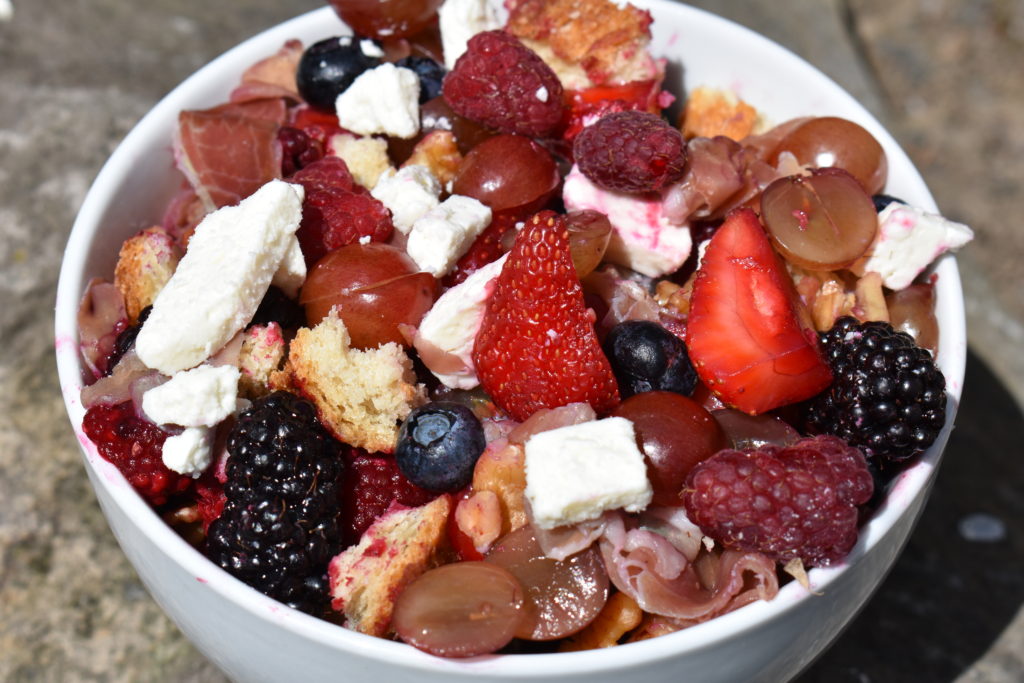 Breakfast Fruit Salad
Ingredients blackberries strawberries-quarted blueberries raspberries or cherries grapes cut in half French Bread cheese-brie, feta or blue cheese prosciutto walnuts balsamic vinaigrette
Directions
If you do not already have a batch of balsamic vinaigrette make some now. Just a comment on the dressing recipe. If you do not have sunflower oil do not let that keep you from making the dressing. Just add more olive oil. The reason for the sunflower, canola, vegetable oil is so that it does not solidify in the fridge. You can keep this salad dressing in your cupboard or counter for up to a week.
Pit the cherries if you are using them. Don't have a cherry pitter? Use this genius method. Wash and cut the fruit as needed. Just a quick spray of water with the fruit in a colander will do. Once the berries and grapes are prepped put them in your bowl.
Tear the baguette into bite size chunks.
Cut the prosciutto into large pieces using scissors.
Cut the brie into squares or sprinkle the crumbled feta or blue cheese crumbles in the bowl.
Sprinkle the walnuts with the rest of the goodies. Next drizzle the balsamic vinegar on top. Get your favorite spoon and dig in.