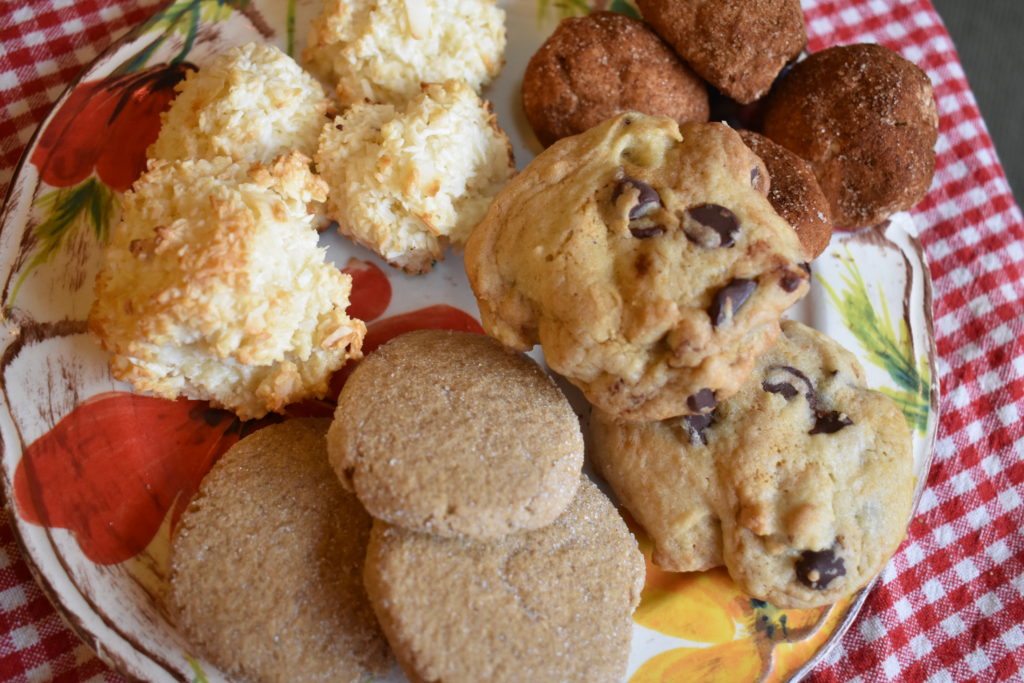 So what made the holidays special for you as a child? What made you get excited for December every year?  This year as I read fellow food blogger's posts, cookie recipes kept popping up and this year for some reason both my mom and sister started were all agog about cookies.  As a child my mother was known for her cookie platter and she would wrap her creations as gifts that everyone was thrilled to receive.  Here is the list of sweets she prepared: chocolate covered cherries, chocolate covered peanut butter balls, rum balls, butterscotchies, date bars, jam bars, butter balls, and of course fudge.  Yes, there was chocolate fudge along with butterscotch and peanut butter and double decker fudge with chocolate and butterscotch. Were cookies a big part of your holiday? What was on your cookie platter? How many pounds of butter and sugar did we go through each December? Not sure if I really want to know the answer to that one.
This year I had the urge to start my own tradition and create a cookie platter.  When you make these cookies yourself you become intimate with what they consist of.  I had no idea that coconut macaroons are simply butter, coconut, and condensed milk.  My naivete is gone.  Nine cookie recipes caught my fancy this season: Coconut macaroons, sugar cookies, lemon bars, chocolate chip, oatmeal butter scotchies, millionaire bars, Classic Peanut Butter Blossom Cookies, gingersnaps, Donut Hole Cookies.  The common denominator is is that none of these recipes needed a rolling pin;  which is nice since I do not own one. The ones that were the stand-outs were the lemon bars, butter scotchies and chocolate chip cookies with the sugar cookie following close behind.  Making cookies from scratch is not that time-consuming and the smiles you get from those you live with and the smell of your living space makes for a peaceful and joyous scene.
I will confess that I did use glutenous flour for all the cookies above except for the donut hole cookies and ginger snaps, where I substituted gluten free flour in the recipe and they turned out beautifully.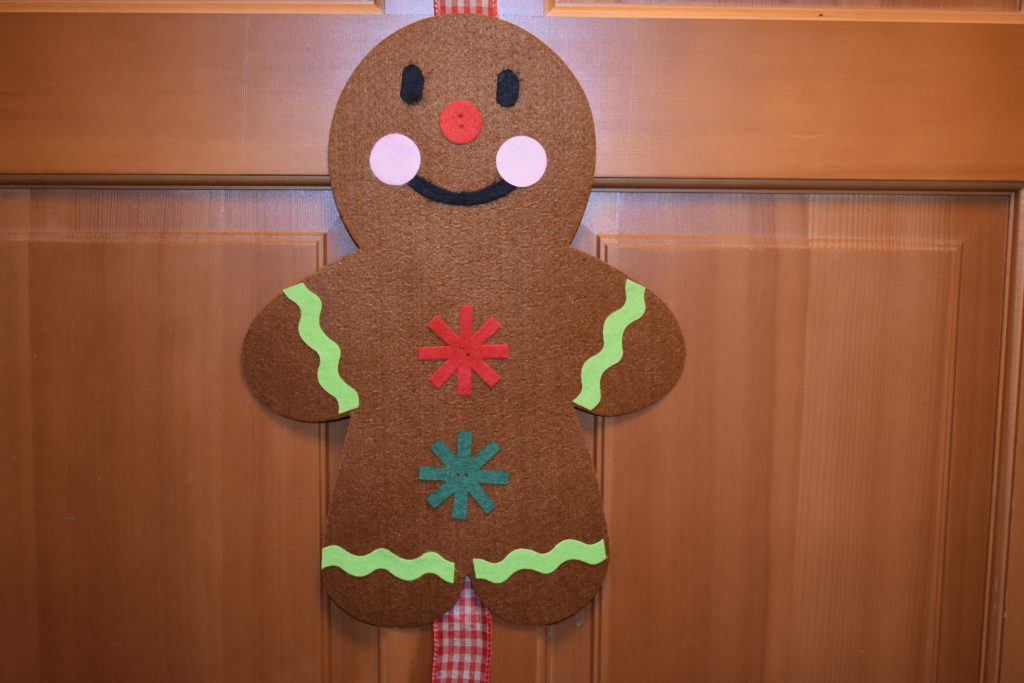 One question I have regarding cookie recipes is: who decided that an average batch of cookies should be three dozen? Google did not have an answer for that; I might have to ask the librarians for some help on that one.   Some recipes are only two dozen. Do you see a mathematical story problem here?  Let's round out and say the average batch is 30 cookies. Nine types of cookies times 30 is 270 cookies.  There were only seven of us in the house for Christmas.  That equals about 3 dozen cookies apiece that we need to consume.  Yikes!!  Thank goodness for friends to give them to, who were very grateful.  This experience got me thinking about Santa and his travails.  If every kid in the whole wide world that he visits gave him one cookie (I know that my sister and I usually gave out three cookies on a plate and a carrots for the reindeer), well, that might still not be as many as I made this Christmas. Now there is a big math problem!  I had troubles finding out exactly how many houses Santa visited this year in the world. Does Santa eat all those cookies himself or does he save them for his elves?  And that got me thinking, how many elves does Santa need?  How many have retired? How many new elves come into the world each year?  My inquiring mind would like to know.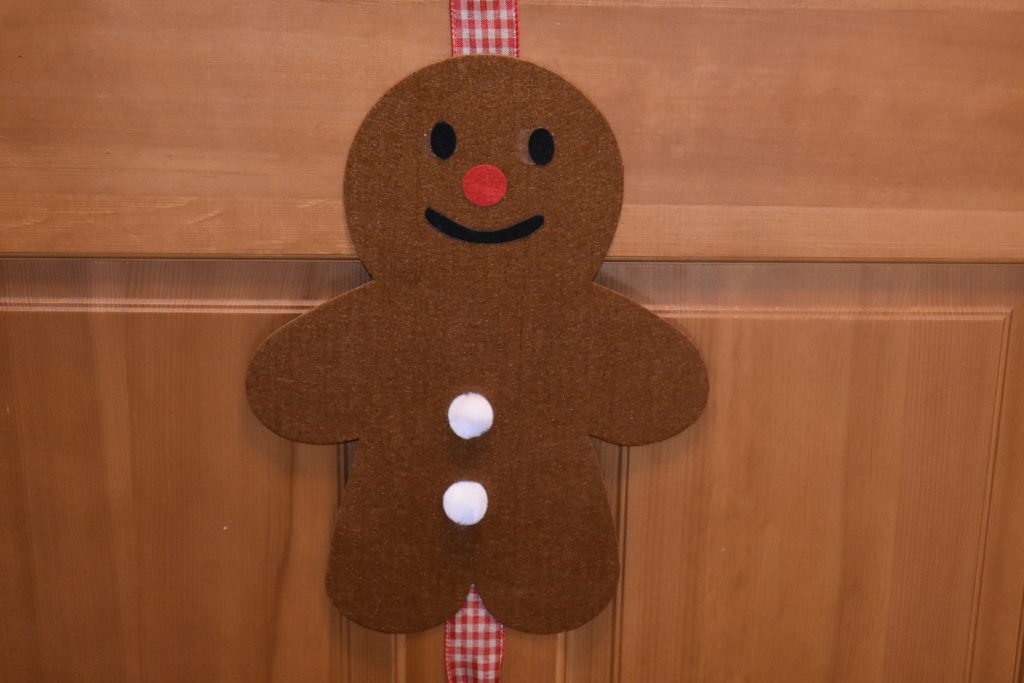 Brown Sugar and Molasses
While I was making cookies, the brown sugar thing came up.  When a recipe calls for brown sugar what are they referring to? All these years walking on earth I never questioned what made the sugar brown.  I just assumed it came that way.  The magic ingredient to making brown sugar is…molasses. What is molasses, right? Where does it come from? I have assumed from a tree, much like maple syrup.  Oh, I was so wrong.  Molasses is a by product of the sugar making process. Here is a great article on molasses and should clear up those misconceptions.  The difference between the shades of brown sugar is the quantity of molasses.  I am still curious as to why some brown sugar is more solid than others? If you have any answers to this question, please share below in the comment section.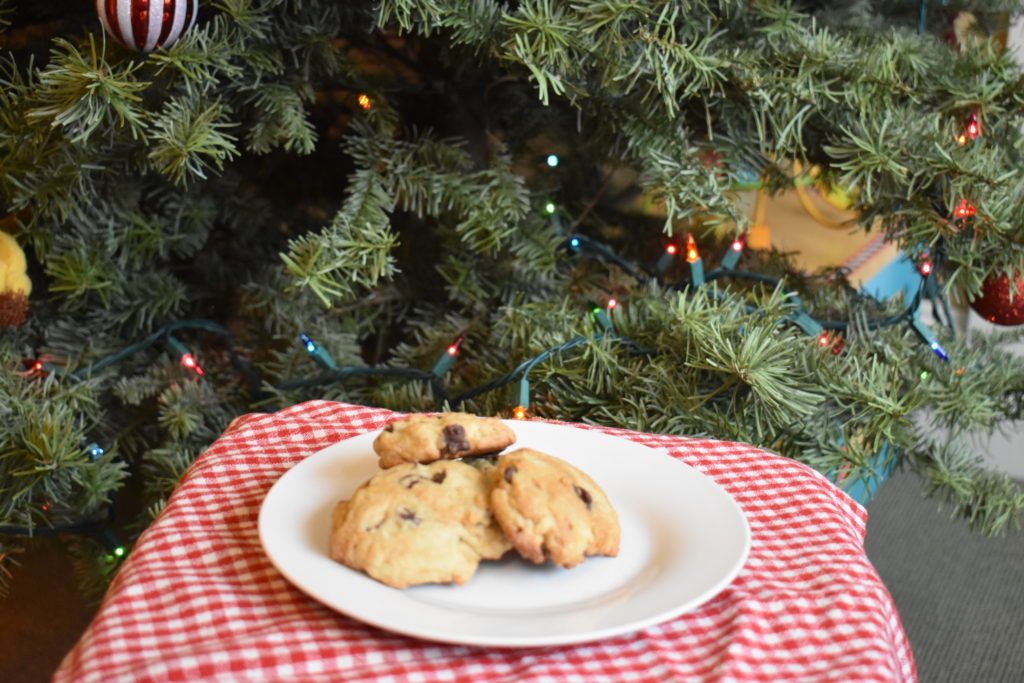 Fudge
Fudge, where did it get its name?  My theory is that someone kept making it and it took forever before they figured out how it would solidify and each time it didn't they made the sound Fudge.  Well I looked up the history of fudge and was not far off.  Someone was cooking caramel and "fudged" it up and it ended up crystallizing.  I am not the only one who has troubles getting fudge to be the right consistency, which is why the marshmallow cream and condensed versions came into being.  Adding the marshmallow cream and condensed milk were supposed to make it foolproof.  Not so much in my case.  My mother recently read me her mother's fudge recipe.  It directed the cook to let the mixture boil for seven minutes so it will become candy. That is the only recipe I have thus far come across  that states how long to boil the sugar and butter. This has become a bit of a science, fudge making.  But what constitutes candy in this case?  I am thinking anything that does not contain flour but contains lots of sugar. We will go down that rabbit hole another day.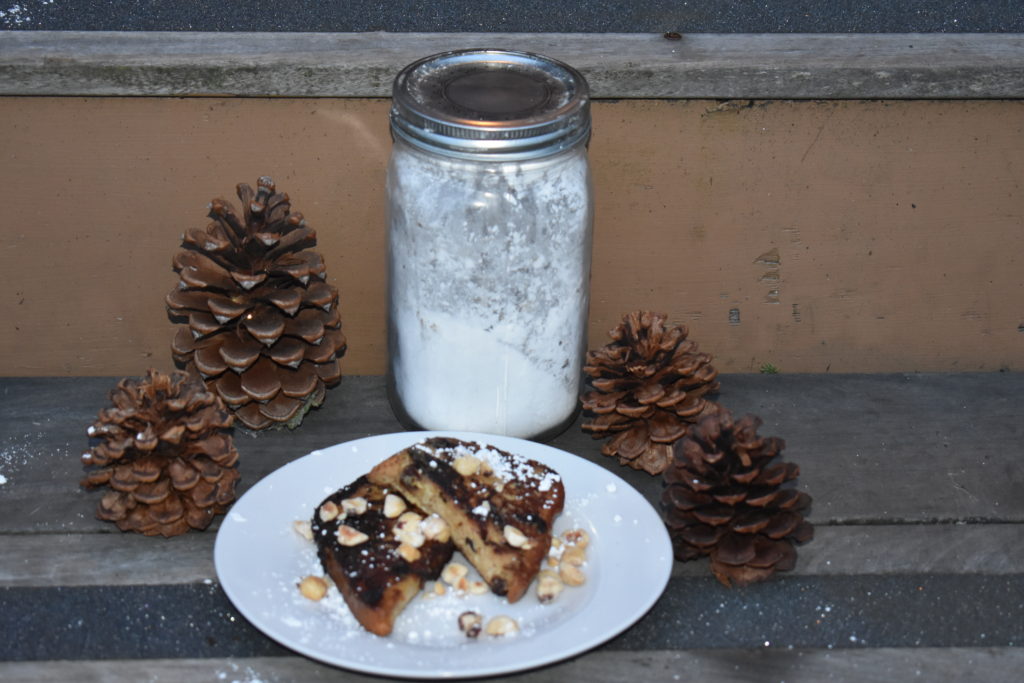 One of the blogs I have followed recently posted a fudge recipe where it indicated putting it in the fridge for an hour before consuming and only 4 ingredients and 7 minutes of hands-on creating time; so naturally I am eager to give this recipe a test run.  For extra fun orange zest is added to it.  What a brilliant idea!  Another reason I look forward to December is the chocolate oranges that you crack into wedges.  I have not yet met one this year.  Hmm….hope it's not losing its popularity.
A term that's new to me that I'd like to introduce is the candy thermometer.   So how does a candy thermometer differ from a meat thermometer? Maybe I should have called this blog, down the foodie rabbit hole. It is all about the range of temperature. A candy thermometer needs to go beyond 400 degrees in some cases, while you would never want your meat that hot.  Here is a dandy candy temperature chart.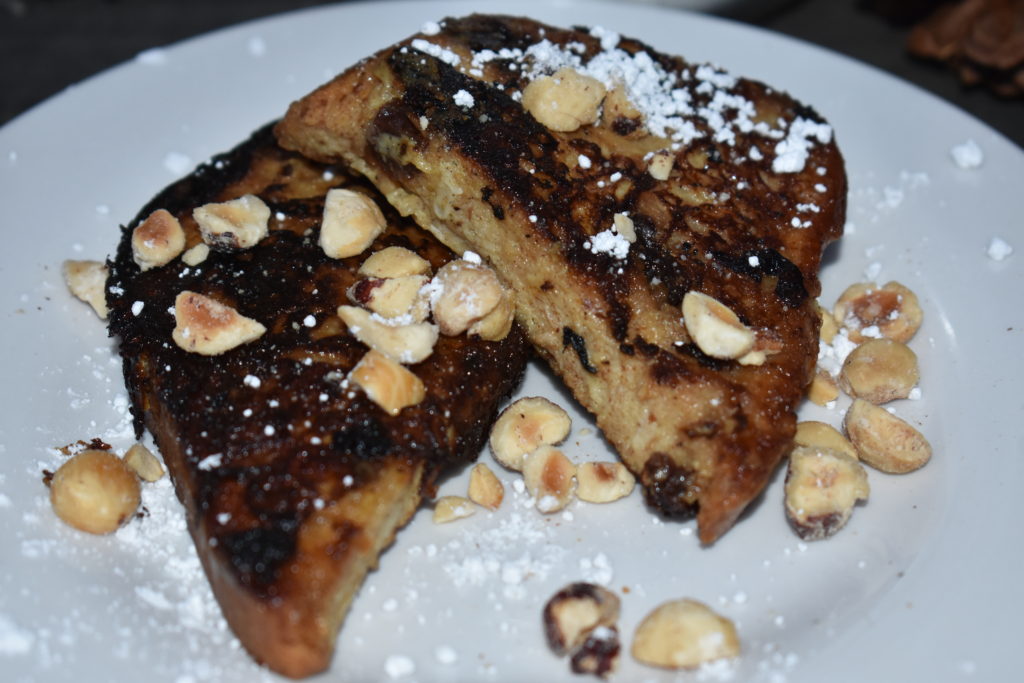 Eggnog
The discussion with my mother worked its way around to what are our favorite things to look forward to in December. Her answer: eggnog.  The next day as I walked into my local grocer a refrigerated display of eggnog greeted me and of course for nostalgia's sake I picked up a carton.  That evening as I poured some into a sauce pan, wording on the side of the carton caught my eye; it said make french toast with eggnog.  I read it out loud and my husband said that is a monumental idea – breakfast tomorrow?  I checked the web for recipes and some recipes read like the usual french toast, with the substitution of eggnog for milk.  There are another group of recipes that cite soaking the bread all night in the eggnog mixture and baking it the following morning.  This method seems more like a bread pudding.  Many recipes also suggest cubing french bread. I'm curious to try the latter version but I have to say the first version was delicious; with slices of gluten free raisin bread and Challah bread for those who choose to indulge.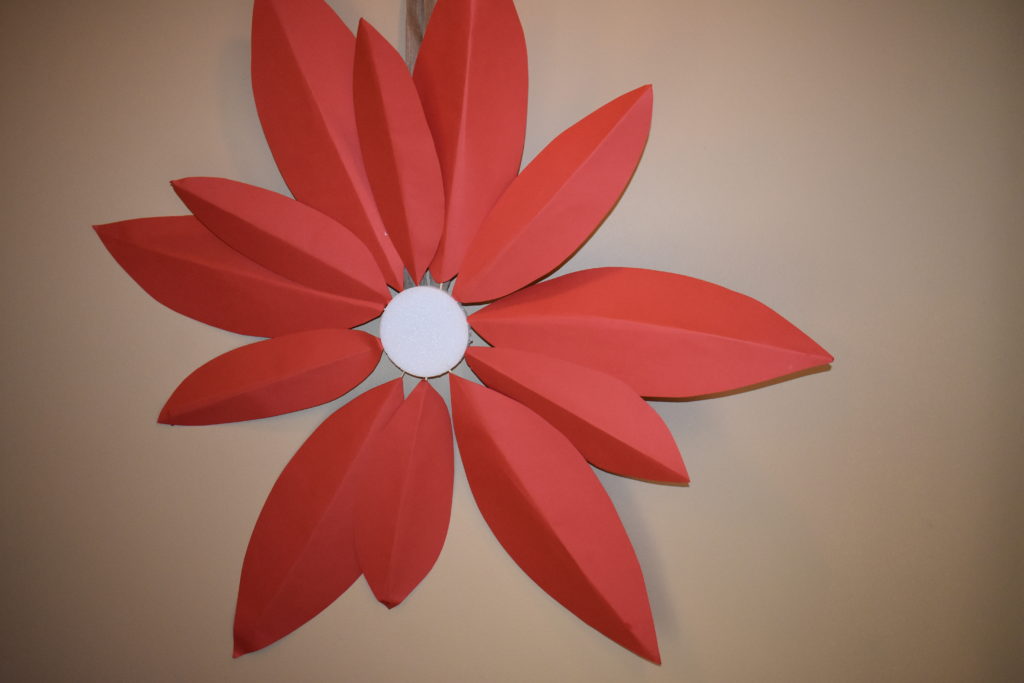 New Years is just around the corner and cookie munching is great with games and puzzles and watching the countdown on the tube.
What are your favorite holiday cookies?  Down below let me know your must-have recipes.
Hugs for the week,
Aimee