We are already half way through Asparagus season!  In Portland, Oregon the spear-headed vegetable is at its prime approximately May 1st to the Fourth of July.  Such a short window in which to partake, I must time get crackin'!  I know different vegetables are being harvested constantly in the Summer, but their time is short.  I feel like I am running against the vegetable clock during summer, and I know when corn hits the scene that Summer is wrapping up.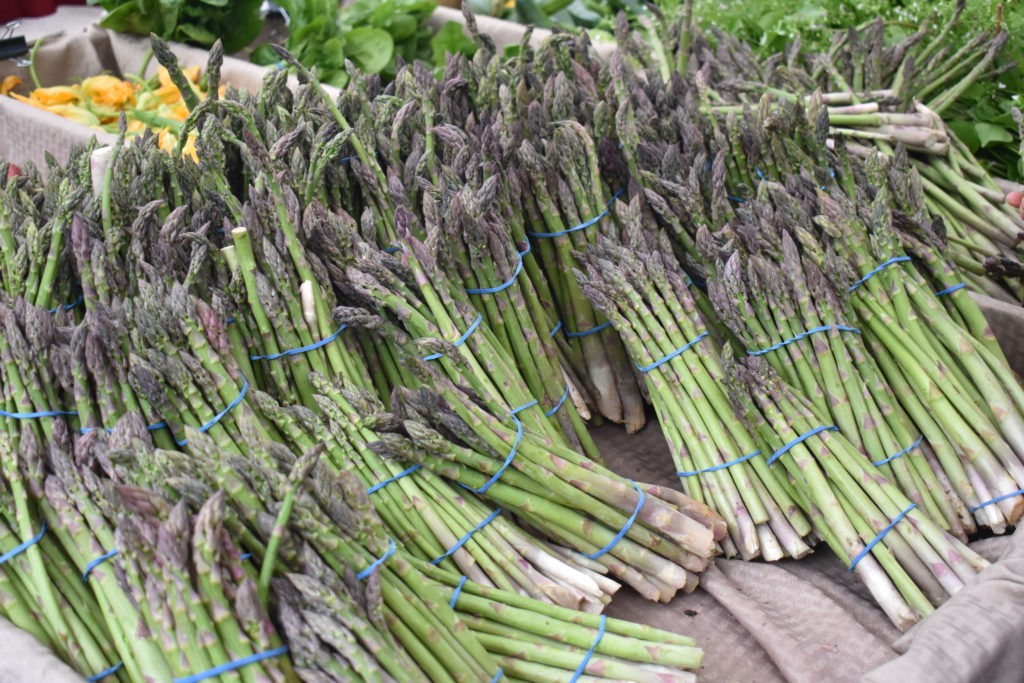 In July we say goodbye for 10 months but for these jewels to mature it takes three years before they can be harvested.  36 months of patience before one can truly enjoy the yield from that crop; asparagus is deeply rooted to where it is planted and will keep harvesting on average for twenty years. With this knowledge I have a newfound reverence for the green spear.  
I would like to touch on a lively discussion I overheard at the asparagus stand at the farmer's market last week.  There were two varieties for sale; purple and the common green.  Why are the purple bunches priced higher?  And why would I want to eat purple asparagus?  Kinda sounds like the kid in Green Eggs and Ham.  A fellow shopper stated that she was a naturopath and the purple stems had more antioxidants than the green ones, and are sweeter.  The price difference is based on the price of seeds.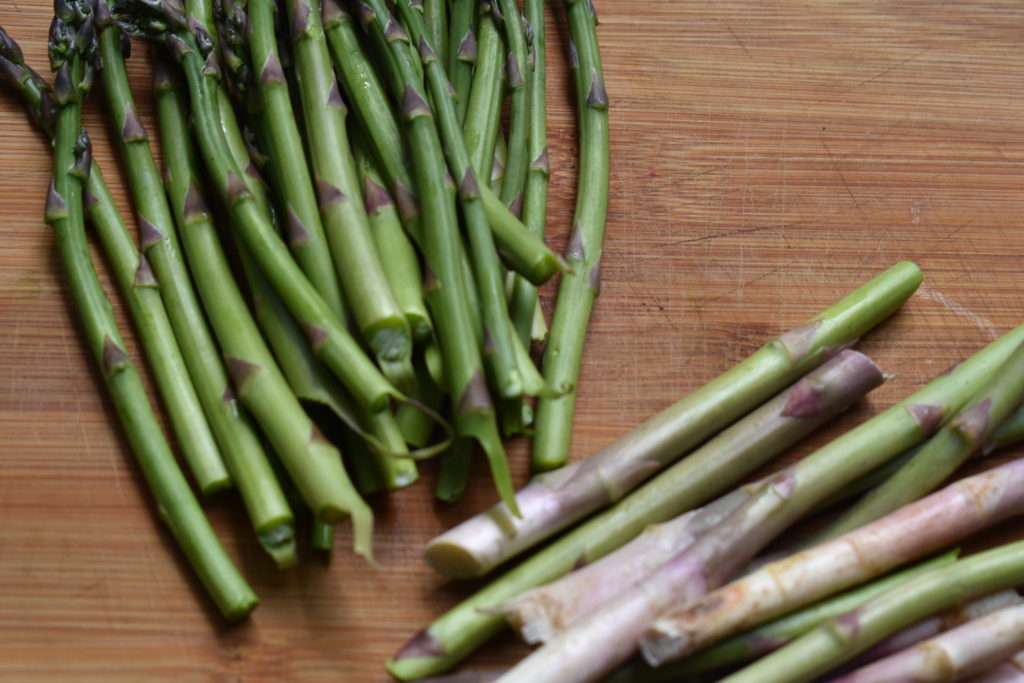 Once you have your bundle of greens home, the universal direction is to cut the woody part off at the end, opposite of the flowery spear. My question always was, how do I know when the woody end ends?  In a blog I read that if you hold a stalk of asparagus and bend it, it will naturally break at the point where the woody portion stops.  I was genuinely surprised by the proportion of it.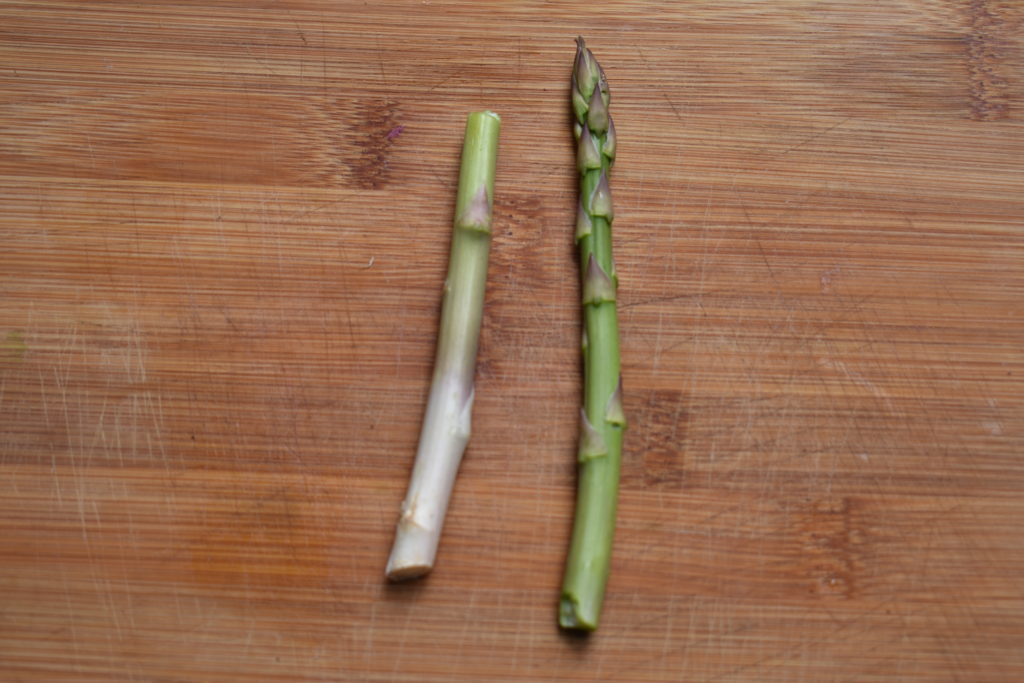 After eating roasting the asparagus and putting it with the salad, I knew it needed a different texture to round out the salad I plan to create with it. I perused the internet for panko styled asparagus spears knowing and landed on Guy Fieri's Crunch Crazy Recipe Spears which was a template for the sesame seed version I wanted to create. We have the asparagus, stems are snapped off and a recipe to guide us; check, check and checked.
Now we are ready to prepare it.  Today we are going to focus on baking it, crispy style.  Before perusing recipes, I put rubbed oil onto the stems and rolled them in sesame seeds which gave me roasted asparagus with sesame seeds; but those seeds graffitied my kitchen instead of staying connected to the green. It was quite a seedy mess on the floor and counter.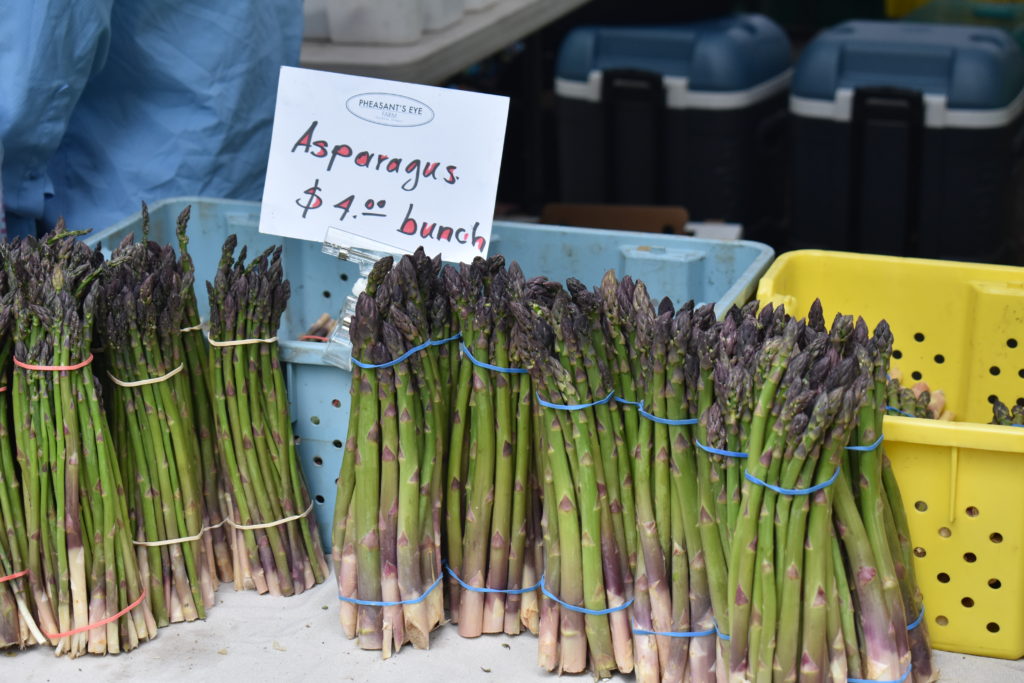 Egg whites are the answer. Just writing that down, I begin to sweat.  The pressure of cracking the egg in half and being steady handed and focused enough that the yolk does not drip into the egg white bowl.  I have recently discovered a gadget that just sucks the egg yolk out.  If you are intrigued or want to get your hands on one, the official name for this gadget is egg yolk suction separator. Never fear, YouTube to the rescue with a demonstration for an alternative.  There I found out that a plastic bottle will also do the trick. Highly recommend this short 2- minute video that demonstrates four methods of how to separate the yolk from the white.  Brilliant ways. 
Now that we have a couple of egg whites we need an emulsifier to keep that egg on the asparagus.  Most recipes call for mayonnaise.  If you are wondering what an emulsifier is, check out this recent post.  With the flavors I am working with I decided to go with honey, my favorite emulsifier. We have honey and egg whites, then add some salt and whisk together.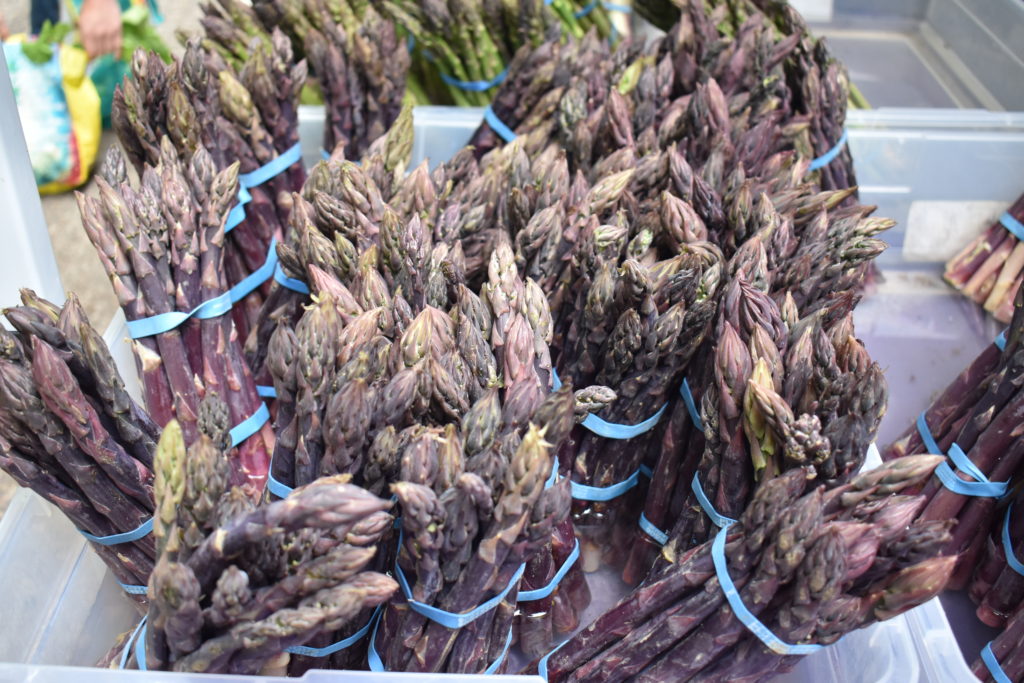 Now we have cut asparagus, a bowl with honey, egg whites, and salt.  Get a couple of plates out and put the egg mixture onto a plate and put a layer of sesame seeds onto the other plate.  I find that the plates are the best vessel to work with on this recipe because the whole spear can be rolled in the egg and sesame seeds and covered with ease; a bowl would make this operation difficult. A pair of tongs for each plate would be ideal so there is no cross contamination of ingredients. My first attempt at these I used my hands and inevitably the sesame seeds landed in the egg mixture which caused the emulsifying action to decrease. In other words the sesame seeds were no longer uniformly sticking to the asparagus.
For the next step, in Guy's recipes he suggests placing the asparagus spears on top of a cooling rack which is in a baking sheet. I experimented with this step and put the asparagus spears directly on the pan and on the cooling racks and in doing this I found that the ones that were on the pan were crispier and more to my liking.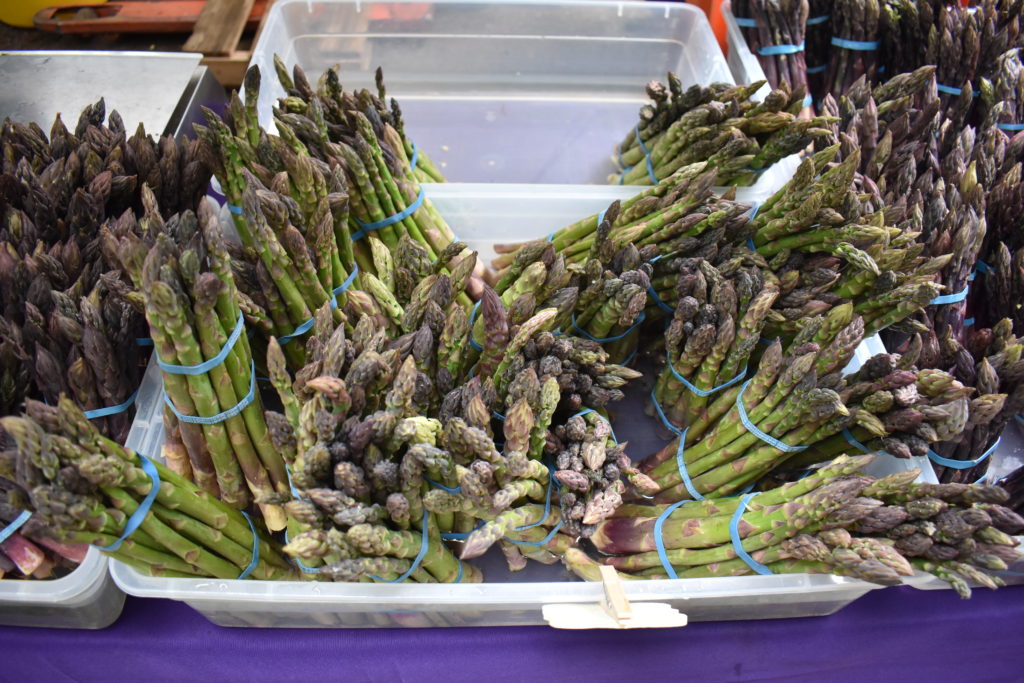 Before this goes into the oven the sesame covered asparagus must be oiled one more time. I drizzled them with olive oil for my first attempt. In truth it would be more accurate to say that I poured oil on them that immediately created oil ponds on my pan. I find it very challenging to drizzle oil directly from the store-bought bottle. Transferring it into another bottle is an option. I opted to go find a spray version of oil at the local market. Olive oil was not an option at this market in spray bottle form, but coconut and ghee were (ghee is butter that has been simmered and all water strained from it). The spray bottle format more evenly oiled the sesame seeds and no ponds were formed, so I felt triumphant! Taste wise I truly did not have a preference between the ghee, coconut and olive oil. The seeds browned only where the oil was in contact with them. Looking forward to hearing about which oil your taste buds preferred.
Let them cool for about five minutes and then consume immediately. They would be great in a dipping sauce like aioli. Let me know what condiment you choose to match these creatively-seasoned spears with.
I will see you tomorrow, when we will combine all the ingredients we have discussed this week into the form of a hearty salad.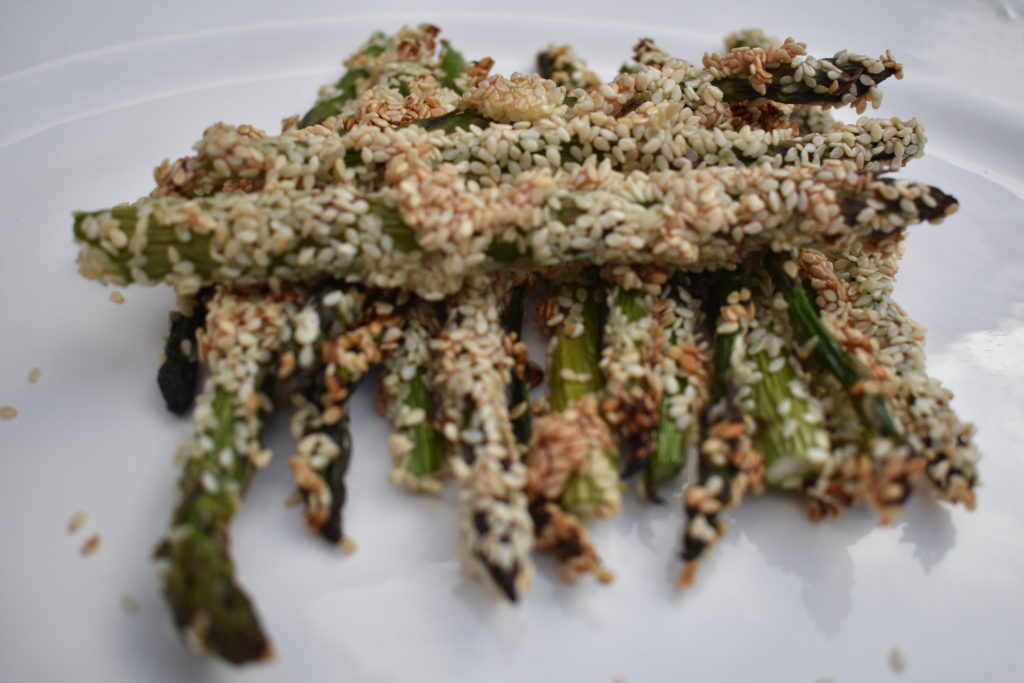 Crispy Sesame Asparagus
I must give Guy Fieri of the Food Network credit again for helping me create this recipe by posting his Crunch Crazy Asparagus Spears. I found these fun and meditative to make and just as fun to eat.
Ingredients
1 bunch asparagus
1 cup of Sesame Seeds
2 egg whites
2 tablespoons of honey
Pinch of Salt
oil of your choosing to spray or drizzle on top of asparagus
Directions
Turn the oven on to 425 degrees
Prep a baking sheet with parchment paper
Separate the egg whites onto a plate, place the egg yolks in a container for later use. (Here are 10 ideas to use up those extra egg yolks)
Mix the honey into the egg whites
Pour the sesame seeds so they cover the plate and add a pinch of salt and mix with a fork.
Snap the asparagus
Using tongs cover the asparagus in the egg mixture then set it on the plate full of sesame seeds, Using the other pair of tongs roll the asparagus until it is covered in sesame seeds and then place on the baking sheet. Continue this step until the whole bunch of asparagus is used.
Once the whole bunch of asparagus has been drenched in egg mixture and sesame seeds, drizzle or spray the spears.
Place in oven for 17 minutes
Let cool for a 3-5 minutes and enjoy. Eat them plain, dip them or add them to a salad