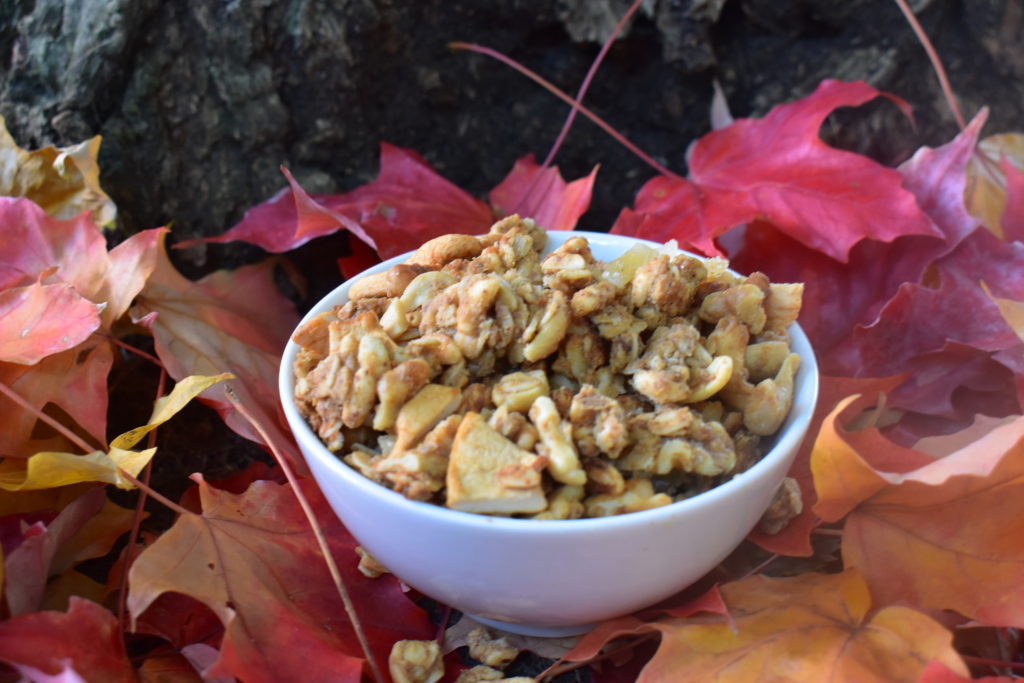 This summer I learned that to have a juicy chicken breast one has to let the chicken marinade in its juices for ten minutes after being cooked.  I also learned that to get clumpy golden and crispy-crunchy, just-right granola, it needs to cool and sort of "fall" or solidify after it has risen in the baking, for about an hour after coming out of the oven.  In a way these creations need to continue the chemical processes that start in the oven – outside the oven – to become the  best they can be. I suppose you could say they need to rest.
For quite some time I have been hearing about how amazing meditation is and how it can help transform a hectic life into a more calm one.  For whatever reason I have been resisting meditation for years.   This could be due to the fact that I have viewed meditation as such a formal thing and feel the need to get it just right.  If I take my cue from the chicken and granola, meditation is just a rest.  A rest that can be as short as ten minutes or as long as an hour or more.  I sometimes need reminding that resting is just as important as doing.  I am going to view meditation as a coffee/snack/water break, all much needed.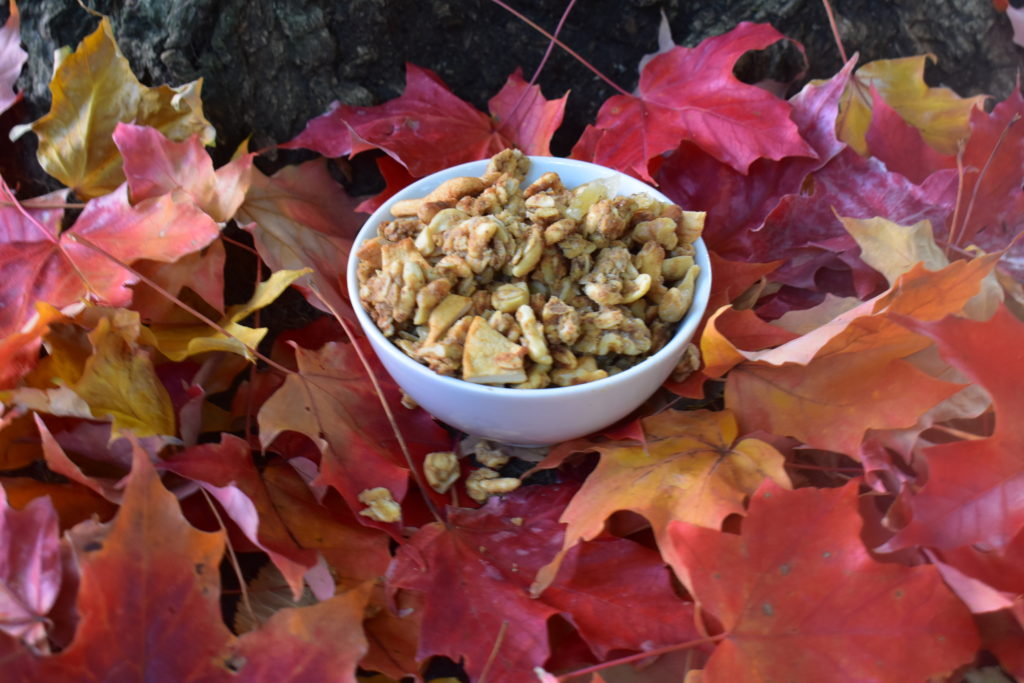 It always amazes me the life lessons that the kitchen constantly has in store for us if we just take a little time to find our way.  For instance, let's talk about this fall granola. My official taste tester calls it life affirming.  This granola resembles a large cookie and once you crumble it to bite size pieces it tastes like one too.  I have been eating this granola dry as a snack; but this version is best eaten as a cereal with some milk or even dry.  This apple and ginger granola is not, however,  the mix-with-yogurt type.   This fall version consists of walnuts, cashews, ground flax seeds, puffed rice and oats that is coated with Tahini, butter and syrup mixture and mixed in with candied ginger and dried apples. Oh, so yummy. Let's break the not so popular ingredients down and get to know them a bit more intimately.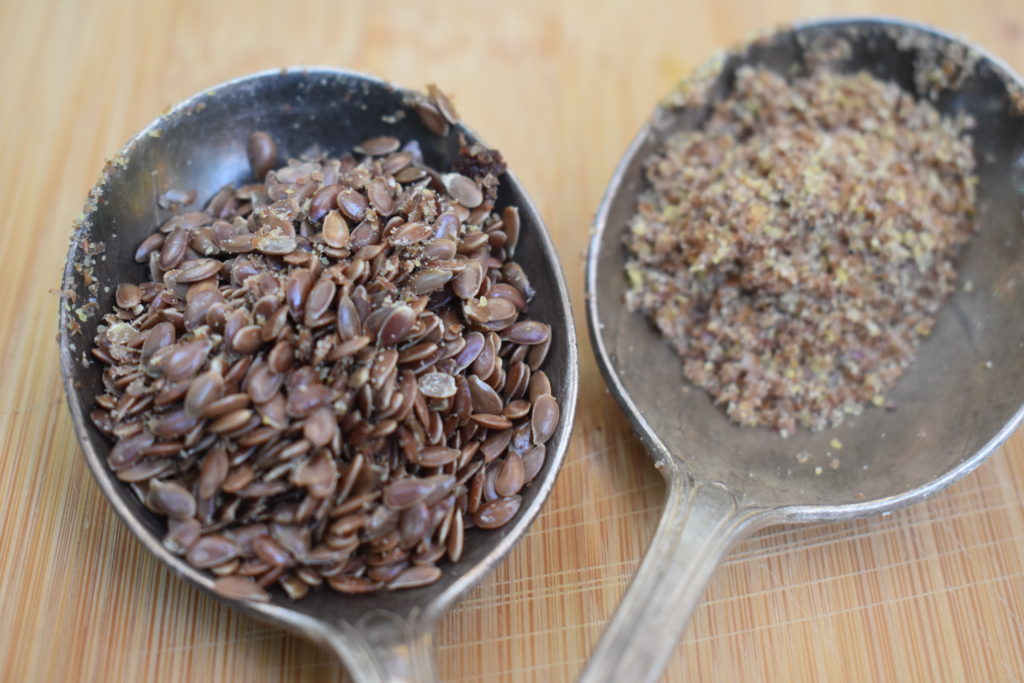 Flax Seeds
Every recipe – and even my naturopath – recommends grinding flax seeds before consumption. This extra step has prevented me from using that large glass jar of flax seeds that has been hanging out in my cupboard.   I thought it was time to understand why everyone recommends ground flax seeds to whole ones. Our bodies are unable to digest whole flax seeds properly, which means we lose out on their amazing nutrition properties.  On a side note, I seem to always run into Dr. Axe while researching the impact of foods on our bodies.  Dr. Axe is a chiropractor, a certified doctor of natural medicine and a clinical nutritionist and he is seen often on the Dr. Oz show.  Anyway, back to flax seeds; he has an informative post on the top 10 benefits of this little seeds of flax.  I am getting more motivated to grind flax.  I might need to invest in a coffee/flax grinder.  Yes, I am the odd duck – a Portlander and yet not a coffee drinker.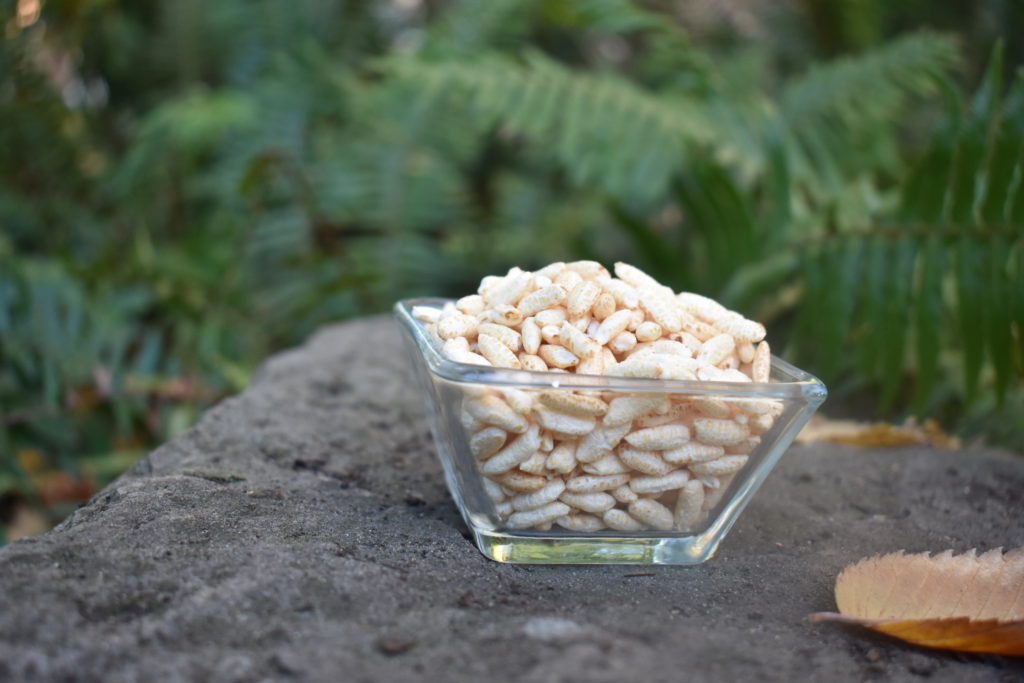 Puffed Rice
My mom did not buy cold cereal when she was raising me and my sister. When I headed to Grandma's she had the talking rice cereal.  Never filled me up, but it was fun to listen to my cereal. As I was searching the web for energy bar recipes, the ingredient puff rice kept coming up.  So a bag ended up on the top shelf of my cupboard and remained there for awhile.  I thought this granola would be a good way to use it up.  It has a great crunch.  In the cereal aisle you can usually find the puff grains in a bag and on the bottom shelf.  If you are a DIY-er , never fear, you can make your own puff rice.  Here is a great youtube video showing you how.  Very much worth  the 3 minute investment.  Puff rice adds a great crunch and depth of texture to this apple and ginger granola recipe, but if you forego it, you will still have great granola.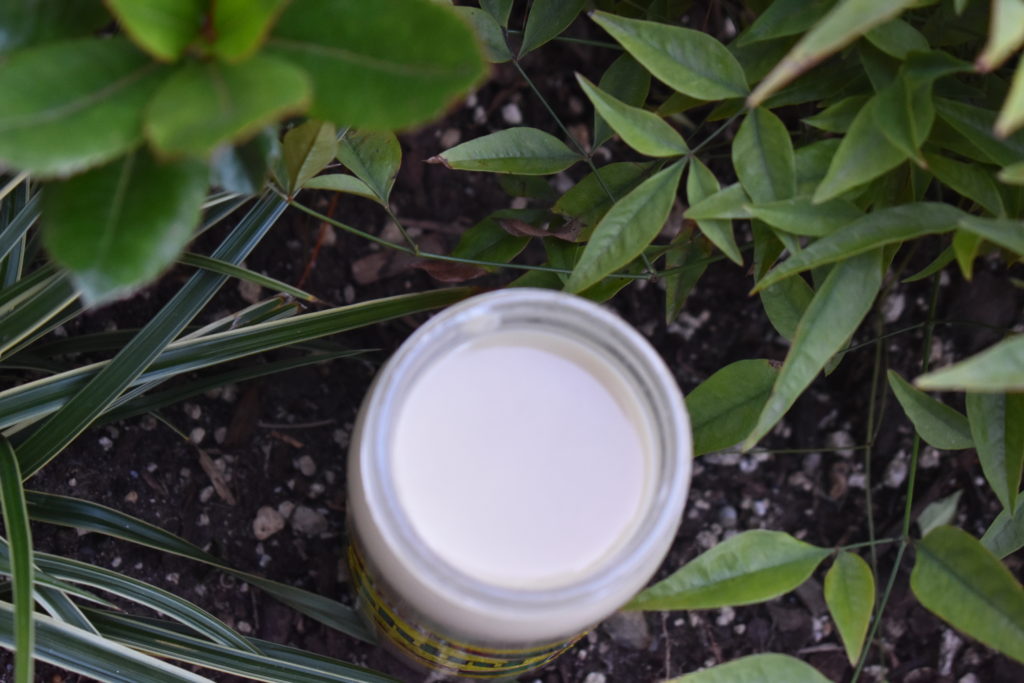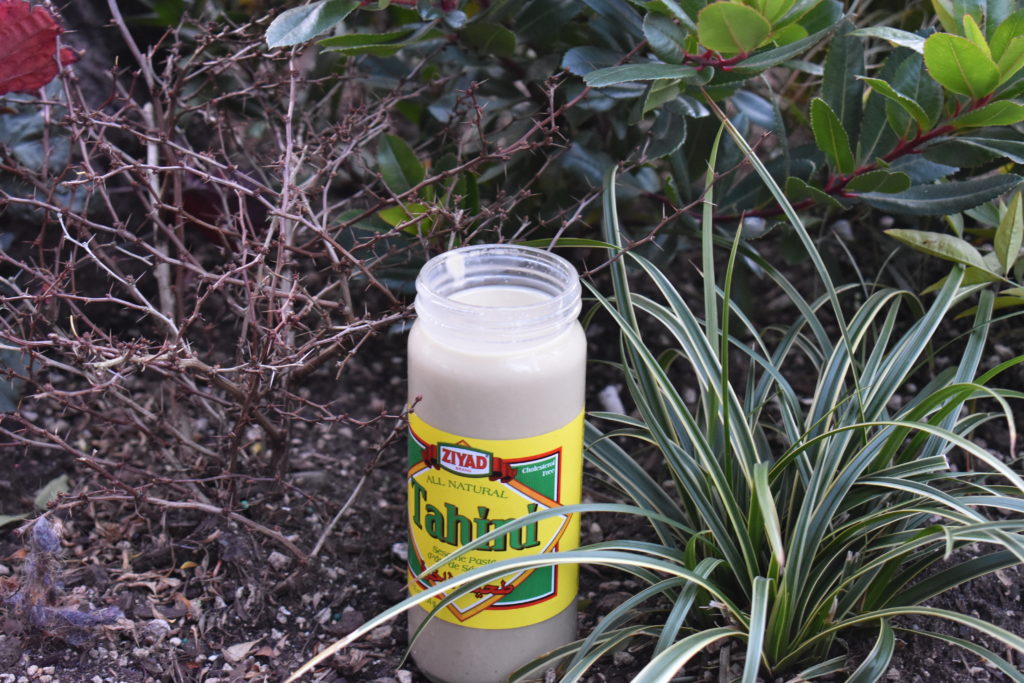 Tahini 
Tahini is sesame seed butter, well, at least that is how I view it.  Technically Tahini consists of the roasted hulled  sesame seed that is grounded. This little sesame seed packs a lot of magnesium. Check out more of the benefits here.  Tahini gained popularity when hummus made inroads in the main culture.  I still remember buying my first jar of Tahini in college to make hummus.  I am finding that all brands of this product are not created equal.   Inexplicably the ones in clear jars are more flavorful and smooth. Like fresh round peanut butter you will find oil on the top of any jar or can of Tahini.  Just stir it up as Bob Marley would say.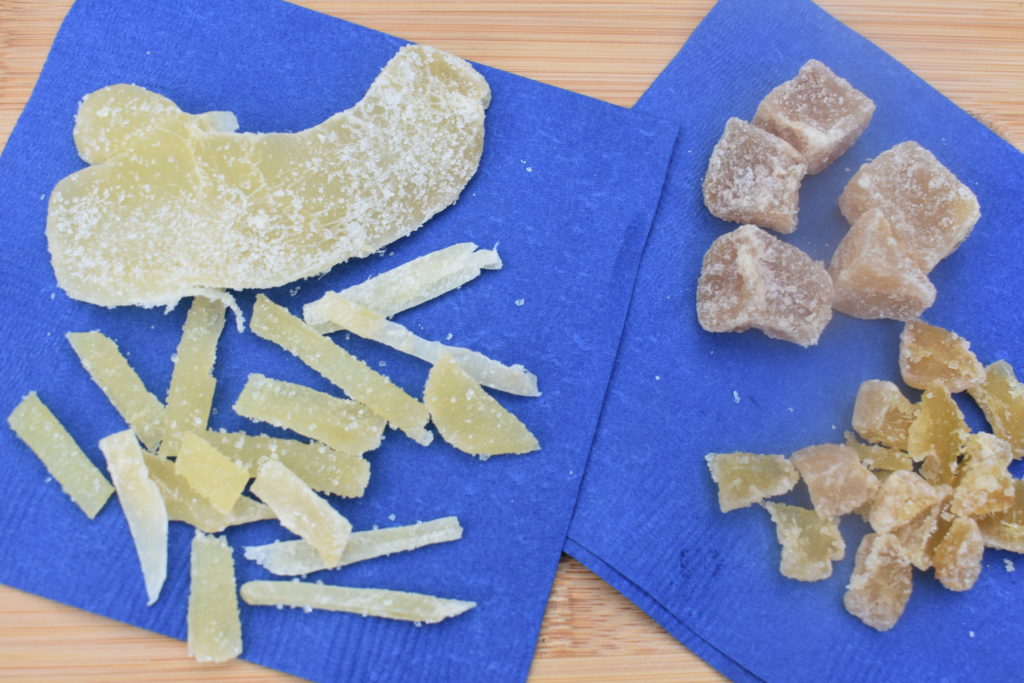 Candied Ginger
Candied ginger is also known as crystallized ginger.  It is ginger pieces boiled and then rolled into sugar. Most commonly found in a square form at stores and in the bulk section, and sometimes referred to as ginger chews. Trader Joe's seems to be the only brick-and-mortar store to purchase flat crystallized ginger, to my knowledge. If you prefer the flat version you can make them pretty easily at home and they store for a long time, if you do not eat them every time you open your cupboard like I do.
I am munching on this delicious Tahini apple ginger granola.  Let me know what you think.
Print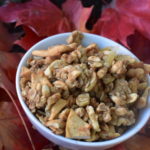 Fall Granola
---
Author:

Yield:

8 Cups

1

x
Category:

Breakfast
Description
This clumpy granola reminds you off all the great fall flavors while you put your hand into a bowl and eat it like one would popcorn.  Makes a filling delicious snack and great breakfast cereal.
---
Ingredients
2 Cups Oats
1/4 Cup Whole Flax Seeds.  Grind them.
1 Cup Walnut halves and pieces
1 Cup Cashews
1 Cup Rice Puffs
3 Ounces Dried Apple Rings cut into pieces
1/2 Cup Candied Ginger Cut into pieces
The Tahini Sauce
1 Cup Tahini
4 Tablespoon Butter ( 1/2 stick)
1/3 Cup Maple Syrup
1/2 Teaspoon Salt
---
Instructions
Mix the nuts, oats, ground flax seeds and rice puffs in a large bowl until ingredients are evenly combined.
Heat the oven to 350 degrees.
Get a small sauce pan out and put all the ingredients in it for the tahini sauce.  Turn the bruner to medium heat.  Heat until butter is melted.  Stir occasionally.
Once the butter has melted and ingredients are combined for the tahini sauce, add the mixture to the dry ingredients making sure every thing gets integrated into the sauce.
Get a large baking sheet out and cover it with parchment paper.  Make sure the parchment paper is not over the edges.  If so get the scissors out and cut them.
Spread the mixture evenly on the baking sheet and patting it down.
Insert to heated oven.  Set the timer for 20 minutes.
Take it out and let it hang out for about an hour.
Break into clumps to your liking into the the large bowl you started with.
Add the sliced candied ginger and apple slices to the mixture and combine gently with your hands.
Put the granola in an air tight container but not before you have consumed a handful.