Whenever I have had a spell of missing in action from the kitchen, I look to fellow bloggers to inspire me to get creating again. It takes many cooked meals to really get the feel of a kitchen and call it your own; my husband once compared to working in a new baseball glove; it almost has to look worn and old before it feels really comfortable. My kitchen is feeling more like my own with every dirty dish that's washed; 3 months after I moved into a modern kitchen equipped with a dishwasher, glass top stove, microwave – and too narrow drawers. We will discuss my modern kitchen at a later time and in more detail. Today I will show you what recipes inspired me to get cooking again last month.
With moving and making a big career transition from massage therapist to joining the team at a craft chocolate bar maker in their cafe, I must admit that my head is not completely back in blogging mode. I actually made most of these dishes without taking a photo; and the photos I did take were not blog worthy, so this post contains farmer's market pictures from my most recent trip. The purple flowers are artichoke blooms.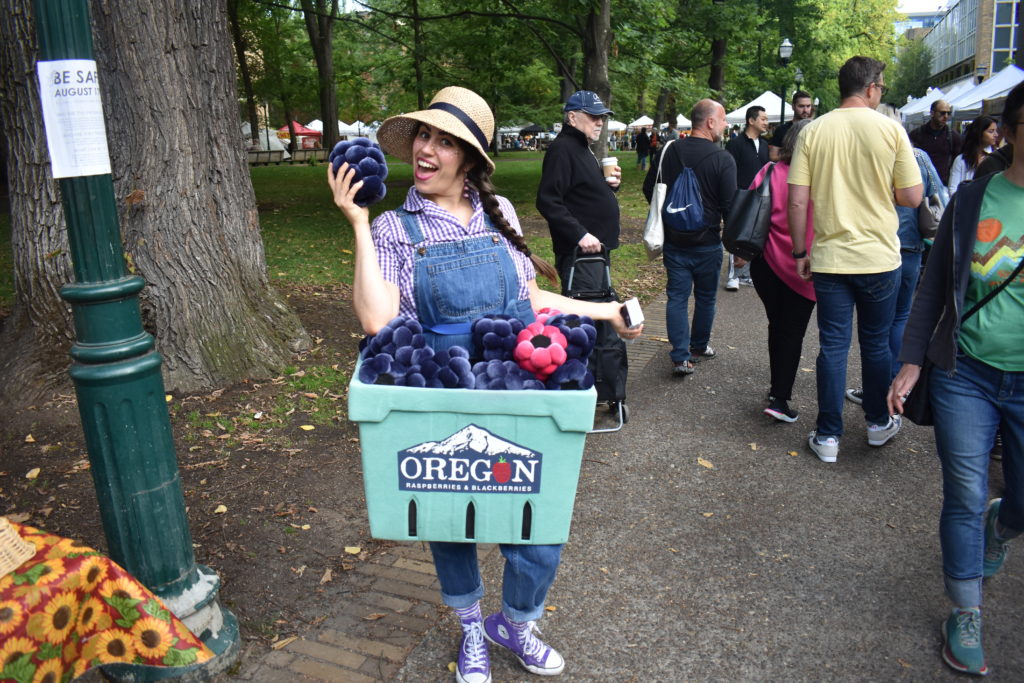 Pork Enchilada casserole
I had left-over pork and lots of tortillas in my fridge and thought a casserole would be the best way to use both of these items. While I was putting my round corn tortillas in a rectangle pan my mind wandered to a quote by Kate Winslet in the movie "The Holiday", " We are like a square peg in a round hole" and a quote by Alejeandra- Organizer extraordinaire "Put round items in round containers and rectangle into rectangle containers. After pondering these quotes for a moment, maybe two; I asked myself, "Why in the world do all tortilla casseroles seem to go into a pan and not a pie pan or cake pan or even a dish? You have to tear them up and there is never a solid layer of tortillas without the previous layer peeking through. Next time I will experiment with a round pan with this casserole and heed the warnings of these women that resounds in my head.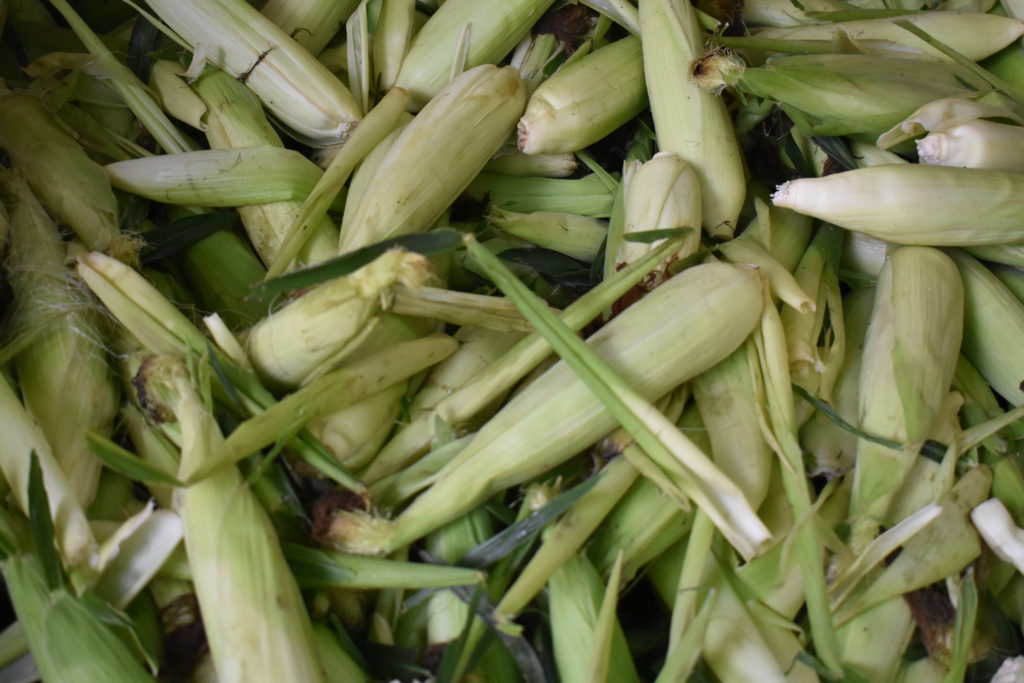 The casserole I ended up with was from two recipes and my own addition of vegetables. For the sauce I used this enchilada sauce recipe that took my husband back to his mother's cooking. I suppose you can't get a better compliment than that. Instead of putting three tablespoons of chili powder as listed in this recipe, I added 3 teaspoons to make it less spicy. For the casserole portion I followed the layering steps in this recipe by Creme de la Crumb. I like how food bloggers get so creative with their names. Naturally I added a layer of vegetables to the casserole; I sauteed some spinach and cauliflower and put this layer on after the sauce layer so I did not have to make a vegetable side dish, creating a convenient and tasty one-dish meal.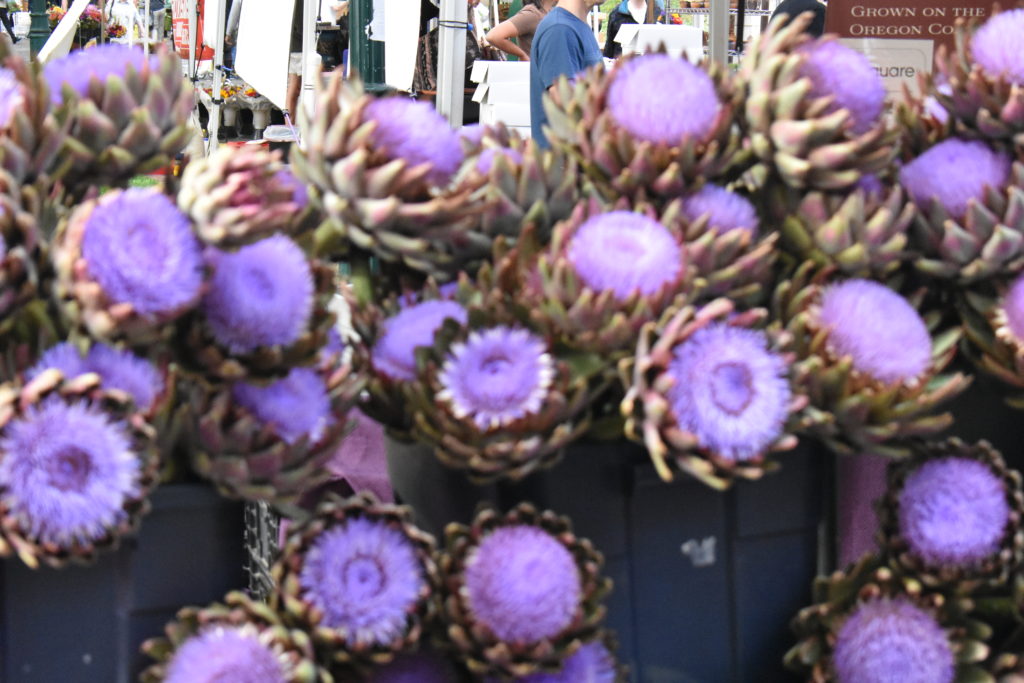 Arugula and Watermelon Salad by Cookie and Kate
When my husband is excited to eat it the next day – or even remembers that leftovers are in the fridge – you know it is a hit. This salad consists of four ingredients which all call upon a different taste bud; arugula, olives, feta and watermelon, all dressed with a five ingredient vinaigrette, with salt and pepper representing two of the five. Truly a flavor explosion. I definitely need to keep this one in the summer salad rotation.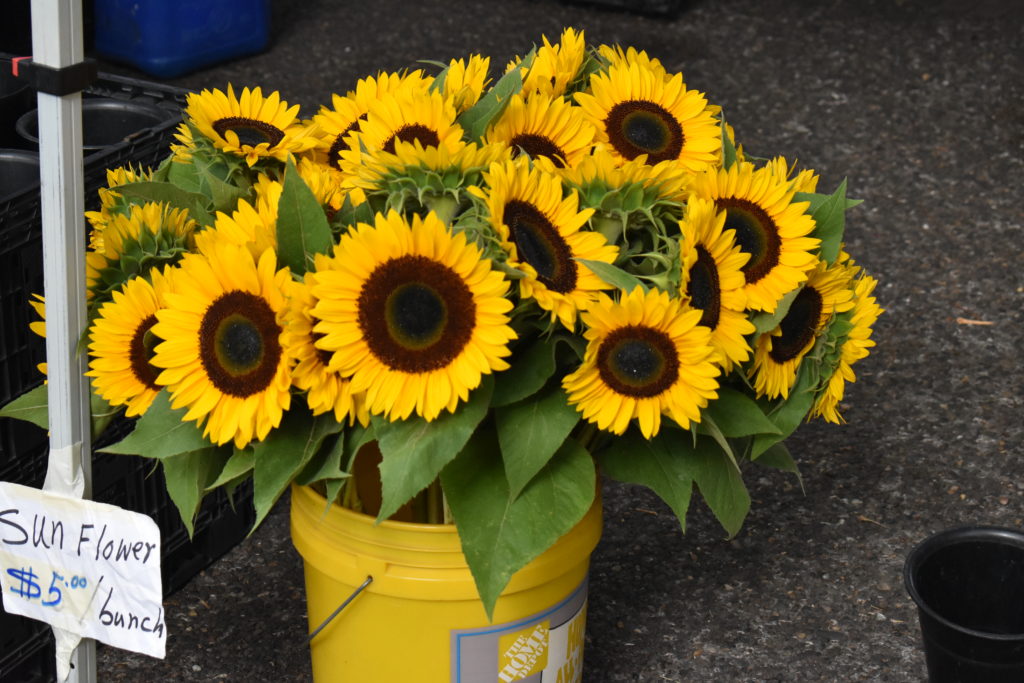 Baked Blackberry Ricotta French Toast by Half Baked Harvest
This was so much fun to make and a little meditative. To stuff the bread one cuts it almost in half vertically and then fill that crevice with blackberry jam, which is then dipped into a lemon ricotta egg mixture. I did not add the called-for icing since I did not have time, but I bet it makes this recipe extra yummy.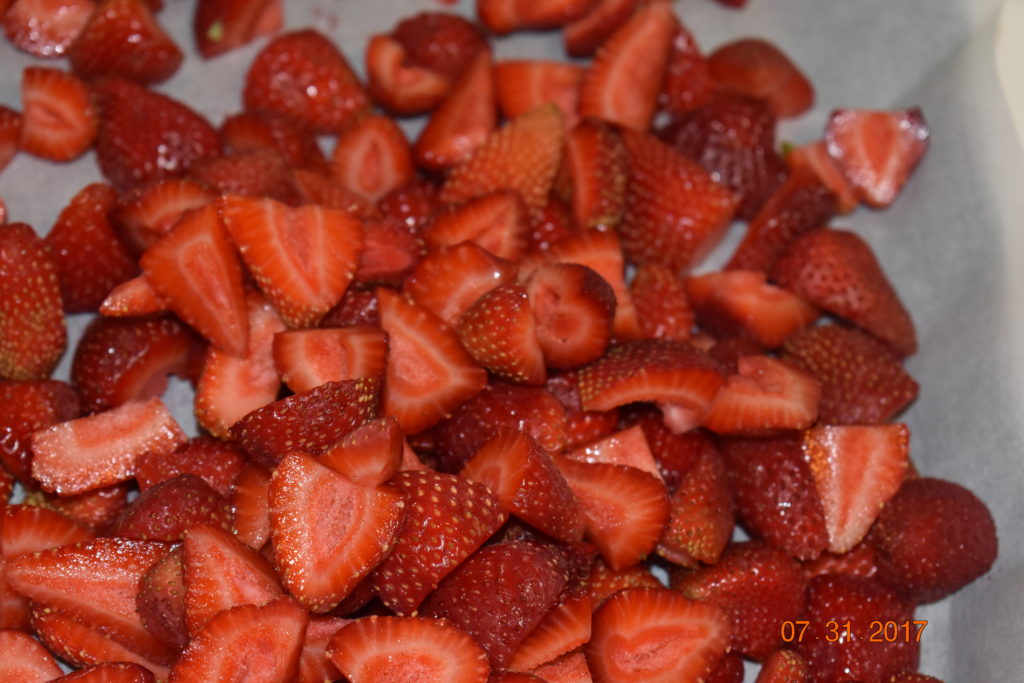 Strawberry Ricotta muffins by Girl On the Range
Oh my! These were perfect. Of course being me I had to add juice of half a lemon and lemon zest to the recipe, other than that I followed the recipe to the letter; muffins with strawberries and ricotta cheese in the batter topped with oats and honey. Oh My! I had to try out my new silicone muffin pan. A brilliant invention! Every last crumb landed in my stomach, none were left in the pan, unlike when using paper muffin liners. Just push the cups of the pan up and the muffin will pop out. Easy to clean too. This recipe is a total keeper. Store these in the fridge in a tight container.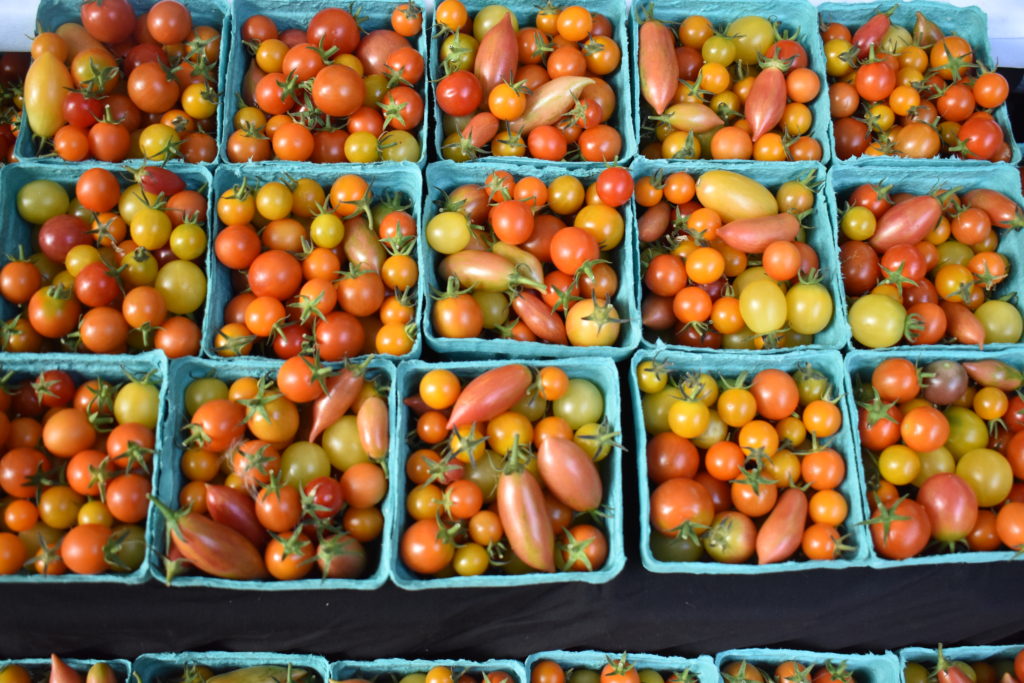 Cauliflower Pie originally by Mollie Katzen
I hosted a brunch party not long ago and was searching for a vegetable quiche like dish and Cauliflower Pie came up as an option. I knew immediately that this dish had to be made. While reading the recipe on The Discovery Eye Foundation website I was pleasantly surprised to learn that it was an adaption of Mollie Katzen's Cauliflower Pie in the Moosewood Cookbook. When I was growing up this was the cookbook that was spattered with coffee and bits of food, like a text-book with dog-ears and notes in the margins. It was truly a much loved and cherished book. Her version has more baking steps, while the Discovery Eye rendition is a bit more streamlined. I was a tad surprised by the fact that there were no leftovers of these pies and how many folks wanted the recipe for this gem, even when my version of the potato crust was not crisp and the sides of that crust got stuck on the pie pan. After making this pie, my goal is to learn how to completely remove the water out of potatoes – or as close as possible – to create crispy hash browns and crispier potato pie crusts.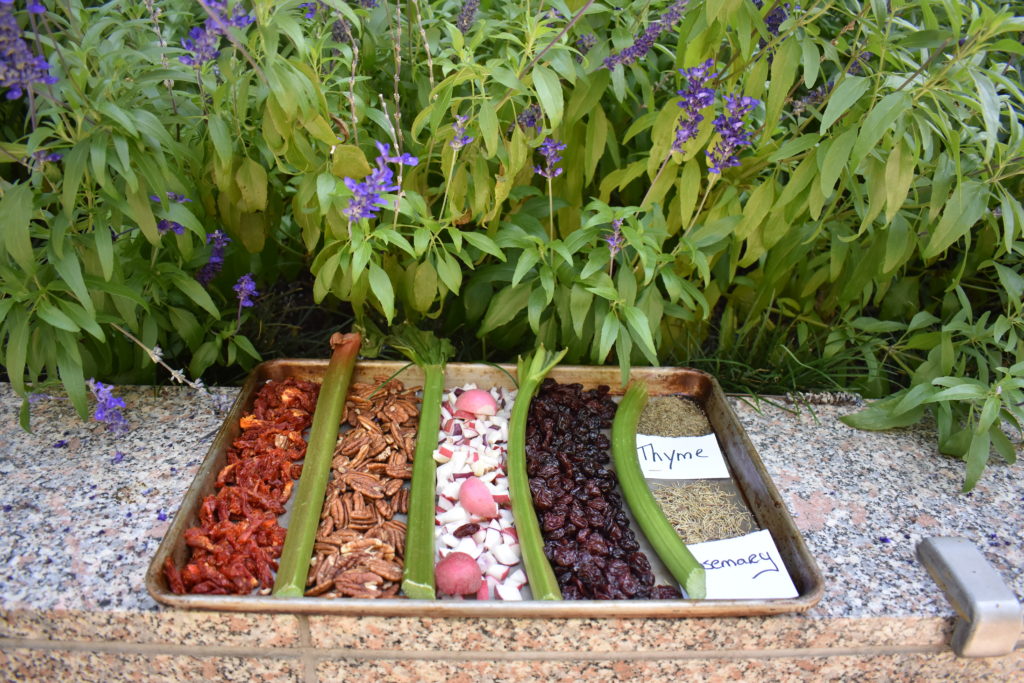 Chicken Salad by Finding My Way In The Kitchen
We recently went to a dinner potluck and at least a week prior my husband and I were trying to figure out how to make a hearty dish without using the oven – and one that did not have to be served hot. When we are invited to a potluck, we spend the previous week of the event deliberating what to bring, bearing in mind the food sensitivities of the guests attending the event. My husband made both the suggestion and request to have my chicken salad. So I looked it up on my site and followed the recipe and of course made a couple of minor changes. It is quite hard to create the same thing twice. This chicken salad was the hit of the party. Everyone was talking about it and genuinely loved the different flavors, which prompted me to give the post an updated look. The original post was done when I was taking pictures inside and with my point and shoot camera. The old post was lacking in content so I reflected on the rules of potlucks for both host and attendees.
I would love to hear what and where you are finding your inspiration to spend time in the kitchen.