When I steel up the courage to root around in my sheet pans to roast veggies, my cake pans come falling out and items get caught in the cooling racks, too. My heart races, my face turns red and I quickly shut the door muttering, "I need to do something with that space". Let's just say muttering is putting a polite spin on it. It is a bit more crowded down there these days, as my muffin tin collection grew along with some cake pans last spring. Months have gone by and I still get irritated when it's time to equip myself for baking. This is not the only cupboard that wreaks havoc on my peace of mind. This year there have been a lot changes as to what and how much we grocery shop for, and our systems of organization have not kept up.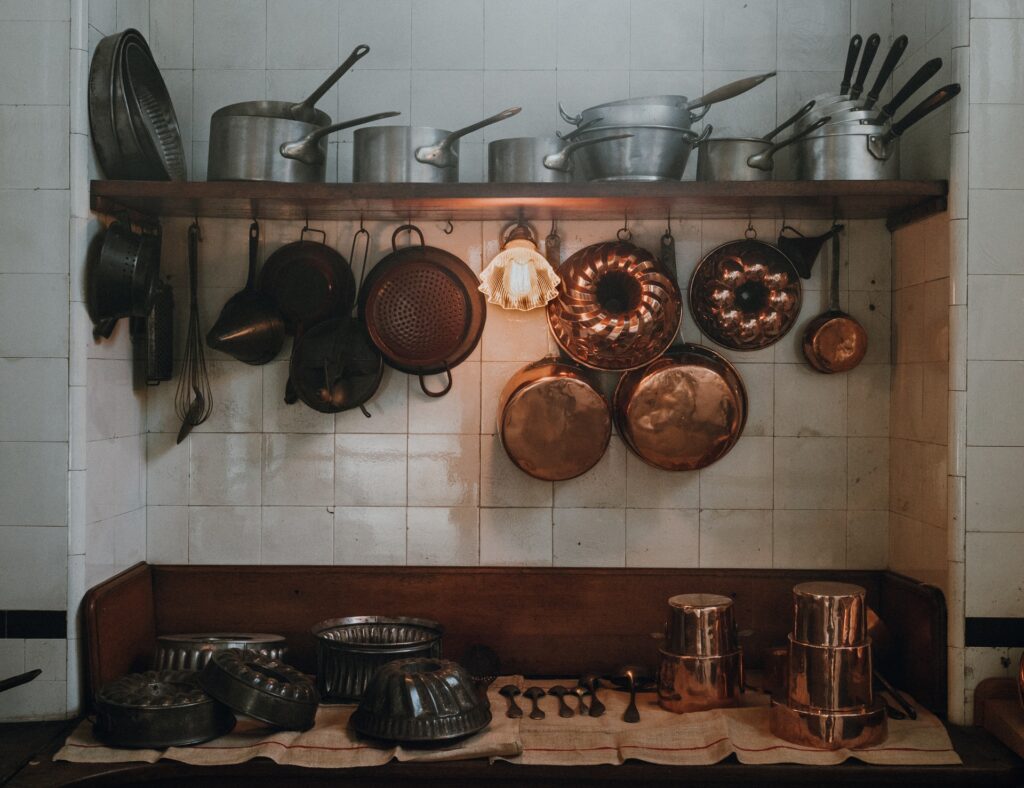 Yes, I would love new organized systems to magically appear in my kitchen that work flawlessly for me with the snap of the fingers or wrinkle of the nose like Samantha on Bewitched. As Flylady often reminds us, "Your home did not get dirty in one day, and it will not clean in a day". Her answer is baby steps. I wholeheartedly concur.
Over the years I am learning that organization is a process and not an end in itself. What we eat changes, the people living in our space change, we buy new items, we purge old ones that are no longer working. The kitchen is a place that is in constant flux mostly because we are depleting the stores daily. This is a journey – and not a quick and easy one. Slowly you will see changes in your space and make systems that work for you.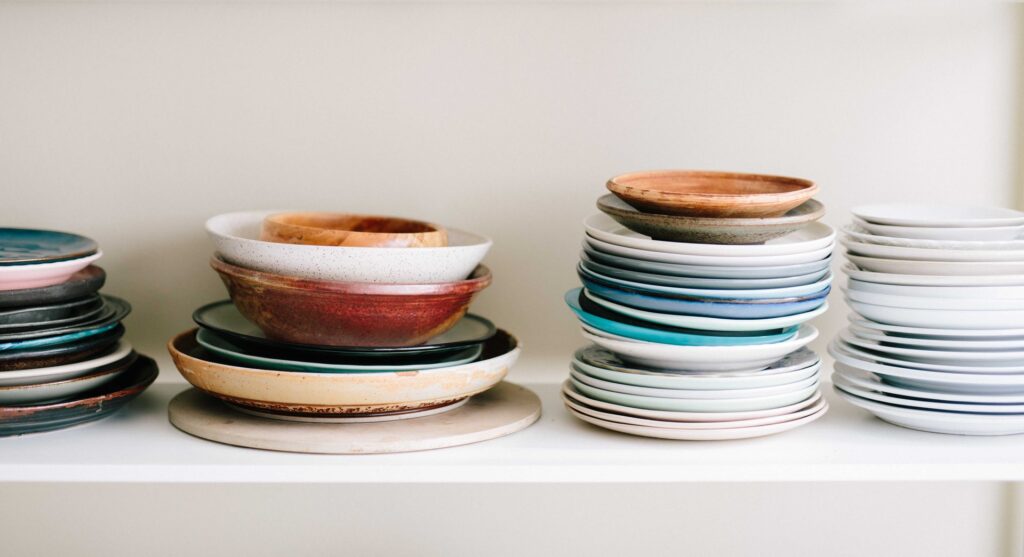 I will not ask you to clear out all your cupboards and shelves at once. That is such an overwhelming task and makes me anxious just thinking about it. We are going to take another, gentler approach.
When organizing, one of the goals is to be able to locate like-items. For example, one would like to find sugar and flour in the same cupboard when making chocolate chip cookies and – probably on the same shelf would be nice too. If you watched the Home Edit, Joanna would say you want to categorize your items on every episode, noting that this is a base component to organizing. After watching that show non-stop, I saw how my categories were too loosey goosey. By getting clear with a theme for each shelf or cupboard, my shoulders would soon naturally relax, and I knew I hit on the right combination. Life is smoother when you know that the wine opener is in the same cupboard as the wine rack.
Here is how I categorized or themed my shelves and cupboards. We all have different size spaces, kitchen items and lifestyles so our lists will be unique. My list is just to give you a concrete example of what I am talking about. In bold is the title of my category and below will be the items go under that heading in my kitchen.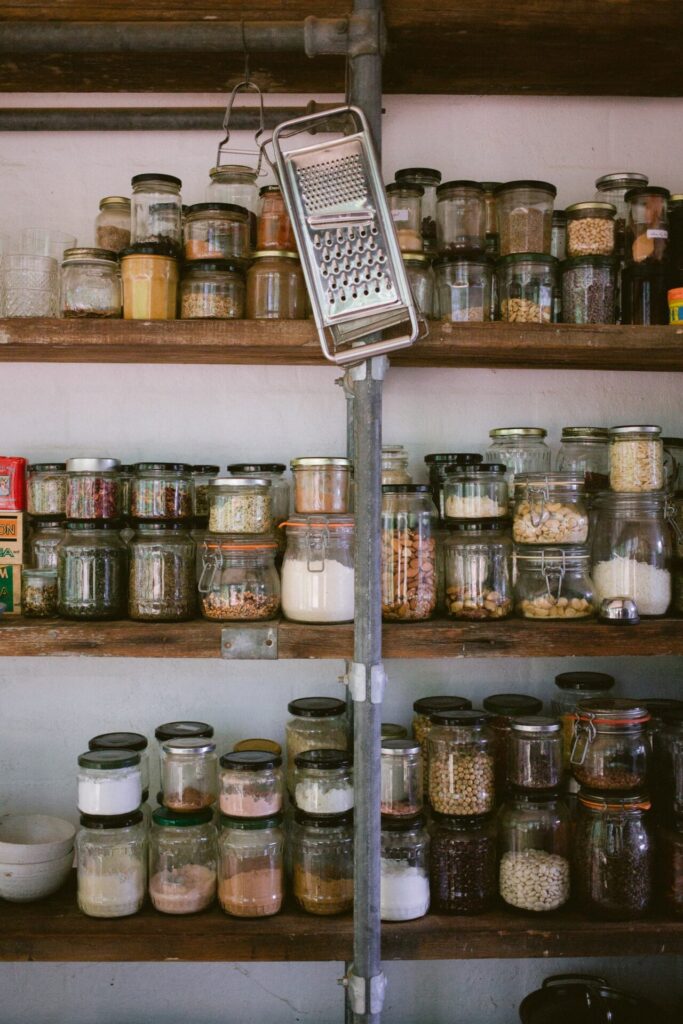 THE CATEGORIZATION OF MY CUPBOARDS
Baking Flours, sugars, nut butters, scale, measuring cups, baking powder and soda
Snacks Bulk snacks, homemade and store bought sweets
Everyday Dry Goods and Cans Dried beans, grains, oats, noodles, pasta, nuts, seeds and dried fruit
Food Storage Containers in all Forms Mason jars in four sizes, 3 plastic container sizes, pyrex containers, water bottles, plastic bags, and food huggers
Toast Station Small plates, knives, butter, and toaster
Tea Zone Tea, mugs, teapot
Pots and Pans Steamer basket, lids, pots and pans
Large Pots Crockpot/Instapot, Stock pots, Dutch Ovens
Liquid Flavor Enhancers Oils, vinegars, and sauces like soy and fish, broths
Dishware Plates and bowls
Bakeware Sheet pans, muffin tins, and cake pan
You might want to add the following to your list: entertaining dishware, seasonal dishes, breakfast, lunch and dinner items, pet care/food, and baby items. These are all just suggestions to get your creative juices flowing. Which brings me to the current challenge.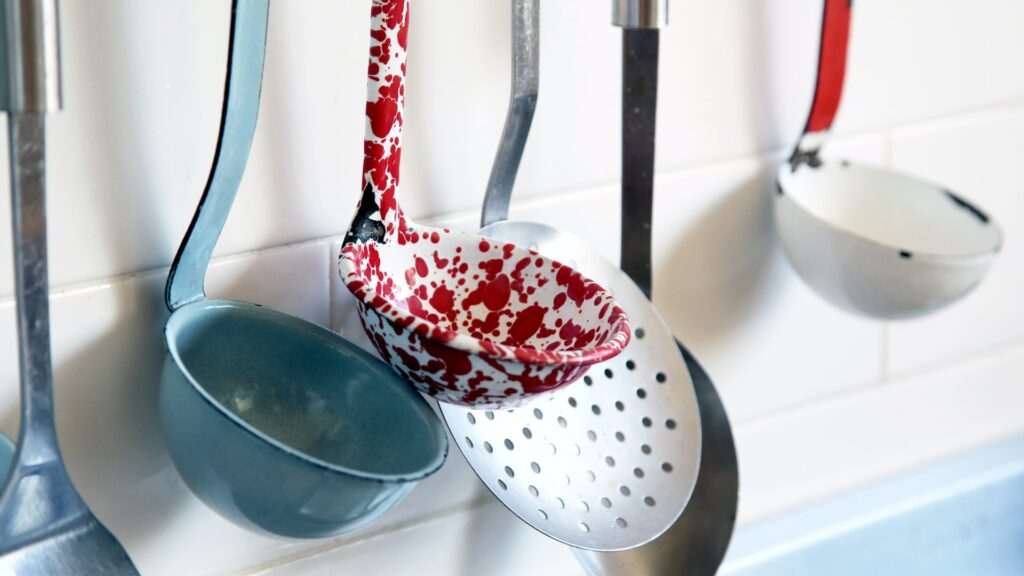 Challenge #1
Open your cupboards and drawers and see what groupings stand out. They are probably not categorized now, which is fine for our purposes. Maybe there are some new groupings that need to be made or renamed. We are not moving anything; we are just writing the categories down on a piece of paper. That's it. These are groupings, or themes as I call them, because that is how my mind operates; you'll find what works for you. Once the list is finished put it on your fridge. We will come back to this list when we meet up again next. These steps are not to be rushed. Just take note as you go about your daily business in the kitchen and your themes will organically emerge.
Please share your categories list to encourage us all to get thinking about our things. Here's to happy cabinets and cupboards in 2021.
MORE INSPIRATION
Here is where I leave you with some inspiring videos. Today's are from a couple of my favorite organizers who layout the mind set of organizing and some rules for a successful outcome.
5 Real Life Steps For An Organized Home by the Clutterbug
How to Crush Your Organizing Goals in 2021 by The Organized Soprano