How are things going in the kitchen? Our last challenge on creating zones has gotten me thinking of everything I want to be able to grab while I am standing at my stove. Currently I am storing my dry beans, grains and pasta in the prep zone but contemplating moving them to the cook zone to avoid walking back and forth 6 feet apart every time I want boil one of the above items. My creative mind is wondering if mason jars fit in wine holders. I will get back to you in a couple of weeks with what I have decided and come up with storage solutions. In the meantime I would like to share with you a common conversation I have been having that provoked me to put down some thoughts on today's topic, decluttering.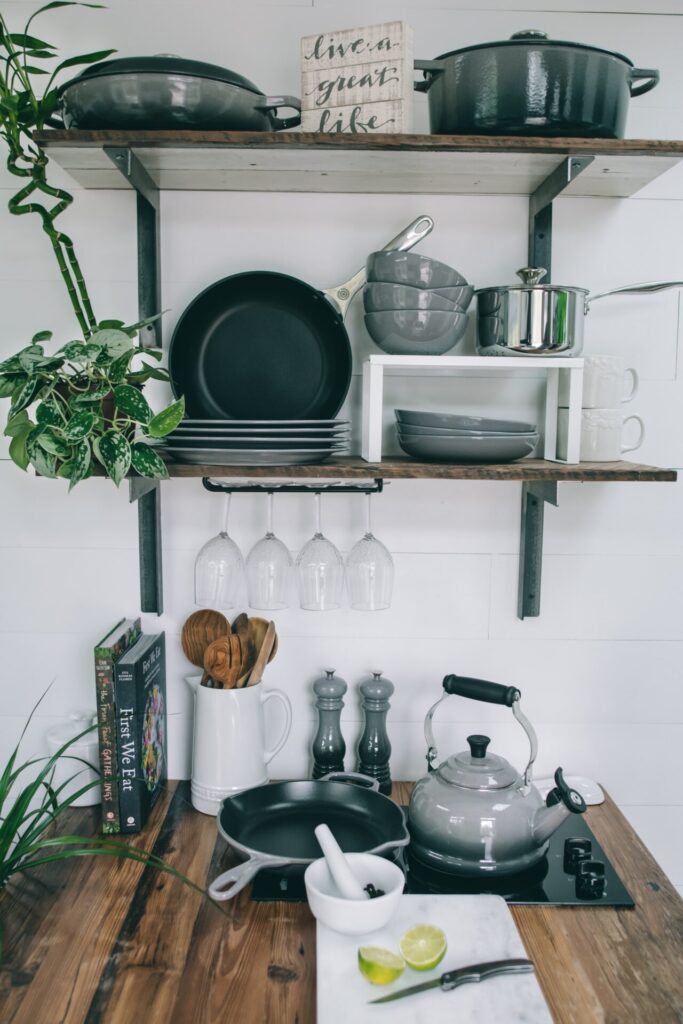 Friend and Family – "What have you been doing to keep busy at home these days?'
Me- "I have been organizing".
Friends and Family- "You don't own anything, why are you decluttering? You will have a bare apartment!" They seem to be afraid for me in this.
There was a strange unfamiliar tone in their voice when they asked the last question. In my mind organizing is categorizing similar items, putting them in containers that make it easier to access them with a smile instead of a grimace. Their response got me thinking how much decluttering and organizing is connected, much like pancakes and syrup.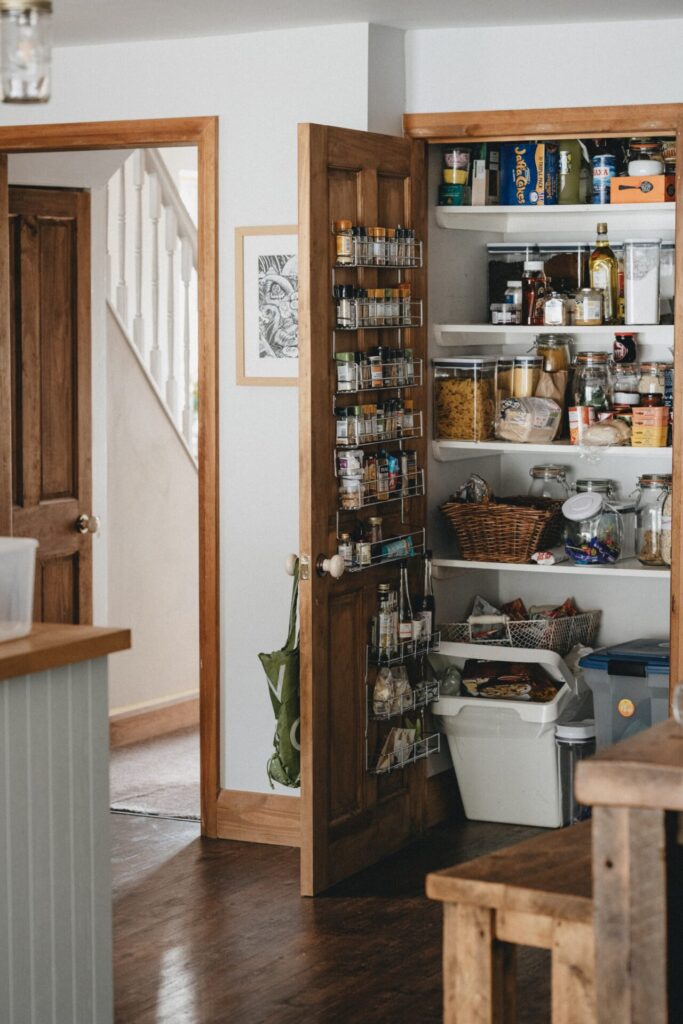 Somehow as a society the norm is to accrue as many household goods and other sundries until there is no breathing room for our stuff and maybe even the people who reside there. Our living space, no matter the size, dictates how much goods it can hold but we are always pushing the limits. I think that is why decluttering has become such a phenomenon. As a culture we don't know what we own and the act of editing and touching our things forces us to reconnect with what is filling our homes and consider if we want all of it to remain in our lives.
I have come to a point where I view eliminating items as a natural by product of sorting. If everything in one category does not fit no matter how creative one gets with storage and space, one will have to get down to serious prioritizing. That is the crux of it, to be able to see your things and access them with ease.
To have a curated and functional kitchen and home, some editing is inevitable. I have created three tips that I wished I had followed in the past.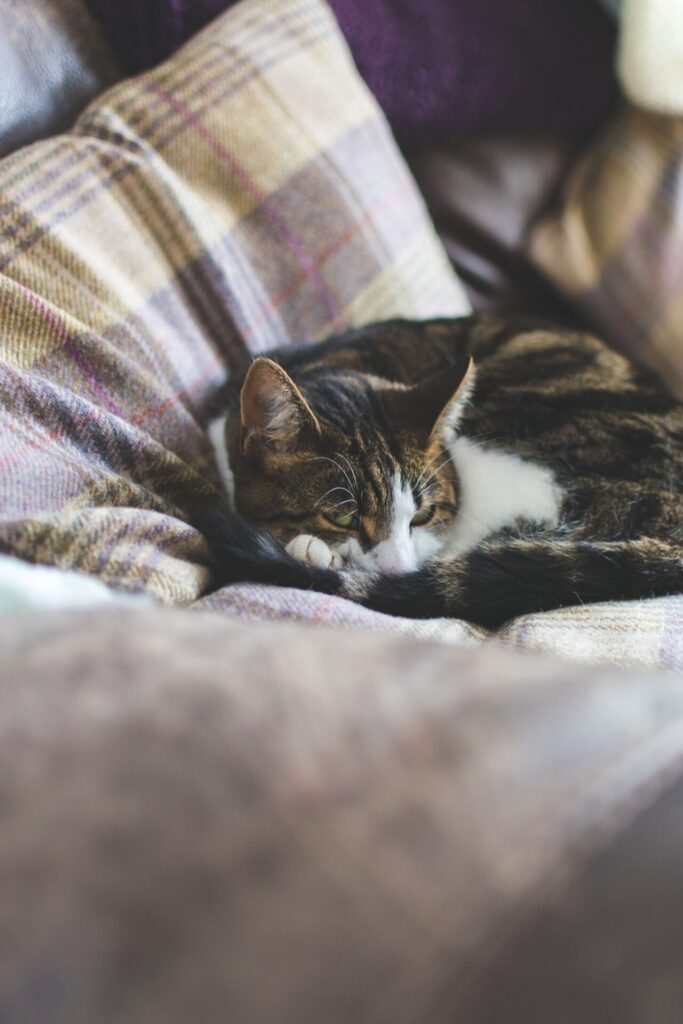 BE WELL RESTED
When going through a space, you are touching a lot of things and might make snap decisions. Memories will come pouring in and take you on a detour. Memory lane could lead to a plethora of emotions rising through your body. When you are tired or feel pressure your choices might not be in congruence with your future self or your over all plan and could cause you to let go of something you'll regret at some later date. Also, taking on the task of prioritizing at 3:00 when you have the mid afternoon energy slump is not the time to do so. Your decision making skills are not as strong when you are tired and sugar -levels are low. Eat a good meal before embarking on this endeavor – a bit like not grocery shopping on an empty stomach. This is exhausting both emotionally and physically, going through your potentially cherished items.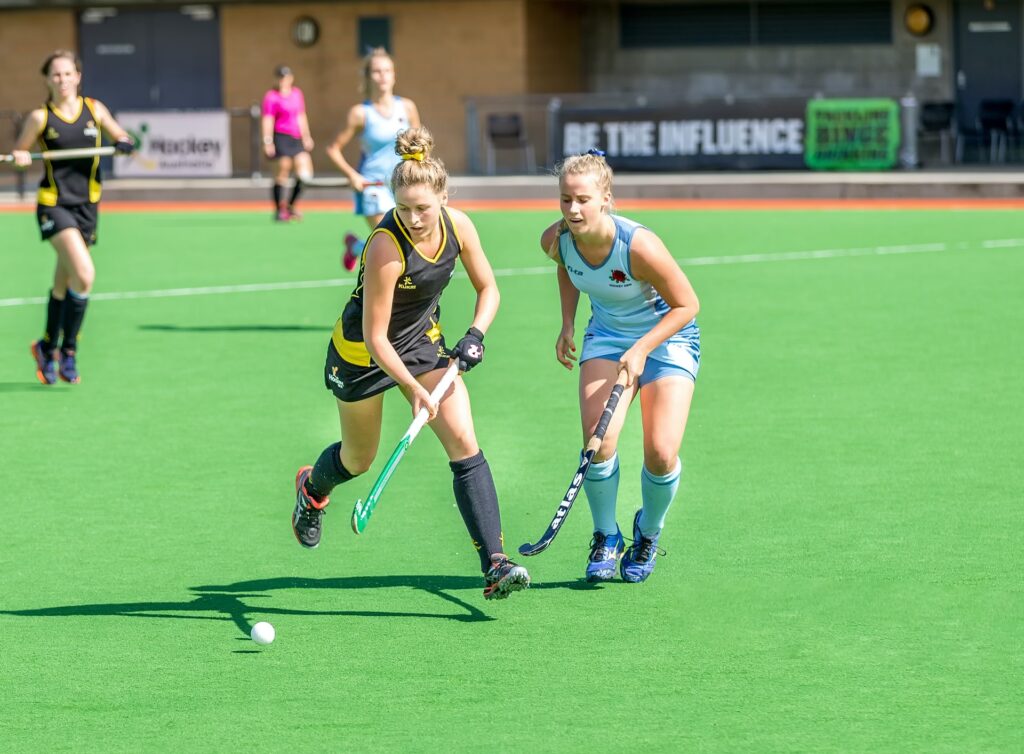 SET A MAINTAINABLE GOAL
Planning to go through all your items in one room like a kitchen is overwhelming and could cause you to abort the project before you get very far. Instead choose a cabinet or a couple of drawers a day.
The by-product of doing this is
you can focus better
you have kept the overwhelms at bay
there won't be a left-over mess in your kitchen when you hit the wall trying to tackle the whole room
you have a feeling of accomplishment which will keep motivating you to take the baby steps to do the next micro-space.
There is no need to cause undo stress. I am finally learning that an all or nothing mentality is one that freezes me up and causes procrastination.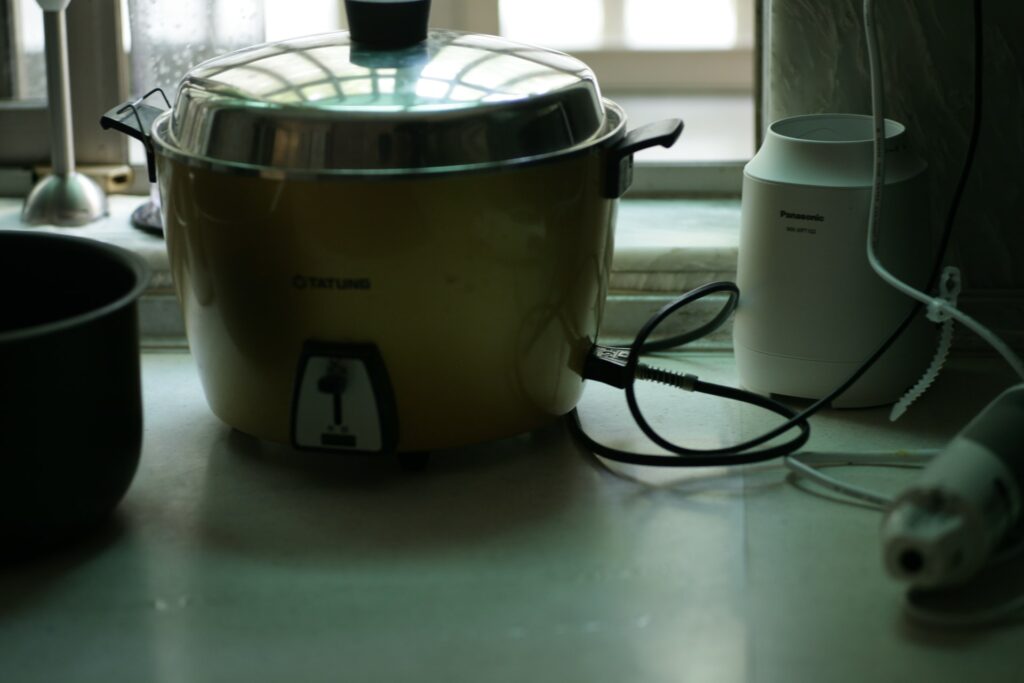 BE CLEAR WITH YOUR WHY
In the past I thought I would get a certificate for being so virtuous because I had so few items. It's better to look at this as intrinsic reward work. The purpose of clearing out your items is to make sure you have ones that are in working order, there is plenty of space for the everyday essentials, and the things that make you feel guilty for not using are purged from your home.
Let's talk a little more regarding guilt. Maybe you have an ice cream maker or a yogurt machine in your cupboard and you pull it out and there is dust on it and you feel heavy and bad because your good intentions didn't come to fruition. Then your rational mind starts screaming at you, Do you remember how much you paid for that thing and how many hours you spent working to obtain it? Take a deep breath or twenty. Close your eyes, can you see carving out time with your future self to use this small kitchen appliance? If it feels like an obligation to use it, consider get rid of it. There are too many things tugging for your time and attention already. That dusty, rarely been used juice machine, bread maker, fermenting crock, fondue pot etc… is taking up too much space physically and psychically.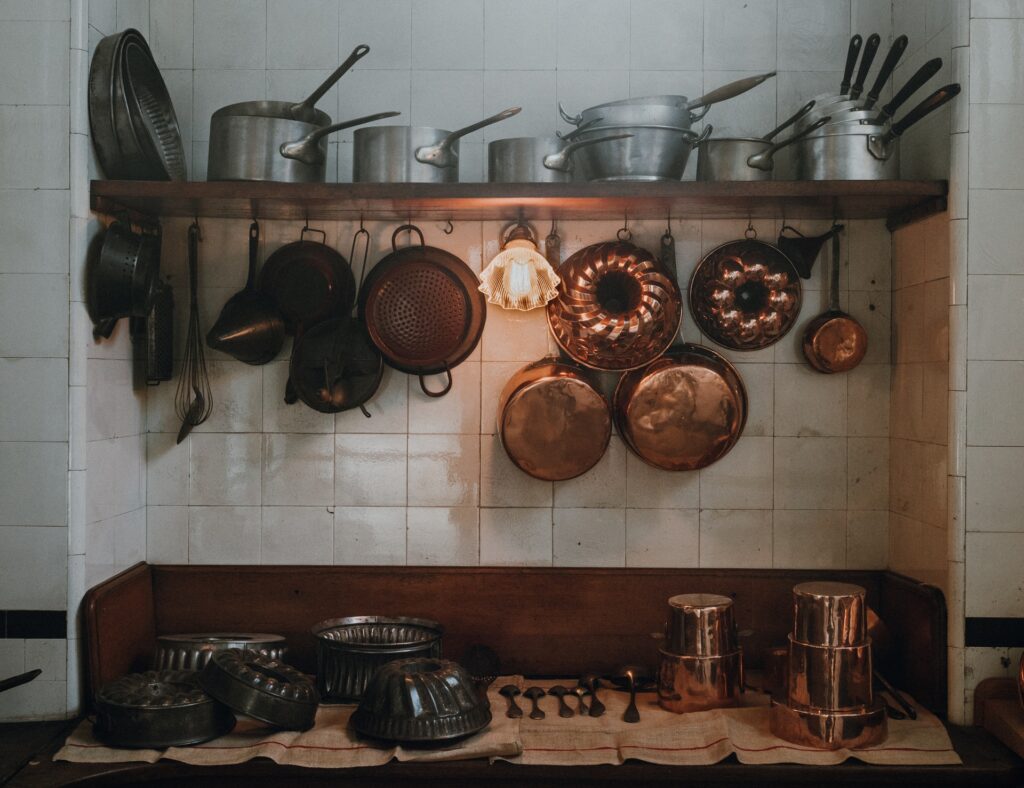 With a full tummy, precise goals and sound reasoning for editing your possessions at the forefront of your mind, you will be set to take on our next challenge with little effort.
CHALLENGE #3
Now that we have categorized our kitchen wares and put them in working zones it is time to sort. If you have not done our last two challenges, there is no time like the present to jump in and go get these done. It's not as helpful to you if you skip the first two steps as they are the foundations of an organized home. Our next challenge is to go through one cupboard at a time and remove all items. You will choose from the following 3 actions for each thing:
Move it to the cupboard with the correct category ( Those sticky notes are invaluable now)
Toss it out if broken
Put it in a donation box
This will take some time. Your goal is to have all like items in the designated cupboard or drawer, having decided on the theme from our last challenge. Our next challenge we will be laying the foundation for is the prep zone. which includes the pantry or cupboards where you store food items. For the next two weeks we will discuss the pantry before we start moving things around.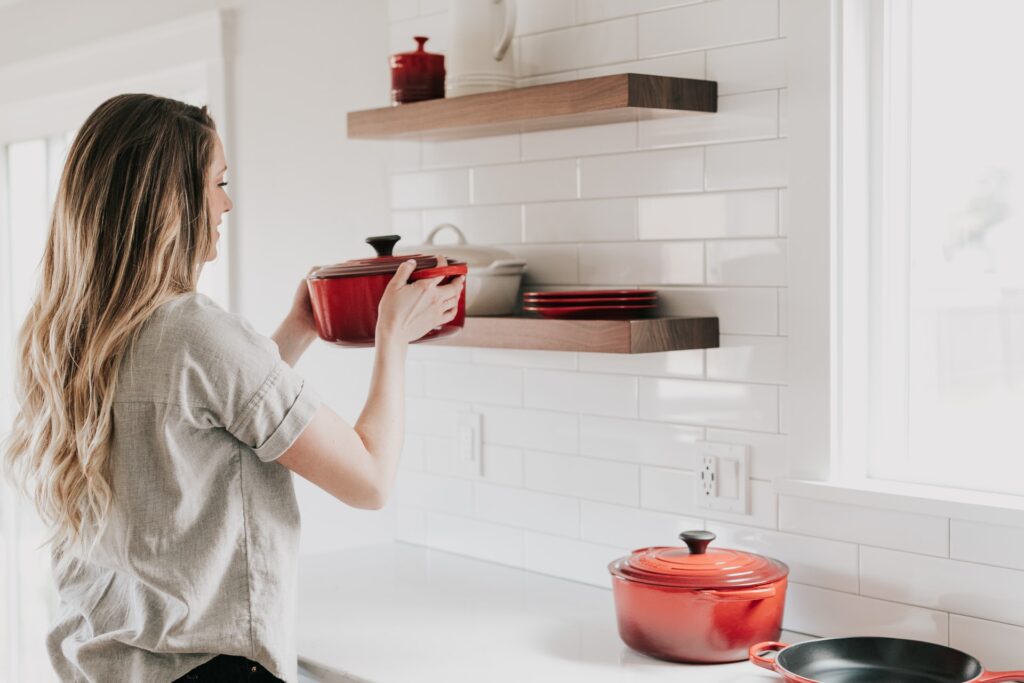 MORE INSPIRATION
How To Declutter Your Home-10 Decluttering Tips The 27 Best Decluttering Tips of All Time By Apartment Therap
The Video of the Week
5 Decluttering Mistakes To Avoid/How Not To Declutter