To be honest I never really thought twice about my dry goods and how to store them. Ever since I left my parents' home, I would put them in some sort of container and stick them in a cupboard and forget about them; that is, until a recipe called my attention and memory to the grain that might be right for the moment. I always assumed that they were good forever. Collectively, I don't think Americans gave much thought regarding our sugar, flour, dried beans and assorted grains. Or if we did it was out of guilt that we were not using them or really didn't know what to with them. I speak from personal experience in that regard.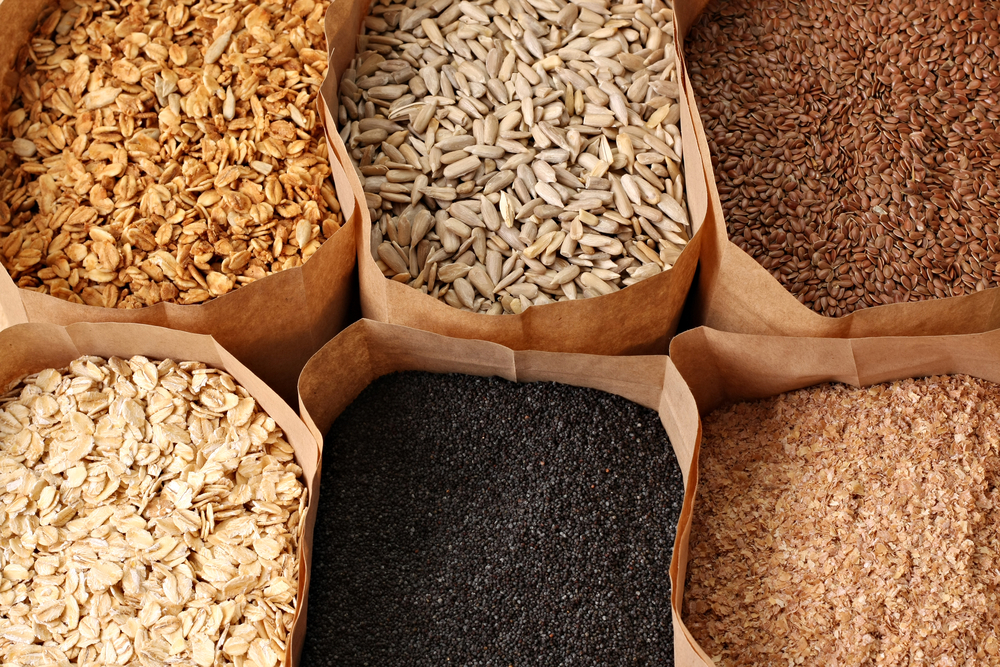 Then about the same time last year our world came to a screeching halt. We were forced to fend for ourselves with restaurants and even some of our grocery stores either operating under reduced hours or going out of business. Fear of starvation and/or wanting to be ready for the long haul, since we had no idea what was ahead of us, we bought large quantities of beans, rice, and flour. Then the questions began; how long are these staples good on my shelf? How do I store them for awhile? How much will I need to feed my family for a month? As I did my research it was interesting to see how many articles were written last year answering those questions, and in a very short period of time. An immediate need for information and advice was met by the online community.
I have learned that some pantry basics are more resillient to time than others. Yet all flour, beans, sugar and grains do not excel with the presence of light, air and heat and a dark cool place is their favorite residence. Before answering the question on the title, I think it prudent to discuss how to prevent bugs in our dry goods, especially flour and rice.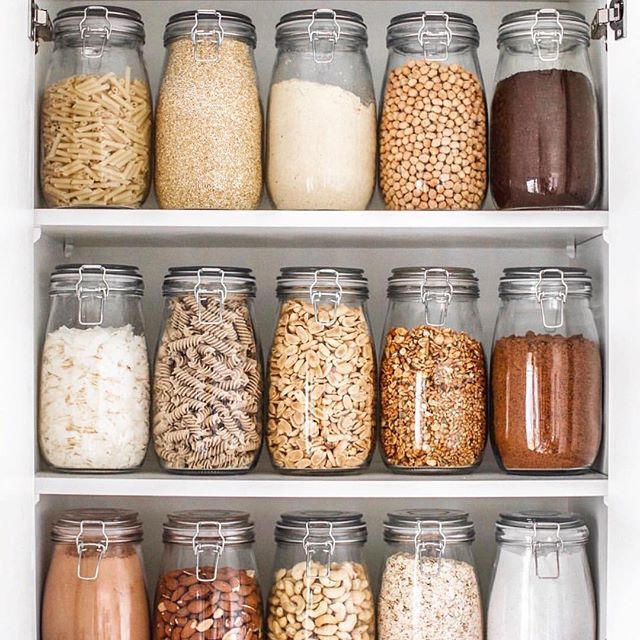 Have you ever seen bugs in your flour or pantry moths in your rice? That can be a quite disturbing experience. For every human on the planet, there are over 200 million insects. What a disturbing ratio, huh? It would make sense that our worlds would collide; in fact, it's a bit reminiscent of how humans end up with a virus like Covid-19 (humans encroaching on the animal environment). The bugs are known as weevils. And it's probably no coincidence that you can't spell weevil without evil. The female will lay an egg inside a grain of rice and put a covering around it as if nothing has changed. So how do we ensure that grains and flours are bug free when we bring home our bags of goods?
The answer is to freeze them. Before storing them in their air-tight containers, you will want to put them in the ziplock bags in the freezer. For how long, you ask? That all depends on who you ask. The response is anywhere between 2-10 days. I would go five to be on the safe side, since four days seemed to be the number I saw the most often during research. By putting them in the freezer first thing from the store you will kill any bugs that were lurking in your products and prevent them in the future. This is a great how to video on prepping your rice and flour before giving them a more stable home. Another way to kill weevils in your rice is to zap them in the microwave for about five minutes.
While you are storing rice in air-tight containers, layering the rice with either bay leaves or red chili peppers will ward them off. To prevent pantry moths I highly recommend checking out this link on how to make four of your own traps.
Just as much as we dislike weevils in our pantry staples, they dislike heat, light, and oxygen. It would make sense then, that beans, flour, sugar, nuts and seeds and grains would gravitate towards the dark kitchen cabinet and that their favorite homes are containers which are air-tight. So the question becomes, are all staples happy, edible, and tasty till the end of time. Let's find out what their shelf life really is.
A Few links on the topic Below: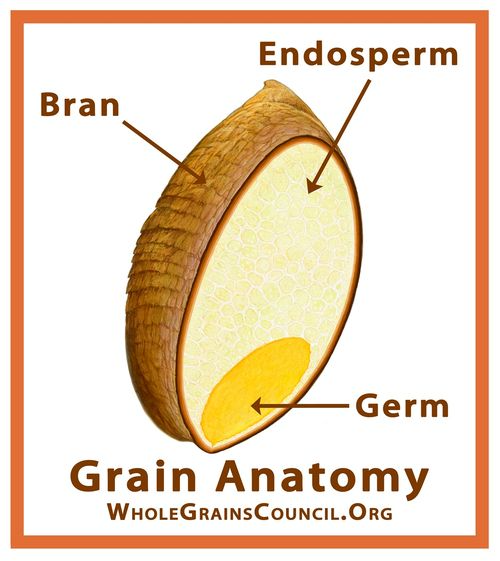 GRAINS
First let's talk about the word refined. As it pertains to food, refined means that man has altered the natural essence of an item. This word is commonly found on kitchen oil labels . Grain in its natural glory contains a bran, endosperm and germ from outer to inner parts of the grain. The one grain that is refined meaning that it only contains the endosperm because the germ and bran have been removed. By removing these components, the health benefits have decreased significantly but the shelf life has increased.
Which grains are refined and which are not? White rice is the only refined grain. Meaning it is the only grain that is shelf stable for an indefinite period. Since all other grains are considered whole they have a considerably shorter shelf life, usually between 2-6 months depending on the grain. When you read about pantry staples the over grooved line is store them in an air-tight container and a cool and dark place. Yep, they dislike heat, air, and light making a cabinet with a door a fine place to store them. Be mindful of which cupboard you put them in, the one above the dishwasher or near the stove or oven is a less than optimal choice.
To double the length of time, which would be 4-12 months to use them, storing in the fridge is the way to go. Just put them in an airtight container. If you go through your grains quickly the cupboard is the way to go. I think it might be prudent to start putting the date on my mason jars to see in real time how quickly I go through these staples. Those grains that are new to you can take some courage and research to use more often. Just put them in the fridge. Don't worry about taking notes. I have made a table that tells you all the time frame to store your pantry goods via the shelf, fridge and freezer. It is at the very bottom of this post.
More links on grains to cure your curiosity.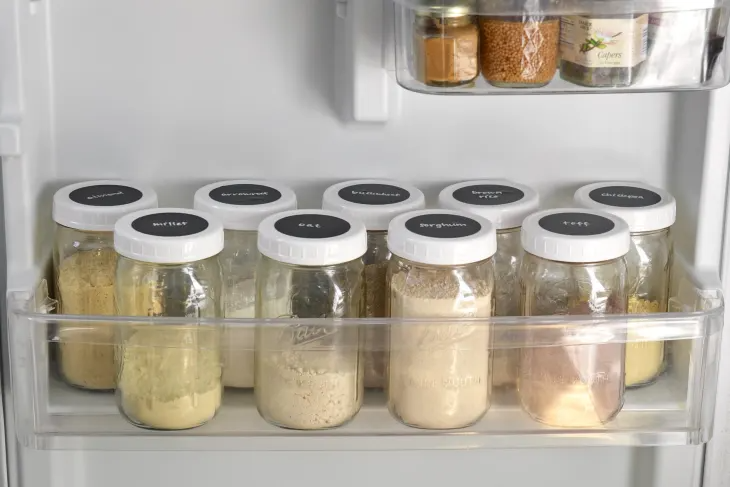 Flour
Flour, which is ground grains, shares a similar story, It too is divided into two groups, refined and not refined. White flours are refined; pastry, all purpose, and bread. All other flours have the whole grain intact while being crushed which has them containing more oils. This means that all-purpose is sturdier and can hang out in your cupboard for 1-2 years. Just keep sniffing it and when it smells odd, dispose of it. That leaves all other flours and meals a bit more vulnerable since oils in general can go rancid at a much more rapid pace; they can hang out on the shelf for 3 months, in the fridge for 6 months and freezer for up to a year.
Just keep in mind when keeping flour in the fridge or freezer it is imperative to let it rise to room temperature so your baked goods will be light and fluffy, if you don't you will have too-dense pancakes, for example. Just lay the designated amount for your recipe on a cookie sheet for about 30 minutes and proceed as normal. That step is pretty much a must.
Almond and coconut flour are high in fat and should be kept in the freezer according to the people at King Arthur's Flour company. Talking about almond flour, have you ever wondered what the difference between flour and meal is? The difference is that the nuts are not peeled in meal and takes up more mass unlike flour. Nut flours and nut meals should go directly to the fridge or freezer.
Like our beloved olive oil, flour dislikes light, heat and air. If you bake often and have decided to keep your baking staples out on the counter, invest in opaque containers to show respect. These little buggers are not right for glass containers.
Tips, Tricks, Uses and More Good Storing Info Links Below.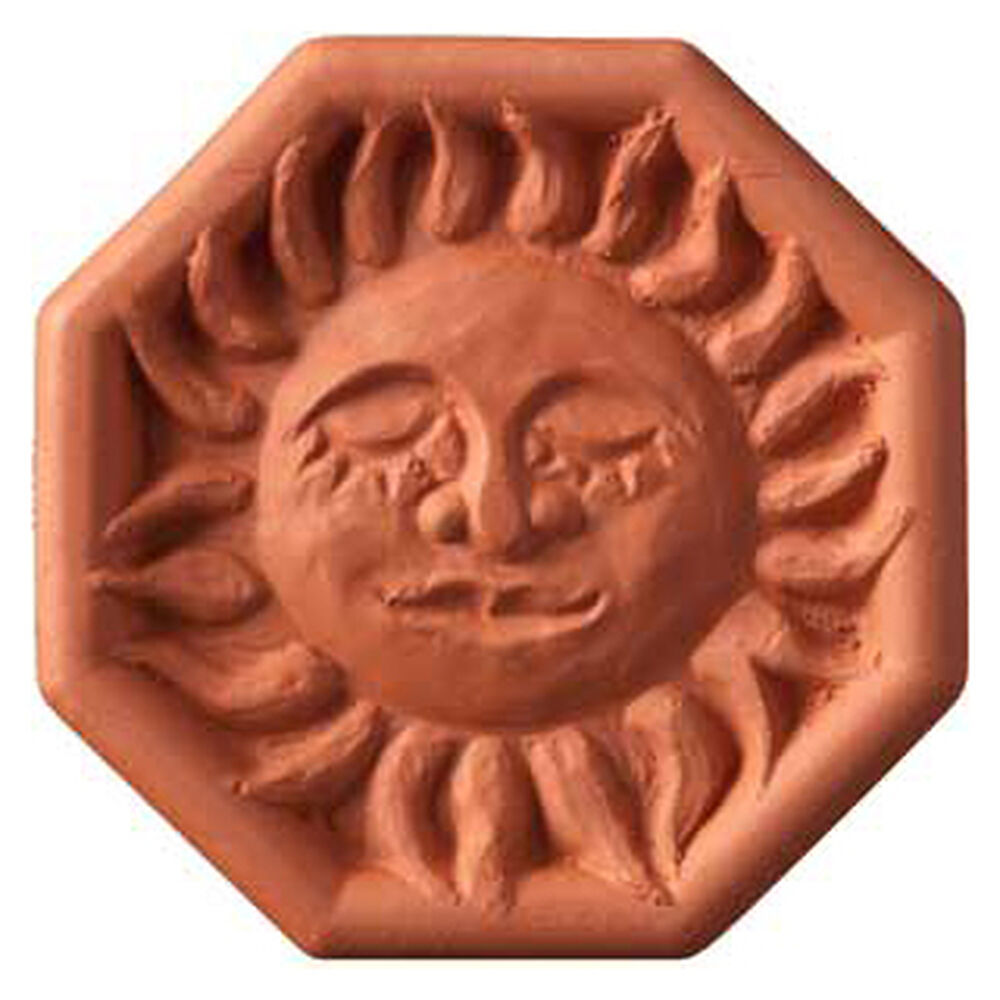 SUGAR
Sugar lasts forever, much like a Twinkie (makes sense that sugar and Twinkies could accompany cockroaches after a nuclear holocaust) so no need to concern yourself with expiration dates. So yes, you can keep your sugar forever in the cupboard and forget about it. Remember that sugar is a preservative and is not susceptible to microbes hence its longevity. For freshness sake the recommendation is around two years but once again you will be fine according to USDA to consume it beyond that. This is true for all sugars, granulated, powder sugar, but with the notable exception of brown sugar.
The main concern with this substance is preventing lumps from forming. That is easily done by keeping it in an air tight vessel, which surprisingly enough a sugar bowl is not. For both powdered sugar and granulated sugar you can sift the lumps out. Brown sugar's challenge is keeping it soft.
BROWN SUGAR
Also it is known to become hard as a rock due to its moisture evaporating, usually due to not being stored air-tight. This does not mean that it has gone bad. Below are some tricks to soften it right up to make it useable once again.
Ways to Soften Your Brown Sugar
Add marshmallows to the top of the container
A Brown Sugar Saver
The microwave-Put a damp paper towel over the sugar and heat for 10-15 seconds at a time until the moisture returns.
A sliced apple next to sugar block in an air-tight container
Slice of bread will do the same thing as the apple
More Sugar Softening Tricks, Storage Tips and Facts Below: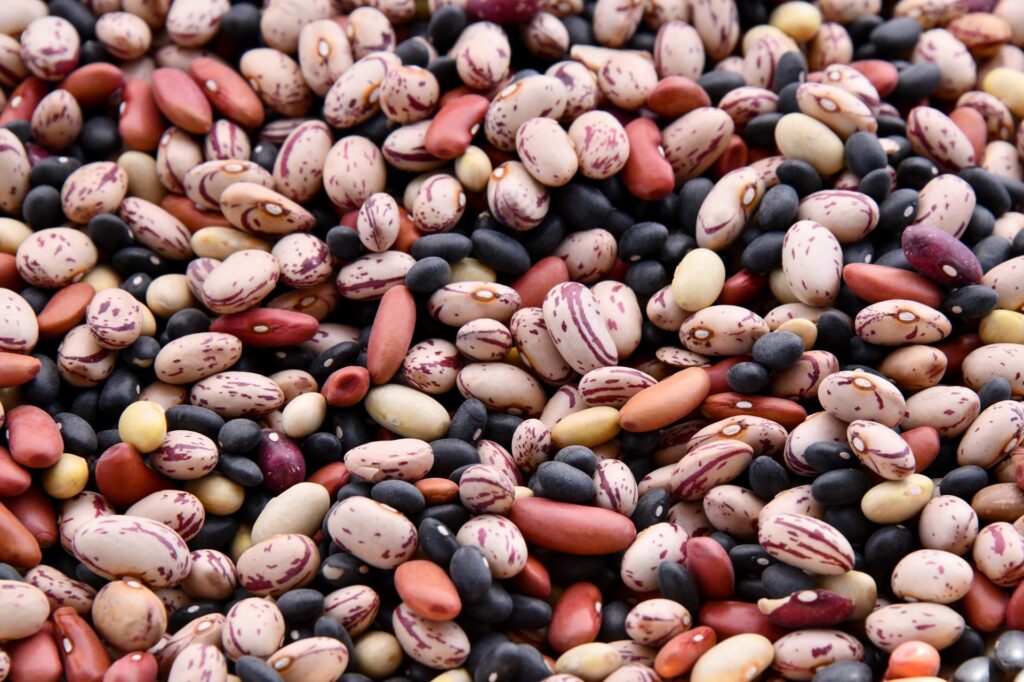 BEANS
These lovely legumes fill you up, are easy to come by, inexpensive and versatile. Like all good things they taste best when recently purchased. The longer they hang out in your home, the more nutrients they will lose, and get even drier. Your cooking time will increase over the months that they are in your possession. Another trick to make them softer is to add 1/4 teaspoon of baking soda to every pound of dried beans.
Beans can technically be eaten a decade after they have been purchased and will not harm you but after 2-3 years they start to lose their vitamins; and at the five year mark the nutrition value is gone. They will still fill you up, however.
So technically you can keep them for a long time but I personally will only keep no more than a filled mason jar at a time. Once cooked they will be edible between 3-5 days stored in the fridge.. Canned beans will maintain their nutrients and taste for 2-5 years in the pantry according to the Food Network.
Links to the articles that I read to write the above text about beans: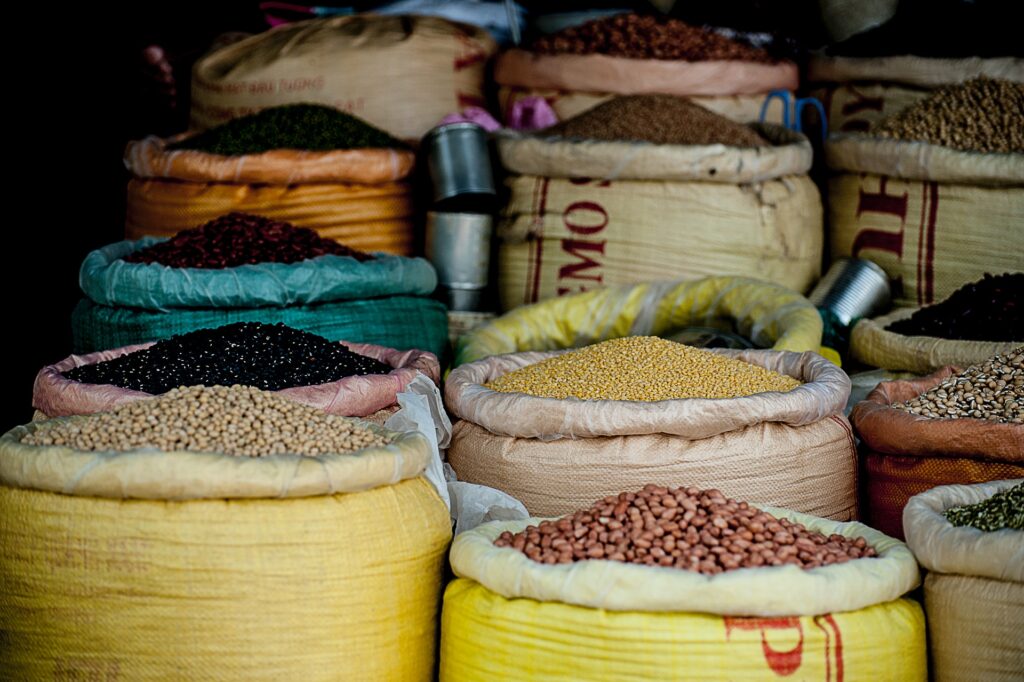 CONCLUSION
Open shelving seems to be the thing nowadays and showing off our beautiful pantry staples in glass jars with awesome labels; but in reality by doing that we are compromising the flavor and freshness by exposing them to light, as light is one of the three things they fear the most, with heat and air being the other two. So back to the title of this post and the question, Can we put beans, grains, sugar and flour, in the kitchen cupboard forever? The refined white rice and sugar are shelf stable indefinitely. For the rest of our staples, the answer would be a resounding no, as we have learned. Beans, technically yes but they will lose their flavor and vitamins at the year two mark and take longer to cook the longer they rest on the shelf. All other flours and grains have a life span around a year and do better kept in the fridge to keep the natural oils from going rancid. Another thing they all have in common is that they are absorbers, they take on any odor that is near them – yuck. That is another reason why an air-tight container is crucial because no one wants their sugar to taste like garlic.
How do I know if they have gone bad? As Tucan Sam always said the nose knows. I highly recommend smelling your staples when they first get in your home so you know what fresh is supposed to smell like. and more likely to be able to know when they are off or rancid. "The experts at King Arthur's Flour say you will know when it is rancid if it smells like burnt rubber or pencil erasers." Obviously if there are any bugs, throw your food out directly to the outside bin to eliminate further spread of the infestation indoors. If there is any mold in the container this is another sign to start over.
The information in this post is geared to storing your staples in a mason jar or other common air-tight container. Shelf life can be extended by taking all oxygen out of the container you are storing them and putting them in mylar bags. If you are interested in 10 plus years of storing food, there lots of resources on the web under long term food prep, etc…
Today I am going to leave you with a chart on how to store the items we talked about. Feel free to copy and paste this into a document so you can print it out.
| | | | |
| --- | --- | --- | --- |
| Pantry Staple | Shelf Life | Refrigerator Life | Freezer Life |
| White Flour (refined) | 8 months | 2 years | 2 years |
| Almond flour, Almond meal, coconut flour,wheat germ, Active Dry Yeast | Highly recommended to put these items directly in the fridge since they have high fat content. | up to 6 months | 1 year |
| Whole Flours-(all other flours) | 3 months | 6 months | 1 year |
| Sugar | Forever | Keep out | keep out |
| White Rice | 30 Years | 30 years | 30 years |
| Brown Rice, Barley, Spelt, Wheat | 6 months | 6-12 months | 1 year |
| Buckwheat, Millet | 2 months | 4 months | 4 months |
| Amaranth, Oats, Quinoa, Sorghum, Teff, Wild Rice | 4 months | 8 months | 8 months |
| Dried Beans | are best by 1 year, year 2 lose vitamins and creamy factor, 5 years vitamins gone. If all you had to eat was 10 year dried beans you will not get sick and I would eat them too if that was the case. | dried not recommended. once cooked 3-5 days | dried not recommended. cooked up to 1 month. |