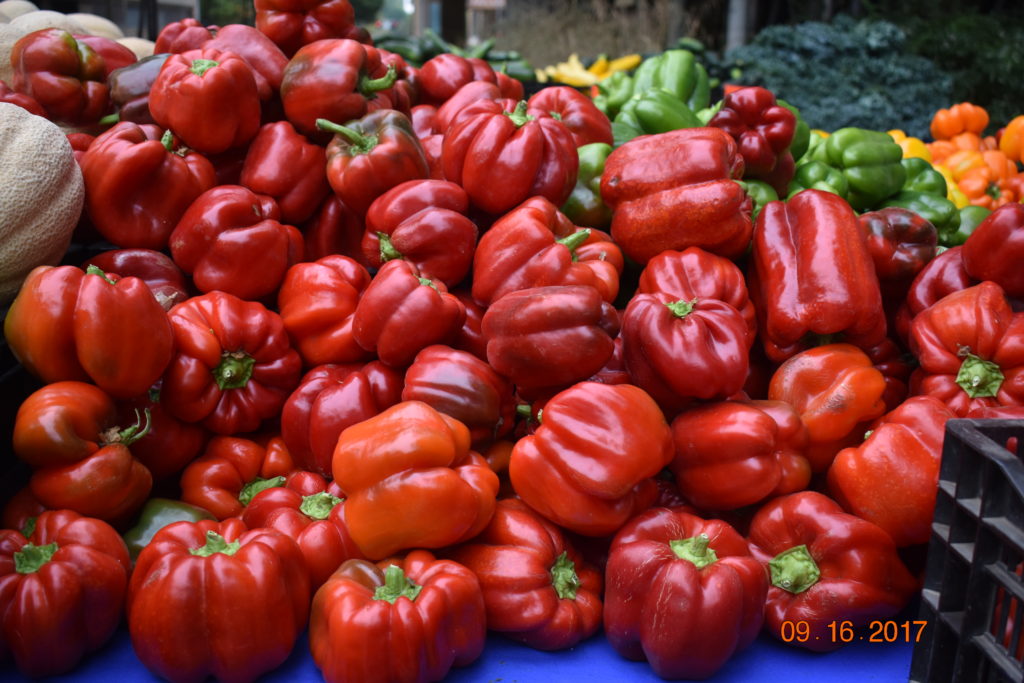 Roasting Season has begun, folks!  I need to get this on the calendars. People celebrate boating season, so why not roasting season?  Labor Day is the last grilling frenzy and the weekend after is for roasting vegetables and fruits, i.e. tomatoes and bell peppers – in my world.
Roasting is easy and the taste transformation that happens pops in your mouth.  To roast, one cuts the produce, laying the cut side out, sprinkle with olive oil and salt, put it in a hot oven. Pretty simple, right?
But have you ever sprinkled olive oil on a baking sheet with vegetables? Usually little ponds are created on the baking sheet with olive oil and if you do not have your pan completely covered with foil or parchment paper, the juices and olive oil will be baked onto the baking sheet forcing you to use your biceps vigorously to clean it afterwards.Ugh! Such a waste of good olive oil.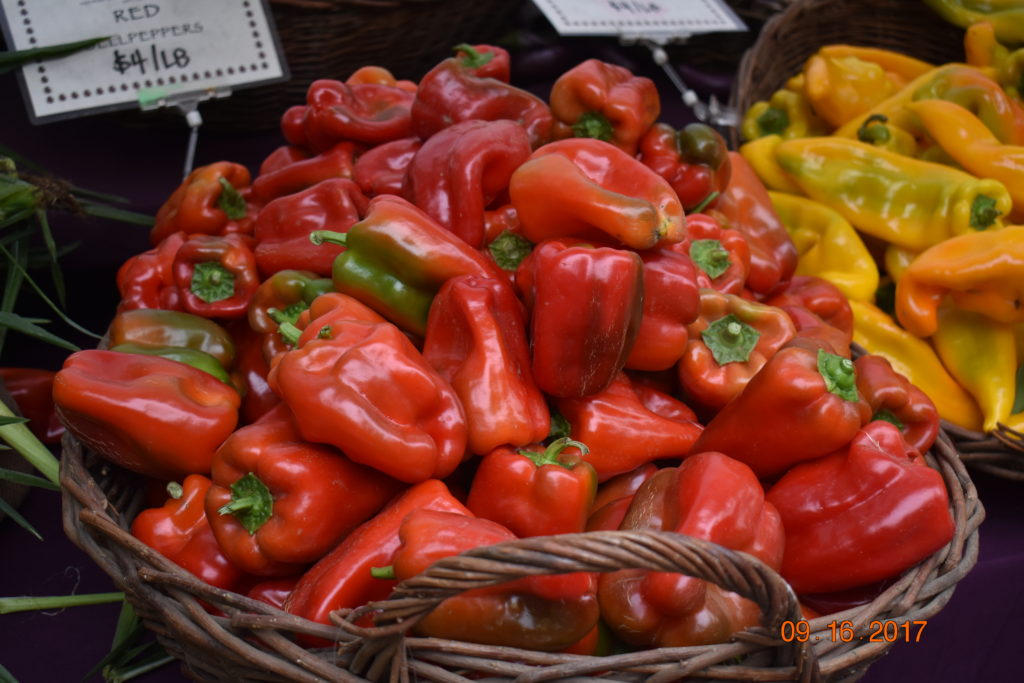 Solutions to this kitchen dilemma:
Pour some olive oil into a bowl and let the vegetables have a quick soak. The down side to this method is figuring out how much oil to use and not to have leftovers. This method works swimmingly with green beans and cherry tomatoes. I imagine broccoli and cauliflower florets would also benefit with a dip in the oil.
Another option is to pour some oil onto a paper towel and then rub the oil on the vegetables or fruit.  This would work well with items with a large surface like peppers or eggplant. No mess with this method and the oil actually gets on the veggies.
Spray bottle? This thought keeps running through my head. The only thing stopping me from doing this is to remember to purchase a spray bottle. Let me know if you give this a whirl.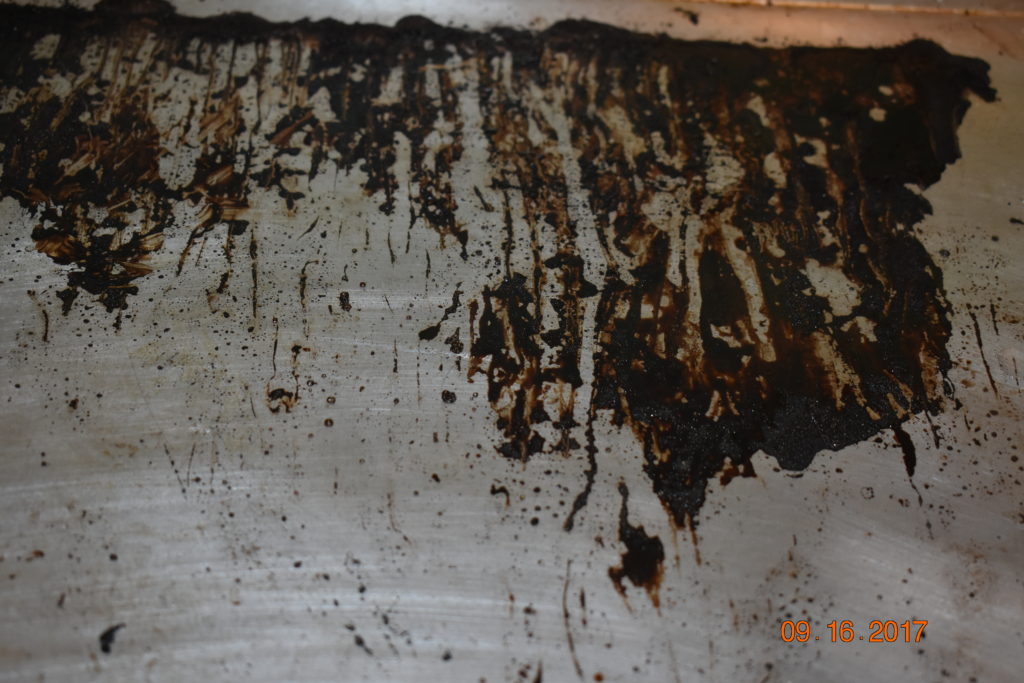 Covering the baking sheet
When roasting, it is prudent to cover the baking sheet to not have to clean it with the aforementioned biceps, like I did with the pan above.  I have to say that I am very grateful for the creative genius who came up with the S.O.S Pad.  Thank you Edwin Cox!!  They have been in existence for 100 years. Not sure how they are celebrating that centennial.  There are several options to prevent this from happening.
Foil
The great thing about foil is that you can choose the size you want to use and cuts off easily.  Be careful with that serrated edge, it has made me bleed in the past. It is easily available and one usually has it on hand.  I find that it can get stuck to the pan or the food at times depending on the juiciness of the produce. Also it is something you have to throw way each time, which is a downside for mother earth.   Always a good back-up method.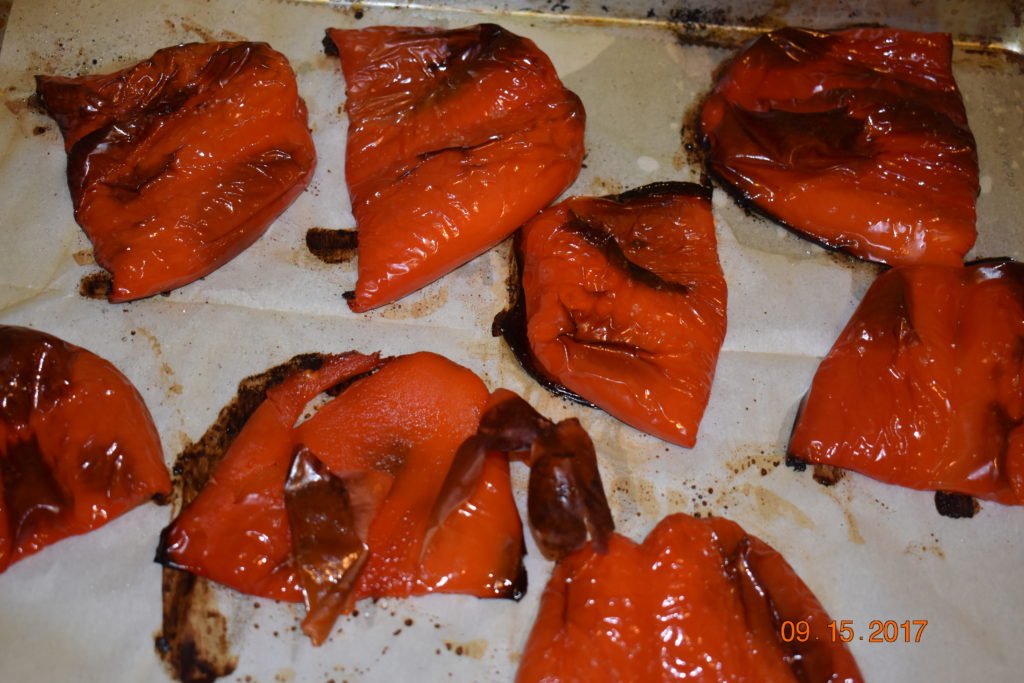 Parchment Paper
The companies who make parchment paper are now packaging it into sheets that will fit your baking pan.  I love these; no guess work and no having to cut paper off.  Just make sure you get the correct size to fit your pan size. Currently this is my go-to. I learned from the Daring Gourmet that parchment paper is only good up to 400 degrees. Faith Durand from the Kitchen has an interesting argument for using parchment paper for this purpose.
Silicone Baking Mats or Silpad
Way back in the day, I remember my French exchange family using these on a regular basis.  The upside to a silpad is one is not creating more waste each time, seems more eco-friendly.  Some people use these for roasting vegetables. These mats/pads are geared toward baking cookies that won't stick to the pan.  In a couple of sites  I perused it was stated not to use oil or grease with these mats.  My guess is because it probably absorbs it.
With all the articles I read, parchment paper seems to be the winner for covering the baking sheet to roast vegetables.
Now I am going to send you over to Kimberly at the Daring Gourmet for a tutorial on roasting red peppers.  I used this technique with great success.  It took me twice the amount of time to get the peppers to darken.  This could be due to my old oven or that my oven was not completely preheated.  Not sure.  Just giving you a heads up on my experience.  Happy Roasting!!  Can't wait to hear about your adventures in this late summer method.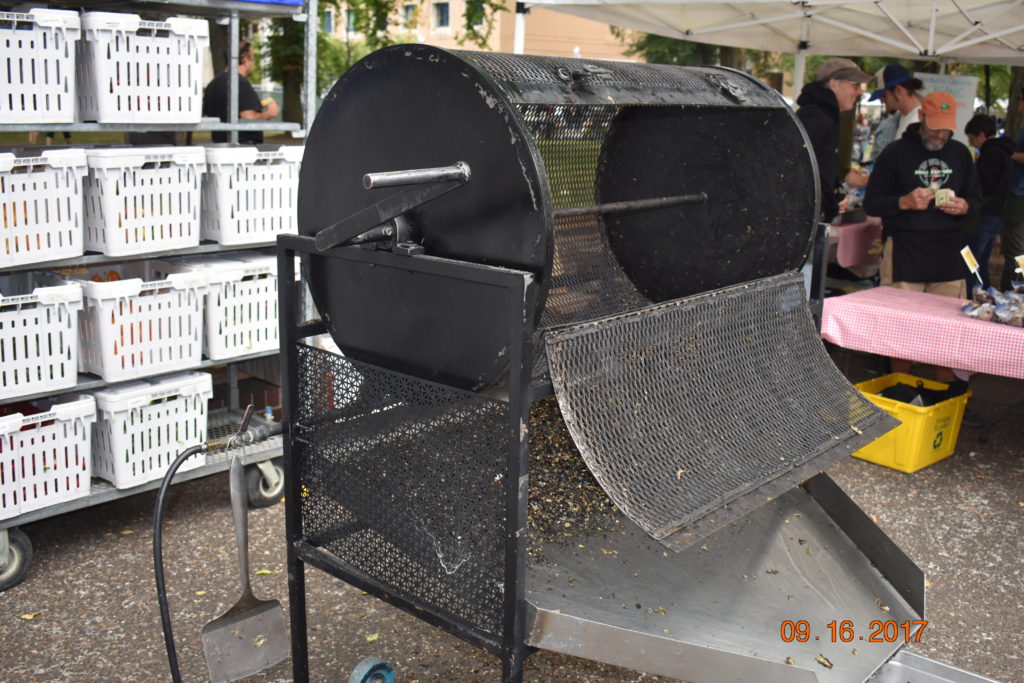 If roasting peppers are not your thing, I highly recommend heading to the PSU Farmers Market this Saturday to purchase farm fresh roasted peppers of many varietals.  The machine above is how they roast them.
May you enjoy the roasted peppers. Stay tuned later this week for a delicious smoky roasted pepper sauce recipe.