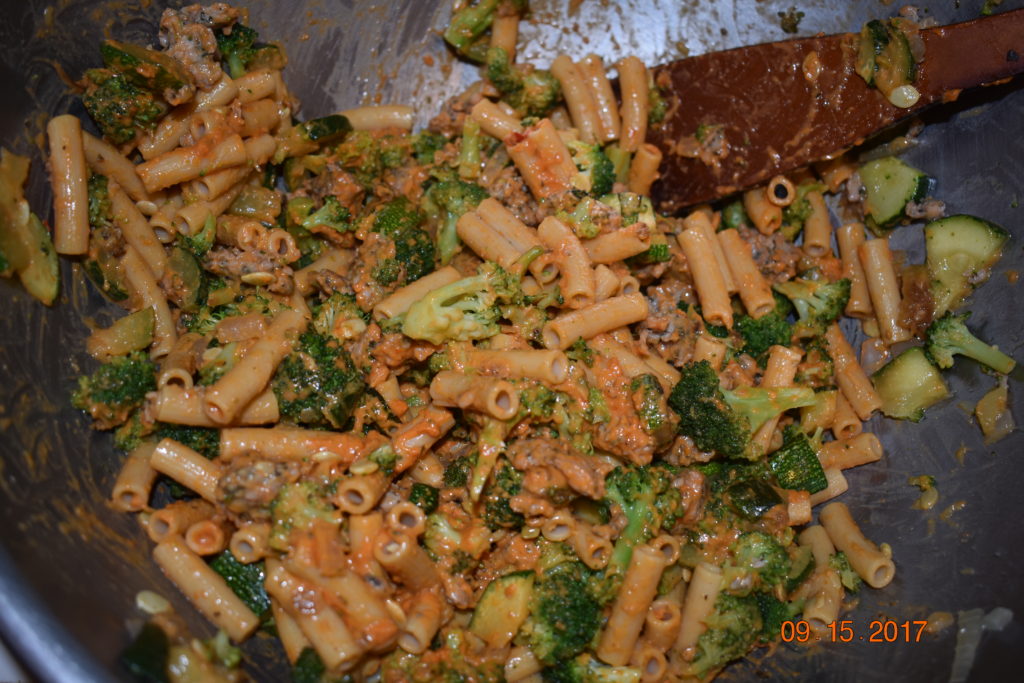 I certainly know the seasons by what I am continually cooking for a month or more.  In the Spring there is always one dish per week that contains asparagus.   Corn, tomatoes, peppers, and zucchini is the go to combination at the moment.  Isn't this combination of veggies the basis for goulash or succotash or both?  Did you just get an image of Daffy Duck with the word succotash?  I certainly did. While searching the word succotash, I learned the idiom suffering succotash.   It did not start with Duffy Duck nor Sylvester the Cat.  The saying began centuries ago with a now extinct language that created the word succotash that was putting three words and three vegetables together at the same time; beans, corn and squash.  It has been said that in the day it replaced the saying suffering savior.  Words are fascinating as are their origins.  I am always surprised how many food analogies or idioms are out there. Okay back to our recipe of the day.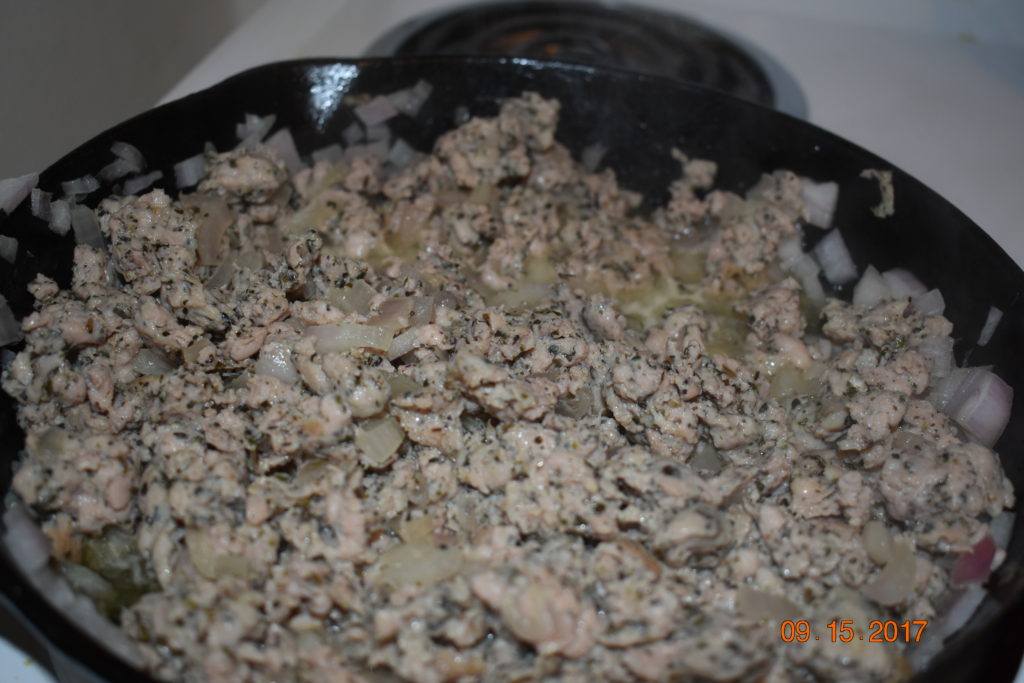 Succotash is the mixture of squash (zucchini), beans, and corn.  The beans are usually that of lima beans in the pure version. Succotash came from putting three words of a now extinct language together which means squash, beans and corn.  Certainly a fun word to say. Today it is an iconic side dish of the south that includes addition to beans, corn and zucchini, bacon, tomato and onions. Not on the menu today. Now we know what I did not make a riff of.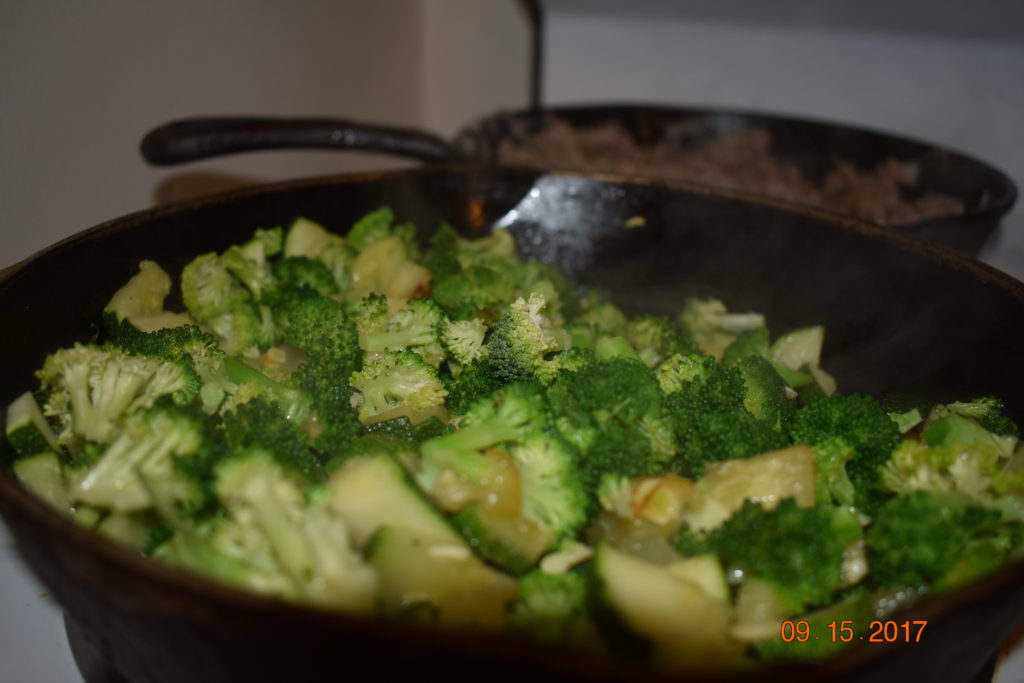 True goulash originated from Hungary and is one of their signature dishes. The original version consists of potatoes, paprika, onions and meat , usually venison.  Sometimes this is served over egg noodles.  The goulash state side often includes ground beef, onions, tomatoes and tomato sauce mixed into macaroni and topped with cheese.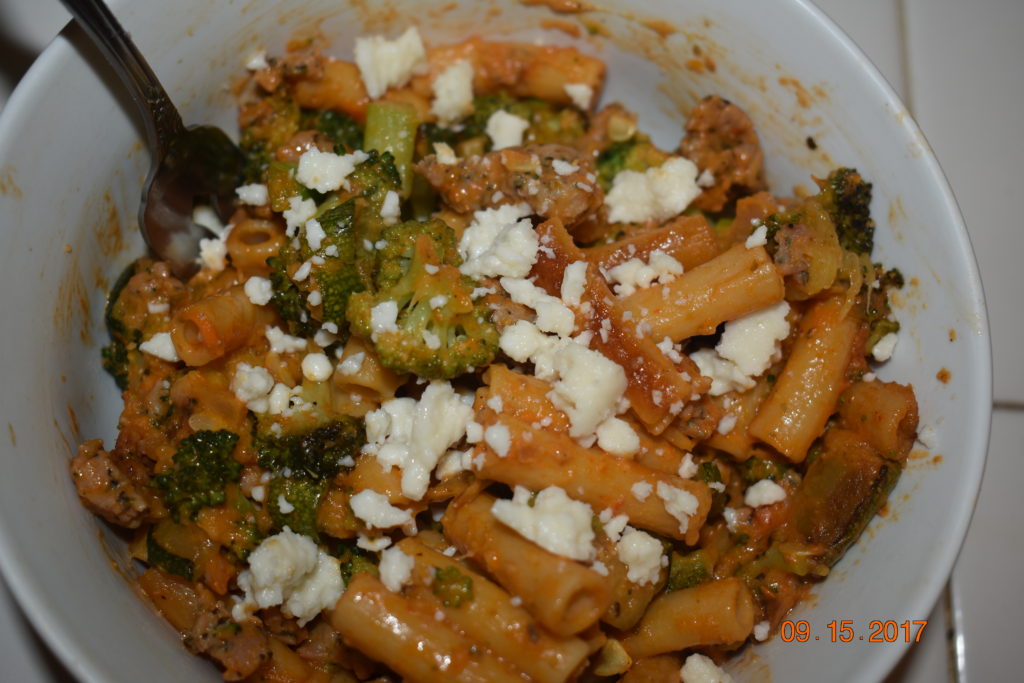 After some thought.  This recipe truly reminds me of the meals in the seventies the one that the dancing and talking oven mitt endorsed, Hamburger Helper.  I am thinking every household back then ate a weekly version of that recipe.  This is a more modern take on it with more veggies added in.
So today's recipe is a filling, easy and comforting dish that uses romesco sauce and reminded my husband and I of our childhood meals.  It was a perfect ending to a creative day.  I always feel so smart after writing a post.  I hope you feel more cognizance ( There is a great word to use for scrabble).  Happy eating and reminiscing of meals of the past.
Print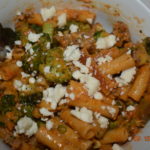 Pasta al Romensco
---
Description
A true homey recipe that is filling, comforting and tasty. A great way to end the day.   A great way to use veggies at hand. The first round I used zucchini and broccoli.  The second version I used mushrooms, cauliflower and broccoli. Get creative and use what you got.  Can't wait to hear how you put your signature on this dish.
---
Ingredients
2 cups romesco sauce
1 large head of broccoli. Florets only (approximately 2 1/2 cups)
1 pound of sausage ( I used basil chicken sausage)
1 small onion diced ( red or white)
1 medium zucchini diced
6 ounces of penne pasta ( gluten free if needed)
salt to taste
cheese crumbles ( Cotija or Parmesan)
1 can of green olives (optional)
1/2 head of cauliflower florets (optional)
1 – ounce package of mushrooms sliced ( optional)
penne pasta
---
Instructions
If the romesco sauce is not already made, start roasting the peppers and tomatoes.  You can prep the rest while things are roasting.
Cut the vegetables that you have decided to use and set aside in a bowl.
Get a pan out and add 1/2 tablespoon of oil. Heat til warm.  Add the sausage.  Use a flat wooden spoon to cut up the meat as is cooks. Approximately 5 minutes time and set aside.
Cook the pasta according to the instructions on the bag or box.  Drain, rinse, drain and then put back into the pot you used to boil it in.
Add the meat to the pasta pan.  Wash the pan and colander and put away.
Check the veggies that are roasting, if you are making the romesco sauce. Take them out if ready and peel the peppers after they cool a minute or two.
Get a pan out and oil.  Time to saute the veggies.  Put 2 plus tablespoons of oil in the pan.  Let it get hot. You want to put your dial to 6 or right before high.  Put in veggies only enough that fit.  You do not want to crowd them. They need space.  Probably will need to do this in 2 -3 batches. Once the veggies are in the pan, you are not leaving this spot.  For the next minute you are making sure those veggies are in motion.
When each batch is completed sauteeing, around 90 seconds add them to the pan with the meat and pasta.
Finish making the romesco sauce if needed.
Add the rest of the ingredients to the pan except the cheese.   Mix the ingredients includiing the romesco sauce until combined.  Turn the burner on medium until all is warm.  Stir frequently.  Once all is heated evenly and completely serve in bowls or plates and top with cheese.