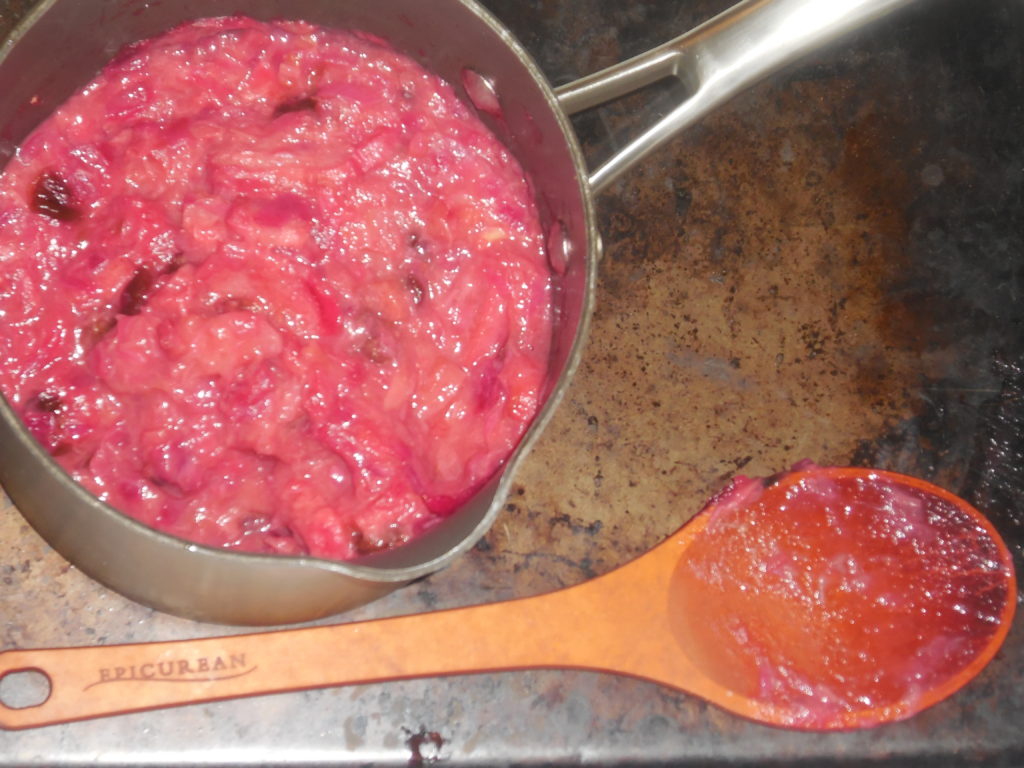 I want you to transport yourself to the last Thursday of November, otherwise known as Thanksgiving.  Which year, it doesn't matter.  Think of the table filled with food.  What item, if it were missing from this scene, would leave you disappointed if it were not there?  Many people seem to have a thing for cranberry sauce; some like it from a can and some like it with oranges.  Cranberry sauce does add color to the table on that day.  The sauce is used for meat and commonly used as a sandwich spread.  But would you miss it?
Cranberry sauce is like applesauce, full of fruit and some sweetener.  But what is the difference between these sweet sauces and Chutney?  Chutney contains vinegar, whereas these sauces do not, but can be used similarly as cranberry sauce.  This is a good segue to discuss vinegars.  Of course, vinegars have a distinct pungent odor.  Because of this, at least one recipe I came across recommended opening all of the windows before starting to make chutney.  In addition to that advice I burn candles and get the fan out and point it in the kitchen, to dissipate the odor.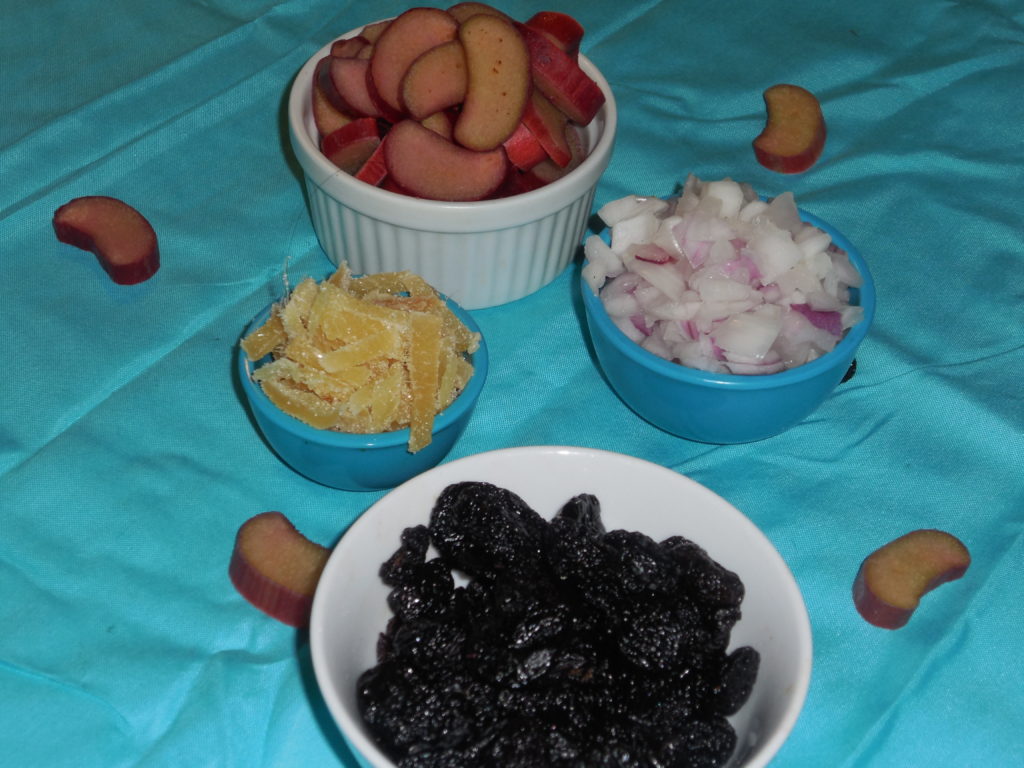 The noses in our house  are finding that Apple Cider Vinegar is the most challenging odor to endure.  For that reason red wine and balsamic vinegar  are my go-to when vinegar is called for in a recipe.
Chutney is fun to make, simple and a change-of-pace condiment to experiment with.
Chutney originated in India and the British made their own version. for more information regarding chutney, this is a fun read.
Ginger and Rhubarb are another powerhouse couple. I have not yet mastered the art of cutting "knobby" ginger.  The other day as I was shopping at Trader Joe's my eyes landed on ginger paste.  By reading the label I have concluded that ginger paste is ginger emulsified into olive oil.  No worries if your knife is dull; just squeeze the tube and you'll have that ginger flavor emanating through your dish with ease.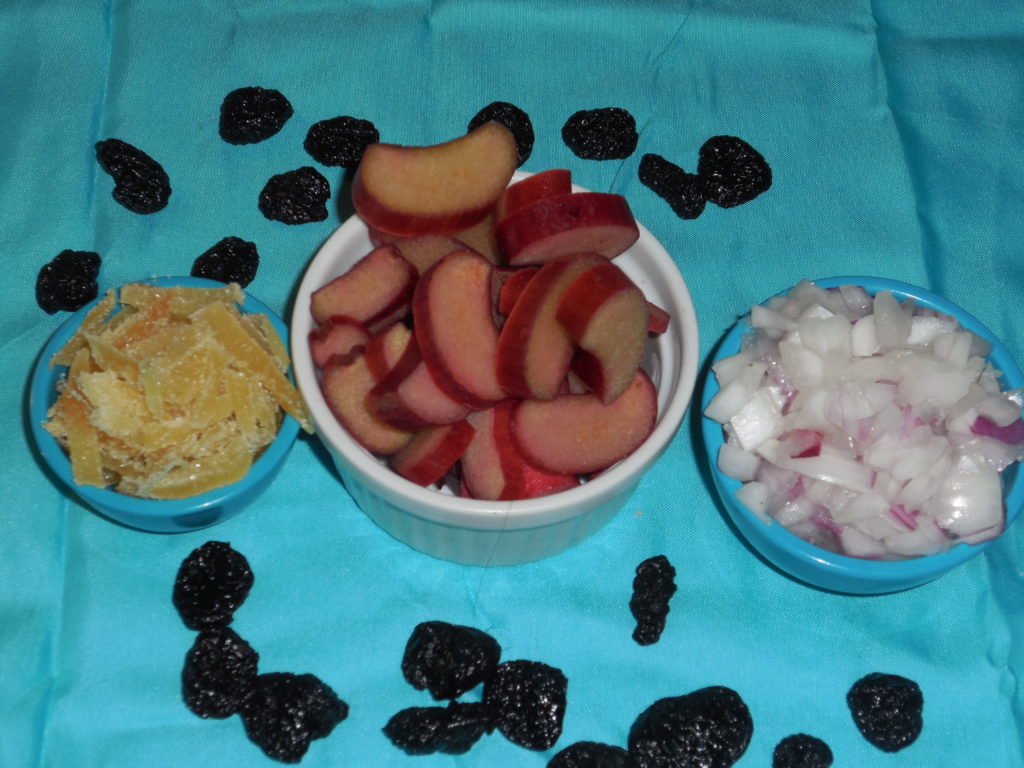 Another ginger product from Trader Joe's that I had been anxious to put into a recipe is the crystallized ginger.  I cut it up into slivers to give an added punch of ginger as the final flourish to this chutney recipe.
I could call this the Trader Joe's Chutney with rhubarb.  The dried fruit and ginger aisle in the store is one of my favorites.  I did snatch up a bag of the cherries for the sweet component for this dish. Also both the dried cherries and crystallized ginger are great as a snack.
You may ask, why do I want to make chutney again?  Because it gives a chicken breast, pork chop, goat cheese log or salmon some flavor pop.  We will discuss these options and more in the following posts.  Stay tuned!!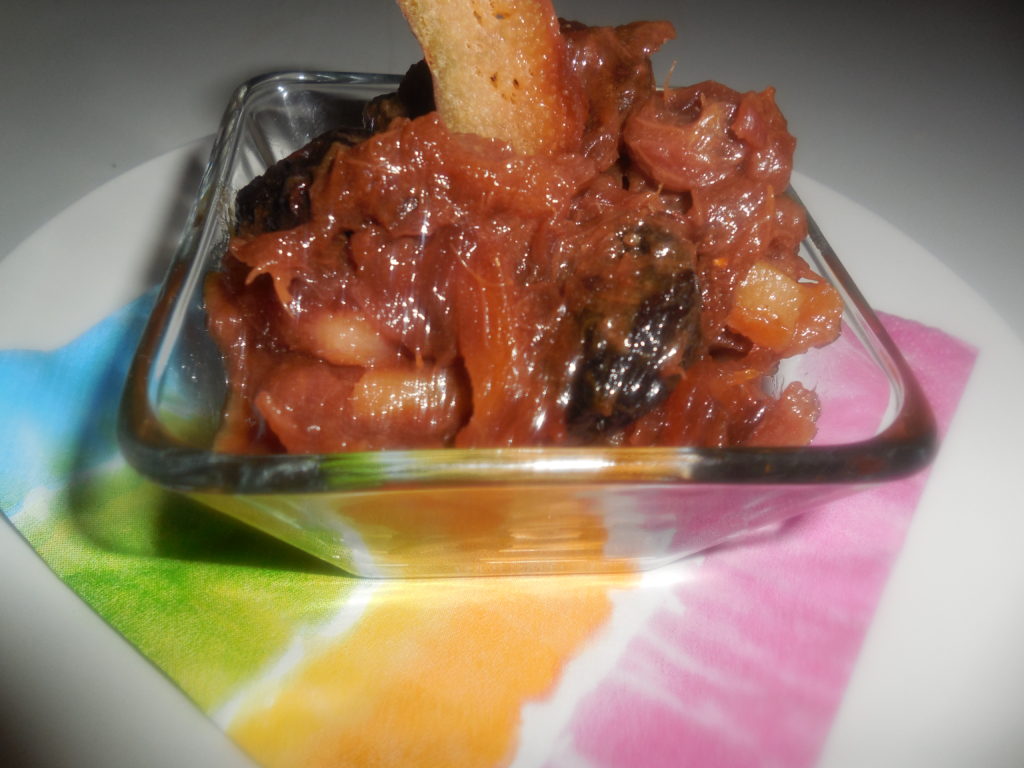 Here are some additional ways of using rhubarb chutney: curried lentils and rhubarb chutney,  and here is 16 ideas on using chutney.    What is your favorite way to eat chutney?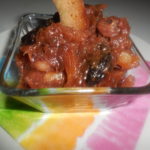 Rhubarb Chutney
---
Description
There are recipes that are better the next day and this is one of them.  Letting it cool gives it time to thicken. Chutney is eaten at room temperature. 
---
Ingredients
3 Cups diced Rhubarb ( 3–5 stalks)
2 Tablespoons Balsamic Vinegar
2 Tablespoons Red Wine Vinegar
2 Tablespoons Honey
1 Tablespoon Coconut Oil
½ Cup Dried Cherries
1 Tablespoon ginger paste
½ cup shallots
¼  Cup Crystalized Ginger cut in slices
---
Instructions
Get a medium sauce pan out and put in the rhubarb, vinegars, resh ginger, honey, oil and cherries.
Put the sauce pan on the stove to high heat. Once it boils, turn the stove to low and cover.  Make sure that it is simmering on your low temperature.  Simmering means you will see a movement in the ingredients.
Set the timer for twenty minutes
Turn the stove off and take the lid off.
Add the  crystalized ginger.  Stir.
Let the mixture cool and put into the refrigerator or serve.