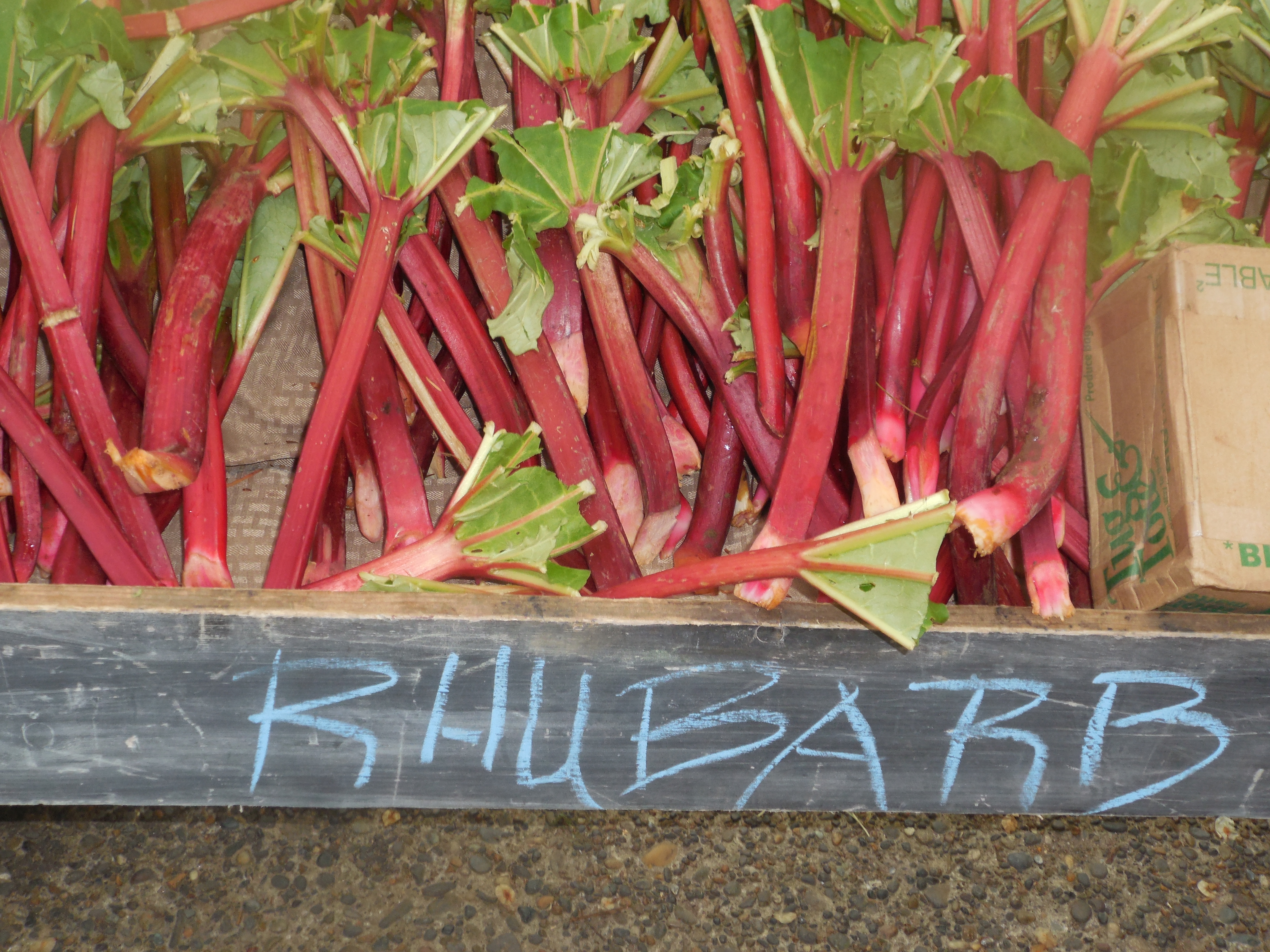 Today we are interviewing Ms. Rhubarb. I am so excited that she could spend some time with us because I have so many pressing questions to get to the bottom of, before her season ends. Let's get to the interview.
Hello and welcome. I have been so eager to see you. This year, 2017, I saw that you made your first appearance at the Farmer's Market in Portland, Oregon on the first weekend of April. It was such a relief to finally see some color at the Market. Your reddish skin tone makes me smile but are your stalks always red?
I am honored to be here and to have put a spring in your step. My red skin tone and long shape does make me a standout – and is what I am known for – and yet not all rhubarb is red; there is a green variety. It is often assumed that the red variety is more sweet than the green due to its color. This may be the case for peppers but not for me!
How many different varieties of rhubarb exist?
Oh my, there are 29 different varieties of rhubarb. I would recommend that you consult the Rhubarb Compendium for more details. I come in many lovely shades of red and green.
How does one know when you are ripe?
As stated earlier, it has nothing to do with the color of the stalks. It has all to do with how tall I grow. At the ripest I am 10-15 inches tall. Make sure I am standing straight and strong like a ballerina – this is when I am at my ripest.
I would love to talk more about your skin. It is stringy like celery. Do you have any tips on how to work with that fibrous skin when we are preparing you?
There are two camps on this topic. One camp says it is imperative that one destrings me and the other strongly believes it is important to keep my skin intact. This is up to the preparer – or the sharpness of their knife. If the knife is sharp it will keep the stringy fibers intact and if not, the fibers will loosen and cause de-stringing. If you do not have a sharp knife, a serrated one will do the trick. My skin is safe to eat.
We have certainly focused on your stalks, is there anything you would like to discuss regarding your leaves?
My eaves are green and large, which is why I need lots of space in a garden. They are not to be consumed due to a high content of oxalic acid.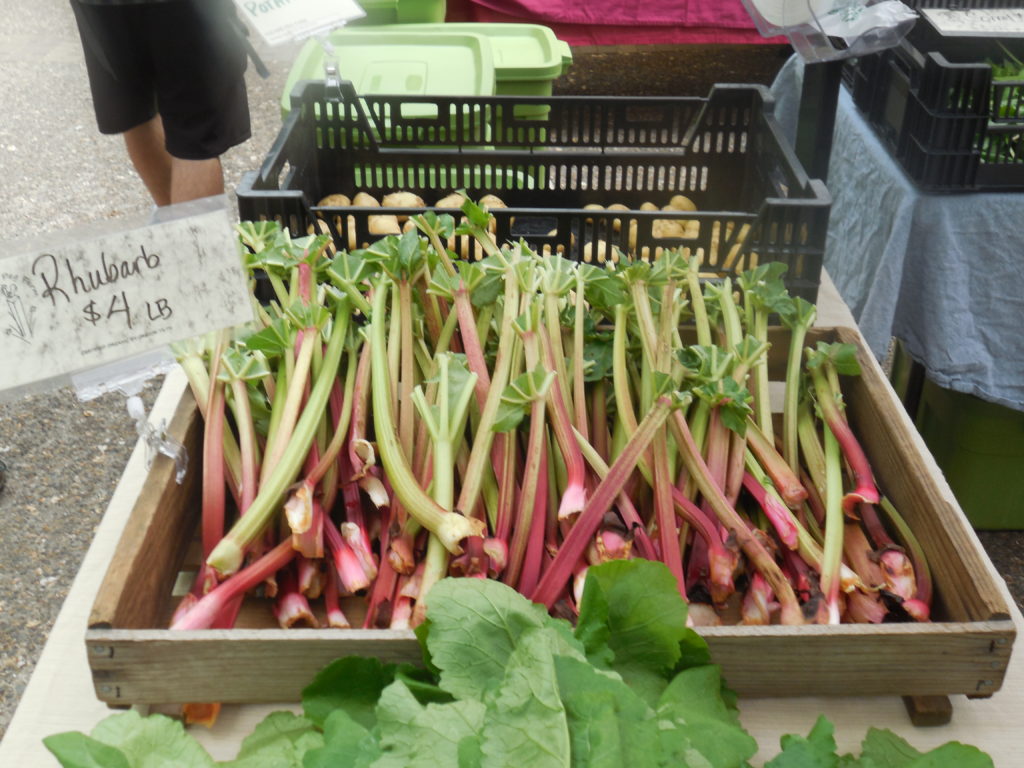 What is your favorite season?
I do not like the heat. Cooler and moist weather is my preference, that is why I make my presence known predominantly between April and June. My favorite states are Oregon and Washington because of their moist climate..
Are you a fruit or a vegetable?
I am officially a vegetable in botanical terms but often treated as a fruit. Many people like to add sugar to me to decrease my natural tartness.
Is it true that you are a close relative of Buckwheat?
My family name is Polygonaccea;Sorrel, myself and buckwheat are the three edibles in the family. The rest of my family are weeds.
What nutritional value do you contain?
Vitamin K is the main nutrient that I contain plus lots of dietary fiber. The amount of vitamin K that I contain is not consistent in sources of the web. The percentage of Vitamin K that I have is said to be anywhere between 26 %-45% depending on the source. For more detailed information on my nutrients I would consult the website Organic Facts
Do you have any tips on how you like to be prepared?
Rhubarb can be eaten raw, sauteed, stewed, roasted, and poached. Stewing is the most common.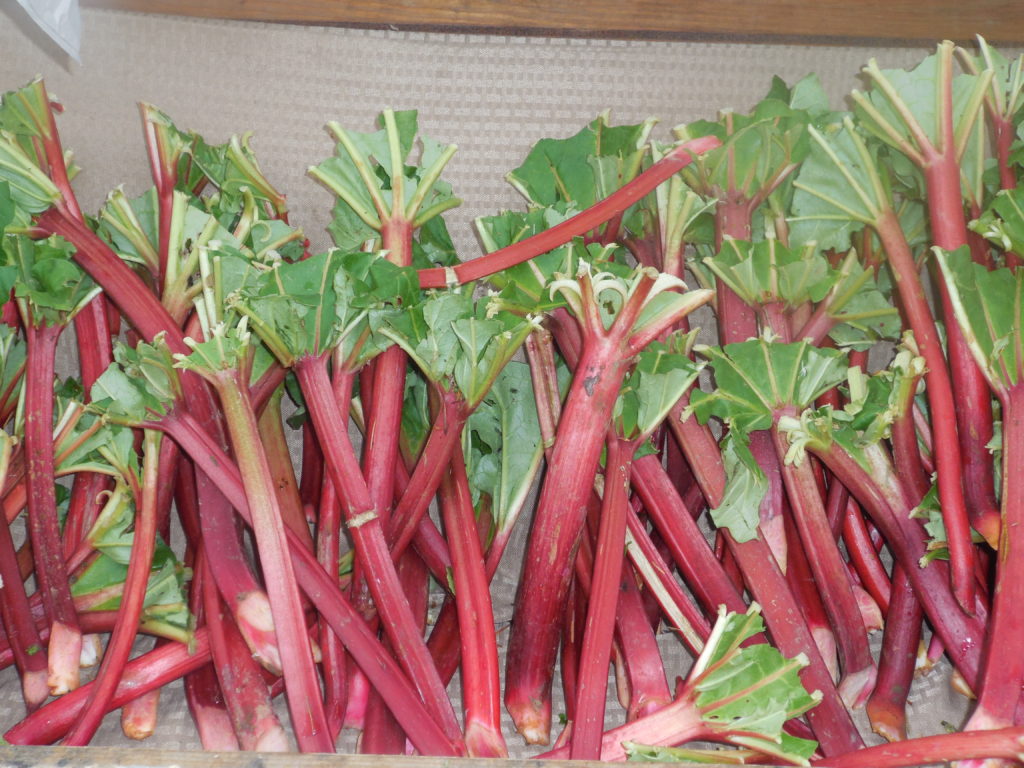 How does rhubarb like to be stored?
After being picked, I like the temperature of the refrigerator. The crisper is the best place to hang out in the fridge with the added protection of a plastic bag. I start getting flimsy around 3-5 days. My long lean body does not do well in the freezer, but I can thrive when I am chopped into one inch pieces. I am great in smoothies that way.
Do you have any parting words?
Ms. Strawberry and I get along well and we make for a powerhouse couple. But I would like to remind folks that I am quite tasty solo.
Thank you Ms. Rhubarb for educating all of us on your essence. Much appreciated.
My pleasure.