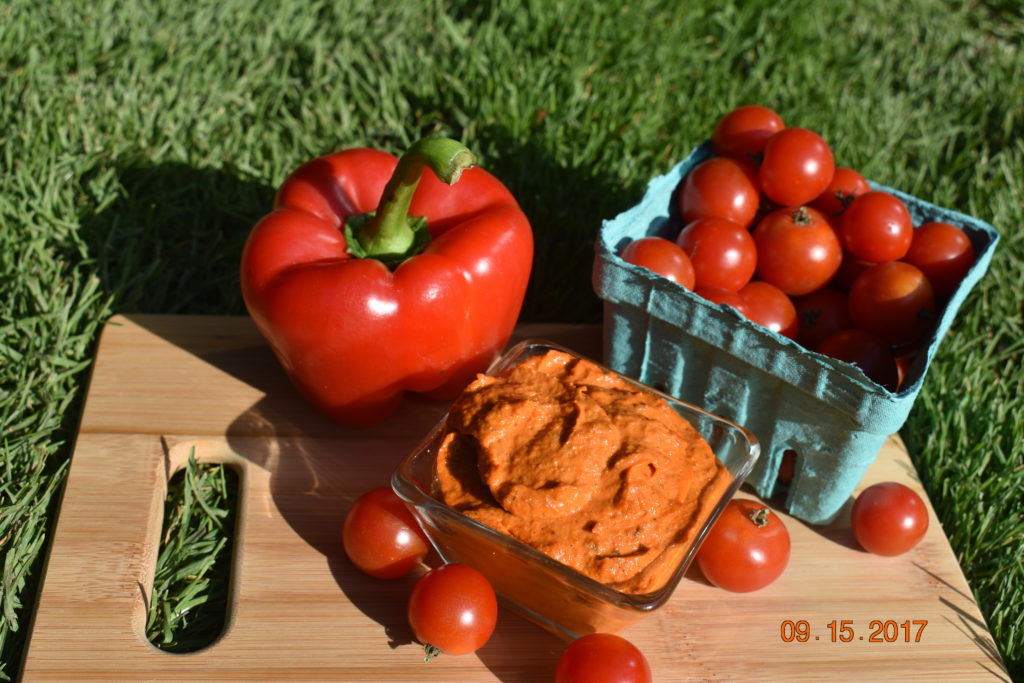 Earlier this year, I decided it was time for me to take a cooking class.  One entitled 4 Sauces Every Cook Should Know at Sur La Table caught my eye.  I was curious to know what sauces the professionals say I should have in my immediate toolbox. Well, Romesco came up and I was quite embarrassed that it had not crossed my food eating nor reading radar.  I learned that this sauce originates from Catalonia, Spain; and that it is usually served with fish. It consists of roasted red peppers, tomatoes, bread, almonds and spices, which combine to give it a smokey zest.  Yes, my jaw hit the table when the chef demonstrated adding chunks of bread to the sauce.  What a novelty to thicken a sauce; not so much for the Spaniards, but for this northwestern American woman, it was a revelation.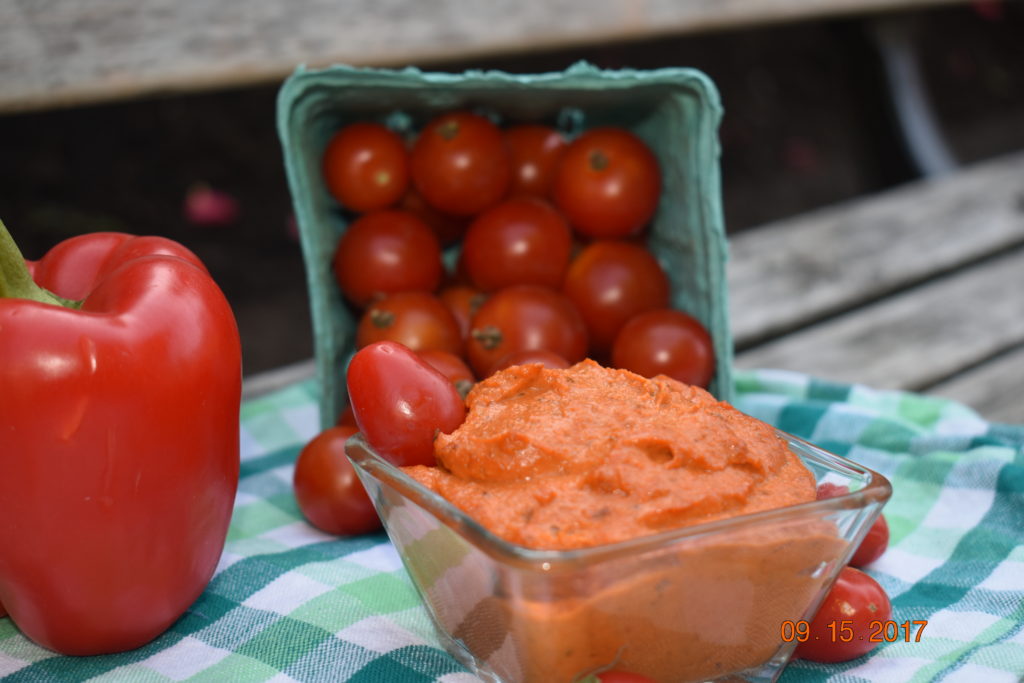 Is the bread and almonds what differentiates Romesco to a roasted pepper sauce? And is the first thicker because of the addition of those two ingredients?  The answer is a resounding yes.
It is bell pepper season, in all the colors they come in.   Red peppers are usually associated with Romesco Sauce. This is one way to enjoy the abundant and sweet bell pepper.
As mentioned, this is a smokey thick sauce/dip.  Makes a good spread for sandwiches, tacos, grain bowls, on corn muffins and the like.  I spread it on toast and add sliced sausage rounds on it for a snack that is is filling and a pleasurable jolt to the taste buds.
Print
A Romesco Sauce Riff
---
Author:

Prep Time:

15 minutes

Cook Time:

25 minutes

Total Time:

40 minutes

Yield:

2 cups

1

x
Category:

Sauce
Description
Thick and smokey.  This sauce sure makes a meal time fun and sophisticated at the same time.  So many uses.  So simple.  An oven and a blender, that is all you need. Whatever you do, do not skip roasting the tomatoes; it gives the roasted flavor much more depth.
---
Ingredients
3 roasted red peppers sliced in half
1 pint cherry tomatoes roasted
1 cup french bread ( I used a Gluten Free baguette)
1/4 cup pumpkin seeds
2 tablespoons capers
1 teaspoon salt
1 teaspoon siraccha
1/4 cup avocado oil
1/4 cup olive oil
---
Instructions
Turn the oven to 450 degrees.
Slice the peppers in half and cherry tomatoes.  Drizzle or pat with olive oil and put on a baking sheet with parchment.
Once the oven is hot put the tomatoes and peppers on the top shelf of the oven for 25 minutes.
Get the blender out and put the remaining ingredients in it.
Once the peppers and tomatoes are roasted and cool to touch add them to the blender.
Put the lid on the blender, turn it on high and let her rip.  Once everything is thoroughly mixed and blender is turned off.   Taste.
Put it in a container.  May you smile every time it passes your lips.  I certainly do.
Notes
If you do not have avocado oil on hand.  Feel free to add a 1/2 cup of olive oil.
Don't want to roast the peppers and tomatoes? No Problem. Use a jar of the roasted peppers. Use a can of roasted tomatoes without sauce. Trader Joe's is perfect for this. Drain the tomatoes really well.  Press down on the tomatoes. No matter how well you drain them, there will be more liquid than roasting your own.  Just add more bread to get the desired consistency of the sauce.