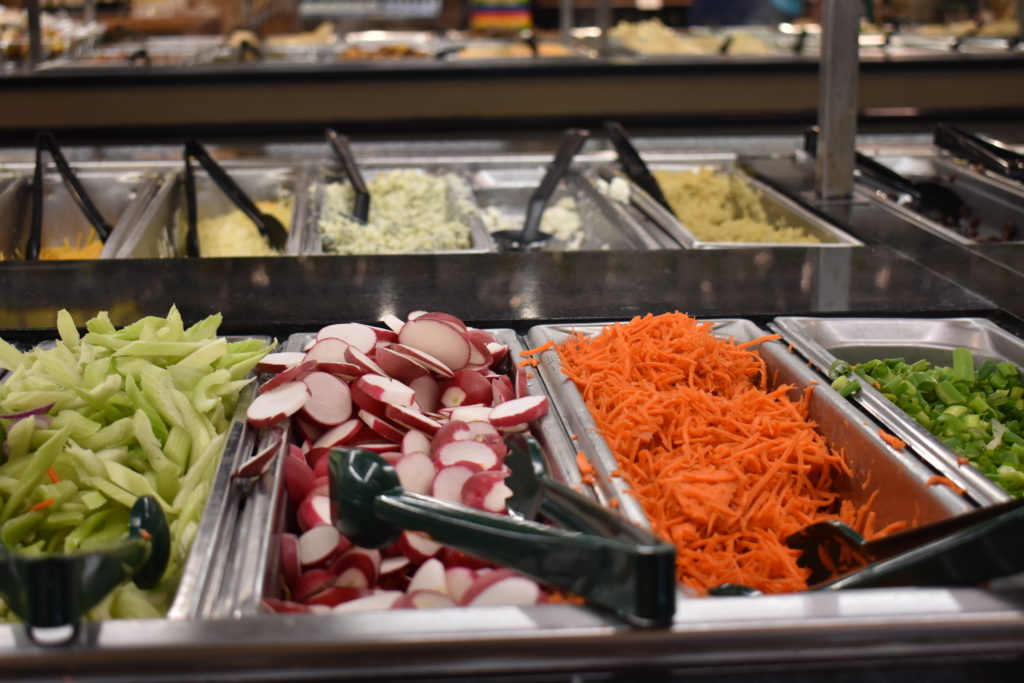 As I was prepping several recipes for salads, I thought it important to go over how and why I write the recipes the way that I do.  As Ali Slagle, books editor of Food52 so aptly puts it in the book The Mighty Salad, one really doesn't need a recipe for salad but yet one does.  I do recommend that book by the way.  It expanded my conception of a salad and how to integrate different ingredients into the composition.  One tip that they have is to roast grapes.  Roast grapes? A revelation for me, for sure.  Looking forward to trying that in early September.  That is just one of many juicy tips that are scattered throughout the book. A great one for inspiration and changing the way you think about a hearty salad. Love the title too.
Assembling a salad has always seemed to me to be such an individual preference sort of process.  One might prefer a big base of greens with a smattering of toppings while another person might like a little greens and a lot of goodies; vegetables, nuts, seeds, fruit etc… Or something in between.  With salads in particular, I view recipes as a template – a suggestion as to combining ingredients.  These salad recipes that I have created are a grouping of ingredients that I think mix well together and are hearty enough to consume as a whole meal.  That is all that I am really conveying with the recipe, these ingredients combined together taste really good, in my humble opinion.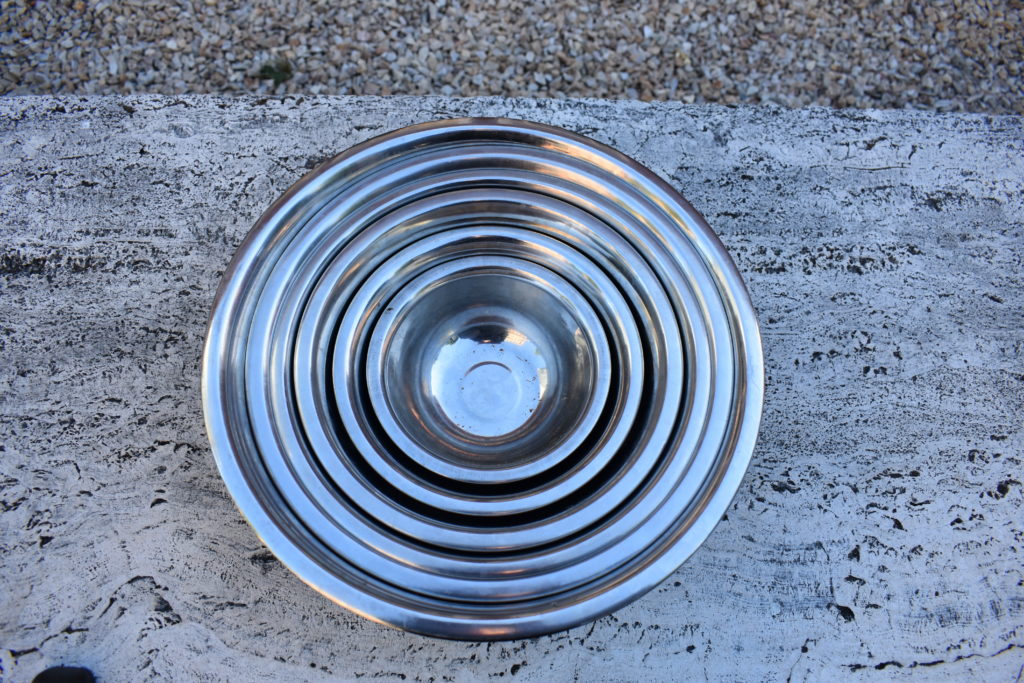 The big discussion we probably should have is that of quantity.  Some of you may be prepping for five, while others are prepping for 1. How does one create a recipe to take into account so many different needs/preferences? The answer I have come up with is to leave measurements off the recipe. Salads are great starting point to experiment with your tastes, preferences. intuition and imagination.  Of course quantity can also be of necessity.  I often will be slicing radishes and have 1 or 2 left and end up slicing them and adding them to the mix, because I probably will forget about them the next time, when I put them on my toast. Wild, huh?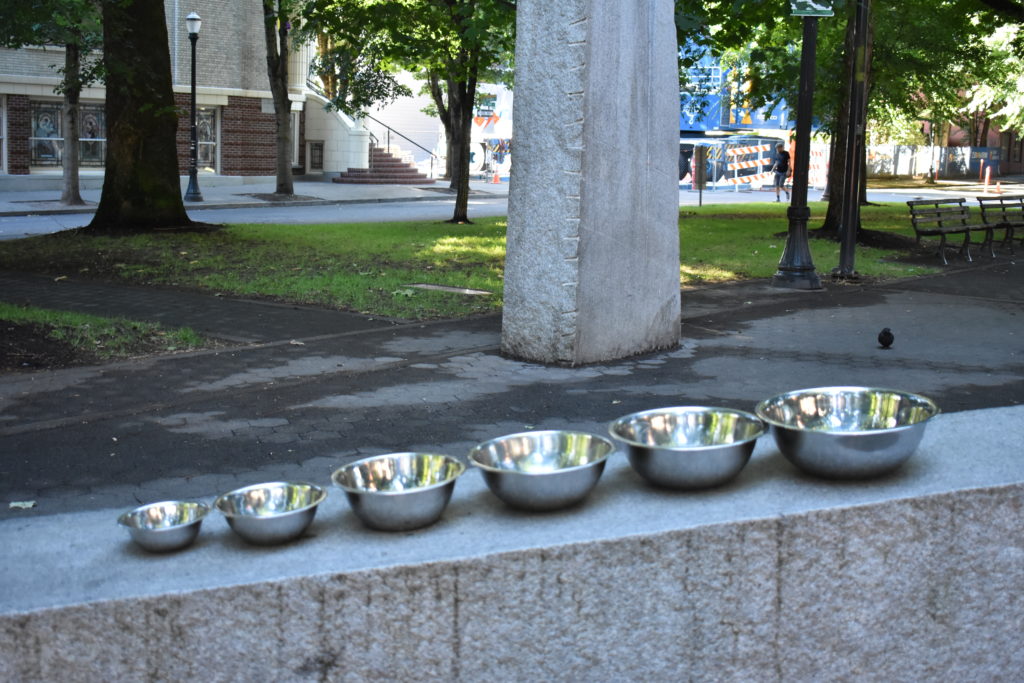 Each of us has a different appetite. Some can eat a cereal bowl-sized amount of salad  and be satiated while others need much more. This has been an important learning curve for me.  I don't like extra bits lying around so I will use  a whole head of lettuce and a whole bunch of asparagus which then yields enough salad for my entire apartment complex. How does one achieve the Goldilocks version of just right? The answer lies in the container.  Only make enough that will fit in the bowl that you are using.  Such a simple solution. It does take some time to find the perfect container that will satisfy everyone including Goldilocks. Keep experimenting with different size containers, I promise that you will eventually find the one that is just right.  On work days, I will get two plastic containers out and put enough ingredients for about 3/4 of it.  That seems to work for us for quantity.  Another plus for having different containers is that you can personalize each one for those quirky individual preferences.
Here is how I put a salad together.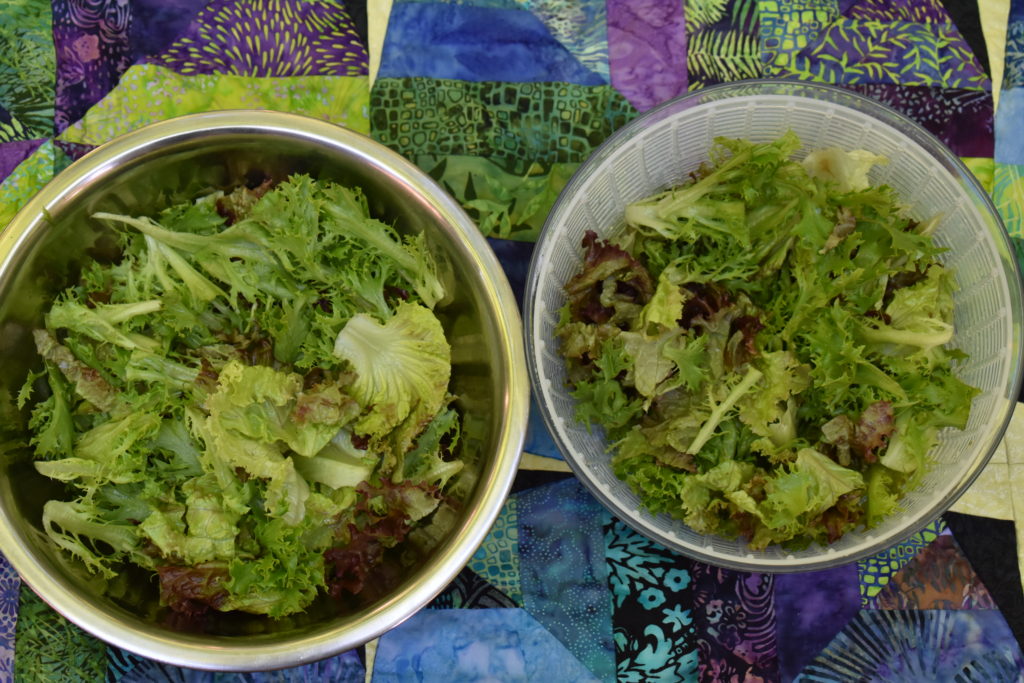 I fill 1/4 of the container with my green choice of the day, whether it be a mixture or a single variety of green.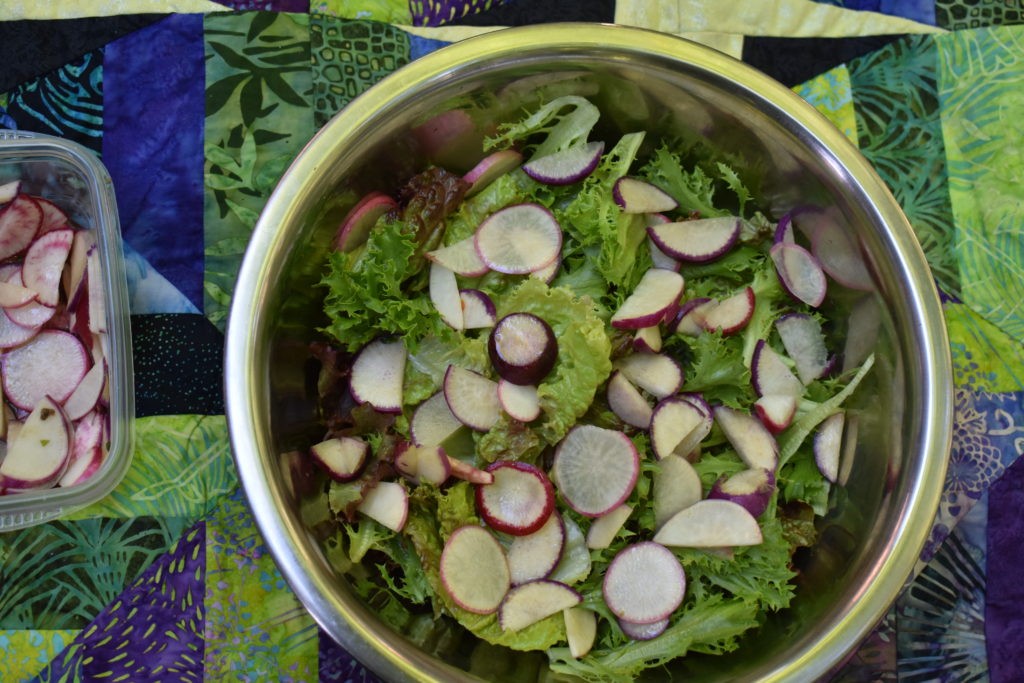 I cover the greens with a vegetable with a little green showing through.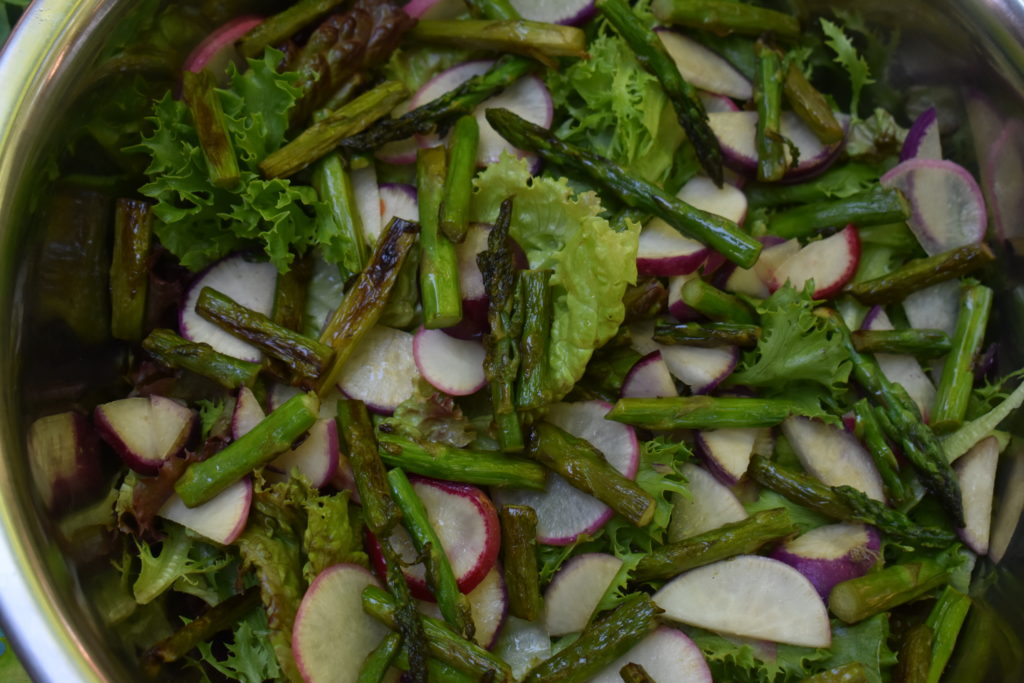 I repeat the process with a different vegetable.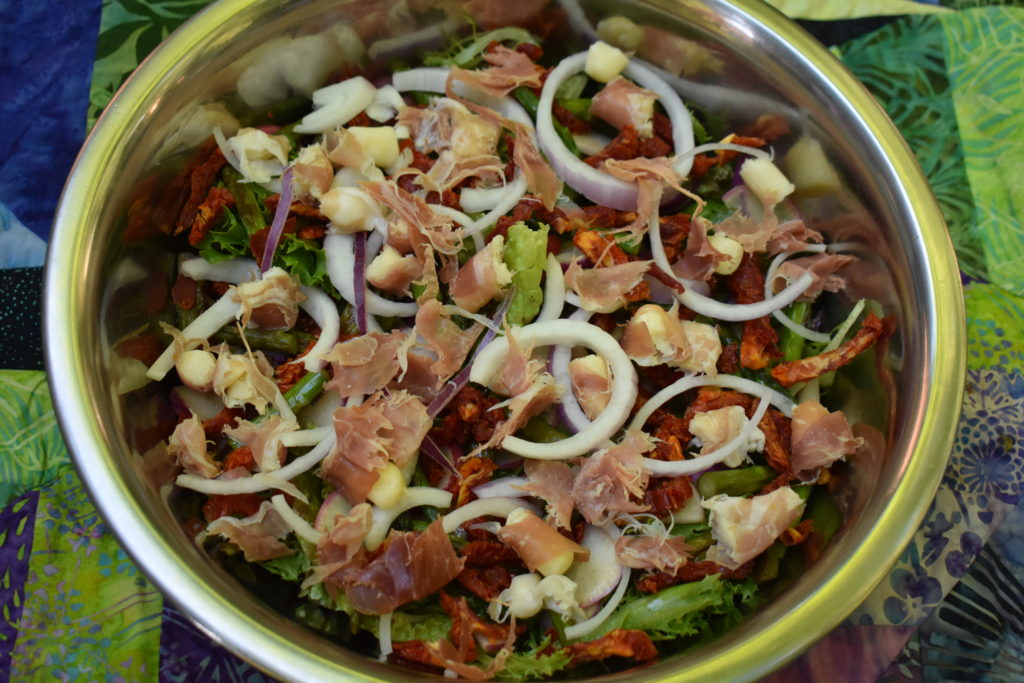 The protein usually comes next.  Just enough to make a layer.
After that, cheese.  ( In this case they came together, the protein and cheese)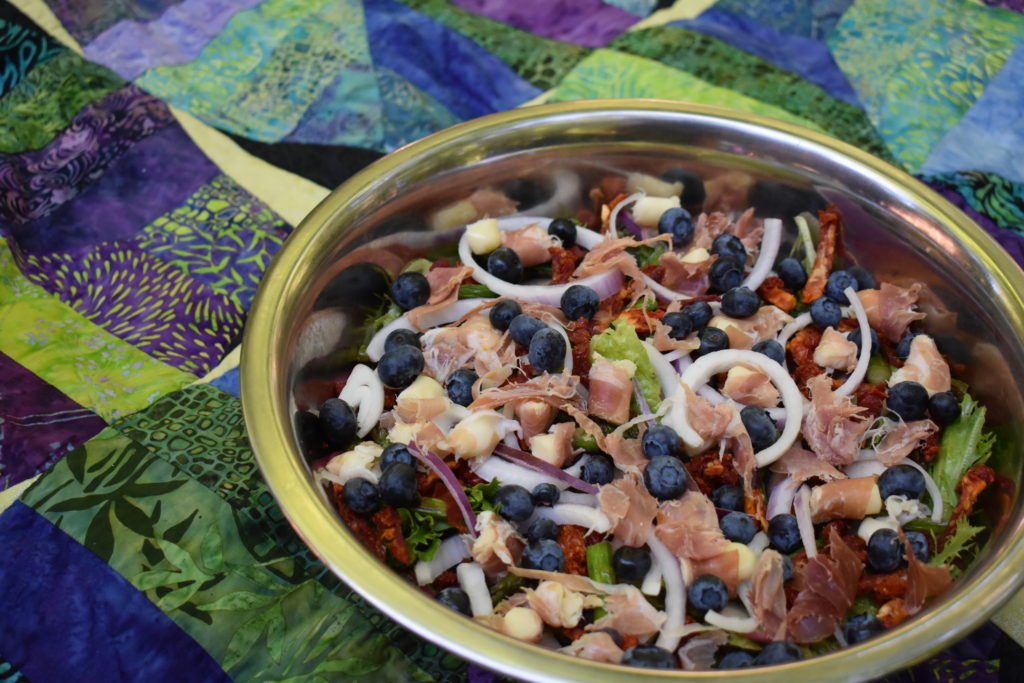 Add Fruit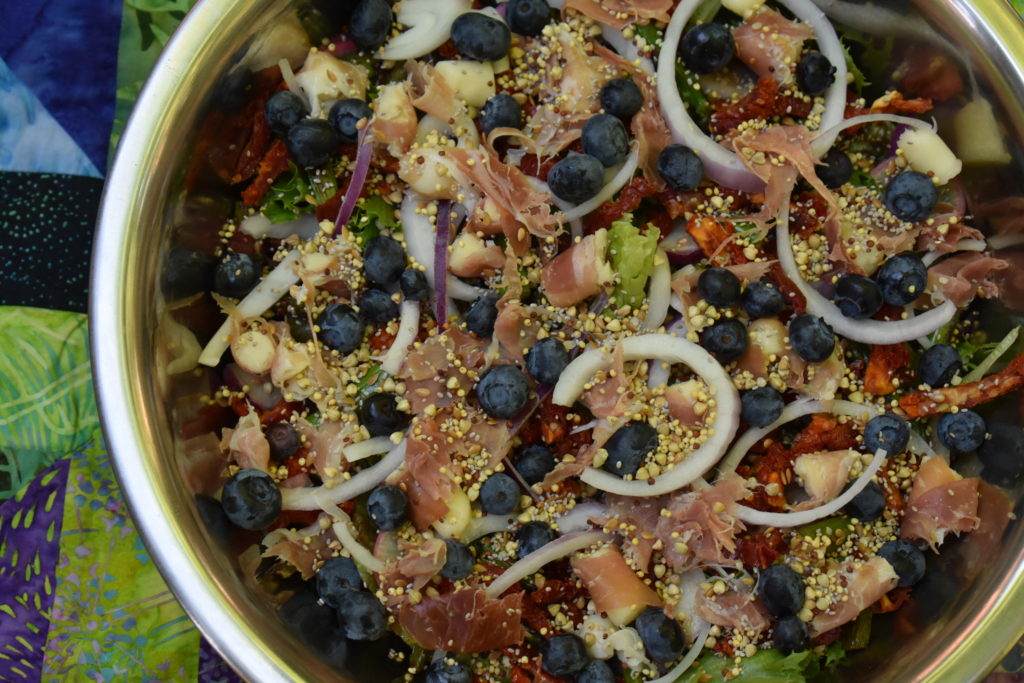 Add nuts or seeds.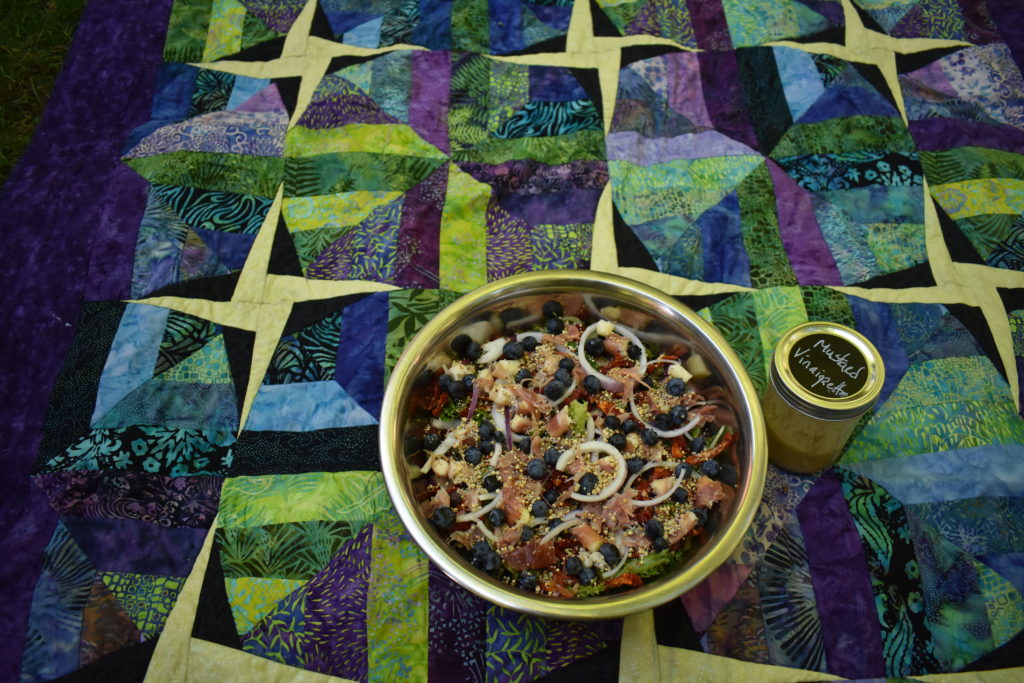 Add dressing just prior to serving.
For me the goal is to be able to enjoy every ingredient in every bite. That makes a great salad in my opinion.  Unfortunately, that did not happen with this salad on the first attempt.  I might need to experiment with adding more ingredients and having less show below. And maybe I need to work on my salad tossing skills. But this just gives you an idea for how I assemble a salad without measuring my ingredients. I use this bowl when we are eating together or I will put it into two separate containers like the ones below for later.  At times I will create salads for us in each container, that way I can individualize it with ease.  You might ask yourself what are those black circles on your containers below, Aimee.  They are chalk stickers. I write our names on them so we know who's salad is who's and make it easy to pick the salad container out of the chaos of containers lining the shelves of our fridge. They stay on when washing, easy to erase.  Sometimes too easy. The chalk smudges easy with wet fingers etc… All in all they are peace-makers.  Easy to find what you are looking for when a fit of the hangries hits.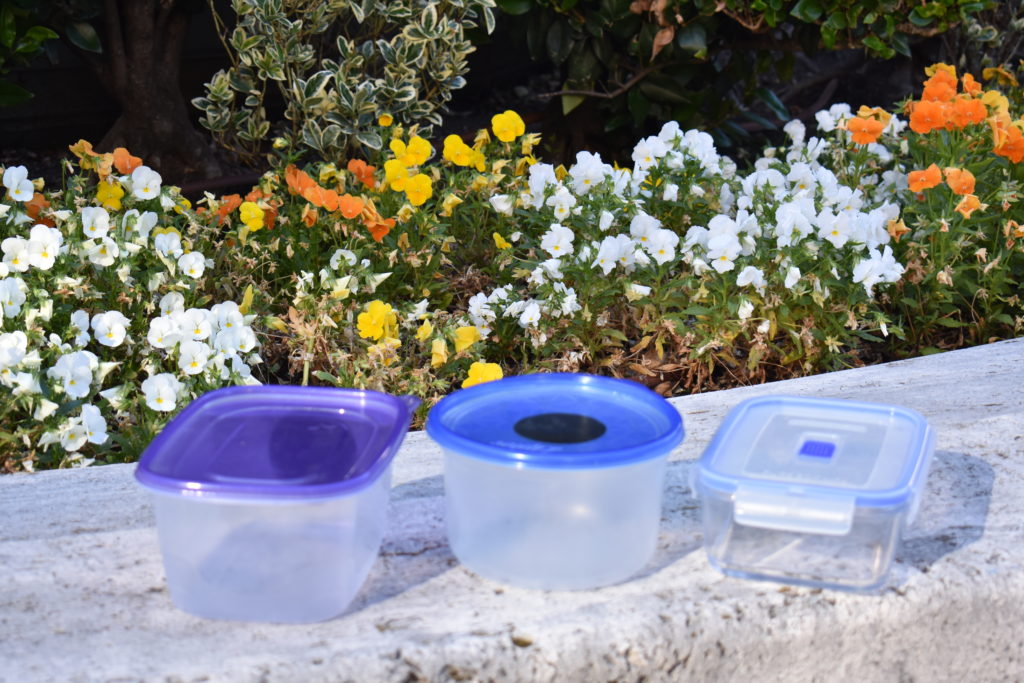 After the salad is tossed and you are ready to eat, you will want to add the integral ingredient in, the salad dressing.  The people at America's Test Kitchen, per their book just add sauce, recommend adding a tablespoon per every two cups of greens. How does one measure two cups of greens?  Trying to fit lettuce in a cup measure is not pretty, but it does prompt one to tear the lettuce into a smaller size. There are mixing bowls that have the measurements in the bowl which gives you an idea of what two cups is for greens.  Other authors have said 2 handfuls per 1 tablespoon of dressing – maybe an easier form of measurement, if a little messy.
Now I hope you feel comfortable and also understand why I will  have no quantities for my ingredients for these salad recipes. If you have any questions or concerns, please do not hesitate to ask in the comment section below. Looking forward to creating lots of salads with you this summer.
Next up we will discuss the salad I created in the photos.
Happy creating and eating!
Aimee