The muse: she arrives in interesting packages and evokes different experiences, and she must be tickled to bring her to her fullest expression; mizuna was and is the leading lady in this creation.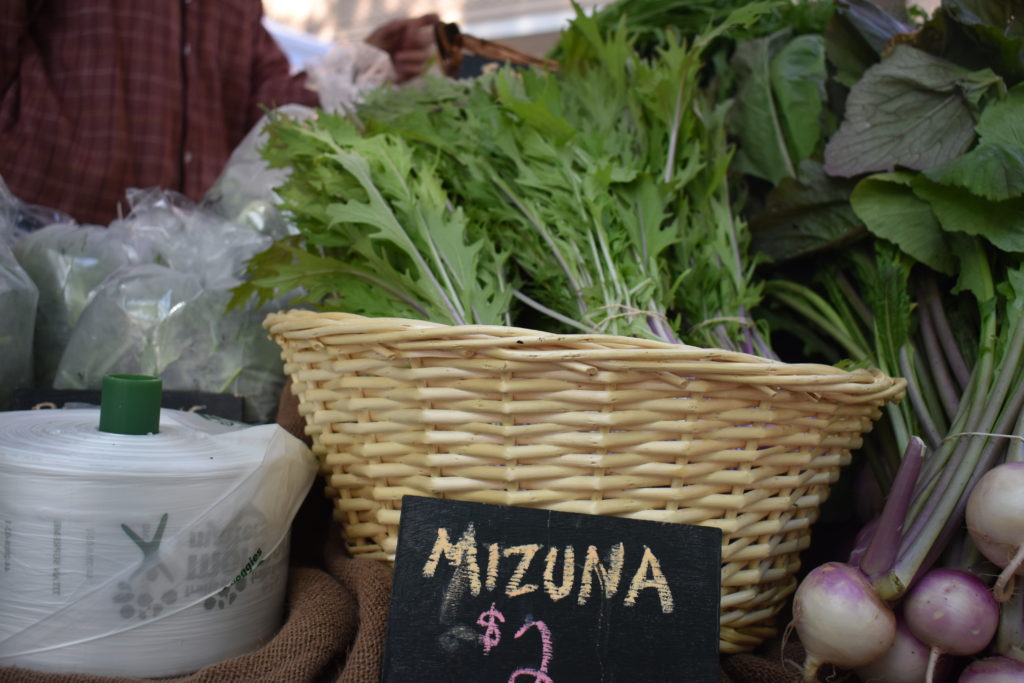 One morning I awoke early and started creating a salad with mizuna. I added adzuki beans, daikon, asparagus, peas, and sesame seeds to the serrated green and topped it with a sesame oil dressing. It was an epic fail. There was no joy in eating this salad, it felt more like an obligation to the ingredients to consume it. The problem lies in the fact that I was treating my muse like romaine, kale or spinach instead of honoring her for who she is. Her leaves are not wide or strong enough to hold these ingredients; this is crucial. There are reasons why romaine is used in chopped and Ceasar salads; a strong and wide leaf area. When creating a salad with mizuna, pairing it with large items is the key.
I was determined to create a delicious salad with my muse and was in need of guidance. So off I went to the Farmer's Market to get insight from the growers of mizuna. One person said oranges and sesame oil dressing are key. Voila, I had 3 ingredients for my salad. Now how to turn this idea into an one-dish meal?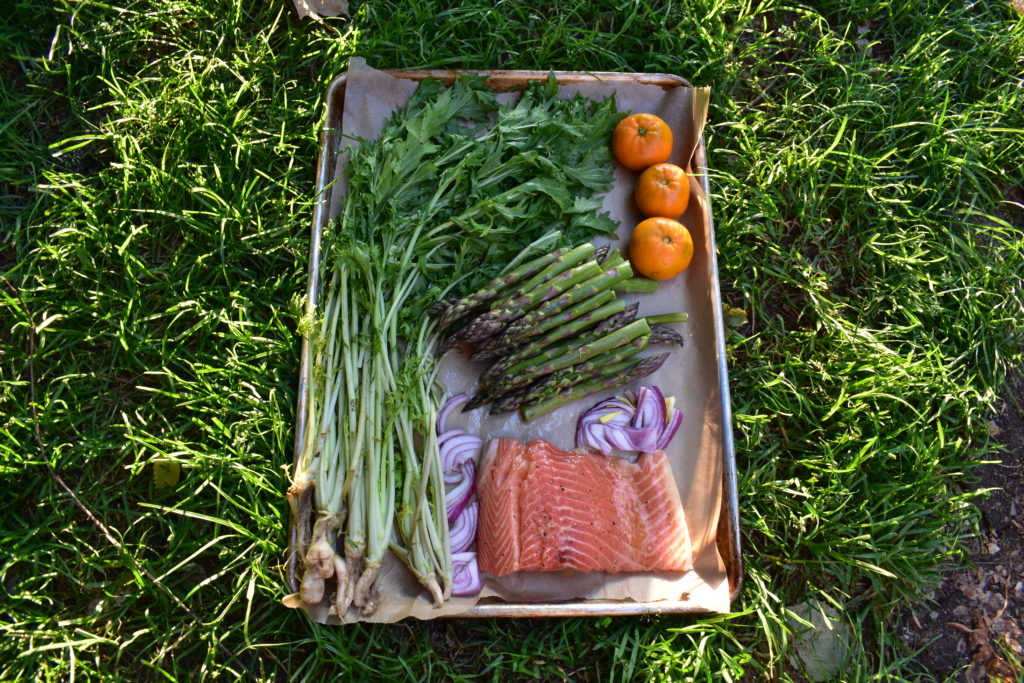 As you have seen in this week's post, salmon and asparagus were added to the mix. The only additional items are red onion and mandarin orange. And presto this salad was born! Pretty impressive, I must say. For those of you who are new to Finding My Way In The Kitchen, welcome. Also this is the last post of a 6 day series. Each day we talked about a component of the salad intimately. In today's recipe there are lots of links back to those posts. I hope that makes sense and the dots can be connected.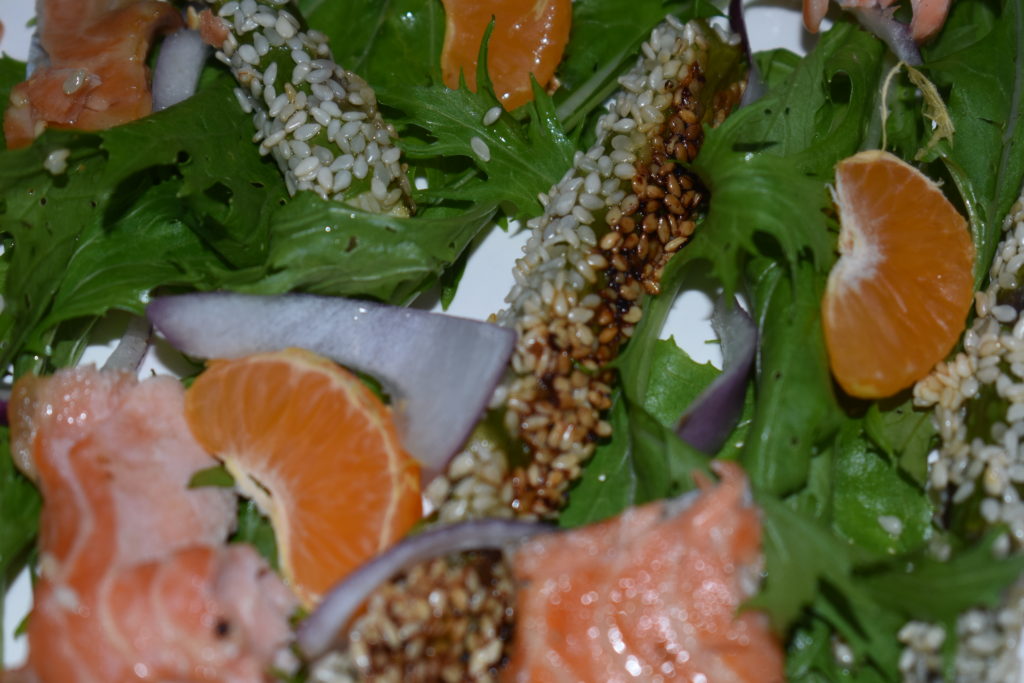 Today we will keep it short and savory. Without further ado, here is the long anticipated recipe.
SESAME ORANGE MIZUNA SALAD
This could be the poster salad for spring. Another way to create this salad could be to peel the asparagus in raw form to have green ribbons and to make the honey sesame candy and crumble it over the salad instead of making the asparagus studded with sesame seeds. This is definitely as eat the same day type of salad. The asparagus spears are best freshly out of the oven.
Also I want to take you back to an older post where I discussed quantity of items in a salad. It is difficult to quantify how much of an ingredient to put in a salad since all of our appetites come in different sizes and we are all feeding a wide range of fellow humans. Below is a rough estimate to feed one for a meal.
Ingredients
Mizuna-1/4-1/2 a bunch with the white stems removed
1 mandarin orange peeled and torn into segments
1/4 of a red onion sliced
Directions
Turn the oven to 425 degrees
Cover a baking pan with parchment paper
Rub the salmon with olive oil and a pinch of salt and pepper. Add it to the baking sheet.
Get a plate out, separate two eggs and place or drop the egg whites onto the plate. Mix in two tablespoons of honey.
Get another plate out and add a 1/4 teaspoon of salt and fill the plate with sesame seeds. Depending on how many asparagus you are making you could be doing this step several times. For a bunch of asparagus, I filled my plate 3 times with seeds.
Bend a stalk of asparagus and it will naturally snap off in the desired spot. Once you only have edible stems, put them in the egg mixture and then cover them with seeds. For more details of this process check out the crispy sesame asparagus spears recipe. Once the they have gone a round in the two plates put on the baking sheet with the salmon.
Once all the spears have been dredged with sesame seeds and are on the baking sheet, Place in the oven for 17 minutes.
While the salmon and asparagus are cooking, Wash and pat dry the mizuna with a tea towel. Tear or cut off the white stems and place the serrated leaves into the salad bowl vessel of your choosing.
Cut the red onion in either wedges or slices, whichever you prefer and scatter onto the mizuna.
Peel and section out the mandarin orange(s) into the salad bowl.
Go to the Orange Sesame Dressing Post and follow the recipe.
By now the salmon and asparagus should be done. Take out of the oven if you have not already. Let cool for five minutes until the asparagus is okay to touch by your hands.
Flake the salmon into the salad bowl or platter. Add the sesame asparagus into sizes that make the most sense to you,
Add the salad dressing, a tablespoon at a time and toss.
Serve and enjoy!