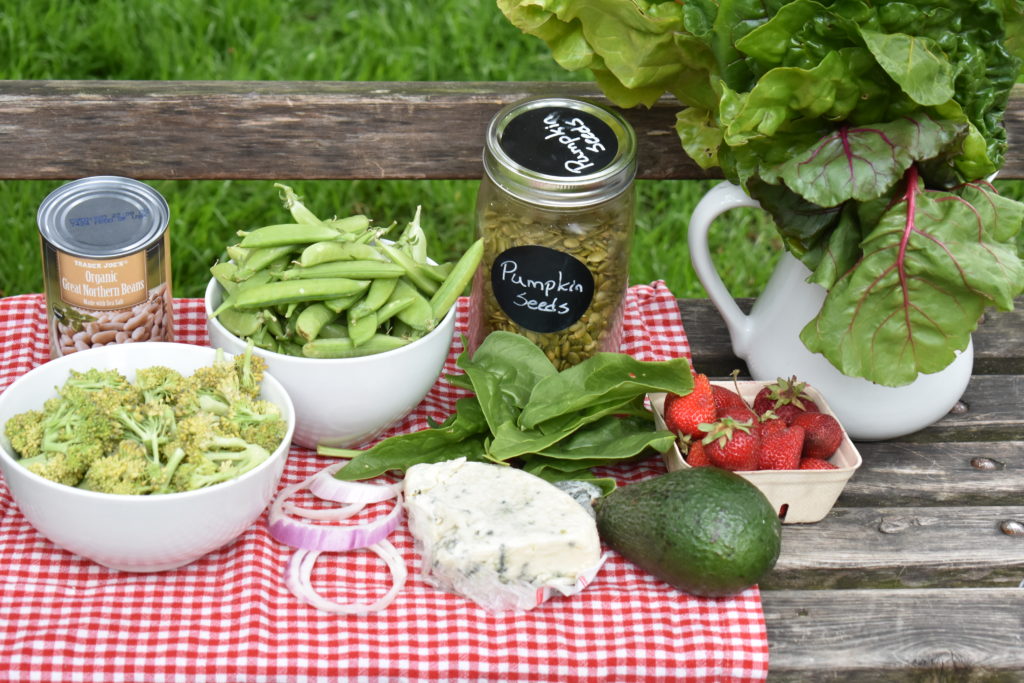 One of the many fun things about blogging is that I get to take a crack at naming recipes. I always thought that a naming job would be fun, a bit like creating metaphors. What does that color remind you of? How does one get a job naming paint colors? Coming up with 50 names for a shade of orange, with some measure of passion and whimsy. They are certainly creative with what they come up with; but, alas, I wax romantic. The boring reality is that if there are five different paint companies, that means that one cannot use the same name for a pale orange that another company uses. I wonder what the day consists of; to be creative of that caliber? I would be a prune or have no butt if I had that job (sorry, romantic again). My creativity comes from swimming or walking or sometimes yoga. My body needs to be engaged for the creativity to come and yet sometimes I get good ideas lying in bed. It is a curious thing, the muse and how it wants tickling.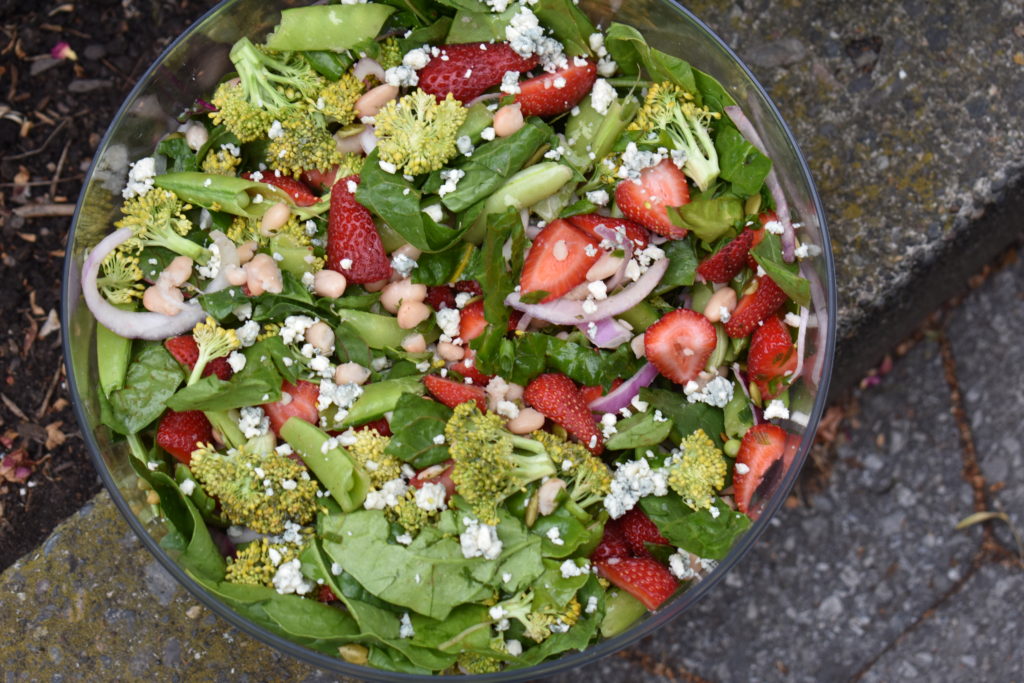 Today's salad title was named after the two ingredients that give it the most pizazz. Not the most original or creative title but these two items, blue cheese and strawberry, make the salad and cannot be substituted and need to be the headliners for this creation. I tried substituting feta cheese for the blue cheese and I got an okay salad, but not one that was very memorable. The blue cheese makes you feel alive and your taste buds do cartwheels at every bite; the combination of blue cheese and strawberry and avocado is tantalizing! My dear husband was excited for the left overs. So, put a container of blue cheese crumbles on your shopping list.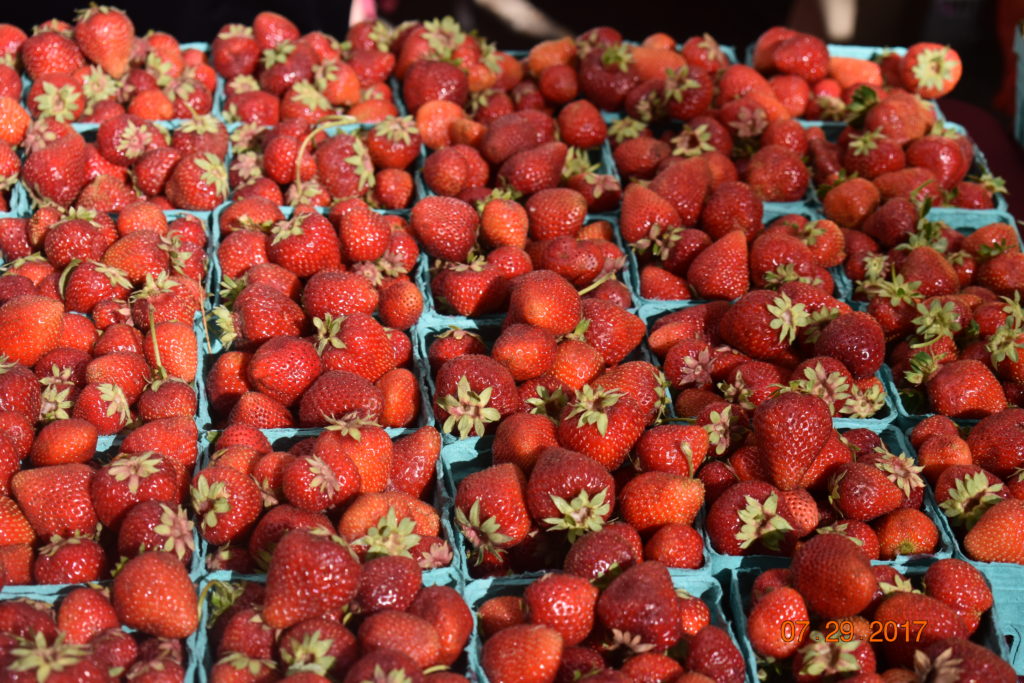 I am having so much fun eating my salads since I started incorporating fruit into them. Fruit has not been my jam in the past. (ooh I made a punny). However, I have craved many a vegetable. I was intrigued that Clean Eating Magazine put fruit as a regular component to leafy green salads. My tongue understands why now. Fruit adds natural sweetness and a juicy wow flavor when biting into it; textural depth you might call it. The strawberries add a great color pop and pairs beautifully with the blue cheese.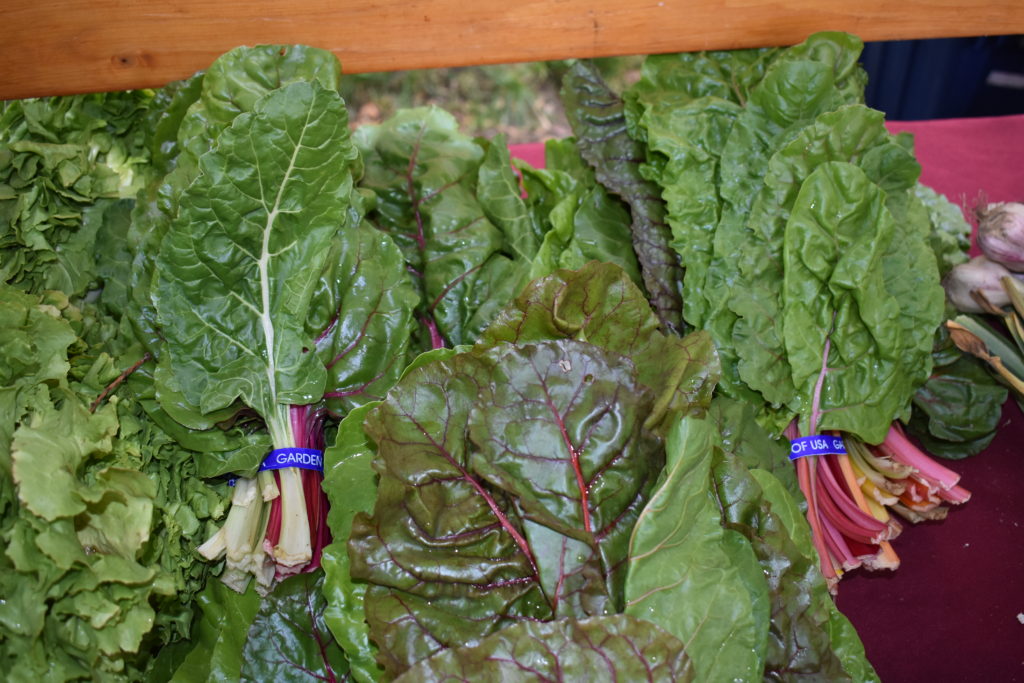 In my mind I always thought chard ought to be consumed cooked. I don't see too many chard-based salads but yet they are out there. You can get the trusty kitchen shears out and cut the chard into strips or you can tear them in small bite size pieces with your hands. Depending on what lists you read, chard ranks 2-3 for being the healthiest vegetable for salad. Chard contains 3x the recommended daily intake of Vitamin K, 44 percent Vitamin A and 18 percent Vitamin C per cup according to this article/list. Good to know.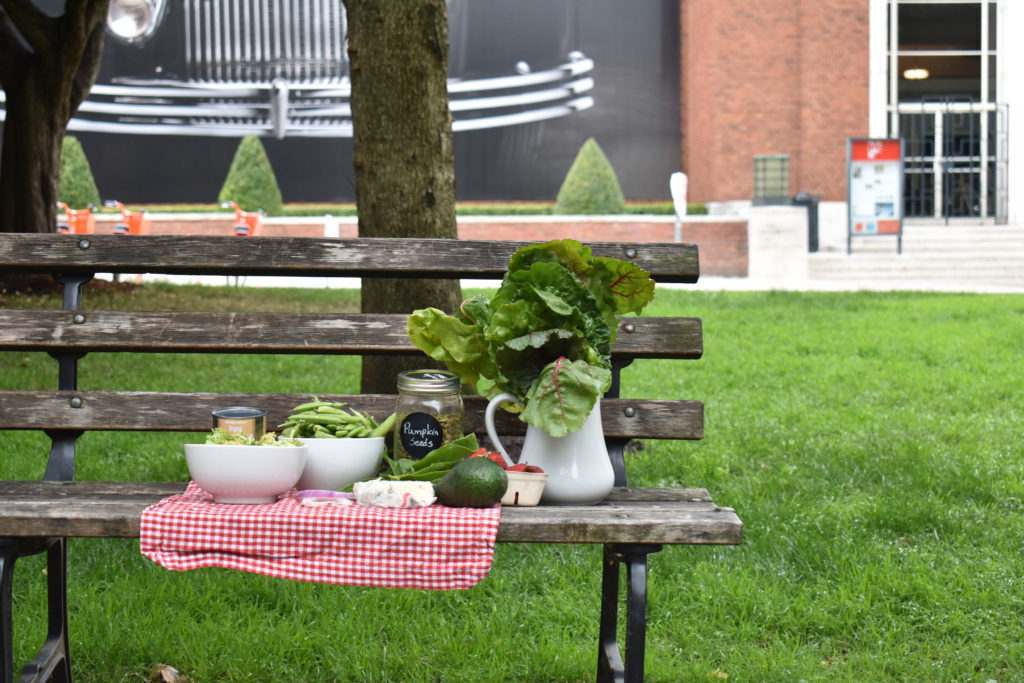 Truth be told, these pictures were taken a little over a year ago as you can tell by the poster hanging on the Portland Museum in the background of the above photo (Okay, maybe you have to be a Portlander). I was waiting for the perfect balsamic vinaigrette recipe to fall on my head before posting this dense and flavorful salad, which took its sweet time to reveal itself. The original creation consisted of chard/spinach greens as the base, broccoli, white beans, strawberries, red onion, blue cheese, avocado and snap peas. Since it is no longer snap pea season, zucchini took its place. This is great to have in rotation for the daily salad.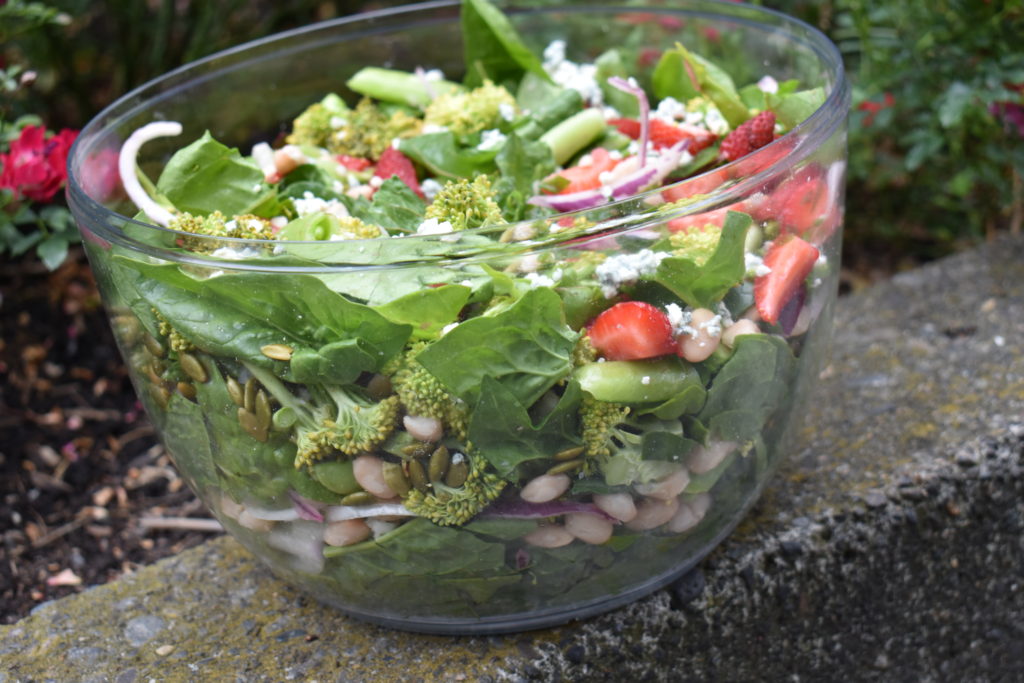 Strawberry and Blue Cheese Chard Salad This salad is so filling and bursting with flavors. My sweet husband always enjoys eating this flavorful salad and looks forward to leftovers.
Ingredients Chard Spinach Broccoli Snap Peas or Zucchini Red Onion Cannellini Beans Blue Cheese Crumbles Strawberries Avocado Pumpkin Seeds
Directions
Make the balsamic vinaigrette and set to the side.
Wash chard and give it a spin in the salad spinner. Lay a leaf out at time and take a knife or scissors and cut at the edge of the stem that is in the middle of the leaf on both sides. Then cut in half and put in a bowl.
Wash and spinach if not in a bag and dry in the salad spinner. Spinach is usually does need to be cut. If leaves are large tear them to smaller pieces. I used equal amounts of chard and spinach. Put these greens into your salad vessel.
Cut the broccoli into florets. If it is sugar snap pea season, remove the strings. I usually snap them in half for my salads. Feel free to keep them whole if that works for you. If it is no longer snap pea season, dice the zucchini into fourths. Slice the red onion and separate the rings. Add the vegetables to the greens.
Rinse the strawberries. Take the stems off and quarter them. The salad is almost finished. Open a can of cannellini beans, dump the beans into a colander and rinse. Put the desired amount into your salad. I used the whole can which yielded me 4 large main dish helpings.
Sprinkle in the pumpkins seeds. I usually use the roasted and salted ones.
Don't forget the final touches, the blue cheese crumbles and avocado. I would serve the salad and sprinkle generously the cheese crumbles onto each individual serving. Do a similar thing with the sliced avocado. Add the balsamic dressing and voila you have a fun filling salad to eat.
Notes
*If you want to eat the salad for two meals, I suggest keeping the strawberries and cheese off and adding them at each serving. *Salads are forgiving and we all need different amounts. Hence the reason there are no quantities in this recipe. Check out my post Salad Making Guidelines.