When last we met we talked about the sudsy of dish soap, but there were still some questions left to answer. Are all detergents sudsless? If bubble action does not equal clean action, why can't I use my dishwashing detergent when I hand wash my dishes? And which forms should I be using?; liquid, powder and pods? What precipitated the need to create detergent in the first place?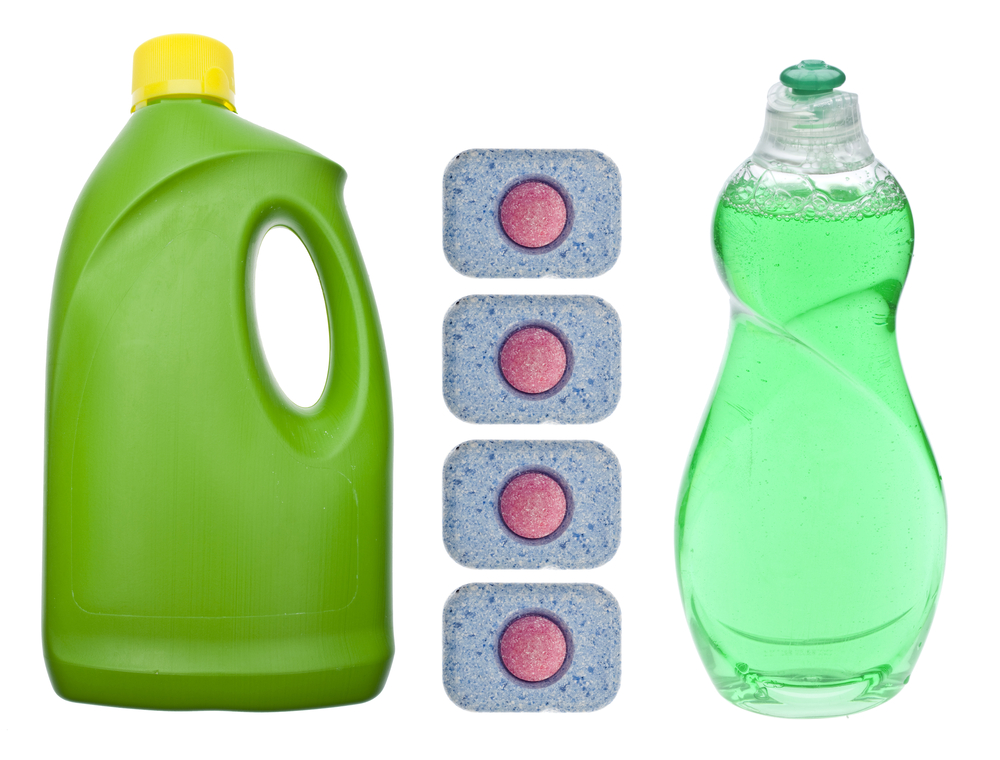 That question is my favorite of every item I research; how did they come into being? For detergent it was conceived in 1916 during World War I; there was a shortage of animal and vegetable fats to create soap, which usually creates a need for an unique solution, or at least that is one idea that is floating around the world wide web. Another one is that a German chemist by the name of Otto Rohm figured out a way to isolate enzymes which led to the invention of detergent in 1914. This was mainly used at the time to wash clothes.
That is the key descriptive – man-made or synthetic for differentiating between soap and detergent. One somewhat controversial ingredient that the world is chatty about is phosphates. Phosphates are on the periodic table and in moderate consumption in their natural form are good for us. In the man-made form not so much, they can be found in detergents,food products and more. I highly recommend for nutrient and food concerns to read the interesting and easy to understand article: What are Phosphates and Why Are They in Our Products?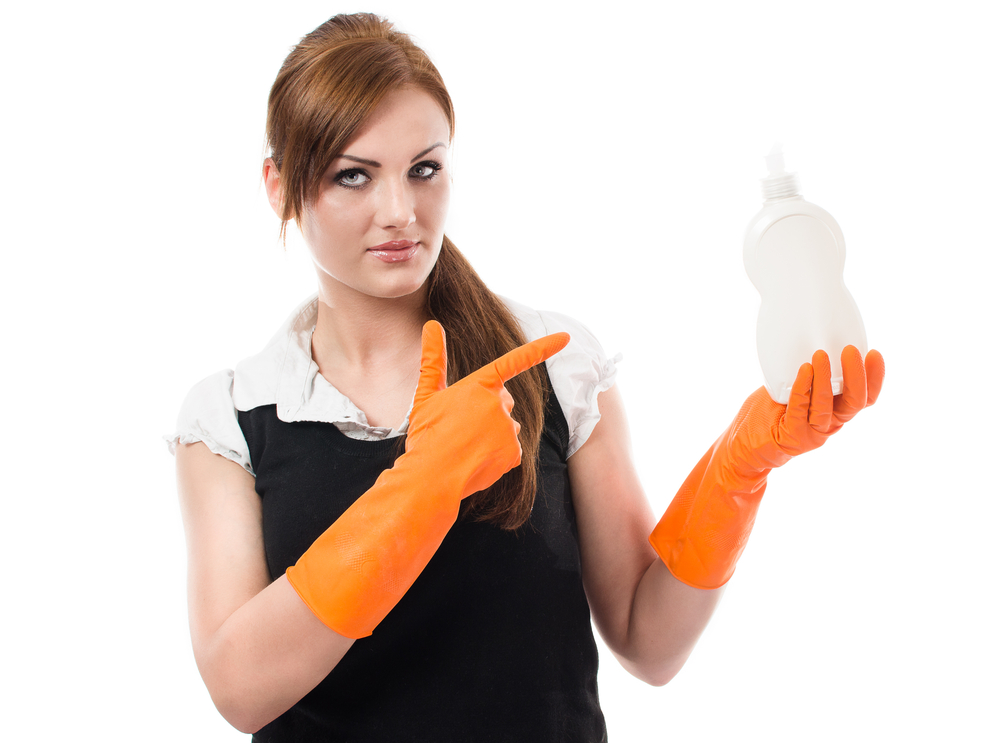 Environmentally phosphates were causing damage to our water sources and eco-systems. In 1993 they got banned from laundry detergents and in 2010 from dishwashing detergents. in the United States. In 2010, consumers noticed that their dishes were a bit spotty and missed that shine. The repair man got called a lot during that year. People became aware of the power of phosphates and would search for it at hardware stores and add it into their detergent and in many websites and blogs, people are talking about brands and sightings of this compound years later. The phosphates that you in find in some brands today are natural.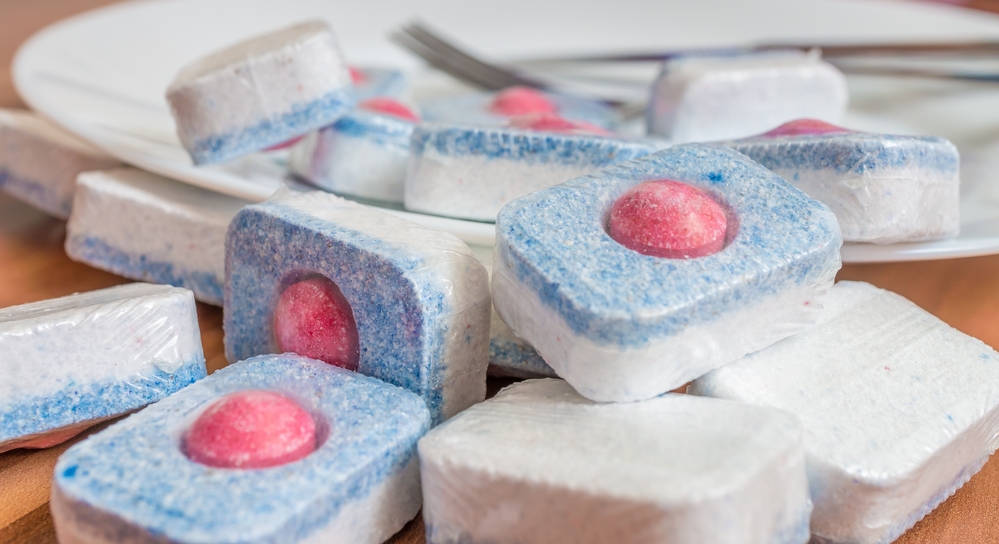 Is all of this talk about chemicals making you uncomfortable? It is for me. Chemicals seem to rule our world. In my research, I found a new to me company that has natural products in super earth friendly containers and shares information freely on their website, Clean Cult. I mention them because they have a recipe to make your own DW tablets.
Pods, Powder or Gel
Talking about tablets when did they come to the scene? Pods were introduced to the dishwasher owner in February 2012 by Proctor and Gamble according to wikipedia. At the end of 2015, nearly 70% of dishwasher detergents sales were pods and packs. It is convenient to just put a prepackaged amount in the slot, close it and voila. Yet, all dishwashers are not the same, meaning that pod could be too much for yours and be causing spots. This was the case for Faith Durand, editor-in-chief of Kitchn, she called her manufacturer and problem solved together and the solution was less detergent which inspired her to write the post titled; Dishwasher Mistake-How Much Detergent To Use.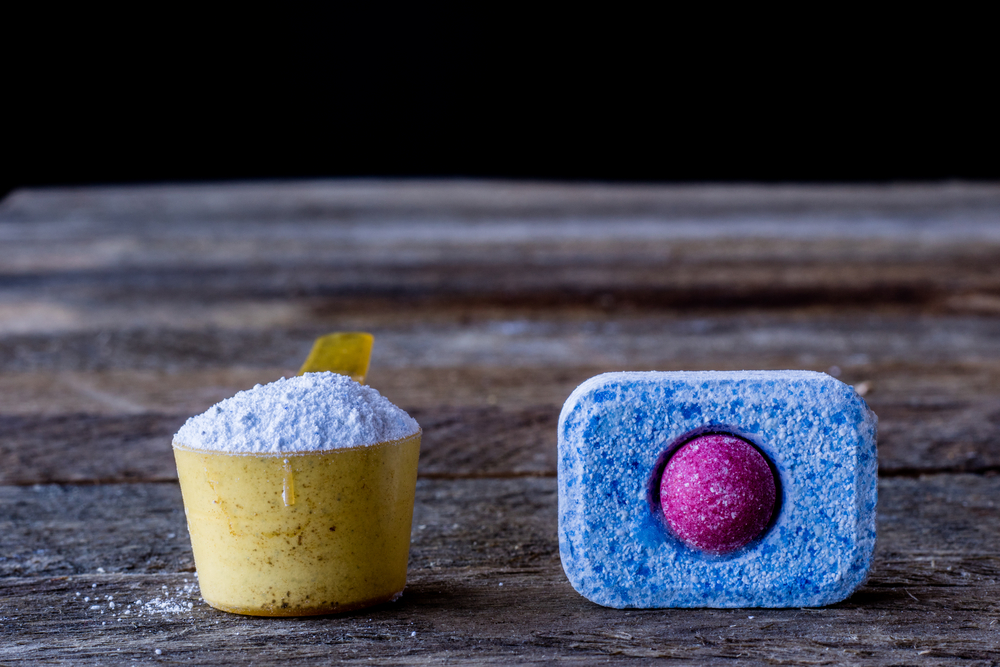 If you use either powder or pods, one should not buy more than a 2 month supply, since the fresher the product the better it works. Storing it underneath the sink is not the best practice since the humidity and moisture can cause cause clumping. I have had experienced that first hand where I had to surgically remove my pods with scissors. I have not yet come up with a better solution.
What about gels? They are missing some ingredients. I am going to let Dave Swanson from the website Reviewed explain.
Here's the thing: The two primary active ingredients in dishwasher detergent are bleach and enzymes. Bleach eradicates stains like coffee and tea, while enzymes eat away at proteins and solids. Both are important components, and you'll find them in powder and tab detergents. But enzymes and bleach can't play together in gel products because most bleaches, in liquid form, will kill enzymes.
As we learned earlier Mr. Rohm's creation was successful because of isolating enzymes. Some gels contain enzymes and others contain bleach, so when choosing a gel you need to decide which is more important. For that reason gels are not usually recommended by experts. I am sort of surprised that it actually exists and that this product is making a profit.
Powdered detergent is the best route to go because you can have bleach and enzymes and control the amount that goes into your machine.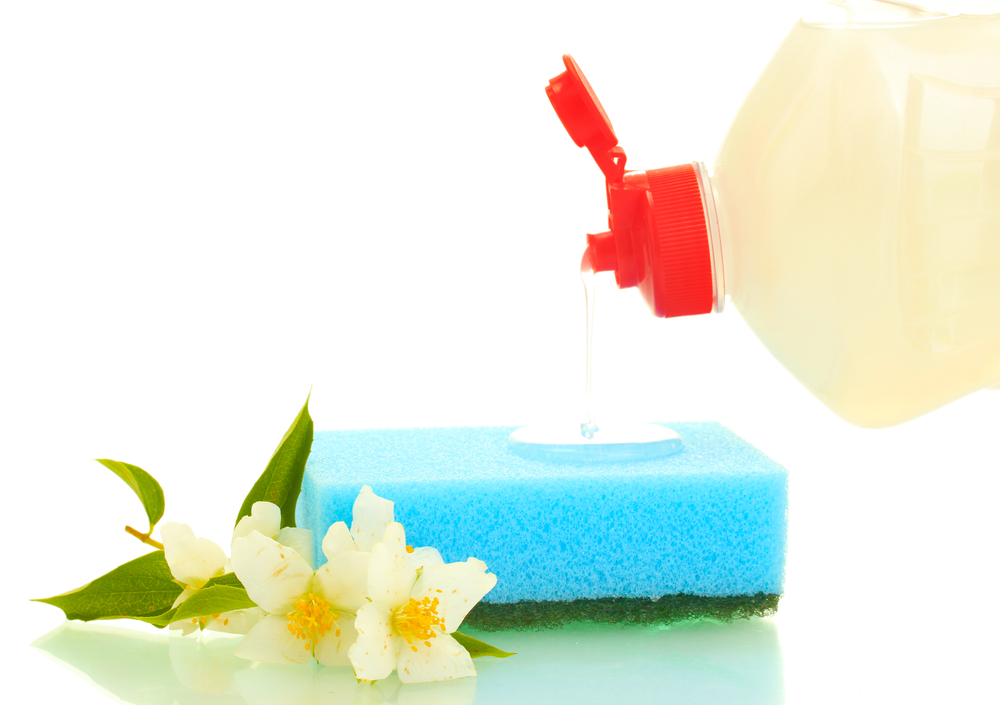 The Hand Washing Equation:
Soap + Hands + Sponge + Circular friction on dirty dish + Water = Clean dishes
Since there is a hand involved in this equation, the soap needs to be friendly to the skin and the water temperature also, to not burn said hand.
The Dishwasher Equation:
Detergent + Hot Water + Powerful Water Spray Arms = Clean Dishes
In this equation there is no hand to cause friction to each individual piece of crockery to dislodge any food particles. so the detergent takes it place. Also detergent works in any temperature of water as we witness on a regular basis with laundry detergent.
Detergent is soap with additional properties to counter -react to hard water which contains magnesium and calcium ions. These ions with soap create soap scum. Now we know the culprit of soap scum, soap and magnesium and calcium.
In Conclusion
Now we have a better idea of how detergent and soap differ and how old they are; soap 5,000 years old and detergent 104, only a year older than my Grandma. Powder form of dishwasher detergent is your best bet since you can have control of how much to put in and contains all of the potent cleaning compounds. Phosphates in synthetic form are not good for our water -life organisms but give our dishes an extra sparkle. There are some brands today with natural phosphates on the market. Still confused of which brand to buy? Here is a great guide.
See you Monday when we answer that big question To Rinse or Not to Rinse?