Some of you who are reading this have never known what life is like without a dishwasher in your living space. For some, like me in my younger years, you were waiting for the price to go down so you could finally add this time-saving contraption while you were raising families; or, again like me, you lived in apartment buildings that didn't provide them. Still others did not add it to your homes until you were empty nesters. Some couples swear that this machine is keeping peace in their marriage; while 20% of the people who own a dishwasher don't even use it.
Have you ever wondered who is responsible for sowing the seed for this kitchen invention that has ended up in 75% of our homes today? When did it all begin? Hard to believe that the dishwasher's story began 30 years shy of two centuries ago before electricity and plumbing were not even close to being common in the average home.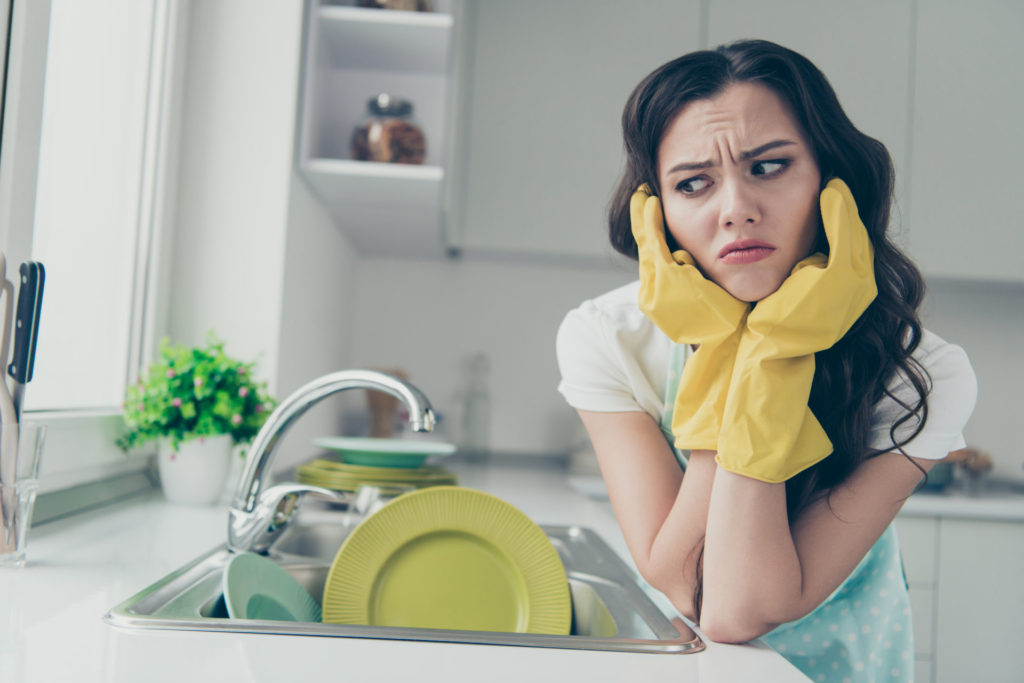 1850-The First Patent
A patent for a dishwasher was submitted by Joel Houghton which consisted of a wooden tub and when cranked splashed some water on the dishes. Even back then, people were made weary washing dishes, so this was seen as quite an advance.
1886-The Second Patent
Ms. Josephine Cochran was frustrated that her household staff took so long to wash dishes and were breaking her lovely china when they washed and dried it. Her thinking was that a machine would keep her dishes intact. Inventing things was in her bloodline; she is the granddaughter of the engineer Mr. John Fitch who got a patent for the sternwheeler; so she clearly had the pedigree to take things in her own hands.
Protecting her dishes was number one priority, so in her version she measured her plates, cups and saucers and made wire baskets that were placed inside a wheel that lay flat within a copper boiler.  A motor turned the wheel while hot soapy water squirted from the bottom of the boiler to wet the dishes.  No hand crank with her idea – and the wheel is not much different than the rotating wand of today's machines.  She was granted a patent in December 1886.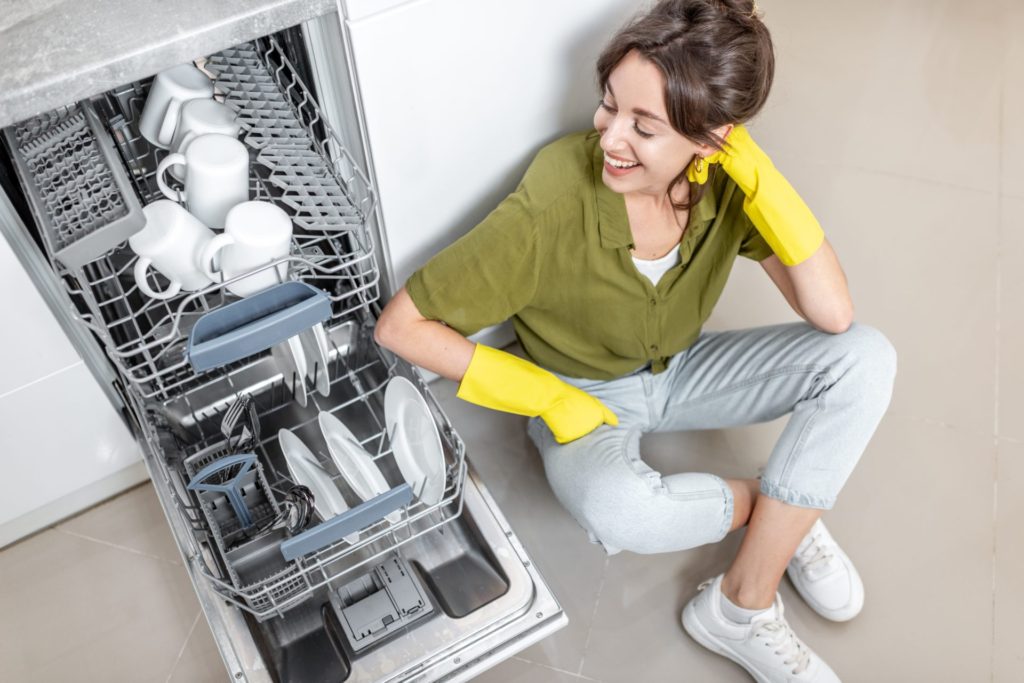 1893-A showing at the World's Fair in Chicago
Josephine Cochran unveiled her version of the dishwasher at the World's Fair in Chicago, and hoteliers and restaurateurs were thrilled with this concept and quickly snatched them up. Soon after she started manufacturing them and her business eventually became known as Kitchen Aid.
1920-Indoor Plumbing
Several articles have mentioned that people were more attracted to Josephine's invention when permanent plumbing became the norm. I had difficulty narrowing down the source for when plumbing became a household fixture in the 1920s. This also reminds us that water pipes in homes is a phenomenon only approximately 100 years old.
1929-More machine produced
Miele, a German manufacturer of high-end household appliances, produced top loading machines in Europe. In October of that year the stock market crashed and Miele soon was not selling many dishwashers.  An interesting side note: Carl Miele was an engineer who created cream separators for commercial use and then created washing machines, bicycles and vacuum cleaners before getting into the dishwasher business. Check out the company's full history here.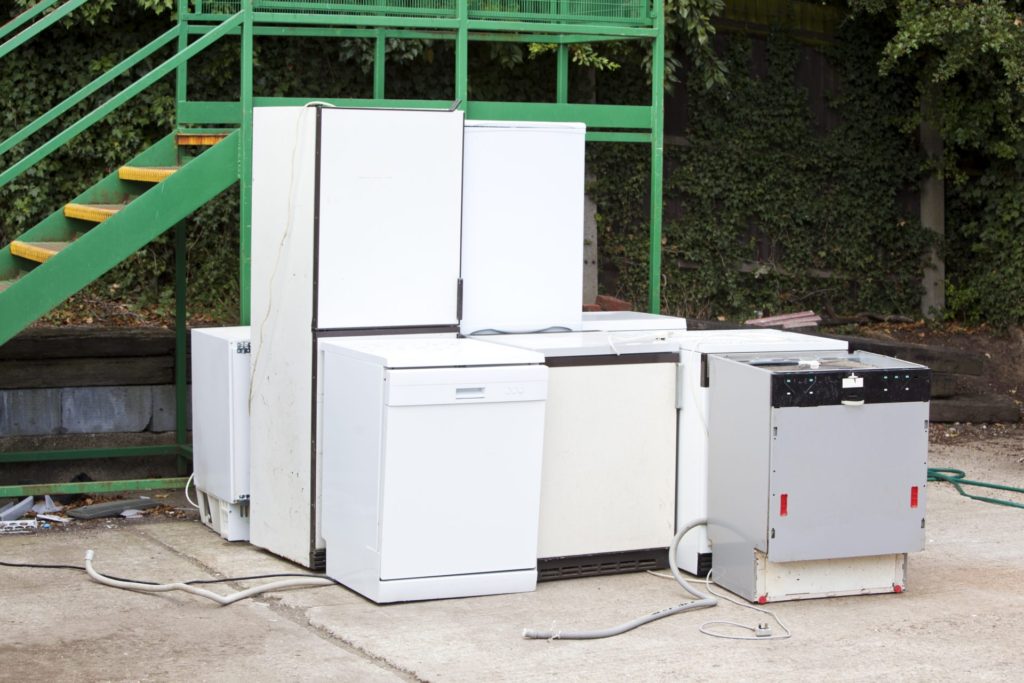 1940-Front loading machine with drying capacity
Front loading machine was invented by William Howard Livens with heating elements for the first time to dry the crockery. All machines were top loaders before this time.
1960-Automatic Dishwashers come onto the scene
Miele manufactured and introduced the first automated version which like anything first introduced was prohibitively priced for the average household.
End of 1970's– Dishwashers became more and more commonplace in homes.
1996 –Dishwashers got the Energy Star Label
Energy Star is a government backed symbol for energy efficiency.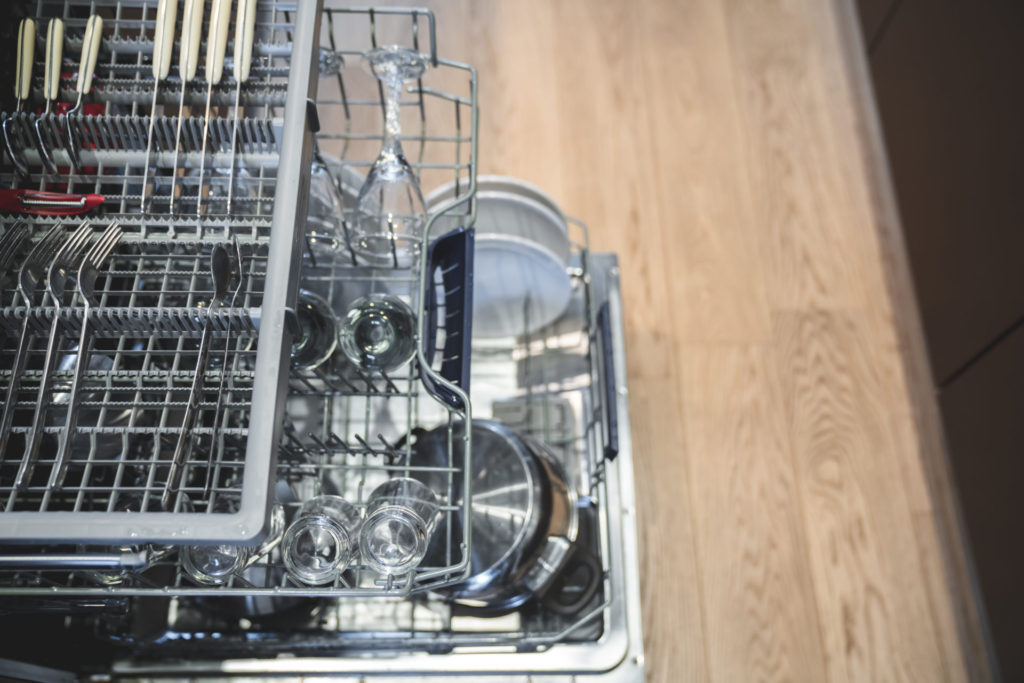 New Interior design upgrades
Below are new interior features that have changed over the years. You are probably enjoying some of them now.
·  3 racks, where the top one is for large utensils and daily cutlery 
· Top racks that have clearance room to accommodate baby bottles and the like
·  Utensil cages so the cutlery will not get "spooned together" while being jostled during a wash cycle 
· Top racks that have wine glass holders
·  Foldable racks on the bottom level to easily add pots and large casserole dishes. 
The Future
I came across some innovative designs for dishwashers in this article which is dated 2011 and yet these wonderful inventions have not yet made it mainstream.  Some of them you could consider as functional wall art and others are a cool and sleek countertop variety.
CONCLUSION
Dishwashers have certainly evolved in the 170 years since the first patent. It is interesting to note that it took about 80 years before our favorite kitchen appliance was unveiled at the World's Fair, on its way to becoming a common household fixture. Thank you to Josephine Cochran for inventing the dishwasher in 1886 and to all the innovators that came after her; Thanksgiving cleanup is no longer as daunting thanks in large part to Josephine!
Is there an innovation or improvement that you would like to see in this machine, leave your creative ideas below in the comments. Thank you for reading. Tomorrow we will learn about the anatomy and physiology of our treasured kitchen invention.