Nuts are amazing because they can be whipped up into delicious forms depending on how you manipulate them; milk, butters, flours, and oil. Nuts of course are great eating by the handful too whether hiking on a trail, munching at your desk while reading this blog or as a prequel to a meal. It's awe-inspiring to realize all the shapes and forms that they transform themselves into.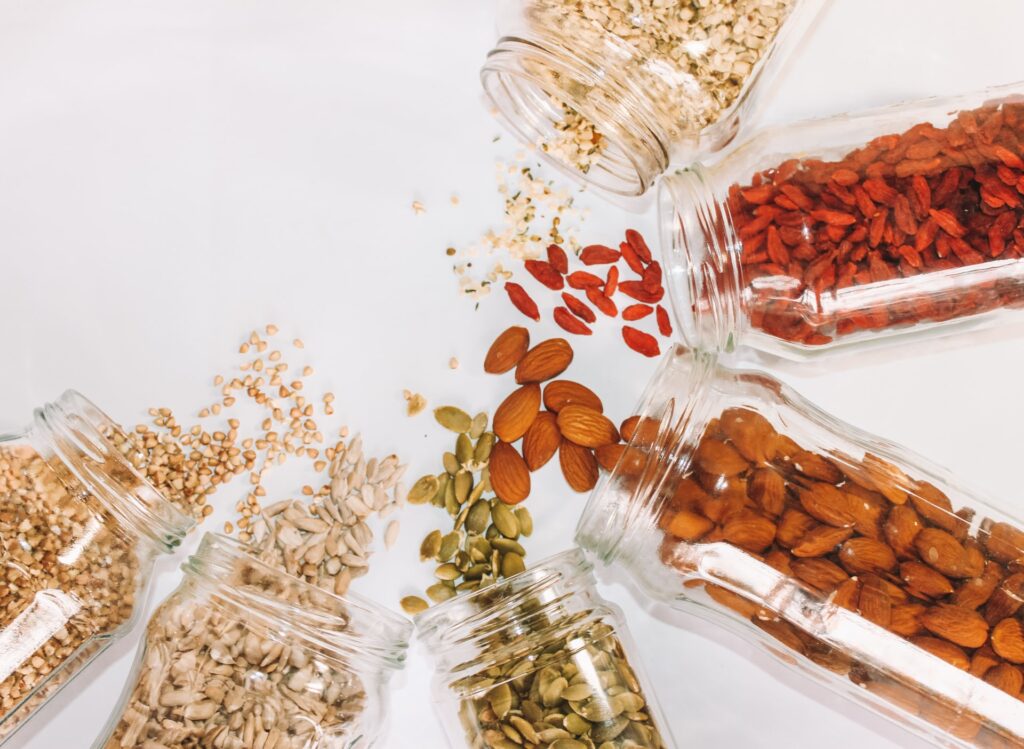 When referring to nuts it is nearly impossible to avoid also referring to seeds. Seeds seem to be the smaller sister to nuts but often pack the same nutritional punch. The seed family seems a bit smaller than that of the nut and the family members include: pumpkin, sunflower, sesame, hemp, flax and chia. Chia is a unique seed that absorbs liquid and is a great thickening agent.
Naturally both nuts and seeds are packed with nutrients, necessary fats and proteins. The question is how do we store nuts and seeds to show them the utmost respect and to keep them fresh the longest? While doing research, I kept finding them listed on two distinctly different lists; Items to keep out of your fridge and foods that absolutely need to be in the fridge. Are both camps right and what is their reasoning? To answer that question and get more insight I thought it would be fun to bring in a representative from both Team Fridge and Team Pantry to listen in on their lively and passionate exchange on the subject.
Welcome Team Fridge and Team Pantry to our blog Finding My Way In The Kitchen. Our readers are interested to hear your thoughts on whether nuts and seeds should be kept in the fridge/freezer or in a dark cupboard. Before we get started I just wanted to clarify that the nuts and seeds we are referring to in this conversation have been shelled. Team Fridge, I thought we would start this conversation with your stance on the topic.
Team Fridge
The fridge and/ or freezer is the ultimate answer to combating rancidity in nuts and seeds; something they are prone to do because they contain high amounts of unsaturated fats. The cause of rancid nuts and seeds are that the fats they contain are oxidized and you will determine this by a paint like smell and their bitter taste. Oxygen, light and heat are all culprits of causing nuts and seeds to both lose their freshness and cause them to go rancid. With the help of an airtight container and residing in the fridge or freezer, they are safe from those elements. Eating rancid nuts can cause nausea and make your nose wrinkle after tasting an icky nut. Nobody wants sour and bitter trail mix on their next hike.
Team Pantry
Per Katie Heil, Certified Professional in Food Safety " Nuts don't need refrigeration. They don't have enough moisture to support rapid bacterial growth, so they can be stored safely at room temperature for up to three months". ( Excerpted from the Reader Digest Article titled "20 Foods You Shouldn't Be Putting In the Fridge") So much for the fear of rancidity with nuts.
My number one and only concern is taste; by putting them in the fridge you are not letting nuts and seeds express their full potential. They lose their identity, they lose that distinctive nuttiness that makes them great.
Team Fridge
You can get their taste back quite easily by roasting them in the oven .
Team Pantry
Who has time for that? When you want some nuts you don't want an extra step. Just buy the amount you will use up in a couple of months.
Team Fridge
Yes, but how can one pass up those deals during the holidays? Nuts are not cheap and can run the same price as a good piece of steak. You could put them in the freezer and you don't even have to thaw them, they are ready to eat because they have low moisture content so they don't really freeze. If you do thaw them, like say flaxseeds, you are losing the good-for-you omega fat nutrients.
Team Pantry
Most freezers are filled with fruit for smoothies, ice cream and waffles. Who has room for pounds of nuts that will lose their taste. Money or taste? To keep those nuts and seeds a bit fresher or longer you can always add a hint of rosemary extract in your container of nuts like the folks at Diamond of California to further extend their shelf life.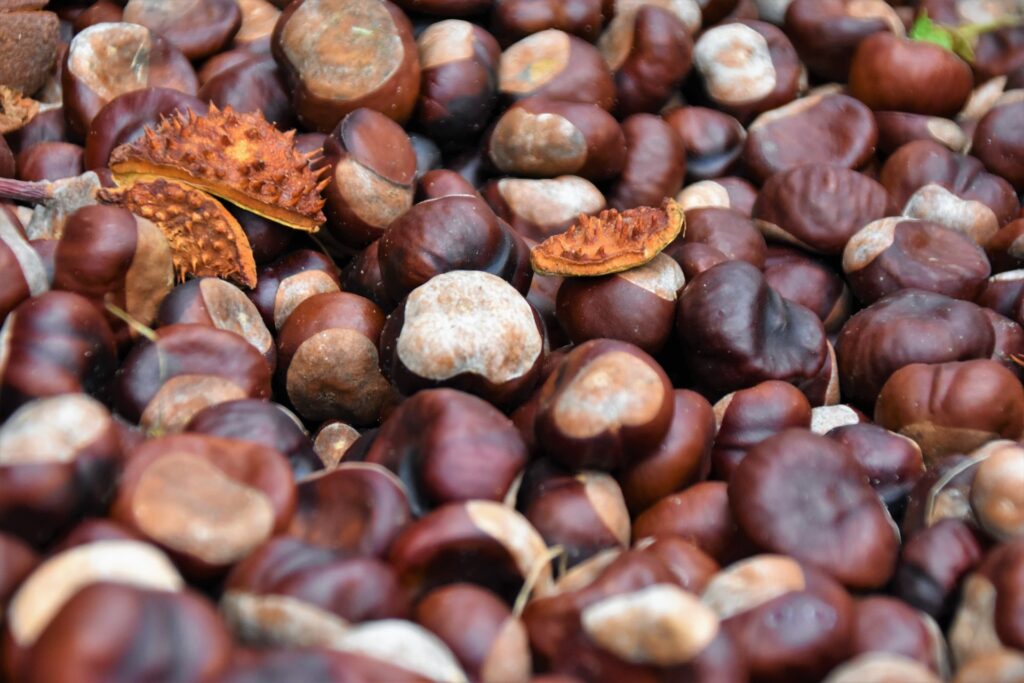 Team Fridge
Just saying, they can be good for about 3 months in your dark cupboard or 6 months in the fridge and a year in the freezer. There is always exceptions, especially when it comes to the chestnut. It has such a high water content that it should certainly stay out of the freezer and only hang in the fridge for 2 weeks. The coconut is similar, it too does better on the counter.
Team Pantry
Talking about exceptions, it is really beneficial to put pine nuts in the fridge right away because their oil content is much higher than other nuts and seeds. Also ground flaxseeds are only good for a week on the shelf and I will admit would also do better in a cold environment.
Team Fridge
You make a good point there about the ground flaxseed. Just want everyone to know the more you chop them or grind these protein packed superfoods the more vulnerable they are to becoming rancid. Maureen Temus , executive director of The Tree Nut Nutrition Council Research and Education Foundation says this succinctly, " once you start breaking down a nut, it just lessens the time for freshness," . A shelled nut and seed have the longest shelf life.
Team Pantry
Rancid is not the only thing to be weary of. Odors in their environment is something to be aware of, since they will absorb them easily. No matter where you store them an air tight container is key. Who wants to eat a nut that tastes like hard boiled eggs?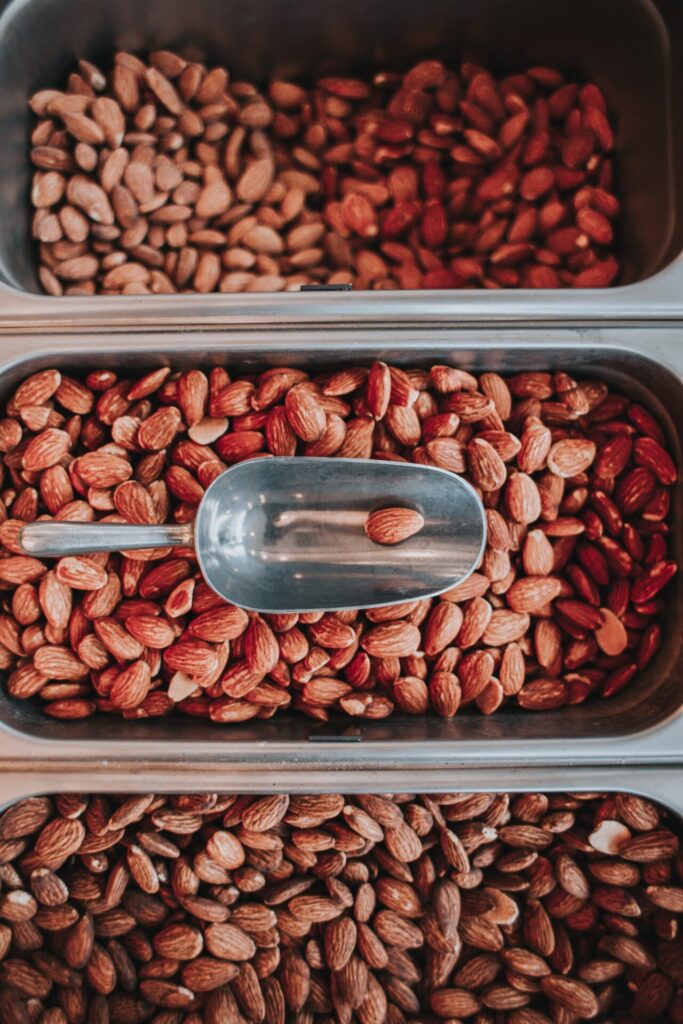 Aimee Here- Thank you so much teams for sharing your thoughts on where nuts should be stored. Highly enlightening. Do you have any parting words for our readers?
Team Fridge
Once they are rancid there is no going back, they must be thrown out. Do you want to take a chance on such an investment? Who wants a rancid baked good?
Team Pantry
My recommendation is to tape a copy of the shelf life of the Nuts and Seed Chart that Aimee provided below in your cupboard; and each time you place a fresh jar of nuts and seeds put the date you got them and date they lose their quality on a piece of tape on the bottom of the jar to ensue freshness. Be mindful of the air you expose them to when opening the container, keep them away from the stove and watch the temperature of your home. As every article states, keep nuts and seeds in a cool and dark place in an air-tight container. You want your nuts to taste like nuts, right?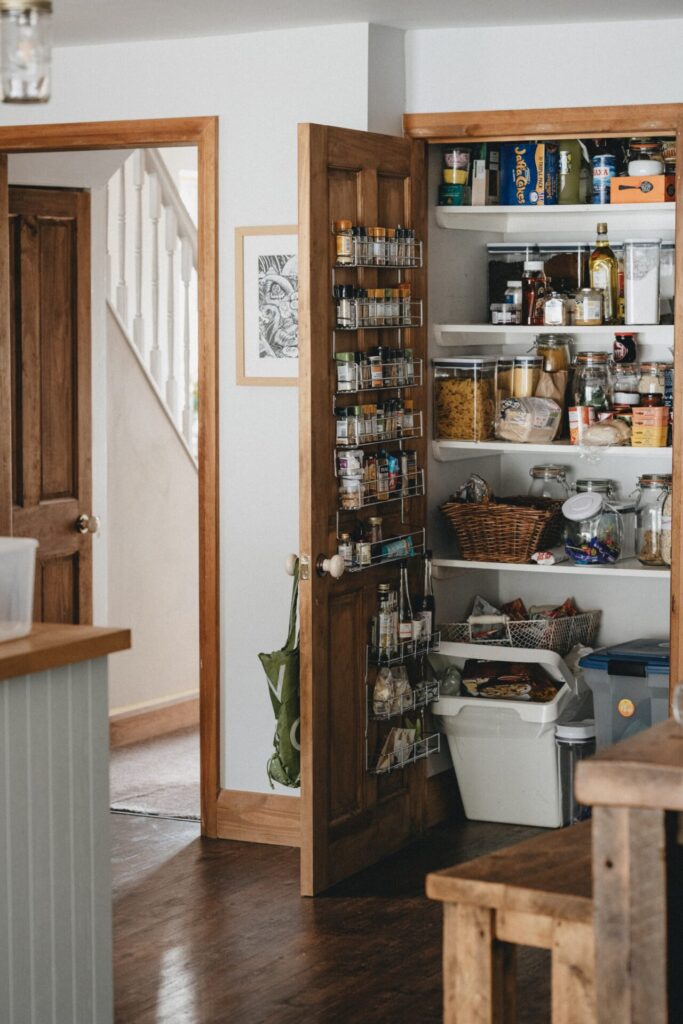 That's A Wrap
That was an interesting and reasonably civil conversation. I guess this debate is similar to the rinse or not to rinse before putting your dishes in the dishwasher in that we have our own ways of doing things. I can now understand why nuts and seeds are on both lists; those items to keep in the pantry and items to keep in the fridge. With this information are you storing these super foods any differently? Since we are talking about nuts, You might be interested in the chart I made that shows the protein, carbohydrate and fat profile of the most common nut butters and seeds in general.
Here is the almighty cliff-notes version of what we spoke about today. As always feel free to copy and paste into a document to print out and tape to the inside cupboard door. Most of these numbers were taken from the site StillTasty.com. The numbers below represent how long a variety of shelled nuts and seeds quality will last. At any time if they smell off or rancid and mold is present just toss them. Hope the chart is helpful!
NUT/ SEED
SHELF LIFE
FRIDGE LIFE
FREEZER LIFE
NOTES
Flaxseeds (Whole)
6 – 12 months
1 year
1 year
If storing in the freezer use directly. Do not thaw or you will lose those healthy omegas.
Ground Flaxseed
1 week
1-2 months
6 months
Sesame Seeds
up to 3 years

up to 3 years
up to 3 years
will not spoil and technically can be eaten for a long time. After 3 years they lose their flavor.
Sunflower Seeds-Roasted and Shelled
2-3 months
12 months
12 months
raw seeds 2-3 months past printed date.
Roasted in shell 4-5 months past printed date.
Hemp Seeds
3-4 Months
1-2 years
4 years
Chia Seeds
2 + Years
4 + Years
10 Years
will taste bitter when they go bad
Pumpkin Seeds
2-3 months
12 months
12 months
Chestnuts
Put them in the fridge.
2 weeks
Don't Freeze Chestnuts
They are composed of about 50% water. Makes them to have a short life span.
Nuts
1 month
6 months
1 + years
A general rule of thumb to keep in mind.
Pine Nuts
directly to the fridge
1-2 months
3-6 months
Macadamia Nuts
2-4 weeks
6 months
9- 12 months
Pecans
2-4 weeks
9 months
2 years
Walnuts
2-4 weeks
9-12 months
18-24 months
Links to Articles I Read to Write This Post