Salmon is on sale at the markets and fish counters. That means it is late Spring, when it is so abundant. I have been enjoying eating this pink fish for many years but really haven't known the proper way to cook it. Cooking salmon is oh so simple and easy to spice up in many different global flavors. This Sheet Pan Miso Salmon and Vegetables is on my dream dinner rotation.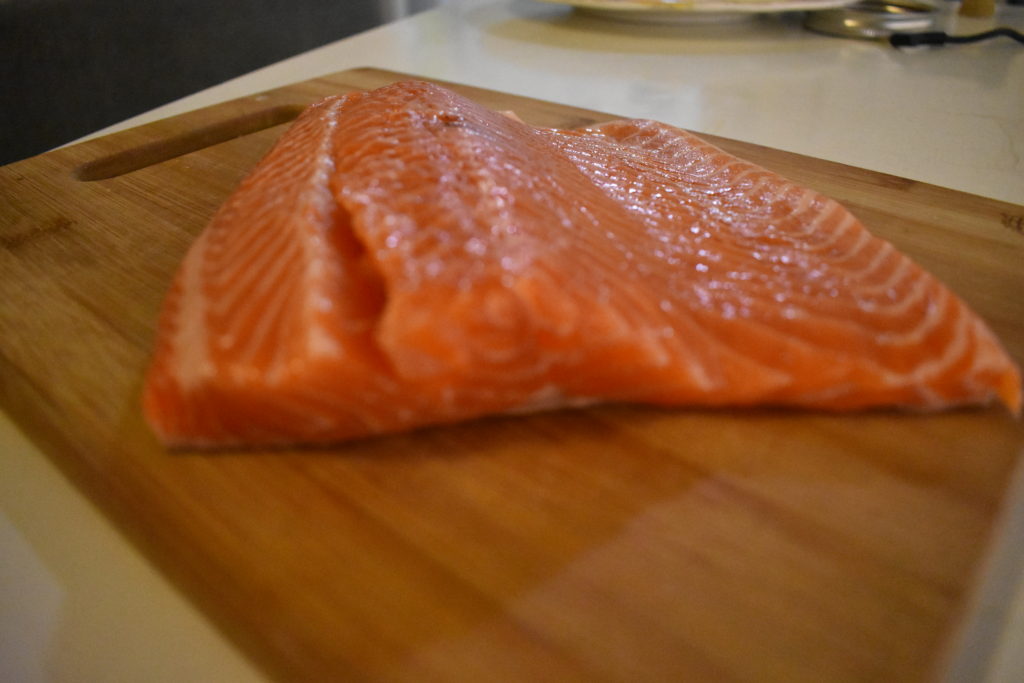 Let's go back to that word simple. It usually connotes easy, and not much fuss or bling. I feel that "simple" is cheating or at least not exciting. To me there is no real action, no challenge in simple. It could be that I'm feeling hemmed in by the boundaries it represents. This is the lesson that cooking salmon taught me. With a desire for challenges in mind, and eschewing simplicity, here are the ways I attempted to cook this fish.
In A Skillet
For whatever reason I have it in my head that cooking on the stove is quicker and easier than cooking in an oven; and every time I do so, I am reminded that the reverse is true – at least for me. For my first attempt I put olive oil on a non-stick pan with medium heat and added the salmon. The oil turned black, which in turn initiated the smoke detector to beep obnoxiously. Doh! The salmon did not get cooked all the way through. I am not sure what went wrong with this method. I thought I followed the directions. I'll admit I'm reluctant to attempt that method again. The experience prompted me to turn the oven on.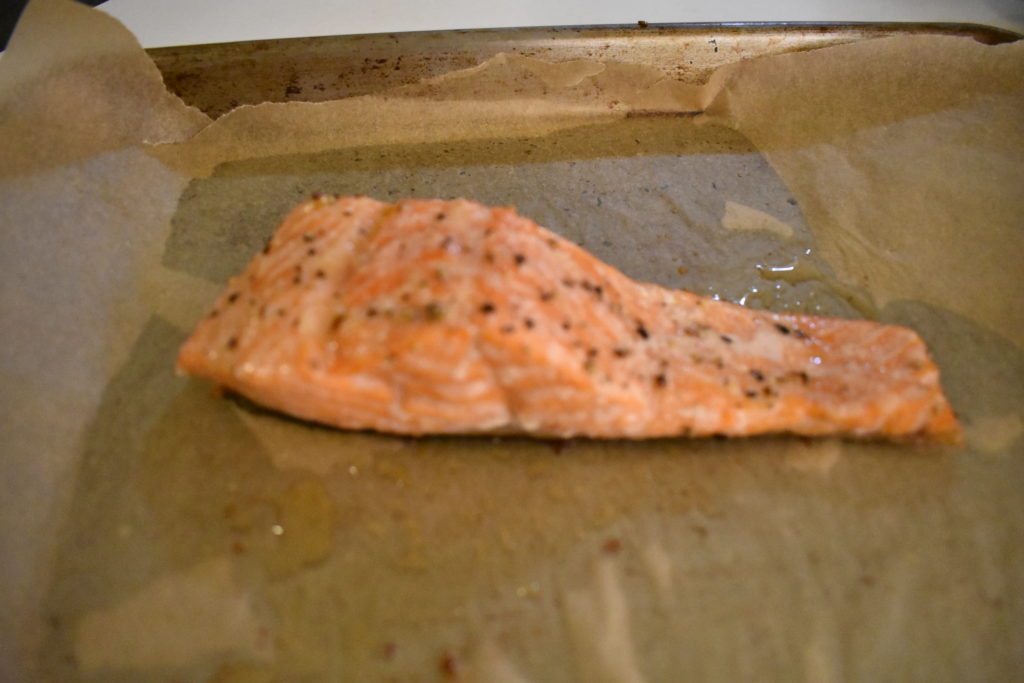 Baking Salmon In The Oven
A drizzle of olive oil, salt and pepper went on the pink side of the fish, and I put it on a baking sheet that was covered with parchment paper. The temperature of the oven was set at 350 degrees. About 17 minutes later it was done and delicious. Simple!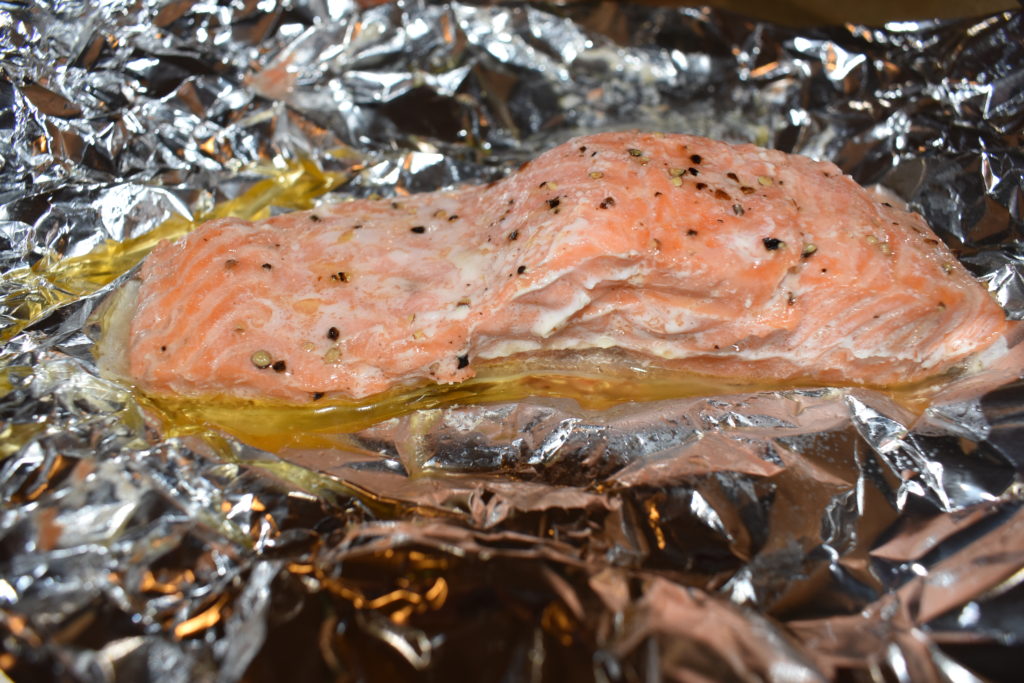 Cooking Pink Fish Covered in Foil
I followed the same instructions as above and wrapped the salmon in aluminum foil. It was moist and the olive oil collected at the bottom of the foil wrapping. What I learned is that this method is actually steaming the fish rather than baking it.
How To Know When Salmon Is Done
A meat thermometer is a must-have kitchen tool. The temperature will tell you if it is done or not. No more guess work here. For salmon the dial must reach 145 degrees.
What is the white stuff on the top of salmon when it is cooked?
It is coagulated protein that is brought to the surface and oozes out at high temperatures. This protein is known as albumin. Learn more about this phenomenon here.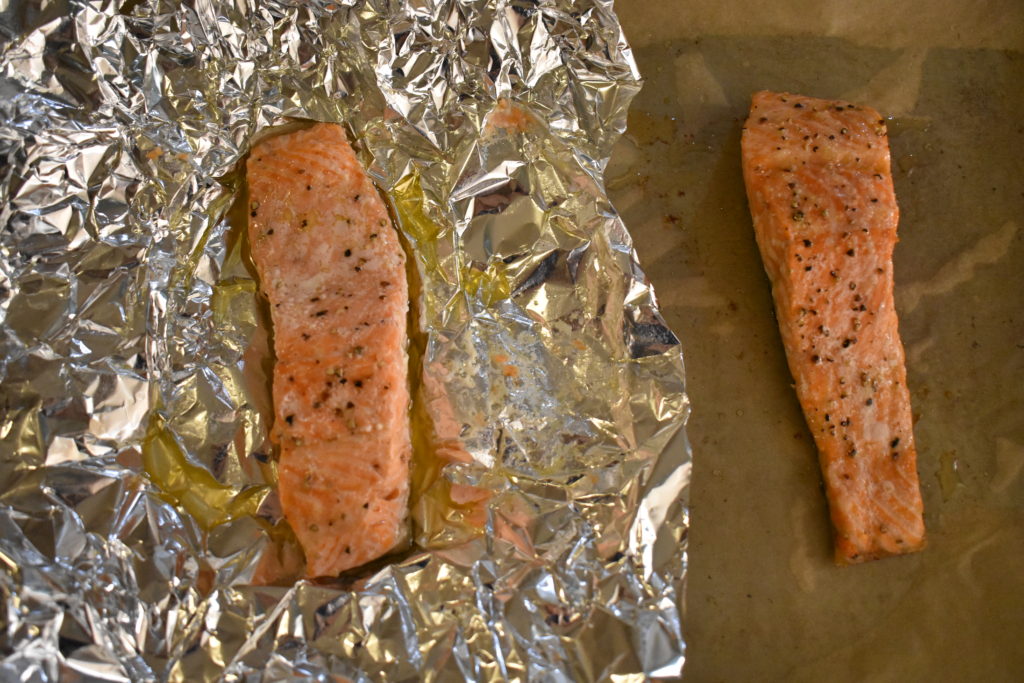 Recap
I found that baking created a flakier texture than covering it. Such a simple way to create a lovely dinner. There are so many different ways to add flavor and give it a unique taste each time you return to salmon. Here are a few ideas to get the creative juices flowing; blackberry sauce, rhubarb chutney, lime and sirracha, aioli, strawberries, cherries, and a dill yogurt sauce. Highly recommend investing in a meat thermometer to add to your kitchen arsenal.
What is your favorite way to cook and eat salmon? Let's get the conversation going below in the comment section.