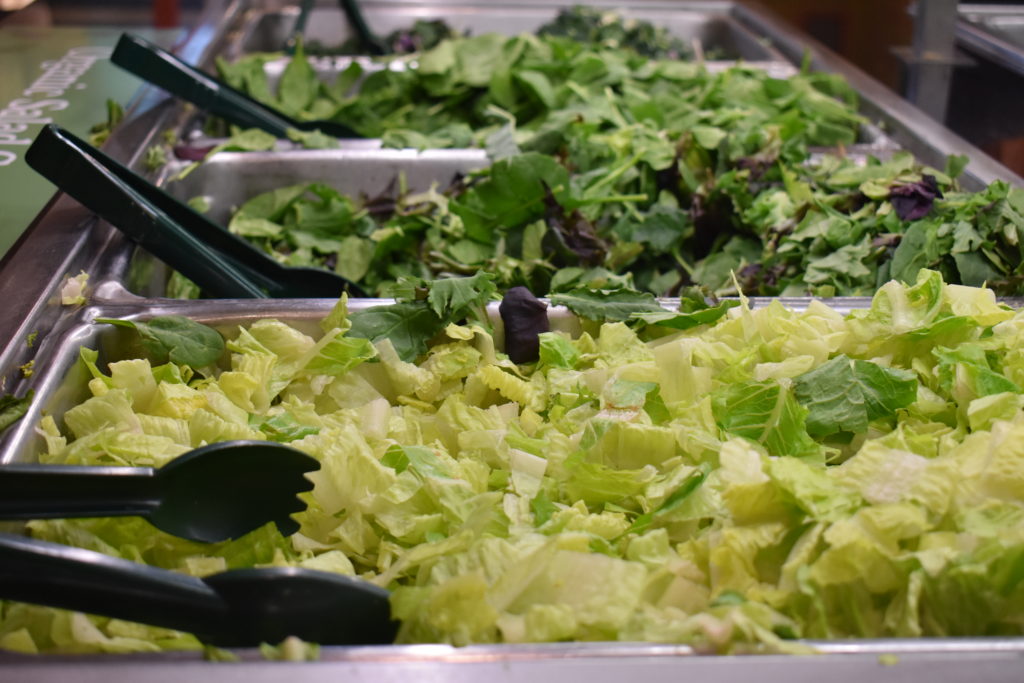 Hello. I know it has been a long time since we have connected.  It has been about two seasons ago. How have you been? What have you been up to this last Winter and Spring? Me, I got super involved in cleaning, clearing and organizing every nook and cranny of our apartment. Spent many months intentionally curating our living space and creating organizing systems that made sense.  I am learning that I am an one project at a time type of woman. Mono-tasking is my way.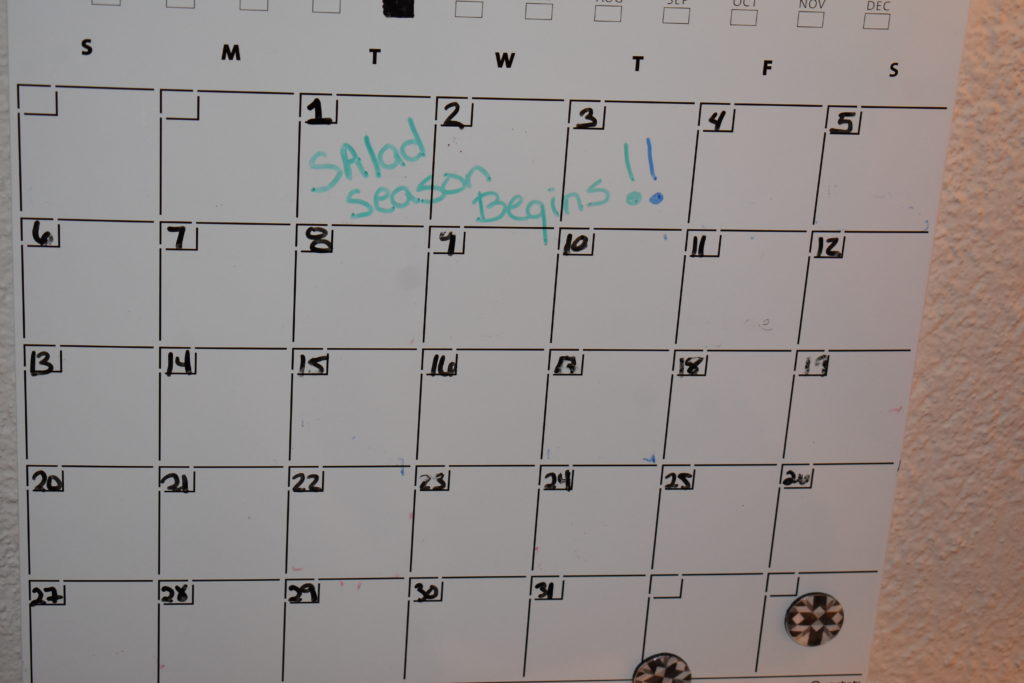 Our living space and kitchen are organized, the pantry stocked.  It is time to tackle the eating plan – still overwhelming.  I decided to commit to one thing – make a salad every day. That is one meal that is prepared and at the ready, and that is true relief.  We are getting our vegetables and not turning on the oven, a win-win during the hot season. When May hits, I trot out the salad recipes. Katie at Healthy Seasonal Recipes posts only salads in the month of May every year. This is the month when asparagus, lettuce, spinach and radishes make a regular appearance at the Farmers Market. I conclude that this is why we see an up-tick in salad offerings at restaurants.  Maybe there should be something like a salad season opening day.  My inner event planner is envisioning what that day could look like. Hmm…the possibilities.  Chopping vegetables, shaking dressings, washing greens competitions, farm gatherings.  How does one petition such a thing? Oh right, I am a uni-tasker so back to this post on my commitment to creating and eating a salad a day.  What does that look like?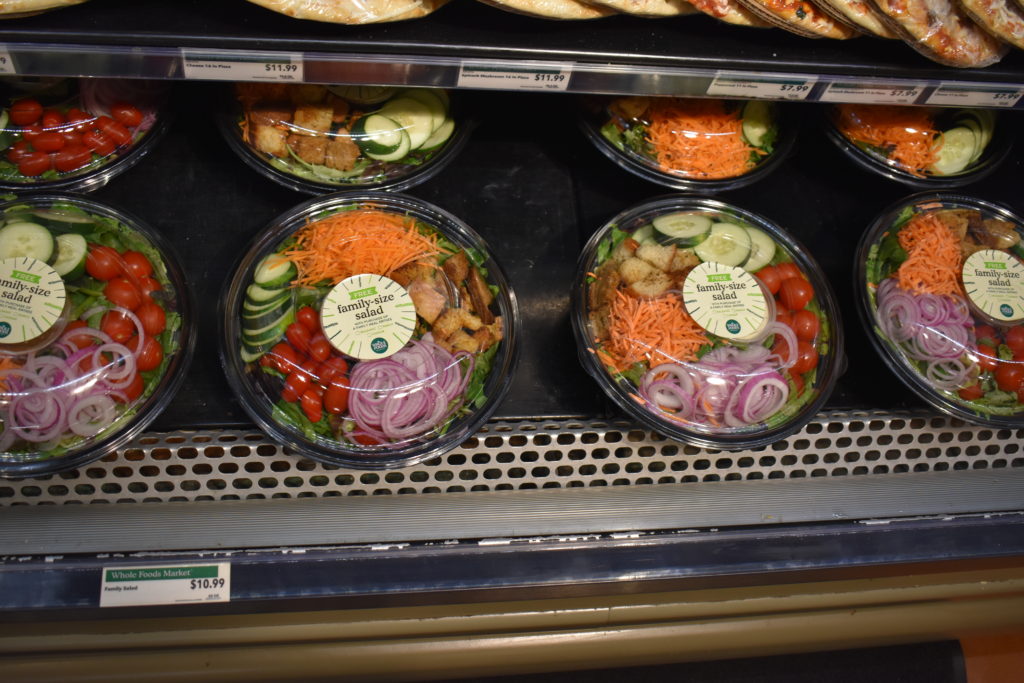 After I wake up, meditate and eat a little breakfast, I make a salad.  No computer and no shower until a salad is made. It is great to feel a bit accomplished first thing in the morning and a peaceful feeling that one meal is taken care of and all one needs to do is eat it.  I feel proud.  Let's start at the very beginning and  answer the question, what constitutes a salad?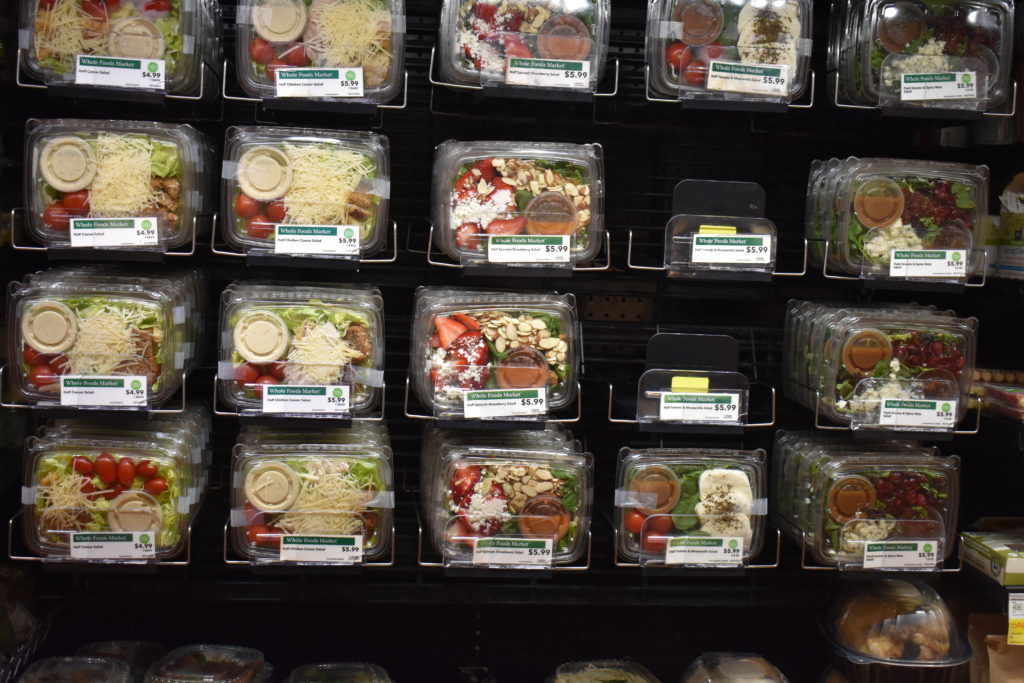 I have been asking people out of left field that exact question. Here is what the conversation looks like.
So how would you define a salad?
A leafy green topped with more veggies, that has a dressing. This was the most common answer I received.
How would you then explain tuna, egg and chicken salad?
What does the dictionary say?
There a so many foods that we eat that have the word salad after them; pasta salad, jello-salad, potato salad and macaroni salad.  Let me know what I am forgetting in the comments below.  These salads contain very few or no leafy greens. There is a fun thread at Serious Eats where they delve deeper into the above conversation.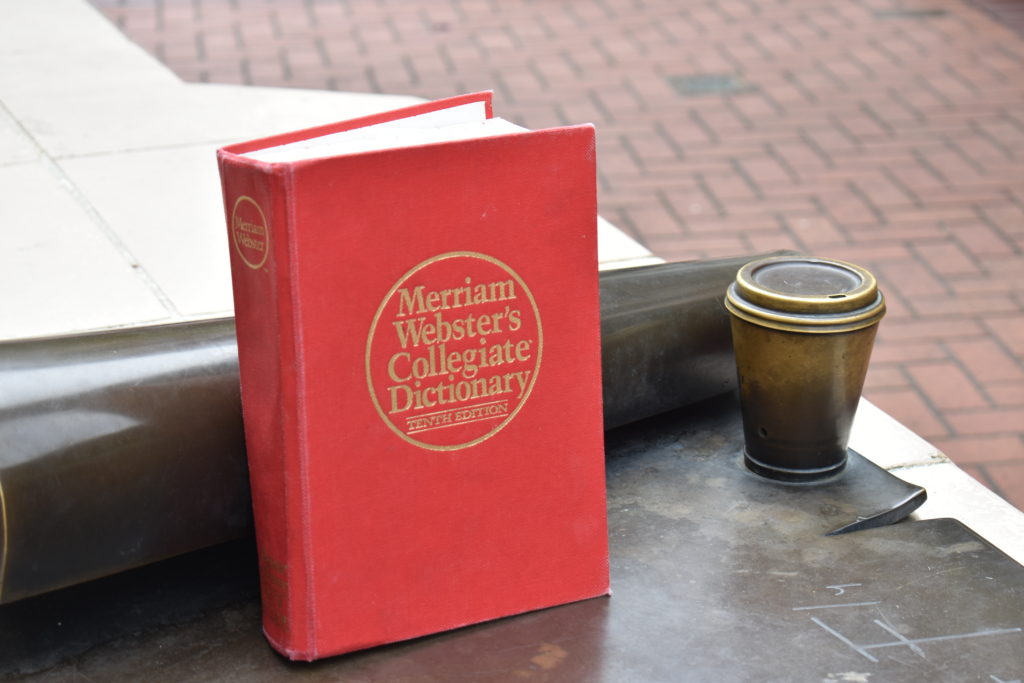 Let's consult the guru of words – the Merriam Webster dictionary – to clear this up.
Definition of salad
1
: any of various usually cold dishes: such as
a
: raw greens (such as lettuce) often combined with other vegetables and toppings and served especially with dressing
b
: small pieces of food (such as pasta, meat, fruit, or vegetables) usually mixed with a dressing (such as mayonnaise) or set in gelatin
2
: a green vegetable or herb grown for salad; 

especially

 : lettuce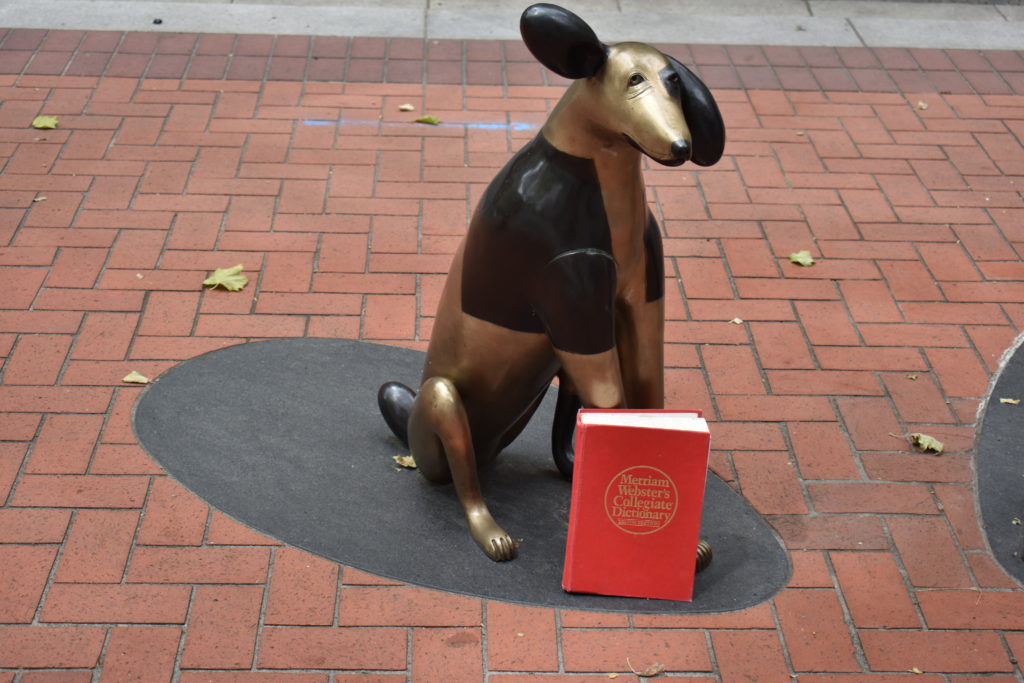 I like how the word usually is used in this description, leaving room for interpretation of a salad and giving it more room to freely express itself in another form.  A salad, no matter it's form, hot, cold or combination of the two or vegetable, pasta, grain or meat based is held together by a dressing. That seems to be the one thing everyone can agree on, even Merriam Webster. Here at Finding My Way in the Kitchen we are going to focus on hearty main meal salads with a leafy green mainly at the base; with a few cole-slaws added here and there. Cole slaw is a salad that has cabbage as its base.  I highly recommend taking a detour at the moment and check out this cheeky article on coleslaw's role in American cuisine.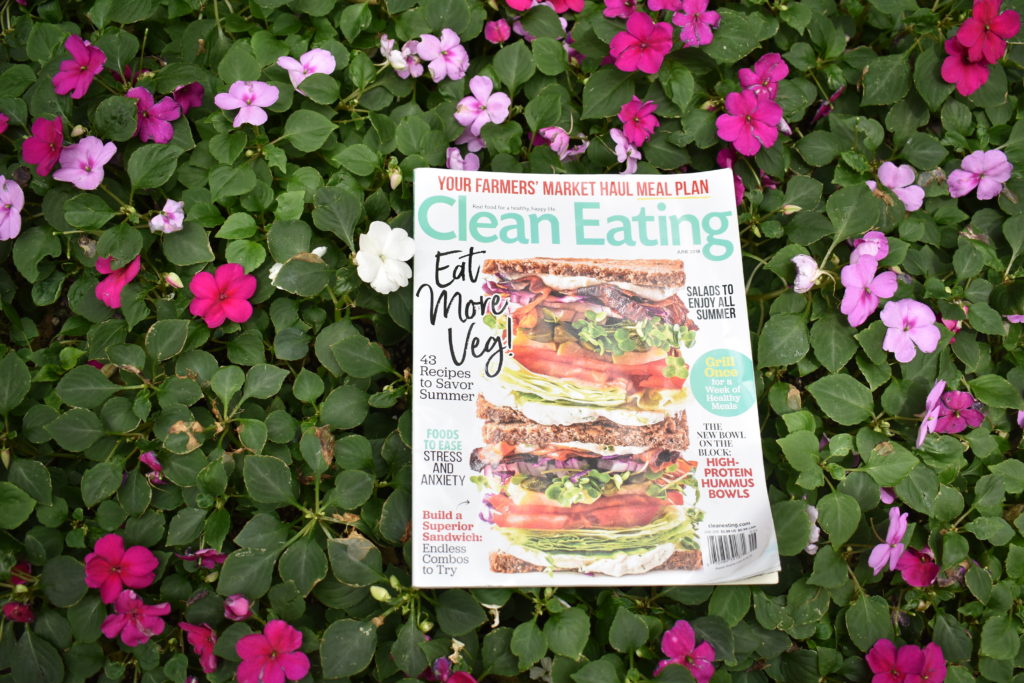 What makes a great main meal salad? According to the magazine Clean Eating, June 2018 a good one dish meal salad comprises of the following; A base of greens  or grains, protein, raw vegetables, roasted vegetables, fruits, dressing, crunch toppers and cheese which is optional. In the article a matrix was created to mix and match to make your own and several recipes to follow. This is a template I naturally follow when creating my daily salad.  From now until October we are going to deconstruct the above template of a green salad; or, in other words, go down the rabbit hole of all things green leaf salad-related.   By Fall we will have a better understanding of the whats, whys and hows that make a great salad and hopefully the confidence to create your own with zing and heartiness.
It is good to be back.  I thought it fitting to resurrect this blog on my birthday.  Give rebirth to my dream the day I received my belly button many moons ago.  This cycle of the sun I will be here writing about my findings of all things kitchen and eating perfect salads.
Here's to experimentation, failure and curiosity. If you have a burning question regarding vegetable salads, ask your question below.
Aimee
P.S. Thank you for putting up with my dictionary, she wanted her picture taken with every statue and piece of art in a two block radius.  She reminds me of the gnome in the movie Amelie.  Below are a couple of more out-takes with the dictionary.