If you have been following me on this blog, you know that I have an obsession with looking at other people's kitchens on YouTube . You might be interested to know that at one point in my life I would choose my roommates by the books on their shelves. Now when I visit someone's space, I can't wait to open a kitchen cupboard or two and maybe check the fridge to get to know them a bit better.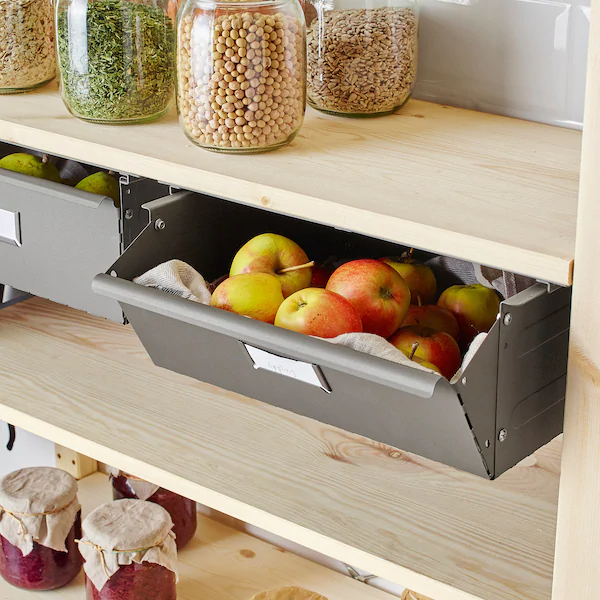 Well with the advent of the internet, lots of folks of late seem to be baring their souls by opening their cupboards for the world to see, even the likes of Ina Garten, otherwise known as The Barefoot Contessa. She is living one of my fantasies, where she has a kitchen barn that happens to be located a short walk from her home. The kitchen has some order in it and feels homey. What stood out for me was in her prep zone she had two butcher block cutting boards at the ready and a bowl of the following in front of her; eggs, lemons, oranges and garlic. Her rationale is that eggs are better for baking at room temperature and the fruit yields more juice when not kept in the fridge. My initial thoughts were, that set up is brilliant thinking, Ina, for keeping the most used items at arms length. This simple step – keeping citrus and eggs at the ready – seemed revolutionary for some and provoked many questions. What other produce could I keep out of the fridge? Is it really safe to keep eggs out on the counter, and why isn't she worried about salmonella?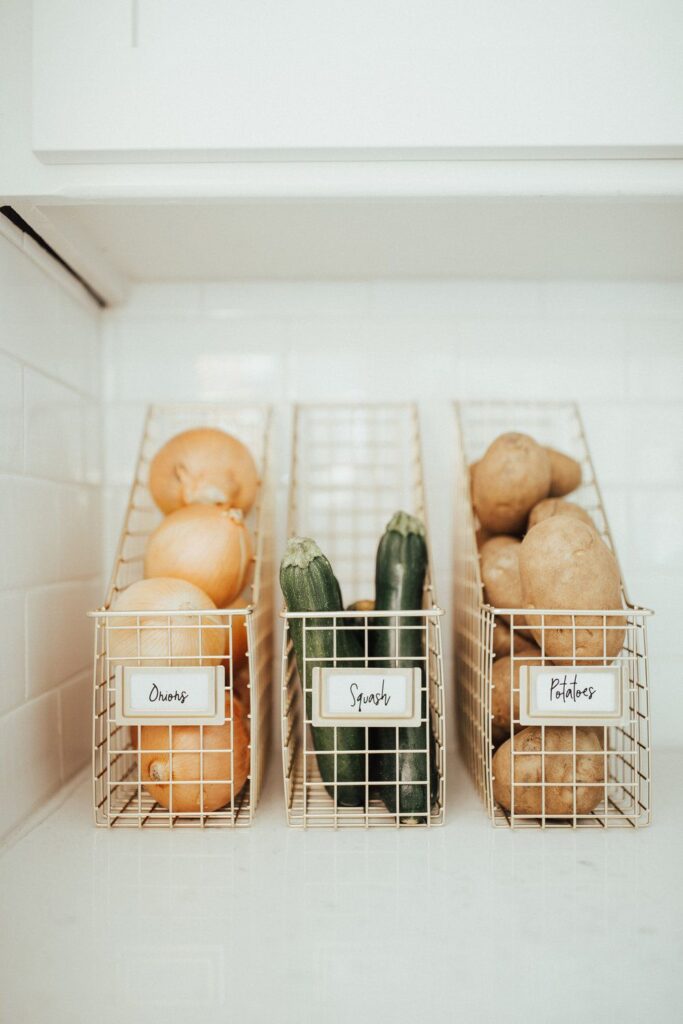 After doing a bit of research I was surprised by how few items really need to be kept cold. There is really no reason why my fridge should resemble an overstuffed coat closet practically bursting at the seams, where the contents almost come falling out onto your feet when you open the door. Below is a list of food items that you can confidently relocate to your cupboard or kitchen counter. Within each subset of items, I have included in blue, lists of links that I used to gather information or interesting information regarding that specific food . Have fun exploring more about those foods that would do better in a cupboard.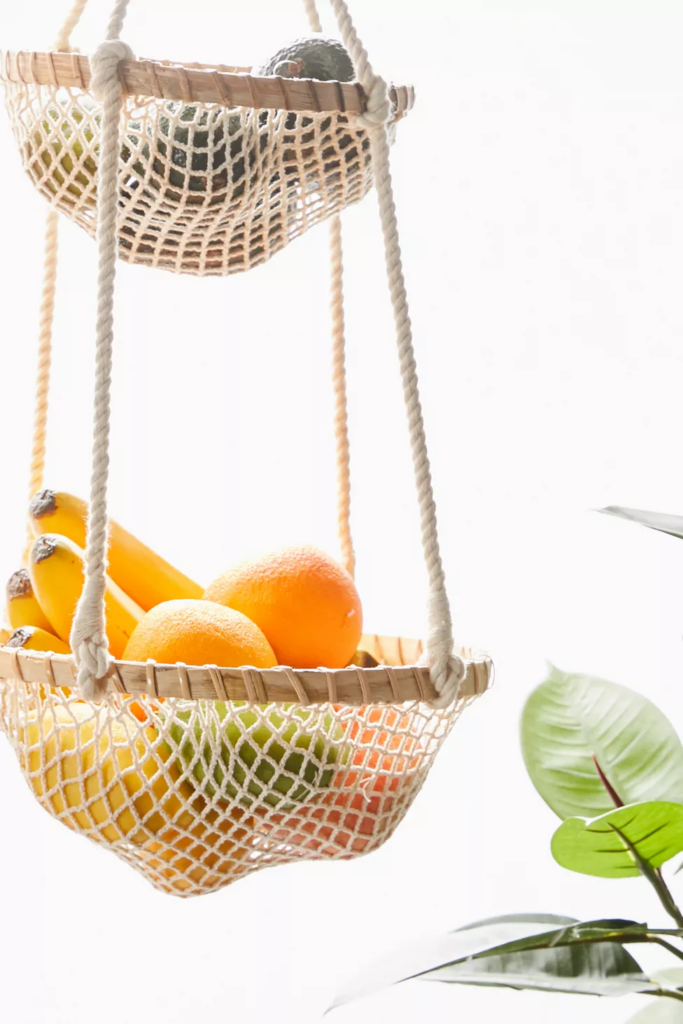 FRUITS In the botanical world if a plant grown to be eaten contains seeds it is considered a fruit. And vegetables are stalks, roots and leafy greens; aka cauliflower, broccoli, carrots, radishes and lettuce. Most people consider sweet and juicy plants to be fruits and those that are savory, vegetables. Now we know the truth is not that simple. Usually when we purchase these items they are not ripe, and by putting them in the fridge we are thwarting their ability to bloom into their full flavor potential. Also their texture turns mealy and mushy when in a cold environment. The cold temperatures takes moisture out of these plants, especially melons and cucumbers, causing them to rot more quickly, on average 3-5 days, as opposed to how they would sustain on the counter.
Here is a list of fruits that need to stay outside your fridge.
Tomatoes
Avocados
Bananas
Peppers
Cucumbers
Eggplant
Citrus Fruits
Melons
Squash and Pumpkins
Stone Fruit: Plums, Peaches, Apricots, Plums, Nectarines, Cherries,
Apples
Pears
Okra
Green Beans
Tropical Fruits: Pineapple, Mangoes, Kiwis, Papayas etc…
Grapes
What a list, huh? Some surprising and perhaps even mind blowing items to keep on the counter. Now it makes sense that produce is kept cold in grocery stores, to prolong its life and to stop it from ripening. What is one suppose to do with that half of lemon one did not use? Put in air tight plastic wrap or container. Yet you only have 24 hours to use it before it goes to the compost bucket. One idea I read about is that you could juice that half lemon into an ice cube tray for later use. Did a whole bunch of fun drink recipes start forming in your head after that idea? For all fruits that are only half used, make sure there is no moisture able to invade and try to use it ASAP and put them in the fridge. For grapes and avocados, once they are ripe you can put them in the fridge for about a week or so to prolong their life since the cold will stop them from continuing to ripen.
Still confused by the whole what is a fruit thing? You are not alone. One the first episode of the Netflix Show Waffles & Mochi they dive into this topic with humor. This is an incredible show where Michelle Obama owns a grocery store and two puppets from the land of frozen food work there. There are star-studded guest appearances of actors and chefs that the adults will appreciate and the kids will probably be clueless about.
Enjoy the links below of articles I gleaned great information.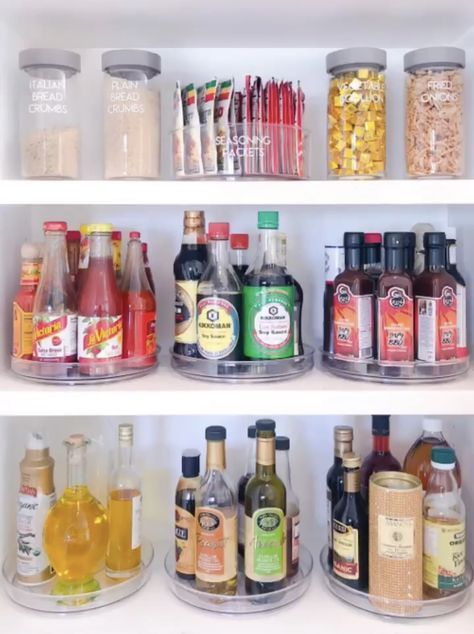 CONDIMENTS Vinegar is usually kept in a cupboard, so it makes sense that things that contain it would too. Many condiments contain vinegar. It is safe to keep the following behind closed doors in your pantry.
Pickles
Ketchup
Hot Sauce
Mustard
Fish Sauce
Soy Sauce
Hot Sauce
These are the links to the articles I read that intrigued me.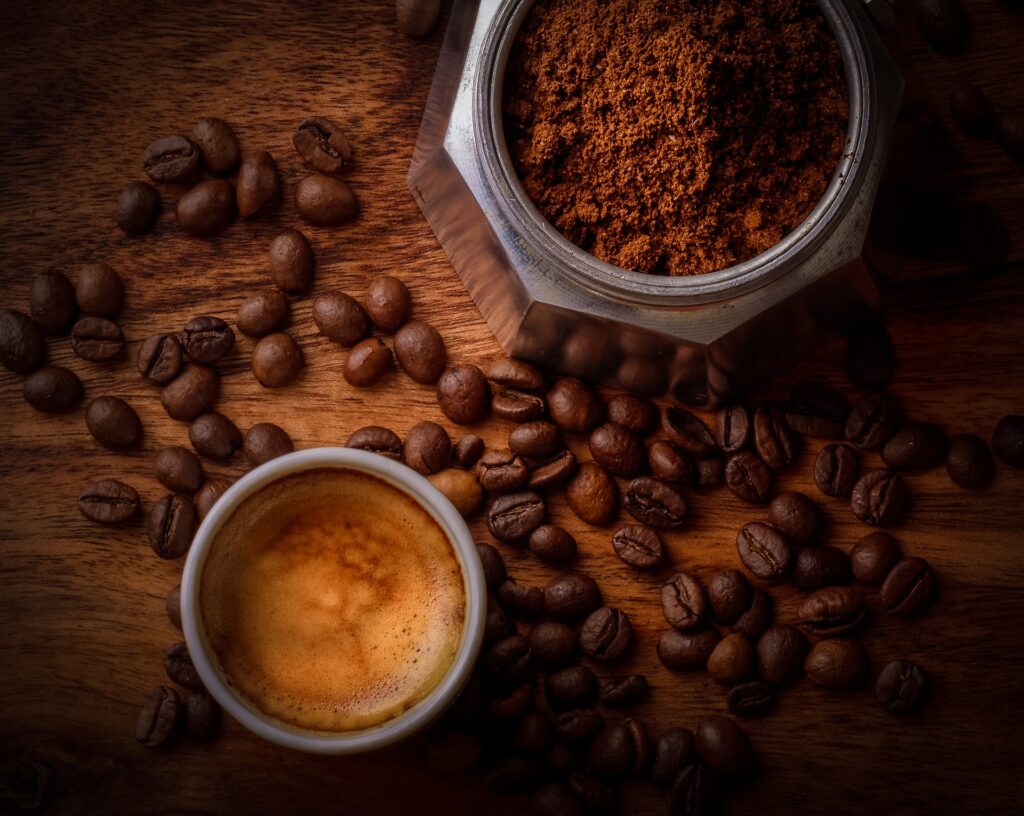 COFFEE Baking Soda and Coffee are similar in the sense that they both absorb or take on the odors/flavors of the food surrounding them and are both good choices to use to clear the funky smells burgeoning in your fridge. Coffee roasters make sure all moisture is out of the beans; to ensure a good cup of coffee by putting it in the fridge you are exposing its main enemy. The fridge will zap away the flavors that the roaster so carefully curated. Best bet for fresh flavor coffee is to keep both your beans and ground coffee in an air-tight container in your cupboard, away from light.
Here is a list of links to articles that I read and gleaned deeper information on how to care for your coffee.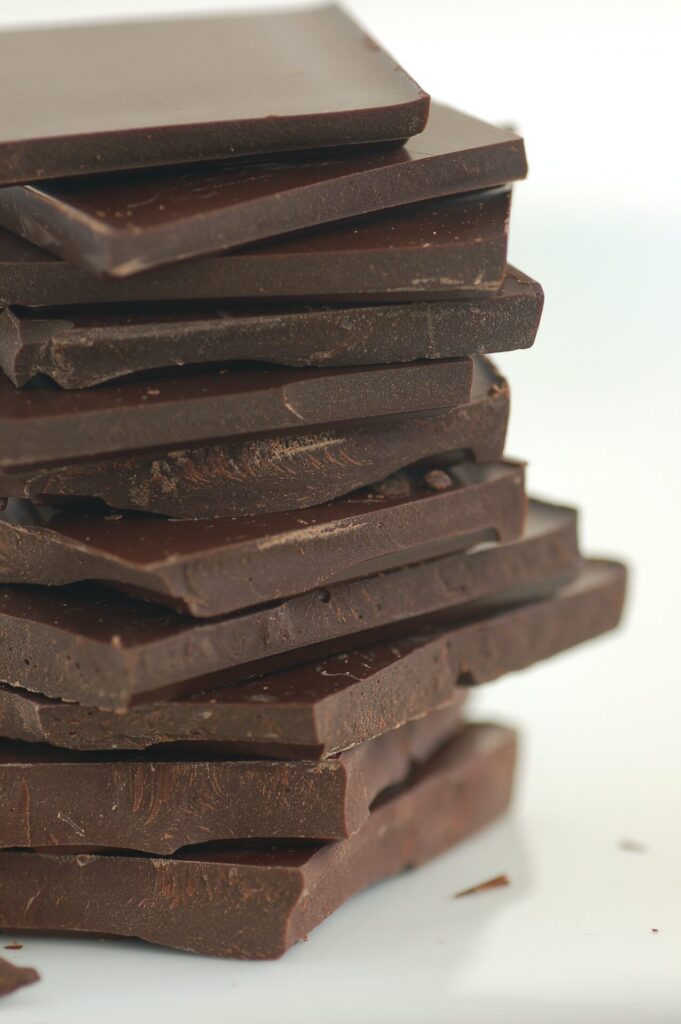 CHOCOLATE
Chocolate is the happiest when it is kept in an air-tight container since it easily absorbs the odors close by, kept away from any light source, and moisture. The perfect air-room temperature is 65-68 degrees. The average shelf life for dark chocolate is 2 years, milk 1 year and white is 4 months. Like most food it shines the most when it is freshly created, like a fresh out of the oven chocolate chip cookie.
I hear the but…what do I do when I live in a hot climate or summer temperatures are higher than that and I have no air conditioning? 84 degrees is when the cocoa butter in your chocolate starts to melt. When this occurs in your home put it in an airtight container; some people advocate wrapping it in a towel with the wrapper still on before putting it in the refrigerator. By doing either of these things you are protecting the chocolate from condensation. It is a sensitive product and like us humans does not do well with drastic temperature changes, (the fridge temp. is kept 40 degrees) so when taking it out of the fridge keep it wrapped or in an airtight container until it reaches room temperature, then consume with focus and delight and a sense of wonder, just like the chocolate maker intended.
For further reading and understanding, enjoy the links below.
Honey
Honey is good for thousands of years at a time and longer outside of a refrigerator. I kid you not. It was found by modern archaeologists in Egyptian tombs and it was still in a preserved state. Why does honey last forever? The same reason as granulated sugar, bacteria cannot survive in sugars. The older it gets it will become darker in color and lose its flavor but still can be enjoyed.
Crystallization occurs when moisture seeps into the container, which of course there is an abundance of in a fridge. Who wants to unsolidify your honey each time you want to use it? An air-tight container in a dark cool space is ideal. But not too cool because at 50 degrees it will start to crystalize. Make sure that air-tight vessel is not metal – not even the lid – because the honey will cause it to rust. Another way to keep the moisture out is always use a dry spoon or utensil when dipping into that yummy sticky stuff. Honey pots like sugar bowls are cute and convenient but will expose it to the air that's bad for it.
Another interesting fact regarding honey is that it contains hydrogen peroxide which is made by the bees. When the bees regurgitate the nectar from their mouths into the combs to make honey, this enzyme mixes with the nectar, breaking it down into two by-products: gluconic acid and hydrogen peroxide, per Amina Harris, executive director of the Honey and Pollination Center at the Robert Mondavi Institute at University of California. It has been used to help heal scrapes and cuts for thousands of years.
Interesting Articles that helped me write the above paragraphs.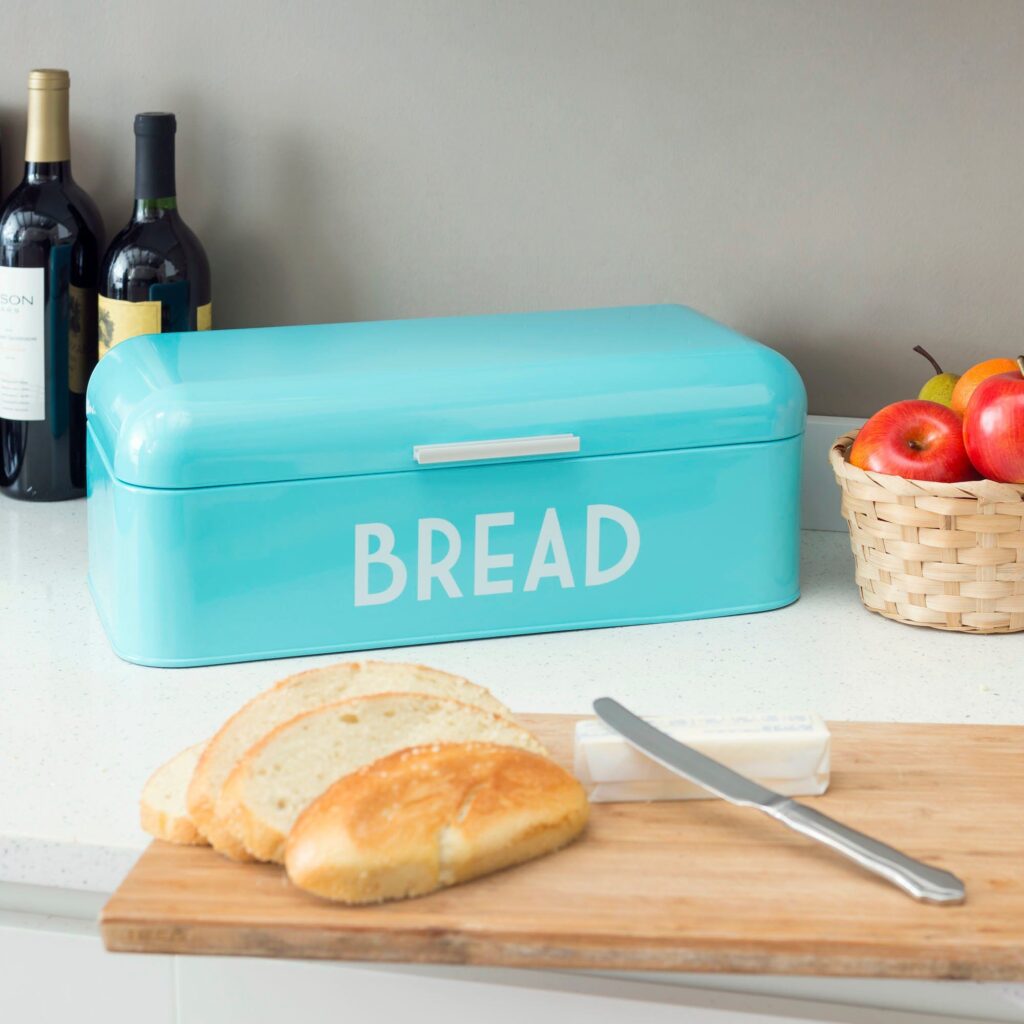 Bread
Storing bread in the refrigerator sucks out the moisture and causes it to go stale. If you plan to toast your bread the heat will bring it back to normal, so keeping it in the cold closet is fine. Fresh bread is best to keep in a bread box wrapped in paper and should be consumed in about 3 days. If that is not possible, keeping bread in the freezer is the way to go. If you just need a couple of slices at a time, Clarissa Buch from Food & Wine suggests putting wax paper between the slices making it easier to take the amount you want without committing to more than you can consume.
Below is a list of articles that I read and learned from regarding how to store bread .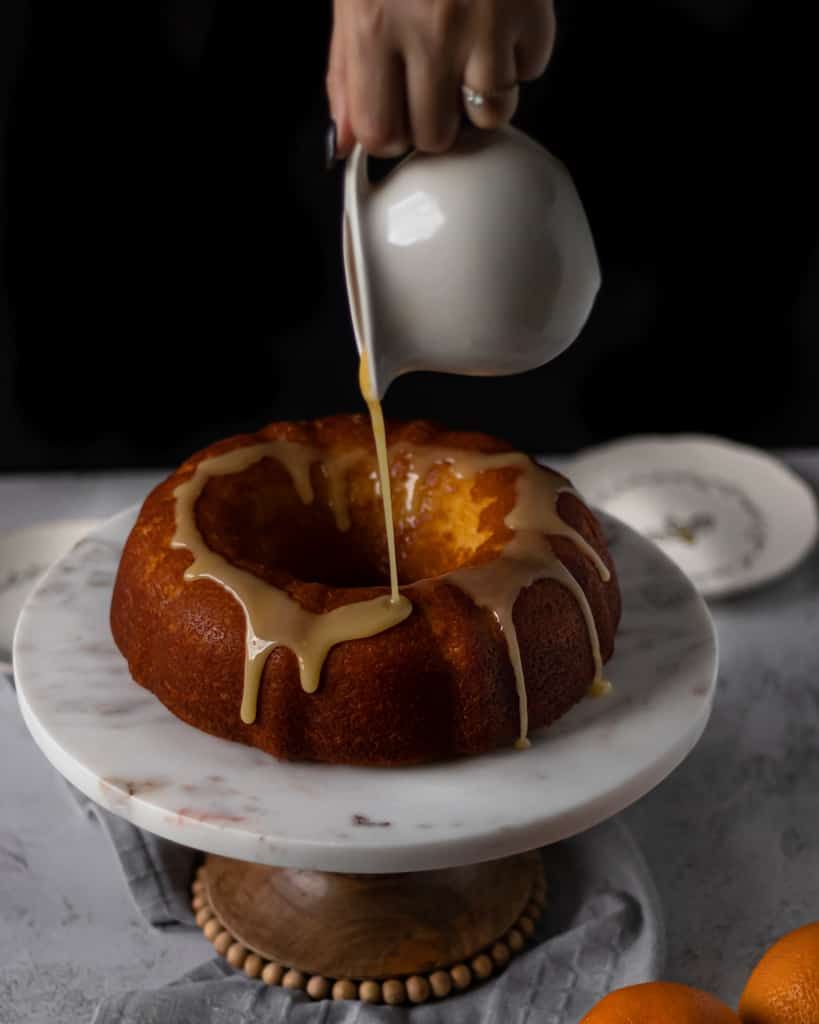 CAKE
This past Thursday I had the urge to bake a cake. We were out of butter and I thought I would be waiting until I got more until I remembered my customer who wanted to make an orange olive oil cake and I stumbled upon the above Moist Orange Bundt Cake Recipe from the blog Sift n Whisk and knew it had to be made – and could be done without butter. My husband loved it and is excited to eat for the next four days for his dessert. We put a mixing bowl over it and my husband started putting it in the fridge and I said there is no room in there, leave it out on the counter, it should be fine. Then a bunch of questions went through my head; What is the rule for storing cake? Does the moisture get sucked out of it like bread and go stale if in the icebox? Or will it go moldy while hanging out on the counter? Both assumptions are correct, it all depends on what is in and on the cake.
If your cake consist of the following, the icebox is your friend
Cheesecake
Fresh fruit and Berries
Whipped Cream
Cream Cheese Frosted Cakes
Mousse cakes
Fresh Cream
Custards
All other cakes are perfectly shelf stable for about 4 days if the cake doesn't get eaten before then. Just put a mixing bowl or put it in a cake stand and you are good to go.
More cake details that helped me write this info.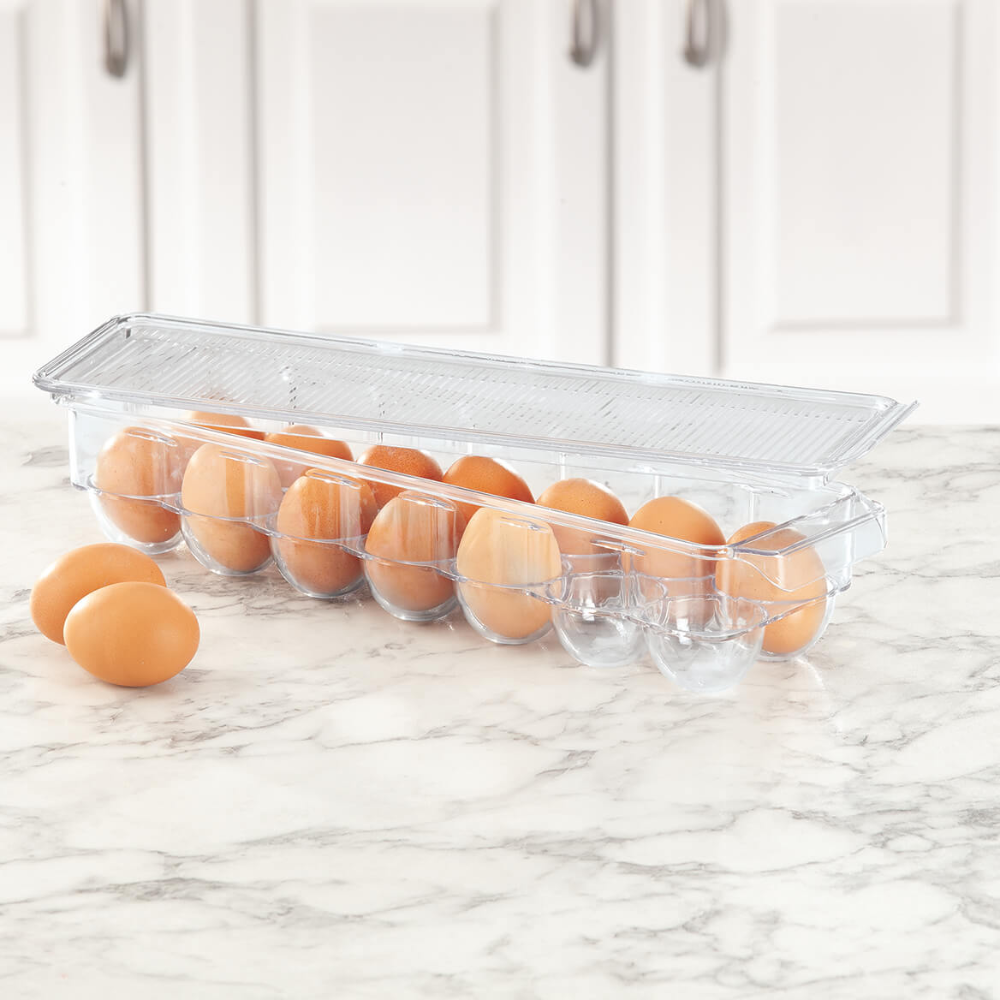 Eggs
The U.S.A. is one of the few countries in the world that keep their eggs in the fridge. Why is that? When an egg comes out of the chicken it has a barely visible coating around it that protects it from bacteria, oxygen and water. The United States, along with Japan, Australia and some Scandinavian Countries have decided to wash the eggs soon after being laid, sine there is no longer any protective layer on the egg, so the 40 degree and below temperature of the refrigerator are now the protective layer from salmonella. Some countries who do not wash their eggs, also vaccinate their chickens from salmonella. This is the reason you will seem them displayed in the middle aisles of grocery stores.
So if you live in the United States , Japan, Australia and a Scandinavian Country you will want to continue refrigerating your eggs if you don't have your own egg-laying chickens. Just remember that they are porous and will absorb the odors of their environment. Eggs need to be covered in the carton they came in or a plastic covered container.
So I am going to assume that Ms. Ina Garten takes her bowl of eggs out each morning so they can raise to room temperature to get better baking results or she has her own laying hens and does not wash them.
Articles that explain eggs and bacteria and best storage techniques.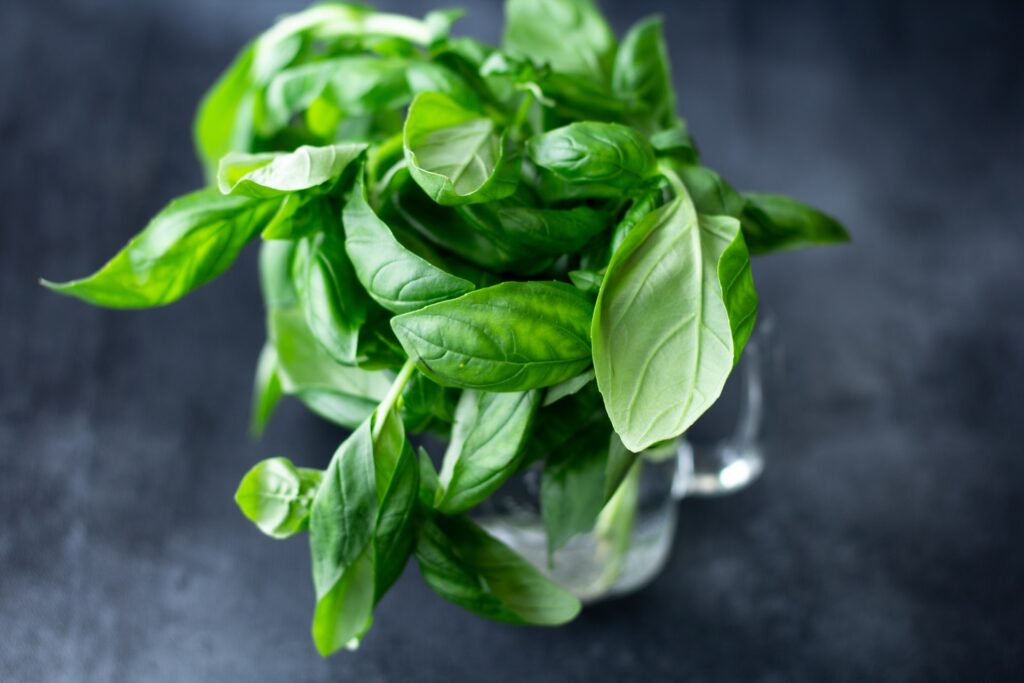 BASIL
I can't remember how many times I have bought fresh basil and put it in the fridge and 3 days later I find it black, droopy and wilted. Why is the refrigerator basil's enemy? It does not like the cold and it doesn't let it breathe properly. I couldn't find any more scientific explanation than that. The best way to store this bright green herb is to trim the stem and add some water to a glass like you would with flowers. Many people suggest putting a Ziplock bag over it to preserve it longer.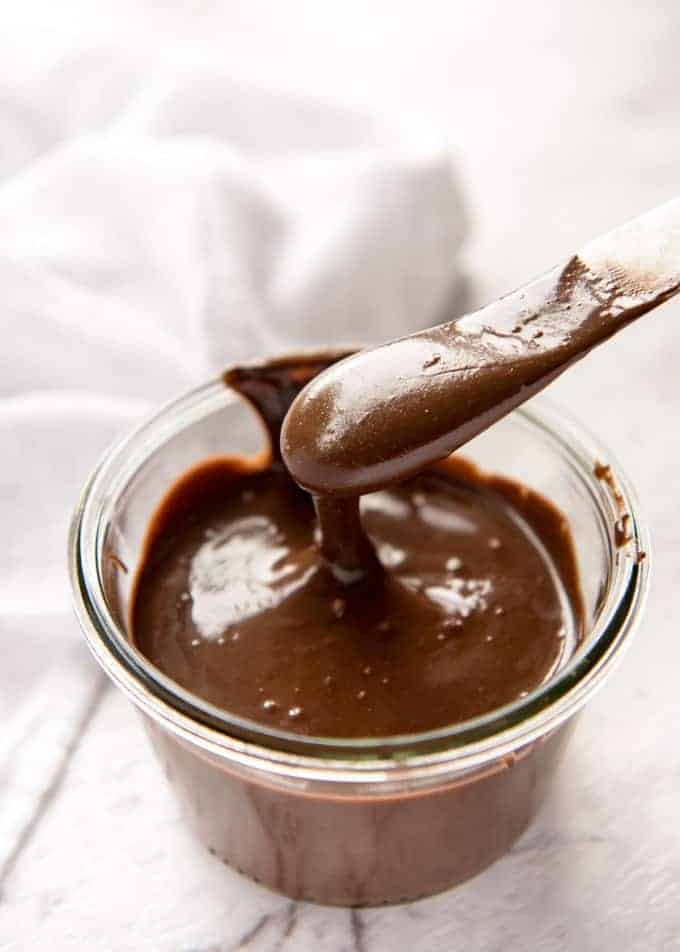 NUTELLA
I was surprised by how many times this wonder spread made lists of things to keep out of the fridge. When finally going to their website and reading the 7 ingredients that comprise the Nutella Brand; palm oil, hazelnuts, milk, lechtin, sugar, cacoa and vanilla, I understood the confusion. It contains milk and milk needs to be kept cold or it will spoil, so it doesn't make sense that it should be kept in the cabinet. Powdered milk is the form that is used in this popular spread, so no worries there, and by keeping it out of the fridge it will always be spreadable ready.
Links you will not want to miss.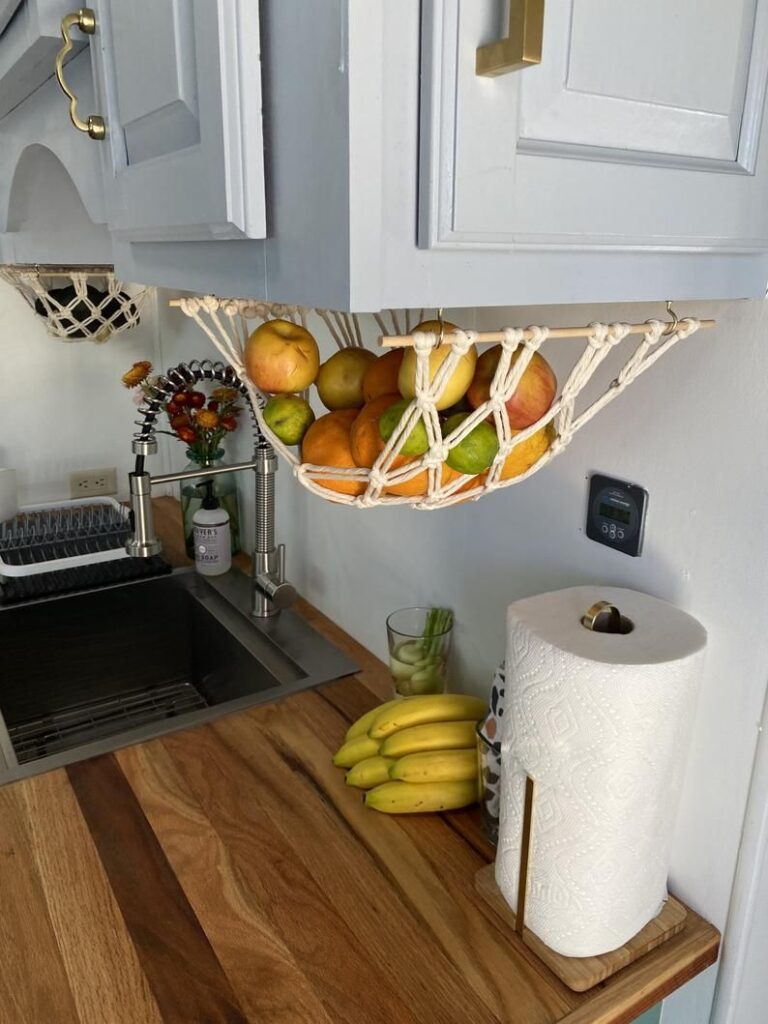 CONCLUSION
Congratulations for making it this far on the post. That is a lot of information to process, so many informative links to check out and so many great pictures giving helpful ideas for storing our basic staples. Which links caught your curiosity; I would love to hear what caught your fancy and what you learned today. I am so glad that I found out why the countries I have visited keep their eggs out. It all makes sense now.
Here is a quick recap: The refrigerator is kept at 40 degrees which zaps out the moisture of foods, stops ripening and changes their natural constitution. Fruits, chocolate, Nutella, basil, bread, coffee and honey all taste better when kept at room temperature. Condiments can truly be in either location. Depending what country you live in, eggs should be refrigerated.
I thought I had the perfect plan to organizing my kitchen cupboards and then this information came into my radar, that brown rice and some flours should be refrigerated, which we learned about in the post My Beans, Rice, Sugar, and Flours are Good in My Cupboard Forever, Right? Now it is time to recalibrate my plans to fit this new knowledge. Can't wait to hear what changes you have made with these two posts.
In Gratitude of Your Presence-Aimee