The dishwasher has an array of programmed buttons for ease of use and they all exist to focus on different washing needs. A year ago, I stood in front of the first dishwasher I've had in my living space since I was still at home with the folks, a bit anxious about pushing the correct preset. Finding it a bit overwhelming, I pushed the normal cycle, which cleaned my dishes just fine, and never ventured from that button because, who wants to read dishwasher handbooks to figure it all out? Yes, earlier this month we celebrated a year in our apartment – and with modern appliances. We do enjoy doing laundry in our pajamas without lugging our laundry down 6 flights; and learning about the dishwasher, which is quiet and efficient. But back to those pesky buttons.
I thought it only fair to the great minds who came up with all these pre-set choices, to understand my selection. As with most things I procrastinate about I thought it would be hard and perhaps boring; but this research as it happens proved to be neither of these.
In our most recent post, Taking the Temperature of the Dishwasher, we learned that the main difference between cycles is how many times the tub refills and the temperature of the water; and that run times differ from one machine to another. For example, my lower model whirlpool on the normal cycle and heated dry lasts for 2.5 hours, while the Bosch on the same presets runs for 2 hours and 56 minutes. Each manufacturer and machine – depending on price point – has its own unique language of presets, so I am going to focus on the most common ones. Look at me, trying to be brief and concise, says the woman who has written 11 posts and counting on the dishwasher.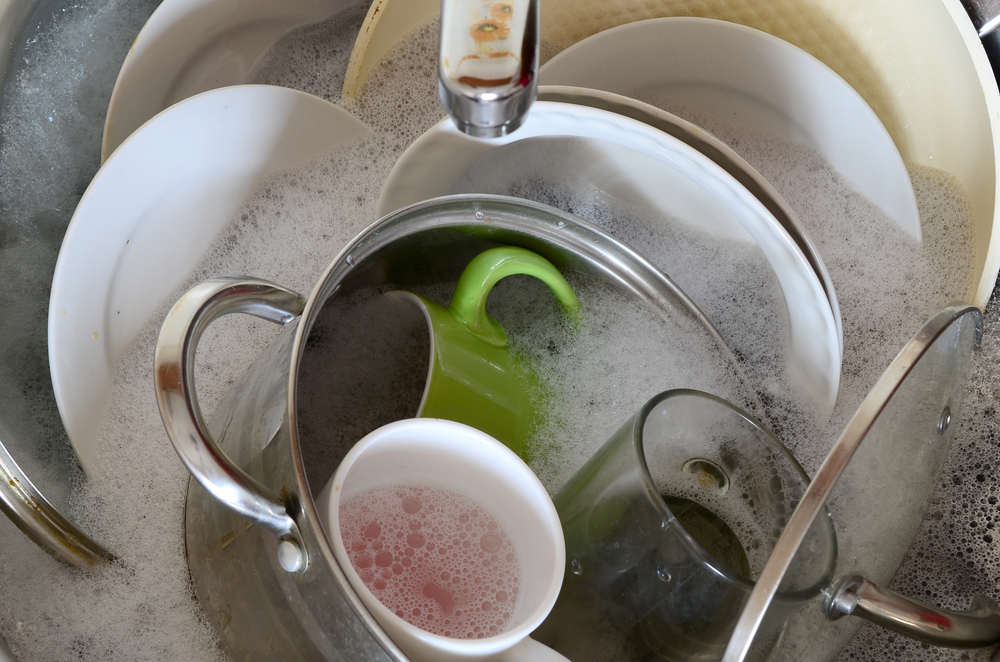 Heavy Cycle/Pot and Pans
Don't want that lasagna pan sitting in your sink, soaking for days until you are brave enough to scrub like crazy, while cursing it every time you use the sink because it is taking up all that space? Well that is what the heavy cycle is intended to do; do the tough scrubbing so you don't have to. This cycle uses the hottest water, highest pressure and longest run cycle. Be mindful as to whether the other crockery keeping company with that lasagna casserole pan can endure the higher temps and higher pressure. I use this one when I have dishes sitting for more than day and have sticky fruity residue from smoothies, etc… Depending on the manufacturer it could be referred to as the Heavy Cycle or Pots and Pans.
Normal
Such an odd adjective to describe a washing cycle. I guess the cycle-naming folks were at a loss. Per the description this is for ordinary daily dishes.
Hi-Temp
The difference between the normal and high temp is, as this selection implies, the temperature of the rinse cycle. The hot rinse cycle will speed up the drying process and will help get rid of any greasy residue. This might be a good choice for barbecue nights. In our last post, I said that the rinse temperature is 140 degrees, which I got from GE's appliance website. Per Woman's Day and their in-depth article on the dishwasher, it states that the rinse temperature is 160 degrees. Real Simple claims it is a 5-10-degree increase from the normal cycle. My bet is that it differs from each machine and depends on when it was made.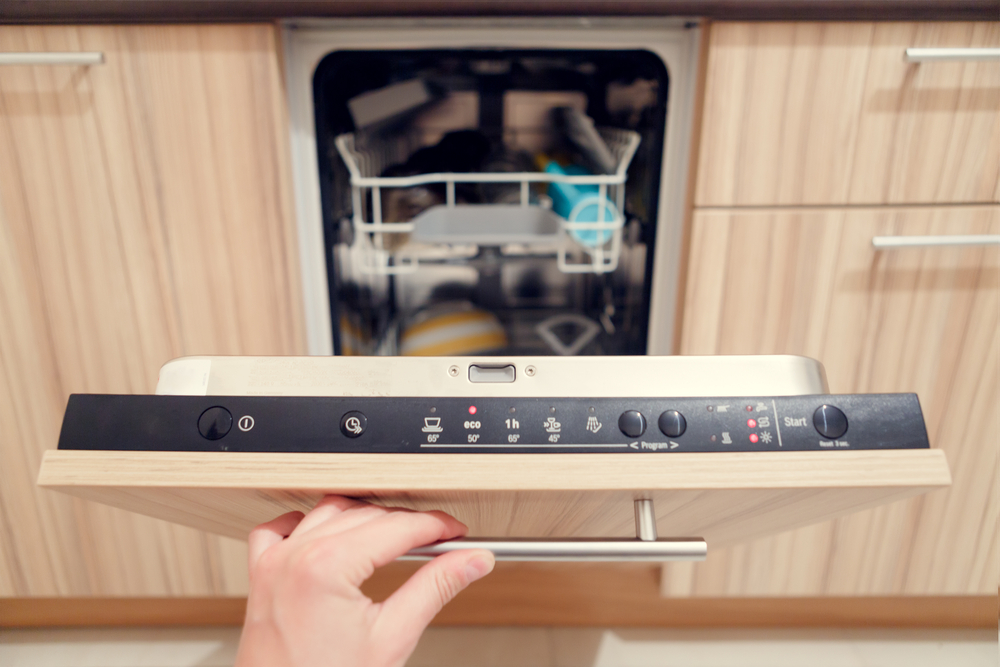 1-Hour
This is the quick one with the least amount of tub fills. This would be good for Thanksgiving or other large gatherings, and yes, they will happen again when you want to get more than one load done in a day. Primarily used when you have more than one load of dirty dishes, or you have used all your crockery and need to eat soon. That hour consists entirely of washing. You will have to dry those dishes or let them air dry. Remember this preset acts like a dishwasher of the old days, using twice as much water and energy compared to the normal setting which is means 9 gallons of water being used.
Light Wash
According to GE Appliance website, light wash is the same as the normal wash with one less pre-rinse tub fill using a bit less water.
Rinse Cycle
For those of you who still have an aversion for not rinsing and do not fill a dishwasher daily, the rinse cycle will do just that, rinse your dishes using only 2 gallons of water and take only 15 minutes of your time. This is how one Consumer Reports employee compromised with his wife on how to use this setting. The problem I have with this concept is that it is taking away the detergent's job. I am obviously in the no-rinse camp and will advocate thusly.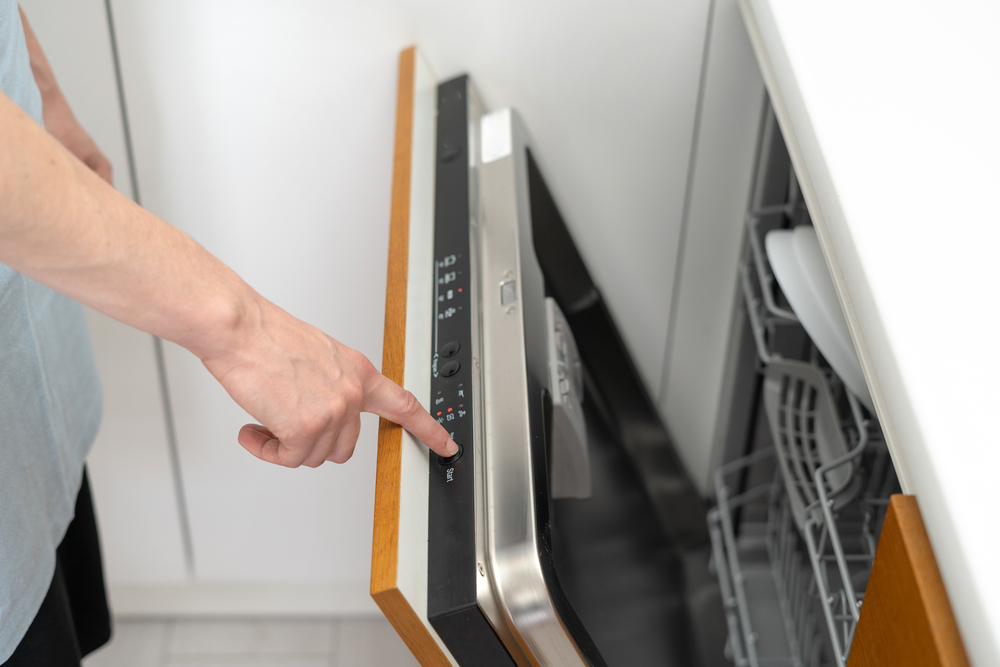 3-Second Hold
Concerned about buttons being pushed and accidently interfering with a dishwasher cycle or accidently starting it when it is not even close to full. The 3 -Second Hold button will do exactly that. It is a control lock of the panel which can be used when the dishwasher is on or off.
Sensor Feature
Eventually this will be the only button on dishwashers in the future. Whirlpool Corporation applied for a patent in 2000 and application granted in 2002. This is a somewhat new feature and does what the name suggests; it senses how dirty the dishes are by how dirty the pre-rinse water is and from there decides how many tub fills, heat and pressure is needed for that specific load. This way you do not need to guess which button to push, the robotic machine will decide for you and this is supposed to be more environmentally friendly, too.
Curious how this feature truly works? Here is a summary that is on the GE Appliance website:
The clean sensor sends a beam of light through the wash water, measures the clarity of that water and determines the amount water, temperature & time needed to clean the dish load. The clean sensor is made up of: Red "LED" light that shines a tiny beam of light through the water sample.
I am dreaming of the buttons I want to push and what brand I would purchase in my next home. I wonder how a manufacturer decides which presets are featured with each model. A rinse cycle certainly would have come in handy last week with an odor in a half-full dishwasher. Hope this has given you the courage to experiment with different presets and understand the intention of each. Next up we will revisit the rinse or not to rinse question.