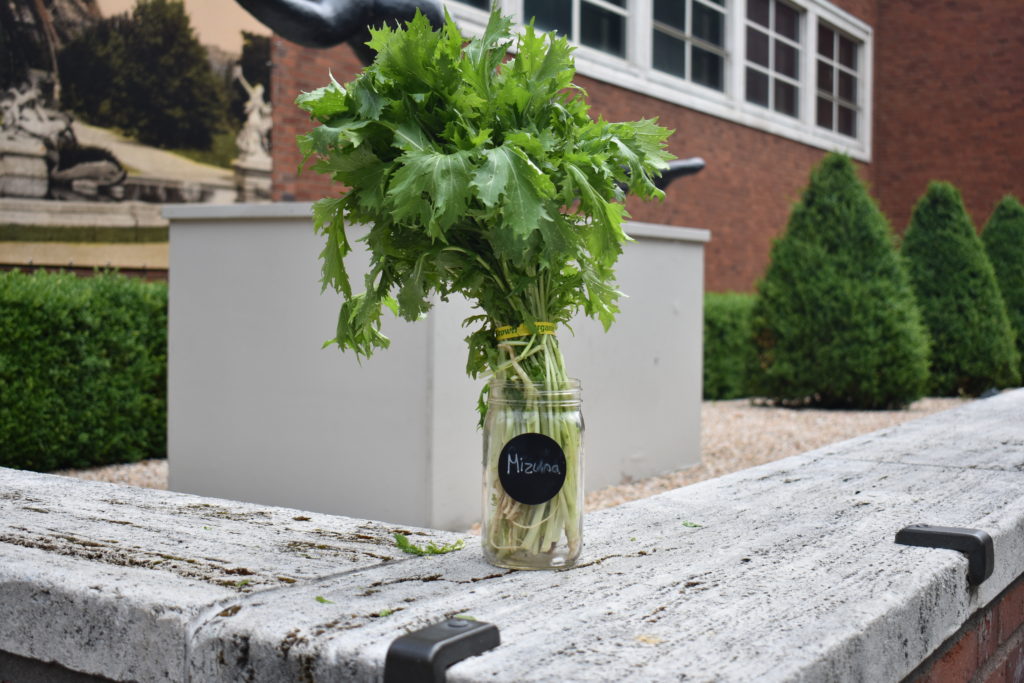 The Winter Farmer's Market always has a certain constancy for about three months or so.  It is predictable and after a while it even becomes a bit monotonous.  Don't get me wrong, I am grateful for chard and kale grown all year long and it is very exciting when a new green hits the farmer stalls; one feels invigorated with new possibilities for meals and life in general in the gloomy months.  I was welcomed one late Saturday in March to a green with lots of space in between the leaves – and with a fun name.  Everyone who walked by was intrigued by this newcomer.  I was so ecstatic about this new find that I got in touch with this green called Mizuna and asked for an interview, toute de suite, as the French would say. My people were in touch with her people (you know it must be female!) and voila, here is a replay of our conversation.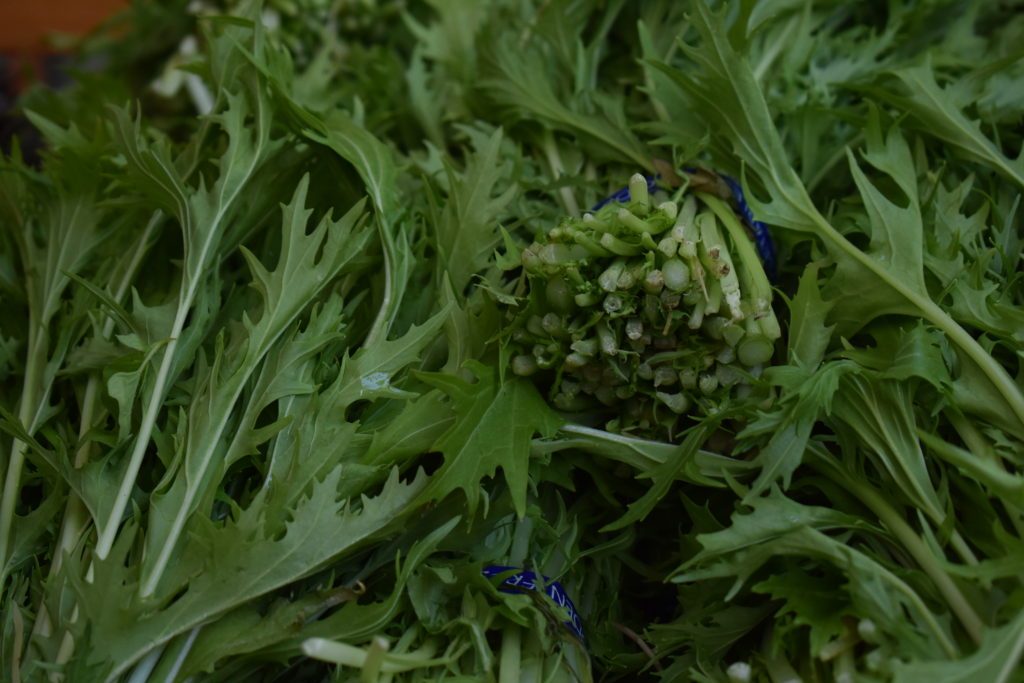 Welcome to Finding My Way In The Kitchen and thank you for taking time to talk to us. Me and my readers are thrilled to learn more about you and eager to add a new addition to our green eating line up. Firstly, how do you pronounce your name and how did you get your name?
Mee-zoo-na.  If you want to hear it pronounced check out this link.  My name is a combination of two Japanese words: mizu, which translates to water and nu is a way to describe the mustard plant, which is where I reside in the plant universe.   By looking at me you can tell that I did not get my name on my looks, my leaves are so not filled with water, but it is how I am grown that gives me my name.  I flourish in fields that are shallowly flooded by water. 
Can you tell us about your family lineage? Any famous greens we might know?
I am part of the Brassicae, otherwise known as the mustard family.  We are a huge family; in point of fact we are 3,700 species strong. The most popular are the following; Broccoli, Bok Choy, Cauliflower, Cabbage. This link will give you a comprehensive list of everyone involved.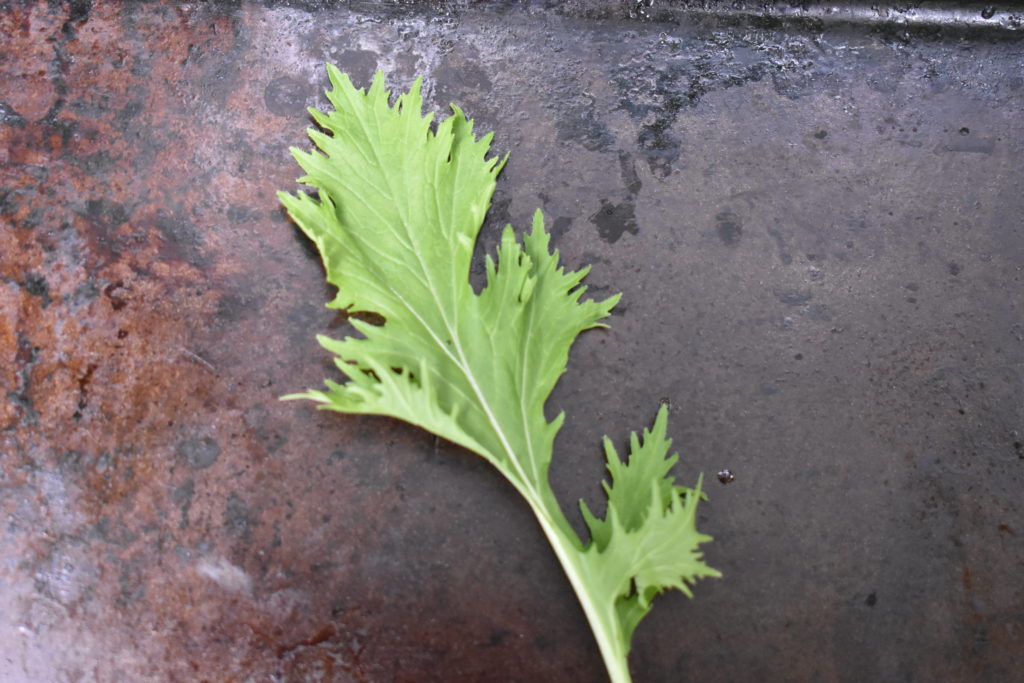 How are you most often described regarding your appearance?
I am amused by how people describe my leaves. The most common is serrated, with saw tooth a runner-up.   Frilly and spikey are my two favorites.  Because of my so-called spikey appearance Food52 titled an article about me; Mizuna the Punk Rock Poser. I highly recommend that post, it has a week full of recipes with me as the leading light. 
That article on Food 52 was a great background read on you. Very fun and informative. Just out of curiosity how long is your growth cycle?
From seed to harvest I take 40 days.
Which green do you most resemble?
I am constantly being compared to arugula and you will see in many recipes that we are interchangeable.  We both have those peppery notes without much leaf width.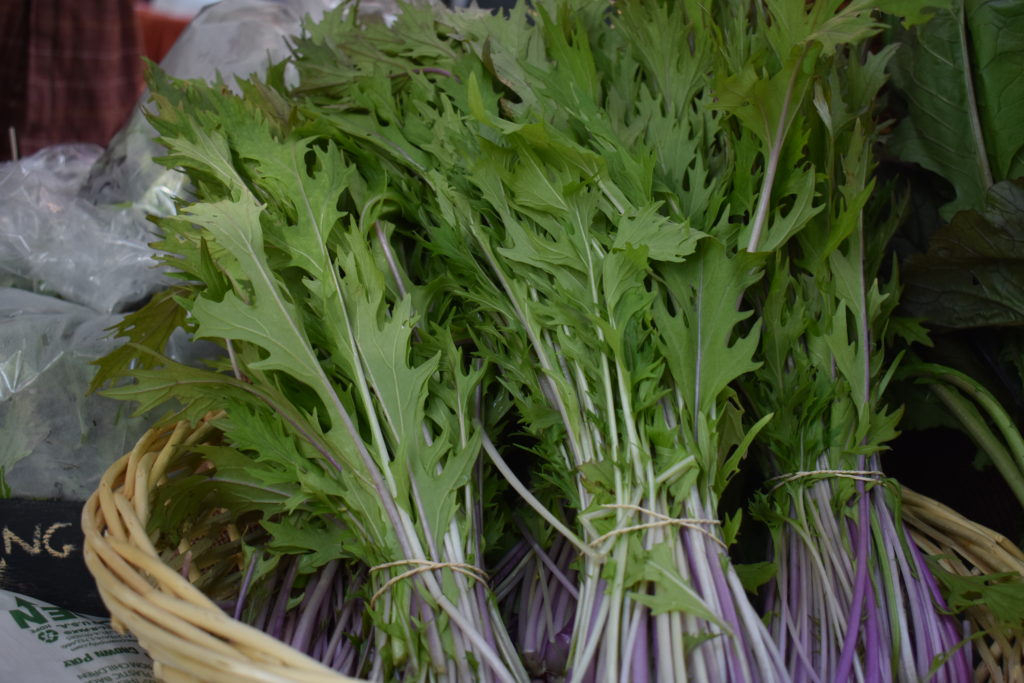 What flavors do you bring to a dish?
A mild pepper taste emerges from my inclusion in a dish. The adjective tang is often used to describe me. On a side note, tang is gnat backwards. Something to tell your friends on the elevator or while you wait to cross the street.
You look slightly familiar, after sitting with you in close proximity; where have I seen you before?
I am a groupie, usually hanging out in spring salad mixes, Mesculan salad mixes and Asian salad mixes.  I am slowly but surely building a career as a solo green in America.  Thank you so much for helping me spread the word on how I can add a dash of pepper, as it were, to the American eating scene. 
What nutrients do you bring to the table?
I am full of the following vitamins: C, K, A, iron and folate.
How do you prefer to be prepared?
A salad.  I prefer to stay in raw form while I am in America, and I like to be partnered with oranges, mangoes and apples. I prefer to be dressed with a sesame dressing.  In Japan, I am usually cooked in stir frys, found pickled or added to hot pot dishes.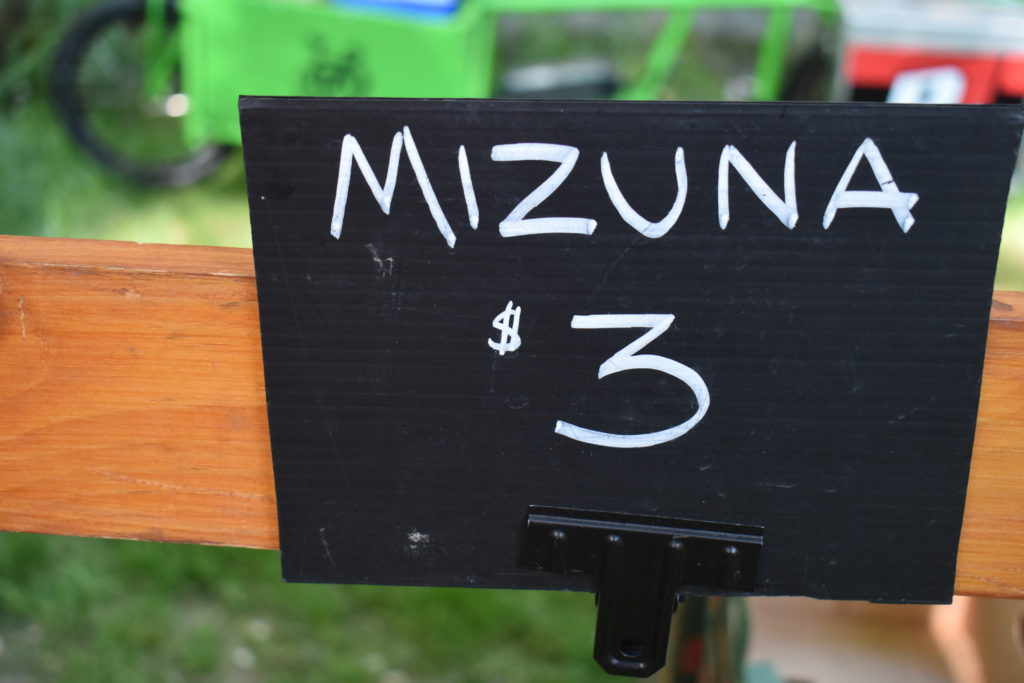 Where did you originate?
My country of origin is China, but I am used quite commonly in Japan.
Where can my readers find you?
If you live in Portland, I highly recommend Gathering Together Farm. Here is a list of which Farmer's Markets they can be found at.  Mizuna is one of their mainstay crops.  
I do have to agree with Mizuna regarding Gathering Together Farm and their salsa is the only salsa I will eat. For the last week I got into the habit of putting a handful of Mizuna into a bowl and adding 2 scrambled eggs on top, sprinkling some pumpkin seeds and soy sauce or tamari over it and voila, an easy and nutrient-rich breakfast.
Please let me know if you have any more questions for Mizuna that I have missed.