Once you start making your own salad dressings there is no going back. You may ask, is it time consuming? It takes me 10-20 minutes to choose a salad dressing to my liking at the grocery store. Every label is read, most likely more than once, to see :
How much sugar it contains
Are there any ingredients that I do not know? Aka, chemicals that I should be wary of .
How far has this bottle traveled to get to this shelf?
Does it contain gluten?
Is is a flavor combination I will like after looking over the ingredient list
Of course I need to find a dressing with a glass bottle and a metal lid, not only to reduce my use of plastic but because of the leakage of chemicals from the plastic into the food.
By making your own salad enhancer, there are fewer choices to make and less waste created. Just follow a recipe and if the flavor is not to your liking you can tweak it so it becomes your own.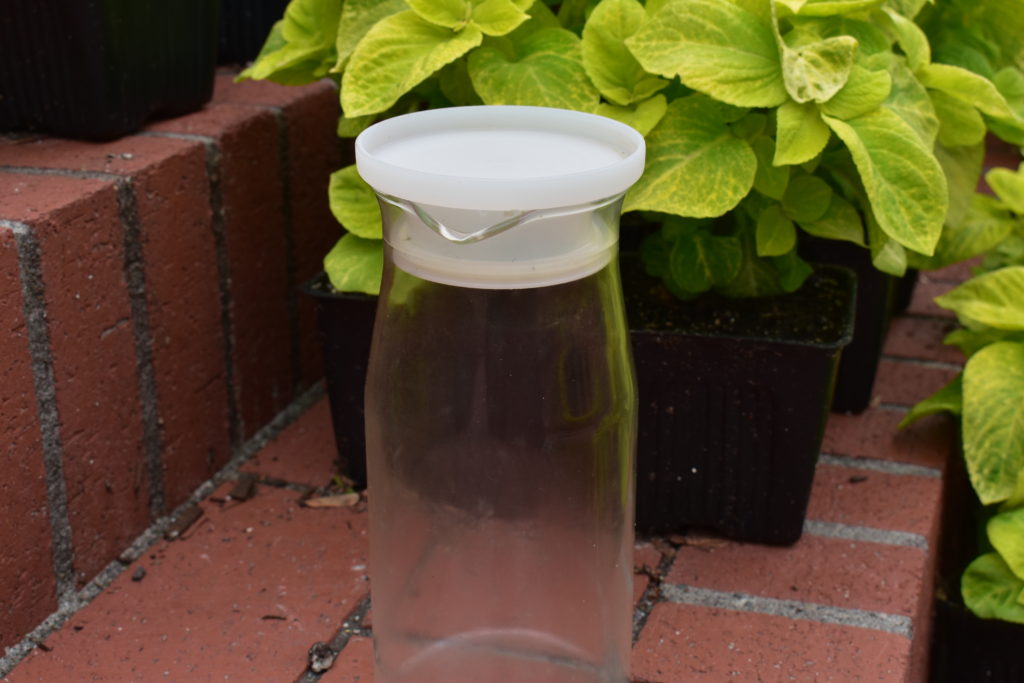 So now that I have sold you on the idea of making your own salad dressing, let's talk containers. I have been preparing my dressings in a mason jar and shaking them up to emulsify. The down side is that there is no spout on those jars. I put a drinking lid on the jar to use as a spout and the dressing still landed on the counter and made a mess. I decided to make an investment and bought a couple of the containers below from Muji. A spout makes all the difference; less clean up and cleaner storage.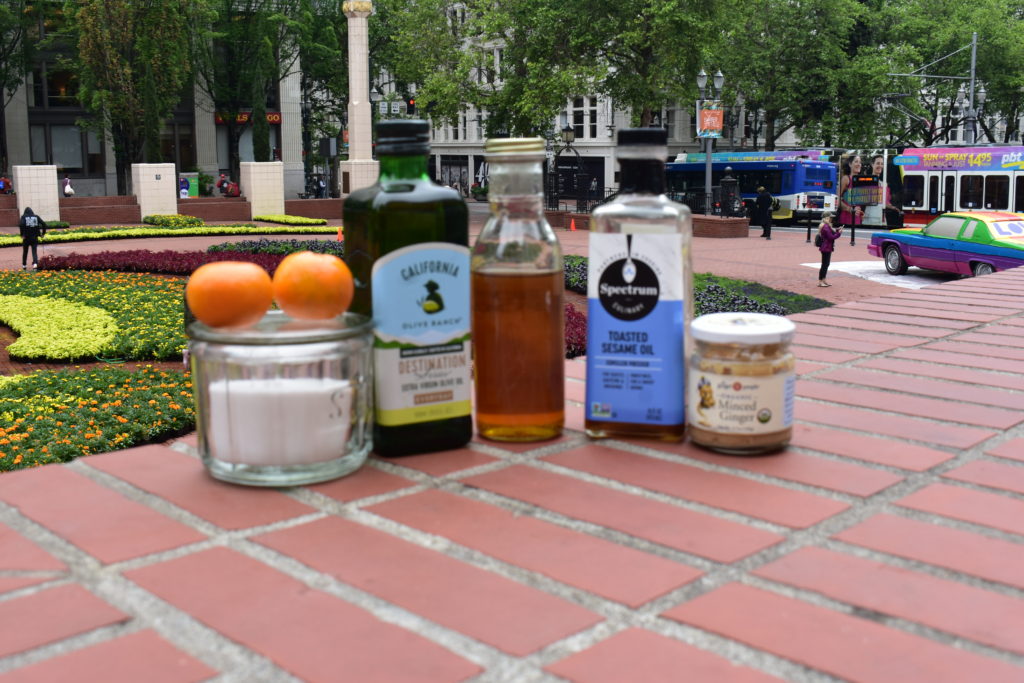 Here's the line up for the sesame orange dressing:
Olive oil
Sesame oil
Orange juice
Orange zest
Honey
Minced ginger
Salt
Not too daunting of a list, I hope. Let's go over these ingredients.
OIL
As discussed in a previous post, oil bought in the store should NOT have refined on the label. Refined means that they took the original product, heated it and put it through a chemical process. Usually the dredges, so to speak, are used to create this oil. Both oils are usually found in close proximity to each other at the market.
ORANGE JUICE and ORANGE ZEST
Spoiler alert: there will be mandarin oranges used in this salad that we are prepping for. I attempted to use a large orange and I was unsuccessful at peeling the orange to create beautifully uniformed wedges, so I switched to the mandarin and was very successful. I used the zest of one orange in this dressing recipe. Another tool I highly recommend to add to your kitchen tool kit is the zester. It also goes by the name of microplane grater. This gadget is a small version of a grater with tiny holes, as the latter name suggests. Adding zest to your dishes and sauces ratchets up the flavor punch a notch or two. To juice the oranges, I cut them in half and with a heavy hand press down on them onto a juicer. I was surprised that two mandarin oranges yielded 1/4 cup of juice.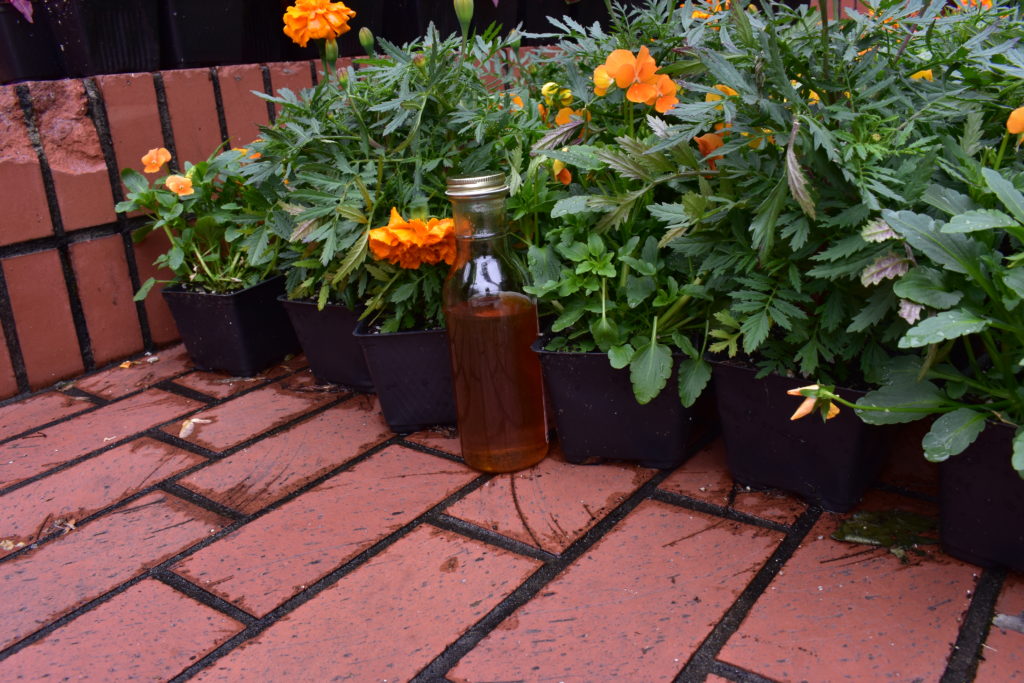 HONEY
You might be asking yourself why did Aimee add honey to this recipe when the oranges add enough sweet taste on their own? I know it has been about a year since we last spoke of salad dressings and emulsifiers, so here's a quick refresher. The four emulsifiers are : honey, mayonnaise, mustard and tomato paste. Emulsifiers help all the ingredients to "gel", combining into one liquid instead of being separate entities. With the flavors of this dressing, honey seemed the obvious choice and I am not a fan of mayonnaise. I think it is a texture thing.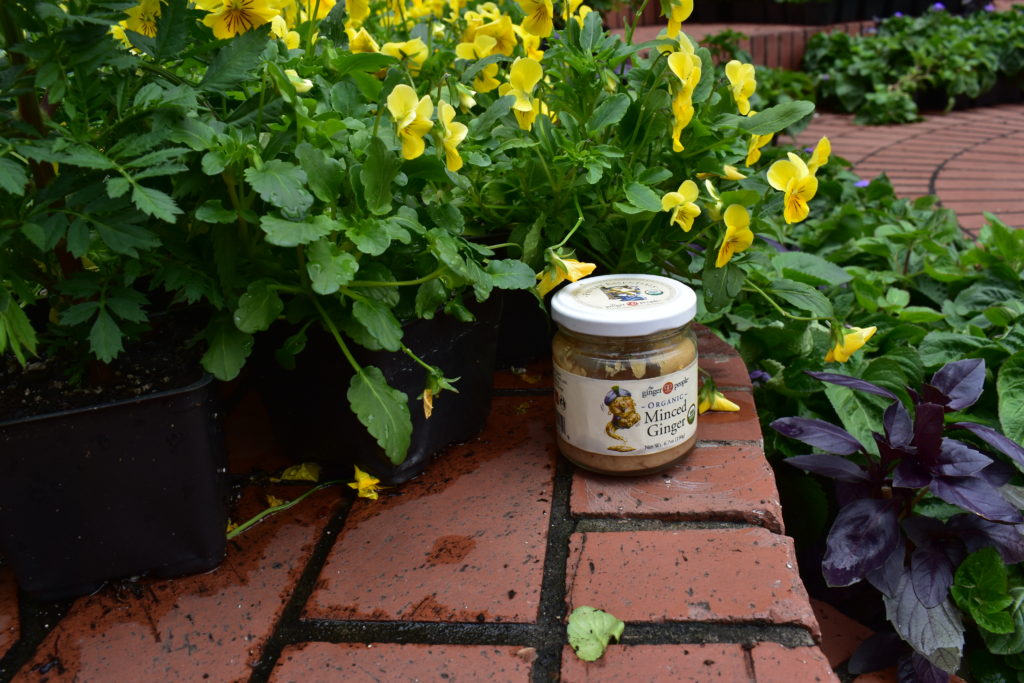 MINCED GINGER
I have bought fresh ginger and have used it for a while, but then forgot about it and the root shrivels up or turns black or both. Ginger's fresh root and I have not yet properly bonded. Minced ginger is one item I have decided to outsource for the time being. I purchase a jar of it and it stays in my fridge until it is used up. Ginger is more apt to end up in my dishes in this form. One does not need much to make a flavor impact.
SALT
Salt is the one element that elevates all ingredients to their fullest expression, while at the same time making each prominent in its own right. Currently I am using sea salt that I purchase at the bulk bins from my local grocer.
That's a wrap. Sesame salad dressing is a staple in our household. I am quite pleased that I have created a recipe that I no longer need to keep tweaking; it has become a mainstay.
Enjoy! Til Tomorrow. – Aimee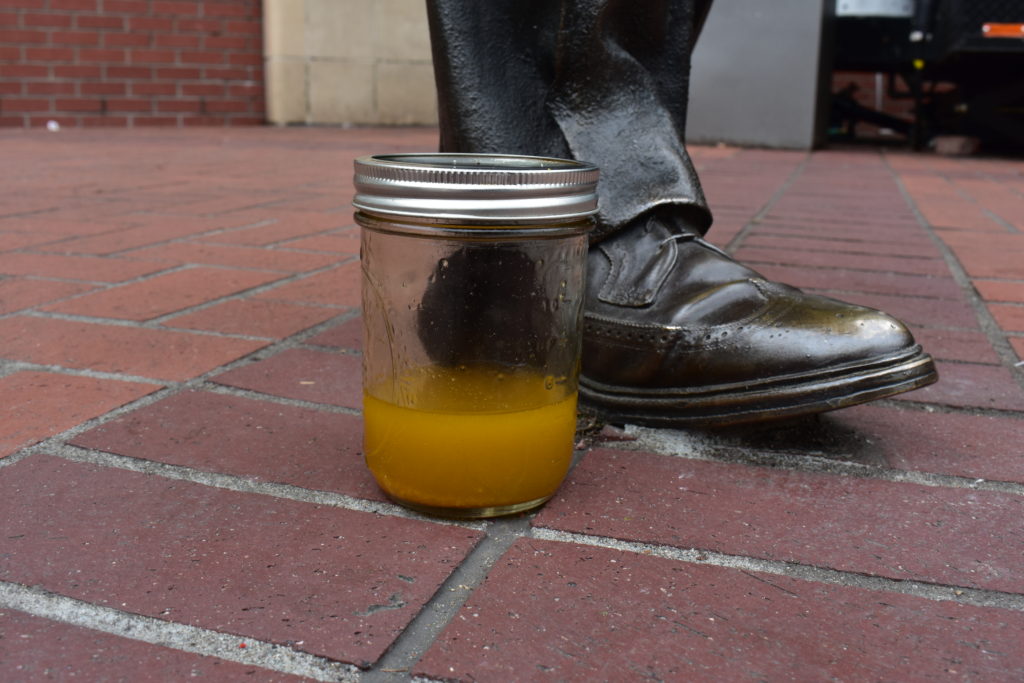 SESAME ORANGE SALAD DRESSING
Ingredients
3/4 cup olive oil
1/4 cup sesame oil
1/4 cup orange juice (2 mandarin oranges juiced)
2 tablespoons honey
zest from one mandarin orange
1/4 teaspoon minced ginger
1/4 teaspoon salt
Add all the ingredients into a lidded container. Shake and shake some more until you no longer see honey on the bottom of the jar. Shake until everything has become one. Do not forget to shake and mix the dressing between each use.
Will last two weeks in the refrigerator.
THE BIGGER PICTURE
You are probably asking yourself who's shoe is in that picture of the dressing?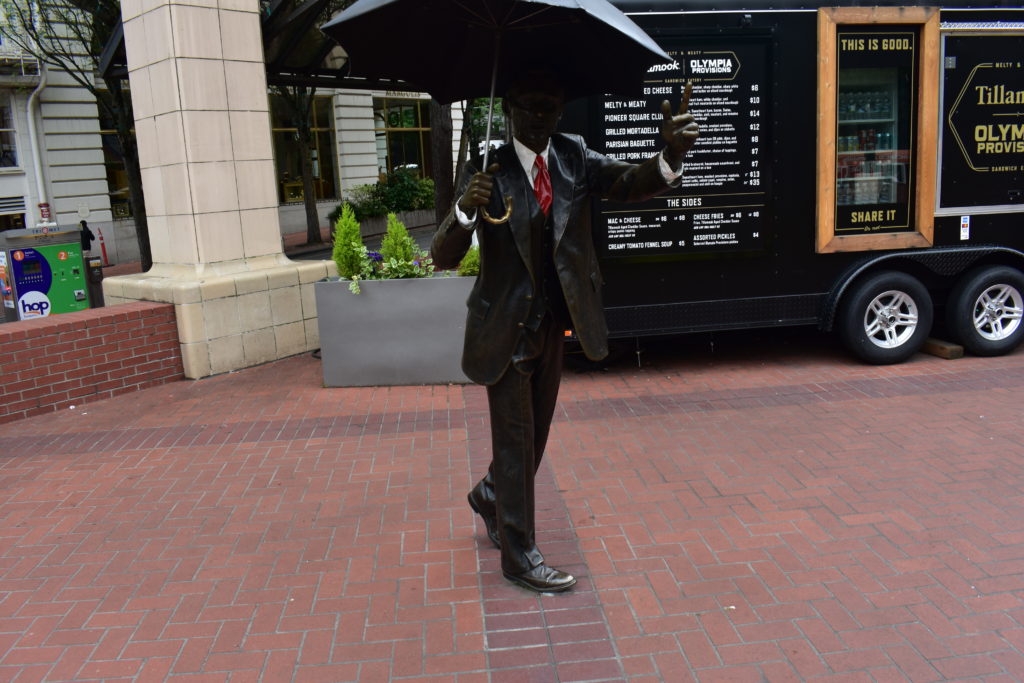 All pictures in this post were taken at Pioneer Courthouse Square during the festival of flowers.